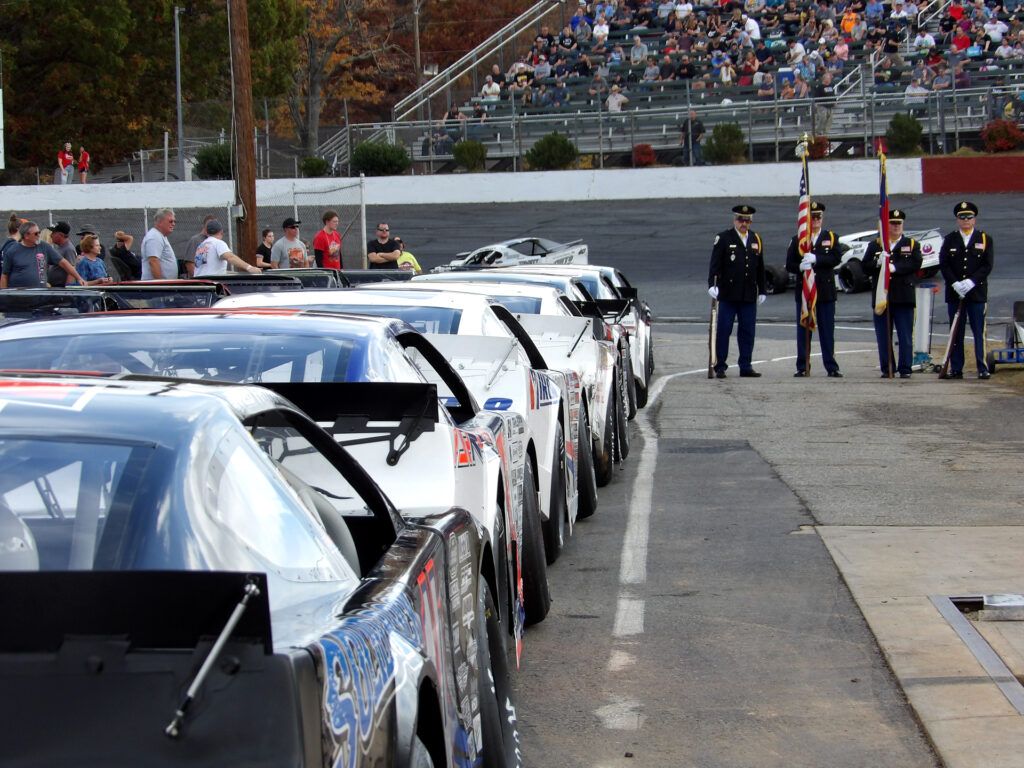 This week was another first for Short Track report as we headed out to historic Caraway Speedway for the 20th Annual North-South Shootout. A high speed game of chance where the stakes are all or nothing. Where an Ace chases "Big Money", and the gunslingers of the CARS Tour will leave everything on the table. And where crafty veterans will face off against the young guns with high stakes on the line. This is not a place for the timid. These are proving grounds.
But there is even more to it than that. The combatants are also gathered to do battle in the name and honor of one of their own in the John Blewett lll Memorial, giving the victors a prized sentimental victory that they will no doubt cherish for the rest of their lives. To leave here today in victory will take all the competitors have in their arsenal, and even test the reserve. It's time for one of the greatest engagements to ever be conceived in the history of short track stock car racing, featuring some of the very best in the business.
The combatants are ready, and the onlookers to the battle have gathered. The invocation has been spoken and the tributes to our great nation have commenced. The order has been given and it's time for the Shootout to begin, so, Let's Go Racin'!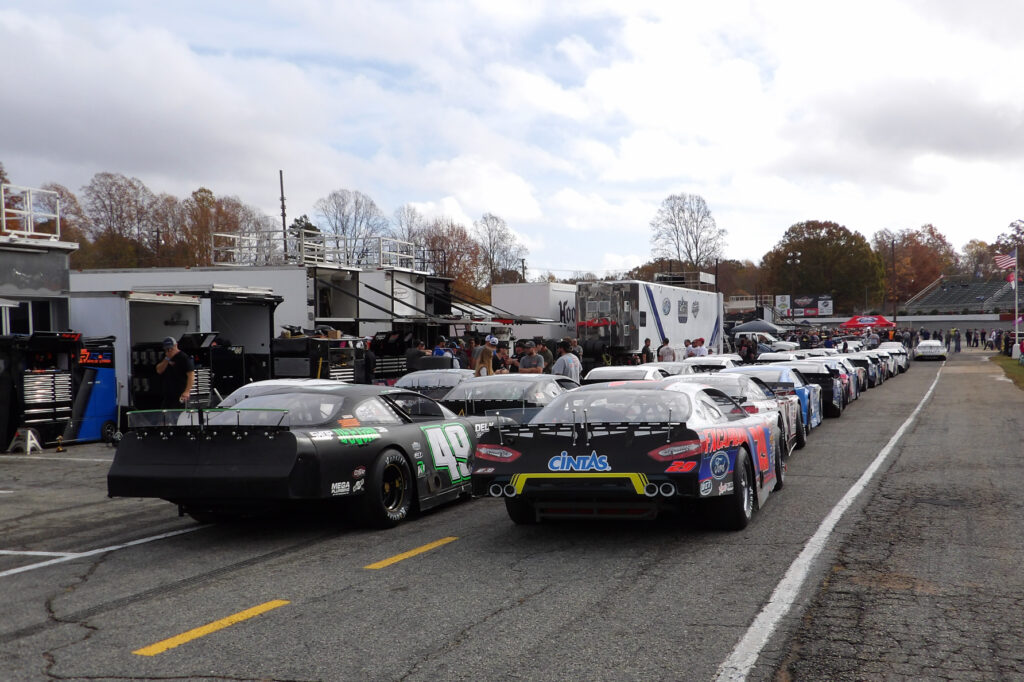 602 MODIFIED FEATURE
Bowman Gray Stadium alumni Lee Jeffreys in the # 75 will start on the pole for this one with the # 63 of Josh Lowder starting alongside. Rounding out the top five will be the # 73 of Paulie Hartwig III, # 98 Billy Gregg, and the # 40 of Robbie Brewer. The flagman looks over the field of Mods, likes what he sees, and we're green! Jeffreys and Lowder are side by side for almost the entire first lap, but Jeffreys is able to gain the advantage out of turn four to lead lap one. Gregg is able to get by young Hartwig for third as both Hartwig and Brewer begin to fall back, allowing the # 11 of Devin Steele to take fourth and the # 21 of Johnny Sutton to take fifth. Meanwhile, back up front, Lowder is all over Jeffreys, but just can't do anything at the moment as Jeffreys has the clean air. Hartwig now looks back underneath Sutton as he has the run and gets by easily, bringing Brewer along into sixth. Sutton continues to drop even further down the field all the way to tenth. But up front, Lowder continues to try and try, but Lee is just too strong up front and takes the checkered flag ahead of Lowder, Gregg, Steele, and Hartwig.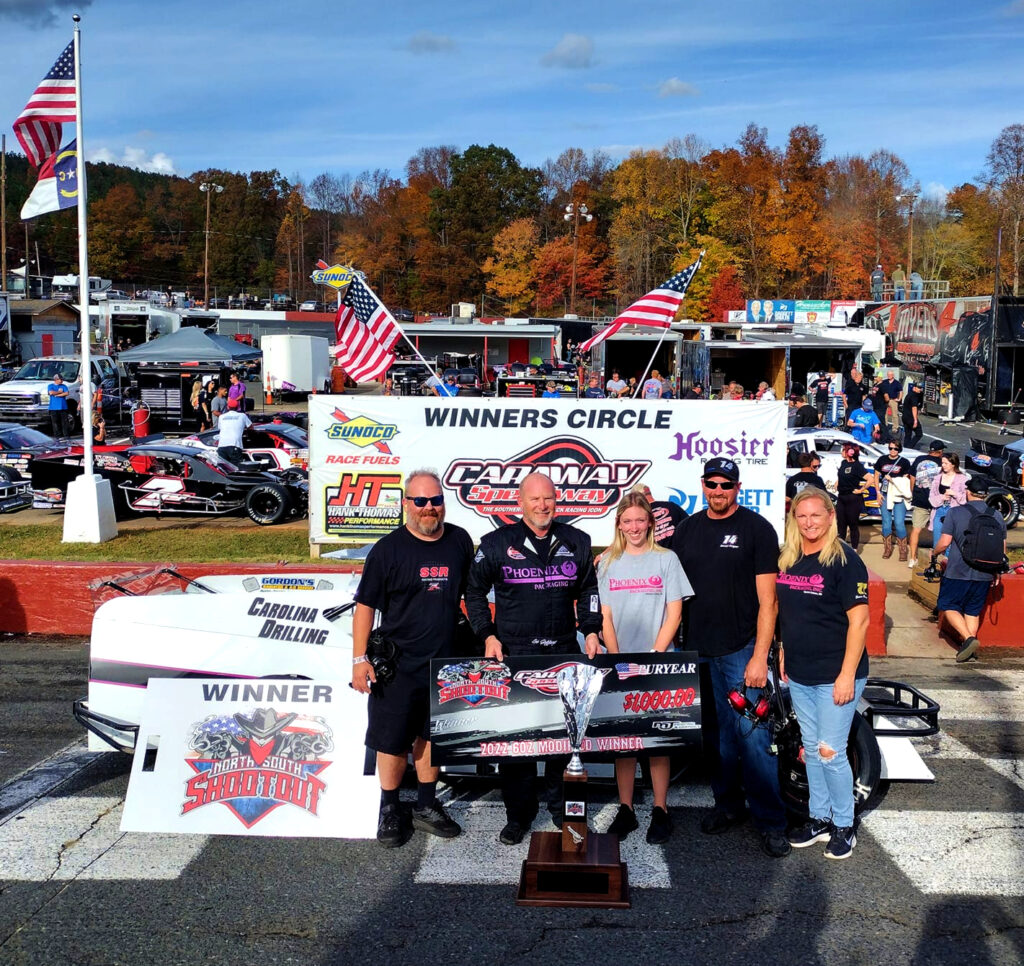 CARS TOUR PRO LATE MODEL FEATURE
The # 35 of Caden Kvapil turns in a fast lap of 16.767 seconds to take the pole for the final race of the season. Starting on the outside pole will be the # 6 of Brandon Setzer, substituting for a concussed William Sawalich. Rounding out the top five will be the # 96 of Luke Fenhaus, # 13 Austin MacDonald, and the # 49 M of Luke Morey. CARS Tour flagman Brandon Willard looks over the Pro Late Models for one final time in 2022, likes the formation, and we're green! Kvapil clears early as Setzer slots in right behind, as does the rest of the field. Everyone is single file on track except for the # 64 of Joe Mancuso and the # 28 of Nate Gregg, as they battle for the twelfth position. Mancuso takes it for the time being as Kvapil continues to lead. They quickly complete thirty green flag laps as the competition caution will fly. Kyle Campbell in the # 03 goes into the pits to make some adjustments and makes it out just in time as for the restart it'll be Kvapil, Setzer, Fenhaus, MacDonald, and Morey the top five. Willard looks over the pack, gives the thumbs up, and we're green again. Kvapil and Setzer are once again side by side as the caution will fly behind them as Mancuso and Gregg get together in turn three, sending Mancuso spinning. It's a quick caution period though as the same top five come to the green flag with Kvapil quickly grabbing the point over Setzer. Setzer looks as though he may have missed the corner as now Fenhaus is underneath, dropping Setzer back to third. But there's more trouble behind as the # 77 of Logan Jones and the # 27 of Lee Tissot get together in turn four, sending Jones for a quick spin. The damage is worse than expected though as both of their days will come to an untimely end. Jones did attempt to come back out, but due to his crew working on the car in the back pits, per CARS Tour rules, he will have his scoring revoked for the day. Kvapil, Fenhaus, Setzer, MacDonald, and Morey will be the new top five as Willard looks them over, likes the view, and waves the green.
Fenhaus gets the better restart, but just can't put the power down on the outside as Kvapil regains the lead. MacDonald is able to get around Setzer as the # 29 of Matt Caprara has entered the frame, taking fifth from Morey. Another caution will fly though as there is debris in turn four. Campbell heads into pit road again, but once again beats out the field prior to green as Kvapil will line up first, Fenhaus second, MacDonald third, Setzer fourth, and Caprara fifth. The green is out but it's quickly taken back as CARS Tour president Jack McNelly gives a warning to Kvapil about checking up. It's good on the second attempt as Kvapil once again executes a flawless restart, clearing Fenhaus for the lead. MacDonald and Setzer battle hard for third with Setzer taking back the bronze spot. Fenhaus appears to have a slight issue as he now drops spots to Setzer and MacDonald. The second and final competition caution flies as thirty more consecutive green flag laps have been completed. Under the caution, Fenhaus comes onto pit road as they change shocks and springs on that machine to try and offset the lost speed that Fenhaus encountered on the last run. Coming to green, the top five will now be Kvapil, Setzer, MacDonald, Caprara, and the # 1 of Kody King who has put together a solid run. Willard looks over the field, likes what he sees, and we're back green.
Kvapil gets another great start but it's a little too good as they once again call it off. The start is better the second time around as Kvapil and Setzer make contact going into turn one! They battle door to door, with Kvapil finally edging ahead on the bottom. MacDonald now takes advantage of Setzer's lost momentum and gets by for second as Kvapil looks to pull away. Fenhaus starts to weave his way through the field, as he continues his quest for a 2022 victory. Back up front, MacDonald is slowly but surely starting to pressure Kvapil for the lead. Kvapil continues to put down great laps, but MacDonald is right on his heels. Kvapil starts to walk away again, but it's a high speed chess match as now MacDonald has caught back up. They're nose to tail as they now catch the lapped car of # 8 Rusty Skewes. They barely get by without contact as now MacDonald looks underneath! Kvapil stays grounded up high though as they bang doors, with MacDonald clearing coming to the white flag! But Kvapil isn't going to give up that easily as he drives deep into turns one and two and is right there on top of MacDonald. He dives into three and four and gives MacDonald a shove, but it's not enough as MacDonald finally captures his first career CARS Tour Pro Late Model victory! Kvapil comes home second, Setzer finishes third, Caprara gets a fantastic fourth in his first start, and King guts out a fifth. Although with not the result he wanted in sixth place, Luke Fenhaus, by virtue of starting the race and completing every lap, wins the 2022 CARS Tour Pro Late Model championship.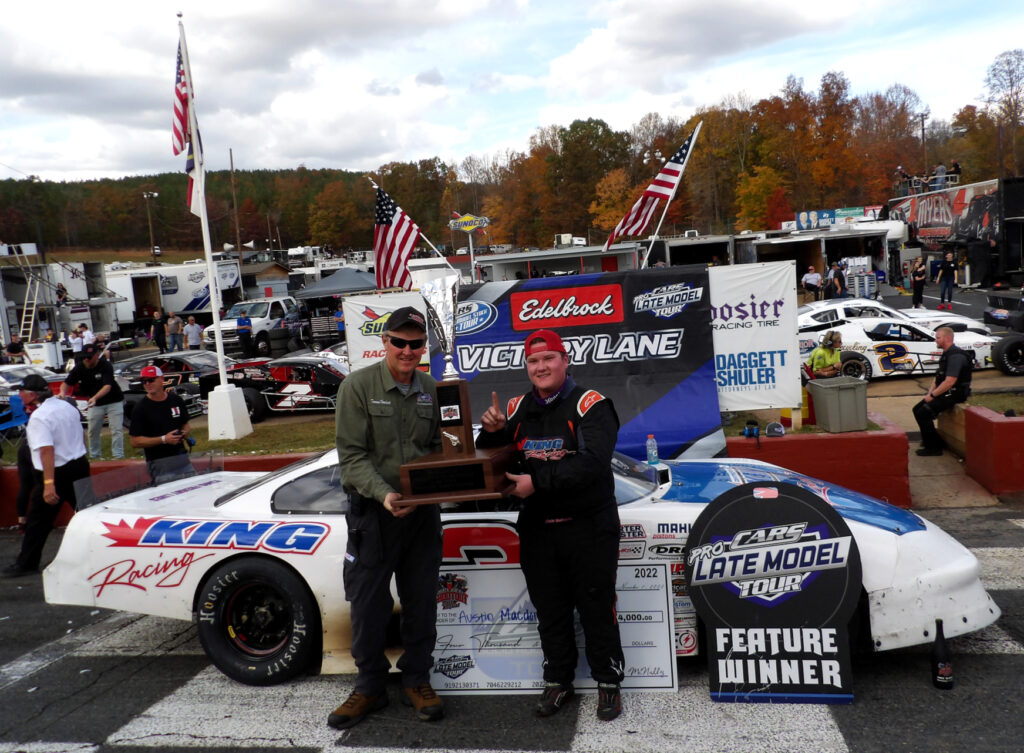 TOURING MODIFIED FEATURE
Patrick Emerling in the # 14 lays down the pole lap of 15.919 to start up front for this one. Due to the # 60 of Matt Hirschman and the # 71 of Caleb Heady taking the worst to first challenge for $2,500, Jimmy Blewett will start second in the # 76. Kyle Scisco in the # 17 will start third, # 1 Burt Myers fourth, and the # 15 of Brian Loftin will round out the top five. The flagman looks over the intimidating field, likes what he sees, and we're green for 125 laps of ground pounding action! Blewett immediately grabs the top spot as Myers also gets by, moving Emerling to third. The field shuffles like crazy behind, seeing the # 29 of Spencer Davis moving up to fourth. Back up front, Myers now moves by Blewett for the lead as Blewett decides to take it easy for the moment. Scisco finally settles in fifth as Loftin and the # 4 of Jason Myers go to war over sixth. Loftin eventually takes that spot as Davis now takes third from Emerling. There's action all over the place, with Loftin now taking fifth from Scisco at the same time that Davis moves up to second past Blewett. Scisco now moves back into fifth as Emerling slips up, falling back even more. While all of this action unravels, Myers has started to open up a considerable gap between himself and the field. It's a game of musical chairs behind as now Blewett has moved back into second with Scisco moving into fourth. Loftin, now in fifth, starts to drop back a little, now losing that spot to an emerging Doug Coby in the # 7. Now Davis moves back into second by Blewett, as Myers has started to slow his pace a tad. Further back in the field, Heady has moved up a handful of spots while Hirschman is playing the equipment game, saving as much as he can and holding steady where he's at. Coby now loses the fifth spot, as the # 99 of Ronnie Williams has entered the picture. The field finally gets a chance to catch their breath as the caution flies for fluid coming from the # 55 of Jeremy Gerstner. On this caution period, the field makes live pit stops. After all was said and done, the top five for the restart will be Davis, who didn't stay out, Heady, # 2 Joey Payne, Hirschman, and the # 11 of Michael Ritch. The flagman looks over the field, likes the formation, and we're back green!
It's a mad dash up front as Hirschman moves into second, Burt Myers third, Heady back to fourth, and the # 79 of James Civali fifth as Payne and Ritch fall back tremendously. Davis still leads as Hirschman decides it's now go time as he sneaks by Davis for the top spot. Burt Myers now looks under Davis and gets that posirion, setting his sights on the leader. Civali also now gets by Heady, moving Heady to fifth. The bleeding doesn't stop there for Heady as he's now passed by Blewett, dropkicking him out of the top five. The shuffling doesn't stop there either as Civali is now by Davis, leaving him to Blewett. He tries to block Blewett's advances, but it's to no avail as Blewett is by for fourth. Davis continues to lose spots, now losing fifth to a reemerging Emerling. And now it's Scisco who flies by Emerling, breaking into the top five. Scisco continues his run as he now looks on Civali, and grabs that spot as well. Scisco's run is interrupted however as the # 51 of Junior Snow has spun in turn four. After a few more pit stops, the field has shuffled once again, as for this restart, it'll be Hirschman, Williams, Blewett, Emerling, and Coby the top five. The green flies and Hirschman gets the advantage quickly as Blewett divebombs Williams for second, grabbing that spot and bringing Coby along with him. Now Burt Myers is up there, as he gets by Williams, dropping Williams to fourth ahead of Emerling. But there's massive trouble out of turn four as there's a major pileup involving Civali, Brian Loftin, # 5 Carson Loftin, # 73 Paulie Hartwig, # 77 Gary Putnam, # 27 John Smith, among others. The red flag is displayed as it's a lengthy cleanup, but the track crew works diligently to get the track cleaned. The red flag is finally put away and the lineup will be Hirschman, Blewett, Coby, Emerling, and Williams. The flagman looks the dwindling field over, likes the lineup, and we're back underway.
Hirschman once again gains the advantage as Blewett slips way high coming off of two, allowing Coby and Emerling to rocket by. Williams also sneaks by as does Burt Myers. And now it's Emerling who sneaks under and by Coby, setting his sights on Hirschman. Williams grazes the wall as well, allowing Myers to gain fourth position. And now Heady is on the charge, taking advantage of Williams' lost momentum, taking fifth. But now there's more trouble, as the Mystic Missile # 04 of Tim Connolly has spun in turn three. After the choose rule, it'll now be Hirschman, Coby, Emerling, Myers, and Heady. The flagman looks them over, is satisfied with the field, and waves the green. Coby gets a bad restart, allowing Hirschman to rocket out front. Emerling also moves into second, with Myers and Heady both following through. Blewett now also gets by, bringing him back into the fold. It doesn't stop there either as Williams now gets by, leaving Coby out of the top five. And now Coby spins out of turn four! Hirschman now has to execute yet another restart. After the choose, it'll be Hirschman, Myers, Emerling, Williams, and Heady. The green flies and Hirschman touches wheels with Myers! Hirschman leaps out in front as Heady rockets out in front of Williams for fourth. But out front, it's still Hirschman who leads. Myers tries to mount a charge, but Hirschman yet again lives up to his name, defeating the worst to first challenge and winning his eighth North-South Shootout. Myers comes home second, Emerling third, Heady a very hard fought fourth, and Williams fifth.
CARS TOUR LATE MODEL STOCK FEATURE
Caraway veteran Trevor Ward in the # 77 W will start on the pole with a fantastic time of 16.873 seconds. # 22 Bobby McCarty will start second, # 8 B Chase Burrow, who's locked in a dead heat for the Rookie Of The Year with the # 32 of Zack Miracle will start third, # 77 Connor Hall fourth, and 2022 CARS Tour Late Model Stock champion # 8 Carson Kvapil fifth. CARS Tour flagman Brandon Willard looks over the competitive field, likes the formation, and we're green for the season finale! Ward gets the advantage but there's early trouble behind as the # 2 R of Braden Rogers and the # 4 D of Kyle Dudley have collided in turn four. It'll be the same top five as before since no laps have been completed. They go under the green again, but the caution is right back out, this time for the # 77 G of Tyler Gregory, as he's spun in between turns one and two. It'll be the same top five once again, and the third time is the charm as Ward clears McCarty. Kvapil gets by Hall for fourth while the # 14 of Jared Fryar also gets by for fifth. The # 24 of Mason Diaz starts to smoke immensely in the middle of the field, forcing him to take his machine to pit lane with him being done for the night as a result. It's a clean and green first forty laps, resulting in a competition caution. After a quick caution period, lining up for the restart will be Ward, McCarty, Burrow, Kvapil, and Fryar. Willard looks over the lineup, likes what he sees, and we're back underway.
Ward and McCarty are dead even, even banging doors at one point. The entire field is side by side, with no one giving an inch. Ward finally clears McCarty as Kvapil gets by Burrow. But Burrow is back underneath Kvapil, and they touch, causing Burrow's tire to go down! The # 16 of Chad McCumbee spins to avoid as the caution flies yet again. Already moving up through the field is a damaged Dudley, as he sits in thirteenth for this ensuing restart. Ward lines up first, McCarty second, Kvapil third, Fryar fourth, and Hall now fifth. The whole field is once again lined up like Talladega, as Ward and McCarty continue to beat and bang for the top spot. Ward finally prevails out of turn four, leaving McCarty to deal with Kvapil. Kvapil takes second as Fryar starts to lean on McCarty for third. The contact continues to heighten as McCarty nearly spins, allowing Fryar to finally power forward. McCarty squeezes into line in fourth ahead of Hall, but now Hall is under fire from the # 91 of Ryan Wilson, who is substituting for an under the weather Jonathan Shafer. Wilson peeks his nose in and takes the position. Also moving up through the field is Miracle, who currently leads the Rookie battle.
Hall now somehow gets back underneath Wilson, and steals that position away. Near the middle of the field, the # 44 of Trey Crews, filling in for Conner Jones who's competing in the ARCA West race at Phoenix, is all over the # 16 of 2022 Florence Late Model Stock champion Kade Brown, crumpling up his hood as a result. Back up front, Kvapil has started to catch Ward, but Ward is standing ground for now. The second and final competition caution flies and it's another quick waiting period as Ward will line up first, Kvapil second, Fryar third, Hall fourth, and McCarty fifth. The green waves with Ward and Kvapil immediately making contact for the lead. Ward eventually sprints out in front with Fryar now looking on Kvapil. Kvapil tries to hang, but Fryar's car has come to life as he gets by for the silver position. Before you know it, Fryar is now breathing down Ward's neck, waiting for any mistake to be made. Fryar gets a good run into turn one, looks under, and there's contact! Ward goes spinning as a result as everyone miraculously gets by without incident. Ward heads to the rear of the field after leading every lap, making Fryar the new leader followed by Kvapil, Hall, McCarty, and an emerging Miracle. Prior to the pace car heading down pit road, as if the day could get crazier, something comes out from underneath it, with the field barely avoiding the debris. As that extends the caution period, the CARS Tour decides to bring the cars down pit road for fuel as a precaution. Everyone tops off, and the fans are on their feet. The green waves and they're in a dead heat for the top spot. Fryar powers ahead as Miracle kills two birds with one stone, passing McCarty and Hall. Hall tries to dive back in on Miracle heading into one and makes contact, stacking up the field behind him and causing the # 95 of Jacob Heafner to spin, also collecting McCumbee and Brown. That'll be the end of both of their days as for the ensuing restart, it'll be Fryar, Kvapil, Miracle, Hall, and McCarty. Fryar once again gets a great launch, but Kvapil is right there. Fryar bests him this time around. Behind him, somehow Dudley, with his whole left side missing, is battling McCarty for fifth. McCarty keeps it but Dudley keeps him honest. Fryar seems to be pulling away, but against his wishes, the caution is out again, this time for the # 55 of Isabella Robusto who has stopped out of turn four.
It'll be a fourteen lap shootout with a determined Fryar starting first, champion Kvapil second, rookie Miracle third, a consistent Hall in fourth, and a hungry McCarty in fifth. Willard anxiously looks over the field, likes what he sees, and we're green for one final time in 2022 for the CARS Tour! Kvapil gets the better start this time as he pulls ahead. But Fryar won't give up as they stay side by side for the lead. Kvapil slips on the outside, allowing Fryar to clear out of turn four, and here comes Miracle! Miracle looks on Kvapil, but Kvapil stays calm, retaining second. But Kvapil slips again! This allows Miracle to take second, and puts him in a position to win his very first race. Now tire smoke starts to roll out of Dudley's hot rod and Hall is now by Kvapil! Wilson moves McCarty for fifth as the white flag waves. Fryar is cruising but Miracle runs out of gas! The whole field flies by, including Burrow, locking up Rookie Of The Year honors for him! Fryar gets the walkoff win followed by Hall, Kvapil, Wilson, and McCarty. Somehow, someway, Dudley finishes sixth without a left side and Burrow comes home ninth as the Rookie Of The Year over a heartbroken Miracle in sixteenth.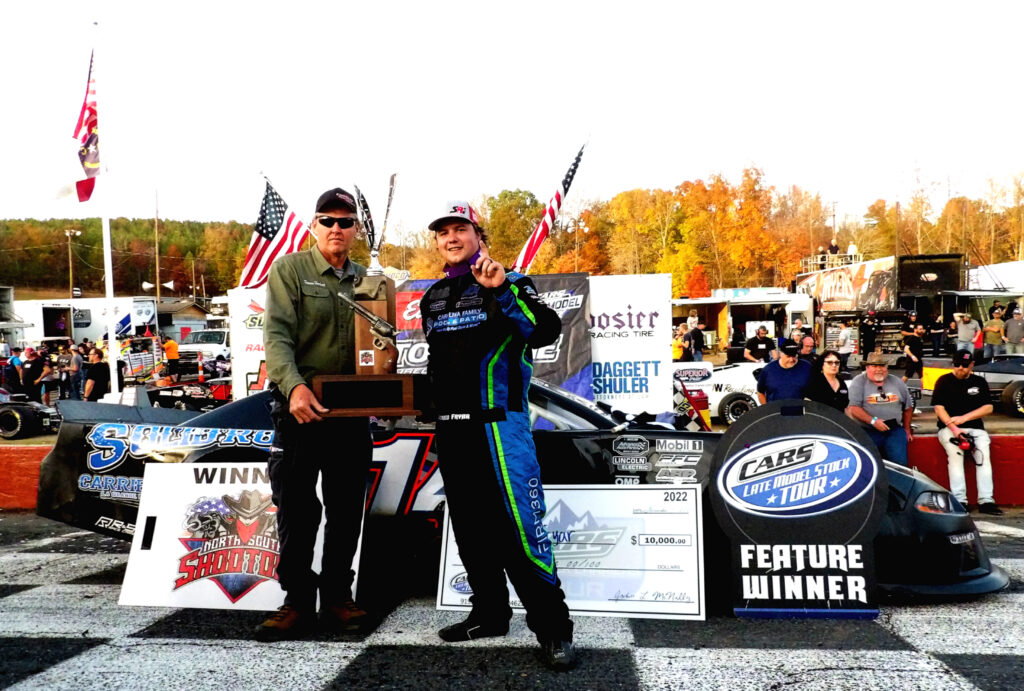 MY TAKE
You know in life, things rarely live up to the hype, but sometimes you're treated with moments in history that can't be denied. Fortunately for the short track racing fan, the sport rarely disappoints. And so when those special moments happen, they are even more so. Such was the case for the North-South Shootout here in 2022. In a season full of amazing moments in time, this event stands out as one of the best. And Caraway Speedway has rarely looked better. But it was the action on the track that stood out. I could harp on it for this entire spiel, but let's just say that if you missed this show, you definitely missed out on one of the best all year. There were things that could have gone better, such as the time between races due to several factors, but there wasn't much even the most adamant detractor could complain about. But if you want to talk racing, this was an epic moment in time that will be remembered for some time to come.
The title of this article reads All Or Nothing because that's what describes how the drivers and teams approached it as they left everything out on the track. An Ace chased "Big Money" but he couldn't run him down. A grizzled veteran showed the 602 ranks why his trophy mantle is full, and the North couldn't have been better represented as a Canadian broke through for his first win in a Series. The young guns went to battle for honor and glory, but the least likely to need one fell short of the miracle he would end up needing to take the Rookie Of The Year honor, but in so doing he raised the level of respect for the entire class. And in it all, we couldn't deny this week's Short Track Report Blue Collar Racer Of The Week for their most unlikely way of receiving it. But like most of the year, after all was said and done, it was no easy choice.
First we had to consider the domination of Lee Jeffreys in his 602 Modified win, holding off Josh Lowder and Billy Gregg to take it. And anyone versed in short track racing in our region knows that was a huge task in itself, but Jeffreys set the pace and was clearly the class of the field. Then we turned our attention to Austin MacDonald who made his way past Caden Kvapil with just two to go for his first CARS Tour Pro Late Model win after starting 4th in the race, and working his way past one of the best Pro Late Model racers in the business to take the exciting win. We then took a look at another amazing performance from what we feel is one of, if not the best, Touring Modified drivers in the country in "Big Money' Matt Hirschman. Hirschman took the big money challenge, choosing to start in the rear of the field in an effort to take the $2,500 bonus for doing so if he could come back to take the win. And living up to his moniker, he did just that, holding off "Ace" Burt Myers to once again take home the big check and all the honors and glory that come with it. But after looking at all that transpired in this amazing short track racing event, our focus centered in on one driver. Starting eighth in the CARS Tour Late Model Stock race was one Kyle Dudley. And early on he caused an on track incident that would have normally taken him out of our consideration.
But what he did next sealed the deal for us, as he brought his car down to the care of his crew who patched the damage up as much as they could without losing a lap and garnering the black flag for debris coming off of the car. They had to work on it more than once but as the Tour took a mandatory break toward the end of the race to give the teams a chance to add fuel and make adjustments, they were able to somehow get the body of the car to stay together. Quite the feat considering he had lost most of the drivers side in the early race incident. But while they worked to keep the car together, Dudley worked on the track, making his way back from the back of the pack, to come home with the most unlikely finish just outside of the top five we've seen all year, crossing the line at the end sixth overall in nothing short of an amazing performance. A performance that earns Kyle Dudley and his team this week's Short Track Report Blue Collar Racer Of The Week. Congratulations team, you definitely earned it with that exciting finish. But we couldn't end this article without putting a spotlight on one Zack Miracle.
Zack Miracle and Chase Burrow came into this race tied for the Rookie Of The Year honors in one of the CARS Tour's best rookie chases to date. Burrow ended up taking that honor, but for the entire race, Miracle was a threat not only to win the Rookie Of The Year but the race itself. Starting nineteenth in the stellar field of Late Model racers, Miracle worked his way to second before then running out of gas on the white flag lap in a heartbreaker. All Or Nothing couldn't have been more defined than that. But, we can assure you that if Zack Miracle continues to improve as he did in his rookie year, he will be in the hunt for something much greater, and that's a CARS Tour title. But until then, this one will sting a bit for quite awhile. 'Till next time, See You At The Track!
(Race writeup by Joshua Weatherman. Intro and My Take written by Billy Weatherman. 2022 Copyright SHORT TRACK REPORT)
Tags
602 Modifieds
,
Austin MacDonald
,
Billy Gregg
,
Blue Collar Racer
,
Blue Collar Racer Of The Week
,
Bobby McCarty
,
Braden Rogers
,
Brandon Setzer
,
Brandon Willard
,
Brian Loftin
,
Burt Myers
,
Caden Kvapil
,
Caleb Heady
,
Caraway Speedway
,
CARS Tour
,
Carson Kvapil
,
Carson Loftin
,
Chad McCumbee
,
Chase Burrow
,
Connor Hall
,
Devin Steele
,
Doug Coby
,
Gary Putnam
,
Jacob Heafner
,
James Civali
,
Jared Fryar
,
Jason Myers
,
Jeremy Gerstner
,
Jimmy Blewett
,
Joe Mancuso
,
Joey Payne
,
John Blewett III
,
John Blewett III Memorial
,
John Smith
,
Johnny Sutton
,
Josh Lowder
,
Junior Snow
,
Kade Brown
,
Kody King
,
Kyle Campbell
,
Kyle Dudley
,
Kyle Scisco
,
Late Model Stocks
,
Late Models
,
Lee Jeffreys
,
Lee Tissot
,
Logan Jones
,
Luke Fenhaus
,
Luke Morey
,
Mason Diaz
,
Matt Caprara
,
Matt Hirschman
,
Michael Ritch
,
Modifieds
,
Mystic Missile
,
Nate Gregg
,
North-South Shootout
,
Patrick Emerling
,
Paulie Hartwig
,
Paulie Hartwig III
,
Pro Late Models
,
Robbie Brewer
,
Ronnie Williams
,
Rusty Skewes
,
Ryan Wilson
,
Spencer Davis
,
Tim Connolly
,
Touring Modifieds
,
Trevor Ward
,
Trey Crews
,
Tyler Gregory
,
Zack Miracle