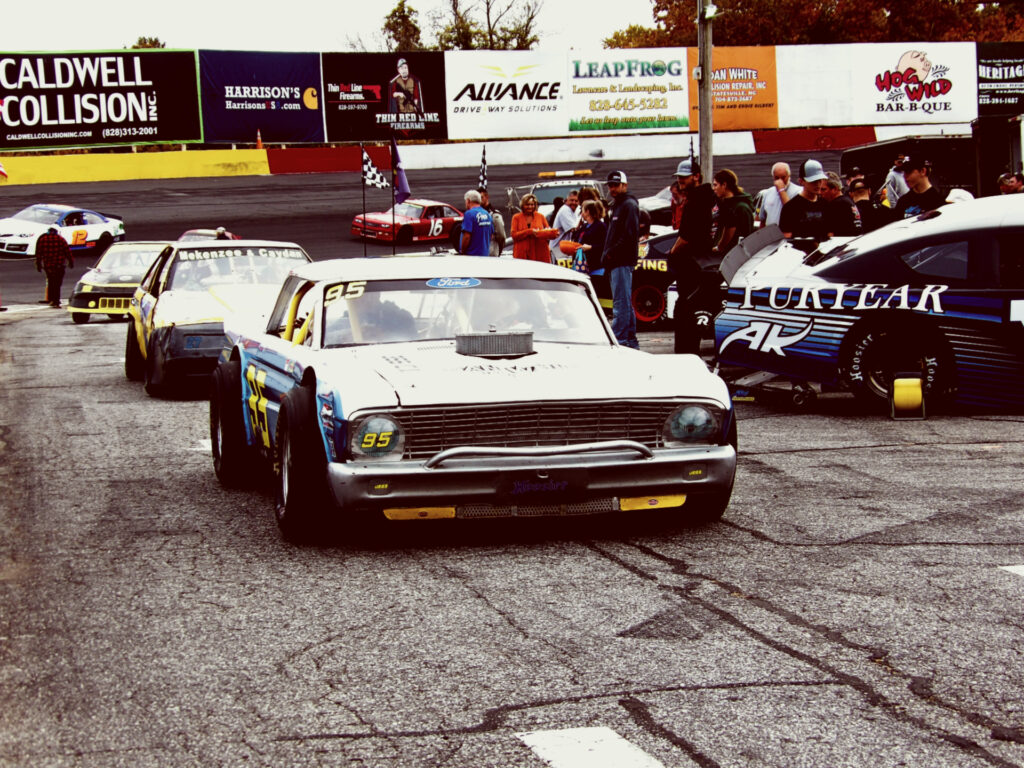 This past weekend, we couldn't wait to get back home to Tri-County Speedway. And if you don't know the story of Tri-County and it's track revival, we refer you back to our first articles on the speedway outlining it's history, but most importantly, it's rebirth. So for us, it's always great to come back to our home track especially knowing how close we were to being able to never return. There's no doubt that you've heard of many tracks coming to a demise in the past years, so coming home to Tri-County is always nothing less than a celebration. And this week, there was much to celebrate. It was Championship Night in Granite Falls, North Carolina. and you could feel the excitement in the air. But also, the 100 lap Late Model Stock feature will be highlighted by the return of decorated short track veteran Shane Huffman. For you younger fans, Huffman is somewhat of a short track legend in these parts, with a career that featured many Late Model Stock wins, and a Hooters Pro Cup Championship that led him to racing in the NASCAR Xfinity Series for a new upstart car owner named Dale Earnhardt Jr, and so Shane Huffman played an important role that led JR Motorsports to be what it has grown to today.
Also making one of his few Late Model Stock starts on the year is Michael Faulk, who stepped away from the car full time to help run the family business with dad Lee over at Lee Faulk Racing And Development where he spends a good portion of his time developing drivers such as Isabella Robusto who will be in the field and we suspect will be more than eager to show Michael what she's learned firsthand on the track. And, making their first appearance at the speedway is Steve and Ken Guthrie from The Pit Wall Podcast and Wes Kain formerly from the Vanilla Ice Project. We will also say goodbye to track veteran Marvin Miller who chose the race this week, the final race of the 2022 season, to formally retire from racing, but in doing so will also honor Lloyd Slagle, one of his many racing childhood heroes, by sporting his number in the race as his team wears Lloyd Slagle shirts in his honor. Combine all of that with the crowning of champions and a candy giveaway for the kids, and you can guarantee it will be a great night of racing here tonight at America's family speedway. The invocation is presented by John Abernathy and a rousing rendition of the country's National Anthem played, after which the command to fire the engines is given. The crowd is on their feet and the drivers are ready so, Let's Go Racin'!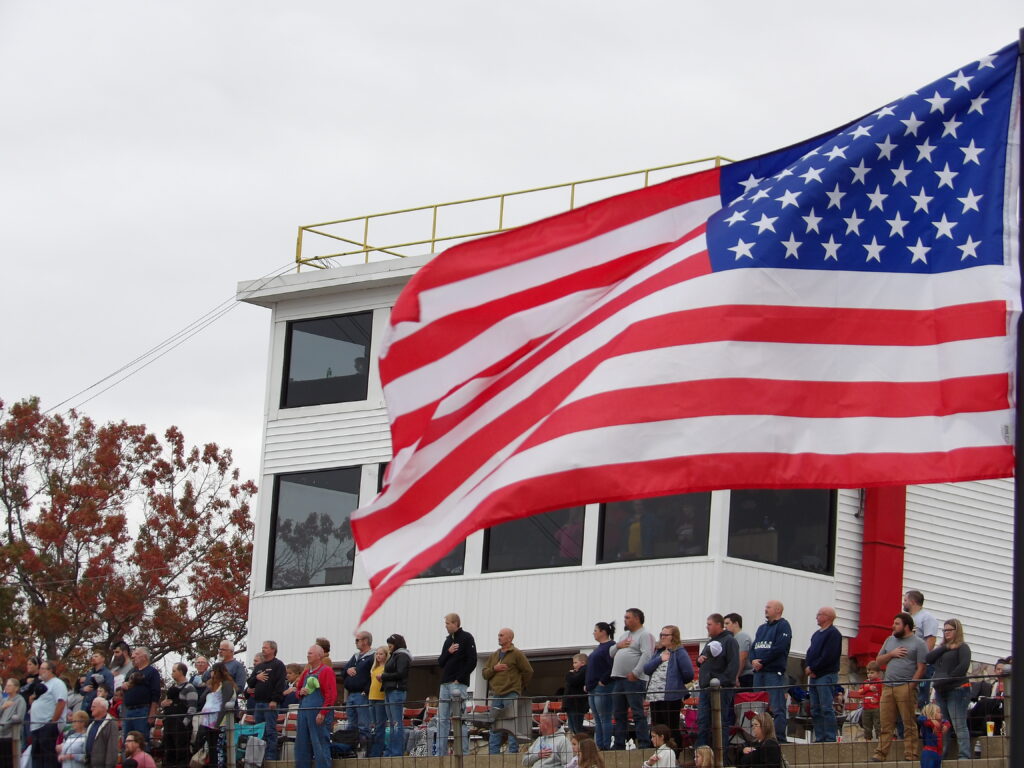 VINTAGE FEATURE
The # 95 of Tim Gilbert will start on the pole for the season's last Vintage feature with the # 72 of Don Fenn starting alongside followed by the # 4 of Dennis Hinkle who rounds out the top three. Flagman Darrell Payne looks over the gorgeous field, likes what he sees, and we're green! But not for long as Gilbert jumps the gun, prompting a caution. It's good the second time around as Gilbert is able to clear Fenn quickly, with Fenn getting in line. It's a calm race as Fenn stays with Gilbert almost the entire time. But Gilbert does what he's done all year and that's race the racetrack, as he smoothly cruises to yet another 2022 Tri-County win, clinching the championship in the process. Fenn comes home in second while Hinkle closes out his season in third.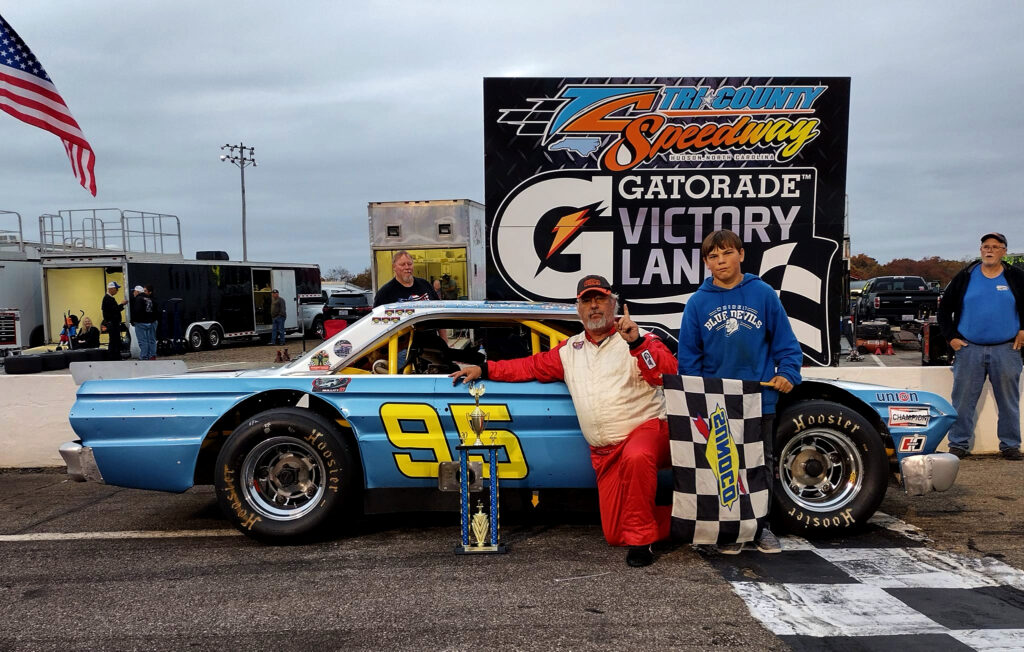 FRONT WHEEL DRIVE FEATURE
Mahlon Borkholder, driver of the # 24 originally out of Pennsylvania starts on the point for this one with the # 81 of Dewayne Smith starting second. Rounding out the top five will be the # 102 of Rayna Holland, # 10 Donny Holland, and the # 44 of Chuck Sims. Payne looks over the great field, gives the thumbs up, and we're green for the last Front Wheel Drive race of the season! Borkholder gets the early jump as Donny Holland gets by Rayna Holland for third. It's a mad scramble though as Rayna and Sims start to fall back, allowing the # 27 of James Powell to move into third along with the # 1 of Brian Dodd sneaking into fifth. Powell wastes no time as he looks under Smith for second. But Smith has other plans as he's underneath Borkholder, creating a three wide battle for the lead. Smith gets the advantage with Powell slotting in second, moving Borkholder to third. Powell has the run though, now getting by Smith. Behind them, Borkholder starts to drop as both Donny Holland and Dodd get by. The battle for fifth is now between Borkholder and Sims, racing door to door for multiple laps straight. Sims finally gets the best of Borkholder, also moving in on Dodd, stealing that spot. The chaos is finally broken as the caution has flown for Rayna Holland spinning in between turns one and two. For the restart, it'll be Powell, Smith, Donny Holland, Sims, and Dodd. Powell gets a massive launch as Sims starts to come to life, passing both Donny Holland and Smith. Dodd takes advantage of Donny's lost momentum as he moves up to fourth. But the yellow flies once again for Rayna Holland, as she's very slow on the backstraight. Powell stays up front for the ensuing restart with a determined Sims in second, followed by Smith, Dodd, and Donny Holland. Powell again gets a good start with Dodd now moving by Smith. Donny Holland on the other hand now has to deal with the # 42 of Scotty Gosnell, as Gosnell takes away fifth. But Donny fights right back, crossing Gosnell over. He isn't done yet either as he now looks on Smith and takes away that spot. But none of that matters to James Powell as he picks up yet another win, taking his second consecutive Front Wheel Drive title in the process. Sims gets a hard earned second, Dodd finishes third, Donny Holland fourth, and Smith falls to fifth.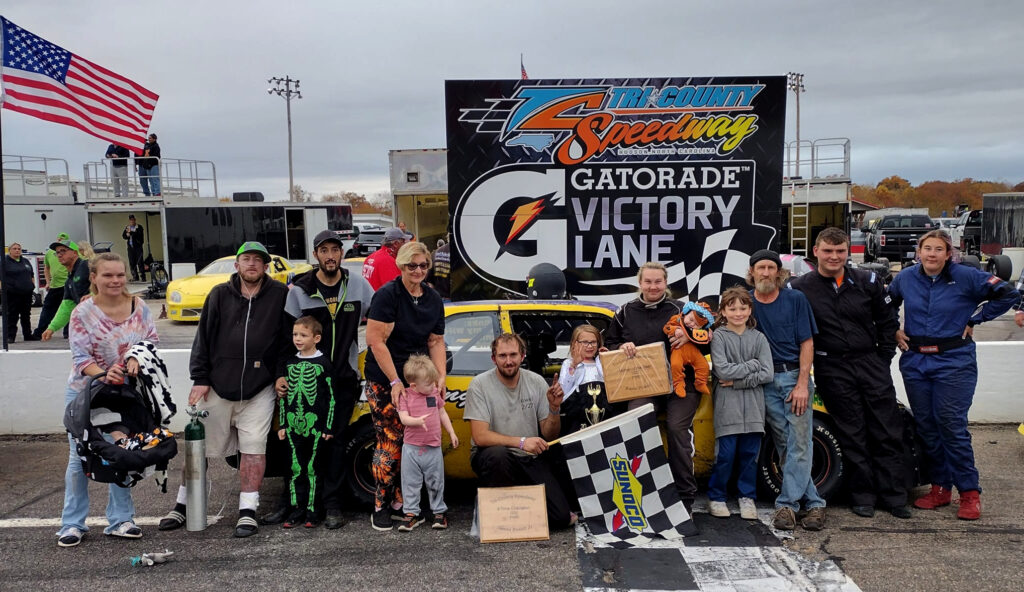 RENEGADE FEATURE
The always entertaining Renegade division takes the stage now with the # 1.5 of Shawn Thomson starting on pole. # 55 Jordan Cook will start second followed by the # 25 of Skylar Hudson. Payne looks over the field, likes the formation, and we're green for the Renegades! Thomson doesn't get the best of starts and that allows Cook to immediately take the lead. But already making his way to the front is the # 16 of Steve Smart, getting by Hudson and now Thomson. Cook puts up a great fight, but it's not enough as Smart now leads. Behind Cook, Thomson still fades as Hudson is now challenged by the # 32 of Steve Guthrie. Guthrie dirt tracks it around Hudson and makes it stick, moving into the bronze position. But now here comes points leader # 9 Klint Townsend, as he flies by Hudson and begins to look on Guthrie. He's able to sneak by with Cook now in his sights. Cook hangs for a second, but it's ultimately Townsend who gets the spot, with Guthrie following him through for third. But they'll have to act fast as Steve Smart has created a huge lead between himself and the pack. Townsend looks to be faster in second though, but he has mechanical trouble! He pulls his machine in the pits, allowing Guthrie to take second and Cook to regain third. Guthrie dirt tracks every corner, but it's not nearly enough as Smart crosses the line first. But after post-race inspection, Guthrie is given the win in his first ever Tri-County start. Cook comes home second, and Hudson gets third. And despite his mechanical gremlins, Klint Townsend takes the 2022 Renegade championship.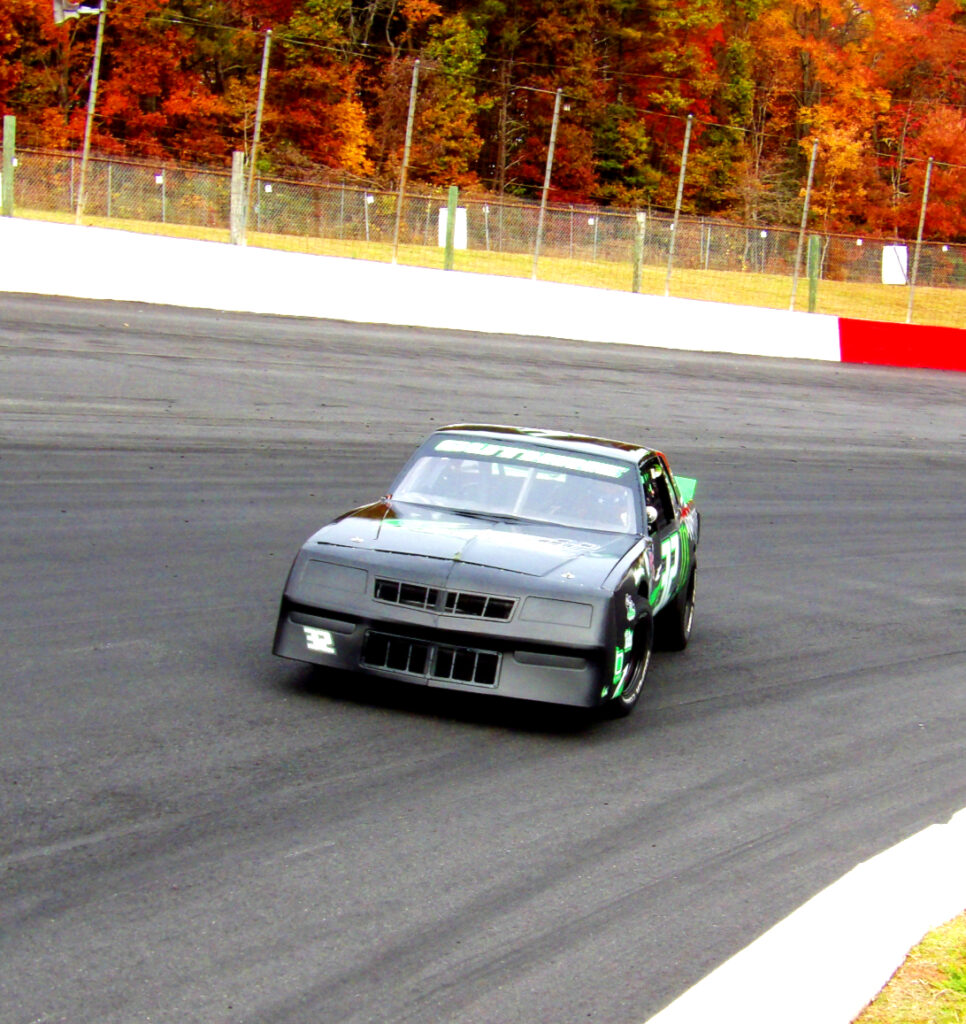 STREET STOCK FEATURE
The # 12 X of Cody DeMarmels is the pole sitter for the final Street Stock race of the season, as points contender # 03 Kevin Eby starts second, # 55 Johnny Reynolds third, points leader # 07 Davey Smart fourth, and # 32 X Gary Ledbetter Jr fifth. Payne glances at the field, likes the lineup, and we're green! DeMarmels gets the launch with Ledbetter Jr already making his way up, getting by both Smart and Reynolds. He now looks on Eby, but Eby knows he needs every point possible, and gives Ledbetter Jr a fight. Despite his efforts, Eby is passed by Ledbetter Jr as Smart now gets by Reynolds for fourth, bringing the # 32 of Ken Guthrie along in fifth. Ledbetter Jr is closing in on DeMarmels, just getting by as the first caution flies for the # 7 of Front Wheel Drive champion James Powell making his first Street Stock start, as his transmission locks up and he spins his hot rod in turn three. It's a quick cleanup though as Ledbetter Jr lines up first followed by DeMarmels, Eby, Smart, and Guthrie. DeMarmels doesn't get going on the restart, causing a stack up through the field. Everyone makes it out unscathed though as DeMarmels only loses one spot in the exchange to Eby. But DeMarmels looks on Eby again as the two have a classic Tri-County battle, staying side by side for multiple laps as the fans get up on their feet. Just when it seems one has the advantage, the other driver fights right back. As they continue to go at it, Guthrie is able to clear Smart for fourth. After what seems to be an eternity, Eby finally clears. But it's a never ending game of cat and mouse as DeMarmels is back by again. The battle is broken up by a caution as the # 44 of Clayton Ross slams the turn four wall. It's another quick caution as Ledbetter Jr remains first followed by DeMarmels, Eby, Guthrie, and Smart. Ledbetter Jr gets a great restart as Smart loses yet another spot, this time to Reynolds. And now Guthrie has a problem, taking his machine to the pits. Smart regains fifth as a result but there's huge trouble on the frontstretch as the # 12 of Mike Hatton blows up big, leaving behind a trail of fluid. It's a lengthy cleanup as the track tries to ensure that all of the fluid is gone. After the drivers give the thumbs up, they lineup with Ledbetter Jr still leading, DeMarmels second, Eby third, Reynolds fourth, and Smart fifth. The green flies and it's dead even for the lead! DeMarmels hangs like a kidney stone as Ledbetter Jr finally rids the 12 X after a tough battle. DeMarmels tries to mount a comeback but it's not enough as Gary Ledbetter Jr adds yet another Street Stock trophy to his collection. DeMarmels comes home second followed by Eby, Reynolds, and 2022 champion, Davey Smart.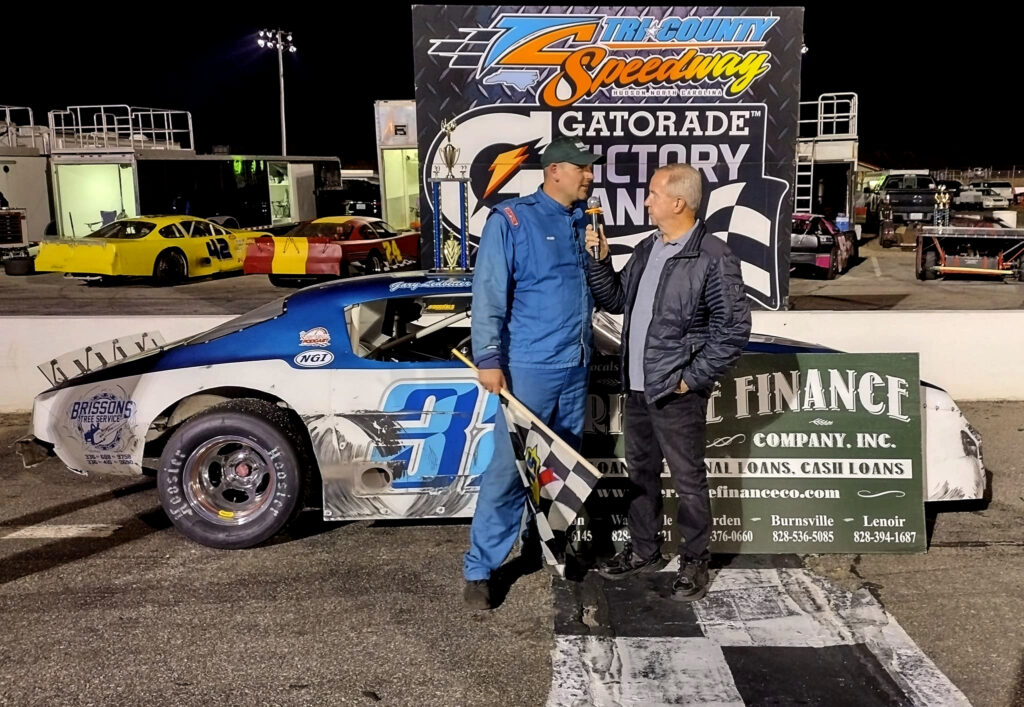 OUTLAW FEATURE
It's nearly a dead heat for the points lead in the Outlaw class between the # 15 of Sheflon Clay and the # 92 of Martin Nesbiitt. But starting on the pole will be Pro Late Model prospect # 77 Ruben Caceres Jr followed by Clay and the # 1 X of Mike Toner Jr rounding out the top three. Payne looks over the fast field, likes the formation, and we're green! Clay immediately gets by as Caceres Jr is put three wide for second with Toner Jr and an emerging Nesbitt. Nesbitt gets the spot followed by Toner Jr in third. Nesbitt now sets his sights on Clay, but Clay's championship hopes go up in smoke! This results in a caution, all but giving Nesbitt the title. But the win is a different story as he'll line up first followed by a determined Toner Jr in second and Ruben Caceres Jr in third. Nesbitt gets the jump but Toner Jr is right there, following Nesbitt's every move. He tries to look on Nesbitt multiple times, but Nesbitt closes the door. Toner Jr eventually burns his stuff up in second, allowing Nesbitt to take the win and close championship. Toner Jr grabs second with Caceres Jr getting third.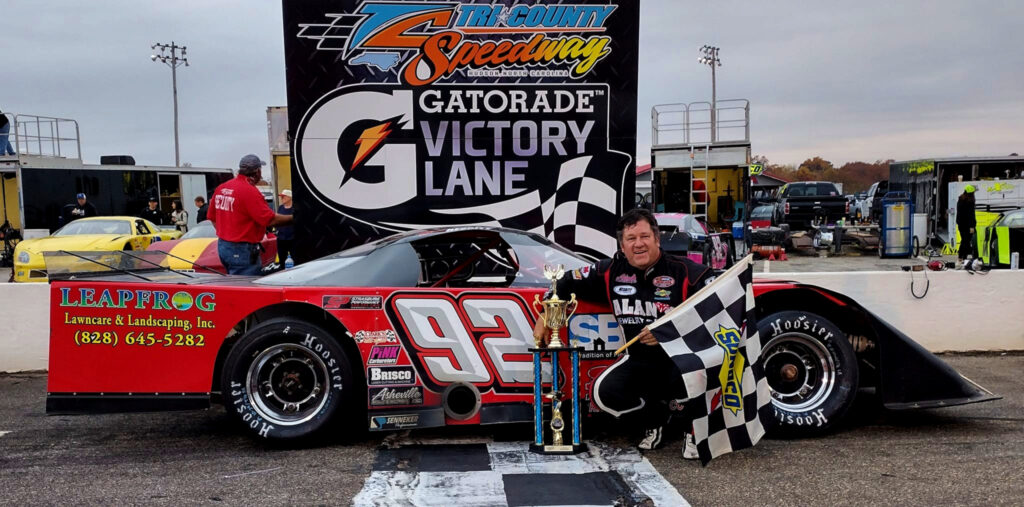 LIMITED LATE MODEL FEATURE
Don Carlton in the # 14 starts up front for the super competitive Limited Late Model class followed by the # 97 of Jacob York, points leader # 59 Austin Harris, # 5 Trey Canipe, and the # 92 of Taylor Nesbitt. Payne looks over the great field, gives the thumbs up, and we're green! Right off the bat, they're dead even for the lead, with neither Carlton or York giving an inch. York finally grabs the top spot as Harris follows him through by Carlton. Now Harris starts to breathe down York's neck, but York tries to shut the door. It doesn't work as Harris looks under the white 97. York tries to stick on the outside, but in doing so, he nearly spins out of turn four in a spectacular piece of driving, somehow gathering it up. But Harris is now clear and starts to pull away. York is still fast though, as he tries to mimic Harris' line up front. But the caution is out as the # 71 of Tim Bristol is slow out of turn four. It's a very quick caution period as Harris lines up first followed by York, Carlton, Canipe, and Nesbitt. Payne waves the green and it's Harris who gets the best launch. York continues to keep Harris in his sights though as behind them, Canipe starts to look on Carlton, but just can't make anything work. He tries to dive under multiple times, but Carlton continues to shut the door. As they battle, York tries to mount one last charge on Harris. He gains ever so slightly but it's not enough as Austin Harris, father of Tri-County legend Rock Harris, grabs the win and his first career Tri-County championship. York gets second followed by Carlton in third, Canipe fourth, and Nesbitt in fifth.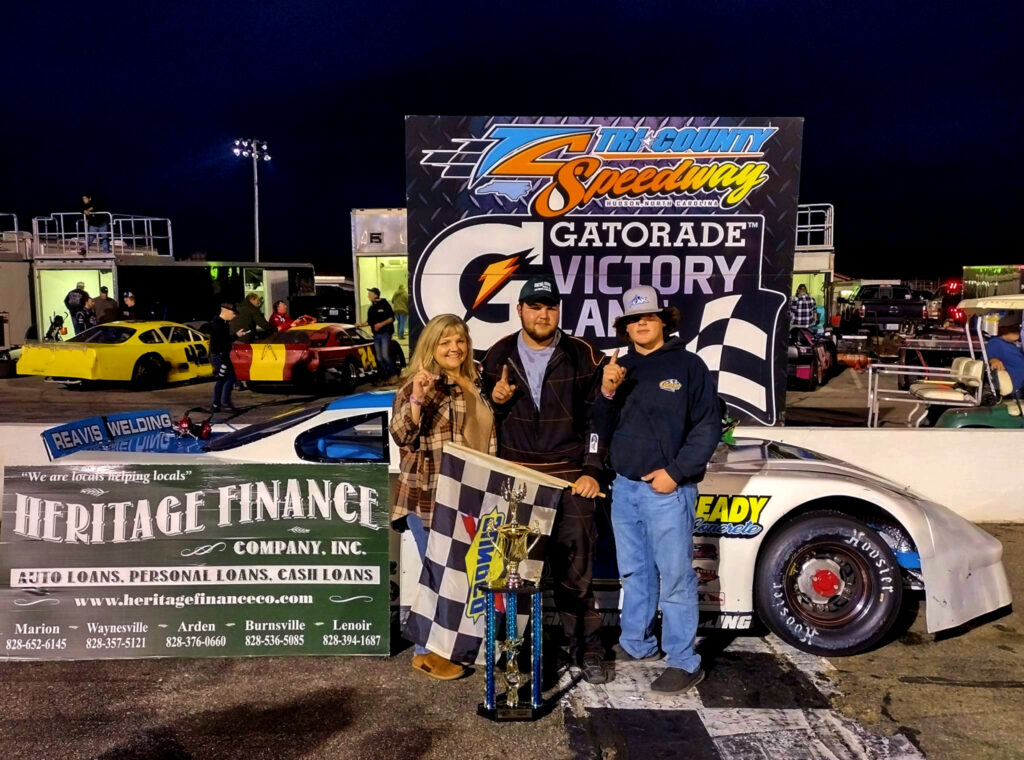 LATE MODEL STOCK FEATURE
Head of Lee Faulk Racing And Development, Michael Faulk, starts on pole with a blistering time of 15.528 seconds. Starting second will be teammate # 55 Isabella Robusto followed by multi-time Dash Series winner # 71 B.J. Mackey in third, former Hooters Pro Cup and Xfinity star # 84 Shane Huffman in fourth, and former Hickory Motor Speedway champion # 28 Thomas Beane in fifth. Payne looks over the star-studded field, likes what he sees, and we're green for 100 laps of Late Model Stock action! Faulk gets the early jump, but not for long as Robusto gets by with ease. Behind them, Beane is on the move early as he sneaks by Huffman. As the field continues to shuffle, the caution flies early as the # 11 of Dillon Houser spins between turns one and two, collecting the # 16 of 2022 Florence champion Kade Brown. It will be an early end to Brown's night as for the restart, it'll be Robusto, Faulk, Mackey, Beane, and Huffman. The green waves and Robusto gets the jump. The # 19 of Jaiden Reyna starts to make his way up, breaking into the top five past Huffman. He starts to look on Beane, but smoke starts to roll from his machine, prompting the Rev Racing driver to bring his car down pit lane. It's a premature end to his night as well as Robusto continues to lead. But behind her, it's a fierce battle between Faulk and Mackey. Mackey looks under Faulk multiple times, but Faulk shuts him out. They continue to fight as they now make contact in turn four! Faulk spins as the fans start to make their opinion known about the incident. Faulk tags the rear of the field as for the restart, it'll be Robusto, Mackey, Beane, Huffman, and the # 97 of 2022 Super Cup Stock Car Series champion Jason Kitzmiller. It's another great start for Robusto, but Mackey is right there as the two make slight contact. Robusto eventually gets the nod as now Huffman charges back by Beane. Behind him, the # 10 of Regina Sirvent drives by Kitzmiller, grabbing fifth. The entire top five is now under a blanket as the racing has been incredible throughout the field. Mackey continues to look on Robusto but another caution flies. It's again for Faulk as he's now spun out of turn four. He gets it back rolling though as for the restart, Robusto lines up first followed by a determined Mackey, Huffman, Beane, and Sirvent. Rookie Robusto gets a veteran restart as Faulk starts to drive like a man possessed. Before you know it, Faulk is sixth, looking on Sirvent. Sirvent pushes on however, but it's not enough as Faulk reenters the top five. And it's at the perfect time as the halfway caution has fell on the field. The invert is revealed to be six, putting Sirvent up front for the ensuing restart followed by Faulk, Huffman, Beane, and Mackey. After adjustments are made and drivers catch their breath, they're right back lined up for the restart. Payne looks over the field, likes the formation, and we're green!
Sirvent gets a great restart, but Faulk is a tad better as he clears Sirvent heading down the back. Beane's car seems to be better after the break as well, now getting by Huffman with Robusto following through, dropping Mackey to sixth. Beane now looks on Sirvent, who puts up a valiant effort but can't hold on as Beane moves to second. Robusto again follows, looking to grab another Tri-County win. Sirvent now has to hold off veteran racer Huffman. She opens the door, but quickly closes it as she and Huffman have a great battle. But up front, Faulk is met with a fierce challenge from Beane. Faulk holds the dominant outside lane, with Beane trying somehow to make the bottom work. It's a high speed chess match, with Faulk and Beane running almost identical lap times. Huffman finally works his way by Sirvent as Mackey follows him through, dropping Sirvent to sixth. But back up front, it's Faulk with the clean air. The fans are on their feet as the laps continue to tick off. Beane is right there, but he can't make anything happen, as Faulk, with a broken tow from his incident with Mackey, pulls off the huge win. Beane comes home second, Robusto third, Huffman a great fourth, and Mackey fifth. After troubles in qualifying, the # 01 of Zack Franks makes just enough laps to capture the 2022 Late Model Stock championship.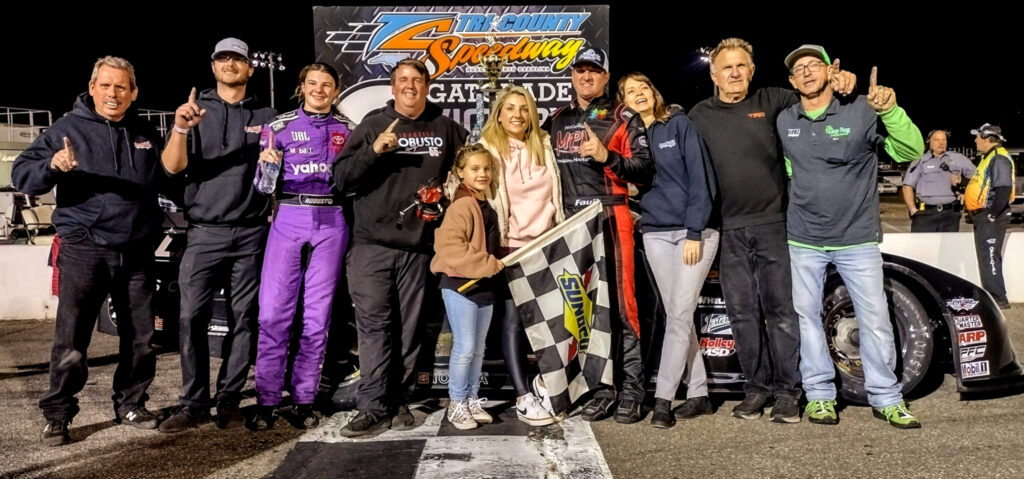 MY TAKE
If you are a serious race director, whether it be for a speedway or a series, you have to have a rulebook to follow. And if you want the respect of the drivers that compete at your track or in your series, you have to actively and fairly execute the rules of that book. For years it's been known that at some places, the rulebook favors certain drivers and teams. After all, every track and series needs it's stars, right? But the truth is, if you make up the rules as you go, the whole thing becomes a circus, and behind the scenes, fingers are pointed and trust is lost. No big deal if you want to run a circus, but a really big deal if you want real respect from your competitors and the fans that pay to watch them compete. That being said, Tri-County Speedway has been an example for us on running a track by the book. We have seen more DQ's there than any other place we've been to, and it was no different Saturday night as it was proven that even a track favorite gets no break here at the tech shed. Renegade winner Steve Smart, a sentimental favorite not only with the fans, but with many track workers as well, was DQ'd for not tearing down so the tech personnel could take a closer look at some parts. Smart refused, and the track had no choice than to give the win to the driver that crossed the line second.
But let's not get into the argument of if he was right or wrong, or the car was legal or not, because that argument is mute as the decision has been made. Let's instead turn to the point that regardless of where you fall in that argument, integrity was secured. And this track has been tested on it. But it's not just the local racing that has seen this happen at the track since it's reopening, as the SMART Modified Tour also had an incident at the tech shed here as well, also featuring one of it's biggest stars. And we watched as the social media warriors went to town on it, criticizing the tour for taking away a win from one of their favorite drivers, even threatening the tour that this will effect it's attendance among other things. And we agreed with that, but not in the way many would expect or some would be happy about. But yes, we feel this may effect attendance for the SMART Tour moving forward, but not in a negative way. They will gain followers, not lose them, because despite how things were done in the past, integrity feeds respect. And the silent majority will repay the tour for it's integrity more than any other thing a tour or track can do. And the fans they would lose are already lost anyway, advocating for favoritism over fairness. Mark our words, the tour will not suffer for fairness. On the contrary, the foundations will be strengthened immensely. Equally so for the tracks that employ it as well.
Halloween Havoc will not be remembered for a disqualification; it will be remembered for much more. We got to see a legend return in Shane Huffman and it was clear he can still do it. We got to see Marvin Miller take his last laps in honor of Lloyd Slagle. And we got to see Michael Faulk prove to at least one of their many drivers that there is a reason he heads driver development at Lee Faulk Racing And Development and that he can still get it done as well. As a matter of fact, when all was said and done and we looked at every performance, Faulk coming home with the win after spinning twice, ironically putting him position for the win, and then holding off a determined Thomas Beane down the stretch, earns Michael Faulk and the Lee Faulk Racing And Development team his first Short Track Report Blue Collar Racer Of The Week in a much needed easy choice for us. But the true winners were the fans and the track itself. They did it by the book, and though there are many chapters to be written here, it's already a story of intense drama and excitement, and we can't wait for the next chapter. Until next Time, See You At The Track!
(Race writeup by Joshua Weatherman. Intro and My Take written by Billy Weatherman. 2022 Copyright SHORT TRACK REPORT)
Vintage Results:
# 95 – Tim Gilbert (Champion)
# 72 – Don Fenn
# 4 – Dennis Hinkle
# 39 – Mark Whitten
# 71 – Bill Powell
Front Wheel Drive Results:
# 27 – James Powell (Champion)
# 44 – Chuck Sims
# 1 – Brian Dodd
# 81 – Dewayne Smith
# 10 – Donny Holland
# 42 – Scotty Gosnell
# 12 – Kayla Powell
# 54 – Gary Willard
# 24 – Mahlon Borkholder
# 102 – Rayna Holland
# 11 – Bradlee Jones
Renegade Results:
# 32 – Steve Guthrie
# 55 – Jordan Cook
# 25 – Skylar Hudson
# 1.5 – Shawn Thomson
# 82 – Wes Kain
# 5 – Nathan Pate
# 9 – Klint Townsend (Champion)
# 16 – Steve Smart (Disqualification)
Street Stock Results:
# 32 X – Gary Ledbetter Jr.
# 12 X – Cody DeMarmels
# 03 – Kevin Eby
# 55 – Johnny Reynolds
# 07 – Davey Smart (Champion)
# 6 – Chris Tunnell
# 3 – Kayla Eby
# 12 – Mike Hatton
# 32 – Ken Guthrie
# 44 – Clayton Ross
# 73 – Kyle Boice
# 7 – James Powell
Outlaw Results:
# 92 – Martin Nesbitt (Champion)
# 1 X – Mike Toner Jr.
# 77 – Ruben Caceres Jr.
# 23 – Ryan Miller
# 15 – Sheflon Clay
Limited Late Model Results:
# 59 – Austin Harris (Champion)
# 97 – Jacob York
# 14 – Don Carlton
# 5 – Trey Canipe
# 92 – Taylor Nesbitt
# 71 – Tim Bristol
# 4 – Marvin Miller
# 23 – Jimmy Simmons
# 24 – Brett Baer
# 42 – Haley Baer
# 84 – Monty Cox
Late Model Stock Results:
# 1 – Michael Faulk
# 28 – Thomas Beane
# 55 – Isabella Robusto
# 84 – Shane Huffman
# 71 – B.J. Mackey
# 10 – Regina Sirvent
# 11 – Dillon Houser
# 97 – Jason Kitzmiller
# 01 – Zack Franks (Champion)
# 19 – Jaiden Reyna
# 16 – Kade Brown
Tags
Austin Harris
,
B.J. Mackey
,
Bill Powell
,
Bradlee Jones
,
Brett Baer
,
Brian Dodd
,
Chris Tunnell
,
Chuck Sims
,
Clayton Ross
,
Cody DeMarmels
,
Darrell Payne
,
Davey Smart
,
Dennis Hinkle
,
Dewayne Smith
,
Dillon Houser
,
Don Carlton
,
Don Fenn
,
Donny Holland
,
Front Wheel Drive
,
FWD
,
Gary Ledbetter Jr.
,
Gary Willard
,
Haley Baer
,
Halloween Havoc
,
Isabella Robusto
,
Jacob York
,
Jaiden Reyna
,
James Powell
,
Jason Kitzmiller
,
Jimmy Simmons
,
John Abernathy
,
Johnny Reynolds
,
Jordan Cook
,
Kade Brown
,
Kayla Eby
,
Kayla Powell
,
Ken Guthrie
,
Kevin Eby
,
Klint Townsend
,
Kyle Boice
,
Late Model Stock
,
Lee Faulk Racing And Development
,
Limited Late Model
,
Lloyd Slagle
,
Mahlon Borkholder
,
Mark Whitten
,
Martin Nesbitt
,
Marvin Miller
,
Michael Faulk
,
Mike Hatton
,
Mike Toner Jr.
,
Monty Cox
,
Nathan Pate
,
Outlaw
,
Rayna Holland
,
Regina Sirvent
,
Renegade
,
Ruben Caceres Jr.
,
Ryan Miller
,
Scotty Gosnell
,
Shane Huffman
,
Shawn Thomson
,
Sheflon Clay
,
Skylar Hudson
,
Steve Guthrie
,
Steve Smart
,
Street Stock
,
Taylor Nesbitt
,
Thomas Beane
,
Tim Bristol
,
Tim Gilbert
,
Trey Canipe
,
Tri-County
,
Tri-County Speedway
,
Vintage
,
Wes Kain
,
Zack Franks