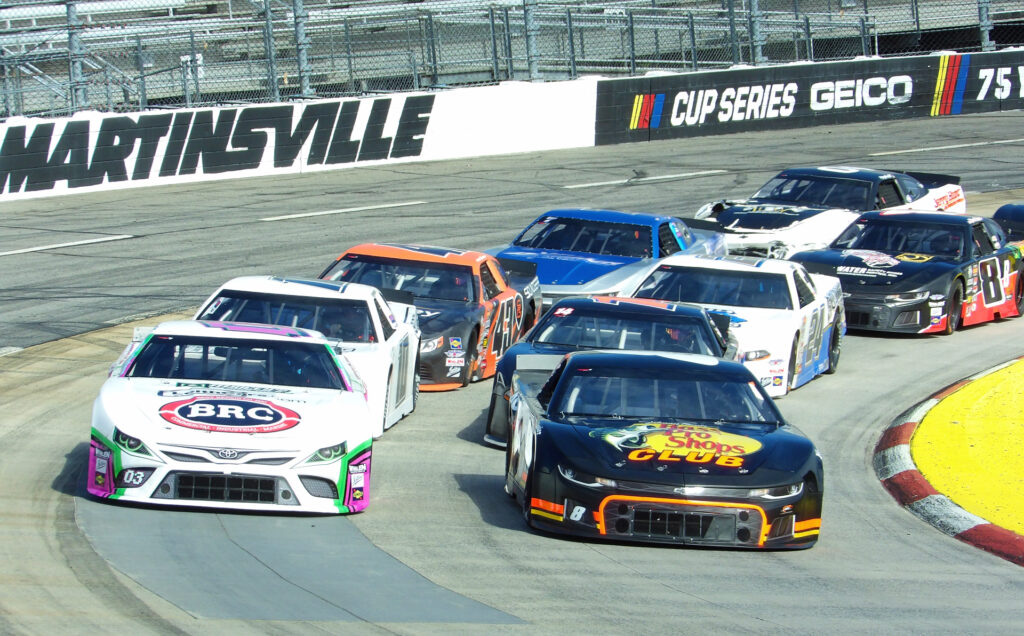 "I want to let y'all know that the blue collar guy can still get it done boys!"

Trevor Ward
Honestly and without contention I feel it's safe for me to say that Late Model Stock racing has been as good as it's ever been competitively this year in the central east coast region. I've seen and analyzed a great number of races in my life, especially the last few years, and through all the great racing and legends I've seen compete, I don't remember a time when the talent level was so vast. And so I came into this weekend with some pretty lofty expectations. It was time for the 2023 ValleyStar Credit Union 300, the biggest and richest Late Model Stock race in the nation, and after what I've seen this year in Late Model Stock competition, I was truly ready to see this race take it to the next level on the track. But, when you start to get that pumped about something and you get to my age, you learn to start tempering those expectations a little bit because life is life and you just never know.
But it was harder than I expected. They say that this is the Daytona of Late Model Stock racing, but as we arrived, there it was…that big race feel that only a premier race can deliver. The teams were prepared and they were confident. You could feel it. It wasn't arrogance per se. It was the culmination of teams rising to the next level after a season of immense competition. It was a feeling in the air that I can't quite describe unless you experience it. It seemed more than Late Model Stock Daytona, and as me and Josh discussed it he said exactly what I was feeling. "It's more like the Super Bowl of Late Model Stocks." He was right. This was more than just a big race this year. It had that championship feel to it. And although the Virginia Triple Crown was on the line, a championship in it's own right that can't be underscored, it was bigger than that. These guys were going to race for their own personal championship. They were going to go head to head for bragging rights in a year of rising talent and amazingly close racing. Yes, this was going to be for more than the money. More than for the trophy. They were going out to decide amongst themselves who was the best, and they were going to lay it all on the line to prove it.
The intensity was glaring to us as we've been putting our focus on these guys all year. And what better place to prove this point amongst themselves than at Martinsville Speedway. The challenge was real. What transpired next, the 2023 ValleyStar Credit Union 300, was about to exceed those expectations I had.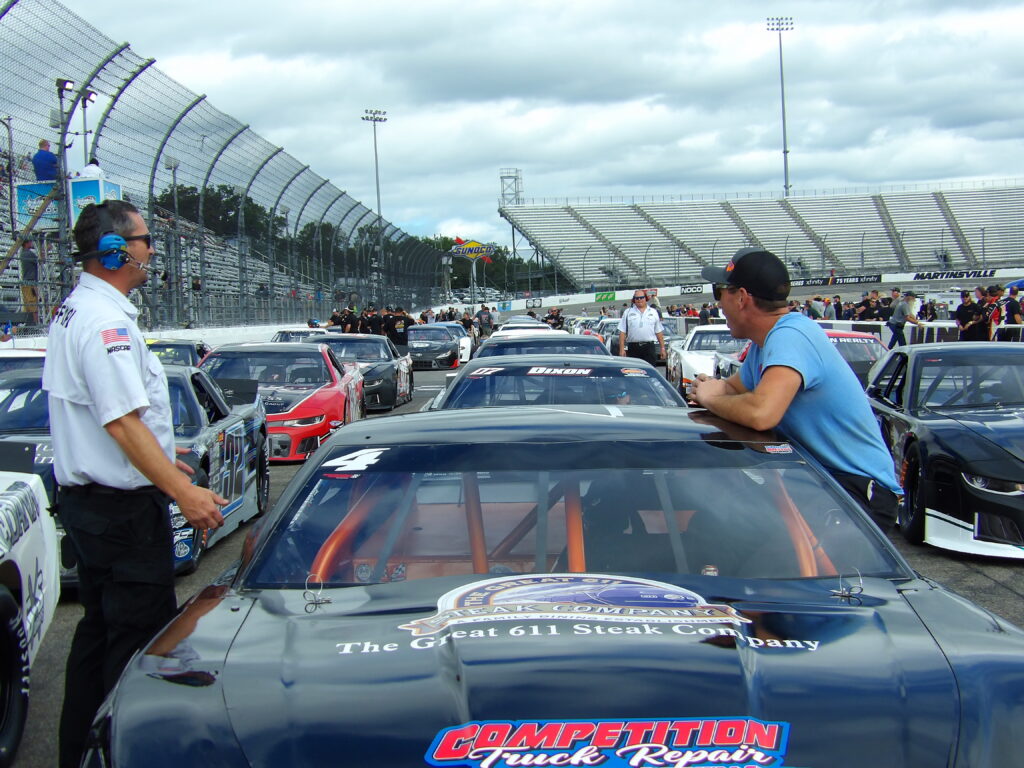 HEAT RACES
To set the field for the ValleyStar Credit Union 300 at Martinsville Speedway, four Heat Races are run. And with over eight cars entered for this year's event, for those that didn't qualify well on Friday, survival was the key word. To survive, you had to work your way to a top 10 in your individual Heat in order to make the feature. Intensity was the only way to describe it. Heat Race # 1 was relatively clean, seeing the # 6 of fast qualifier Bobby McCarty taking the win while Casey Kelley in the # 16 held off Andrew Grady in the # 1B to make the transfer. Heat Race # 2 was anything but calm as # 88A Doug Barnes Jr and # 22 Landon Huffman put on a heck of show for the win, with Barnes Jr taking it. As for the transfer, it was an absolute dogfight, with the damaged # 77B of Connor Hall making a three wide move at the end to make the race. Tempers boiled over after the fact as Hall's crew and the crew of # 97W Magnum Tate would come to blows in the pits. Heat Race # 3 kept up the intensity, with Thomas Scott in the # 8 taking his battered machine to the feature over the likes of William Sawalich in the # 43, Conner Jones in the # 44, and Ronnie Bassett Jr in the # 04. As for the win, that would go to Carson Kvapil in the # 8A. Ryan Millington in the # 15C would cap off the Heats, winning his way in while Davey Callihan in the # 41 bested the # 50 of Ross Dalton for the final transfer in Heat Four. Martinsville Mayhem is what you come to expect in the Heats, and this year certainly didn't disappoint.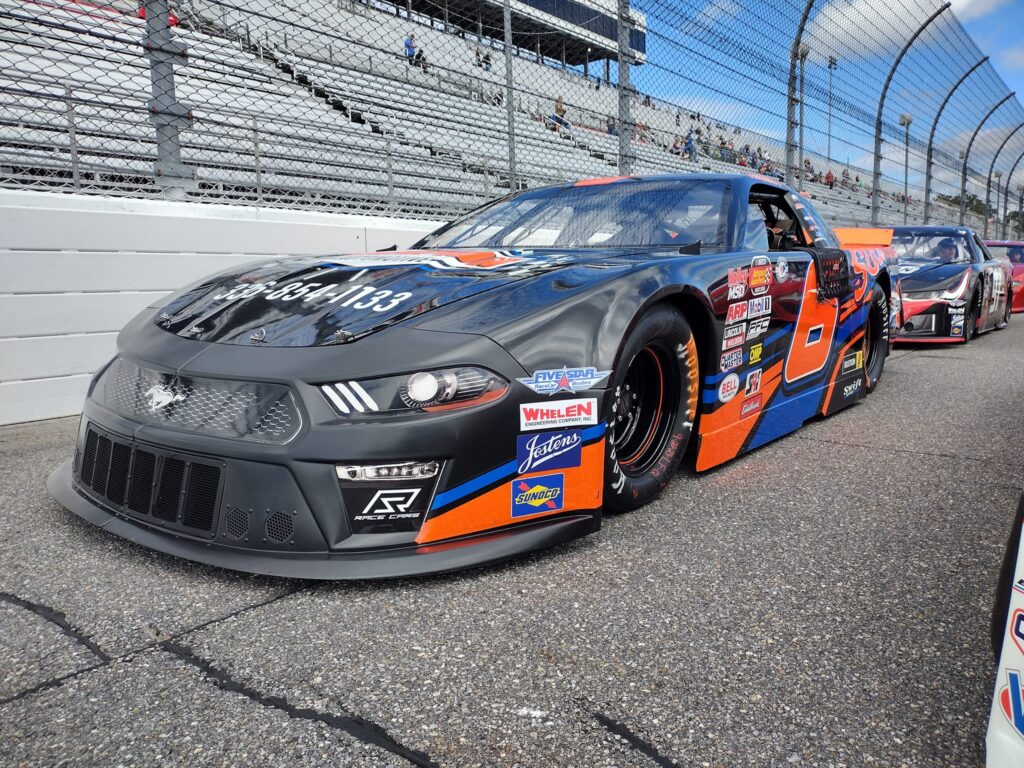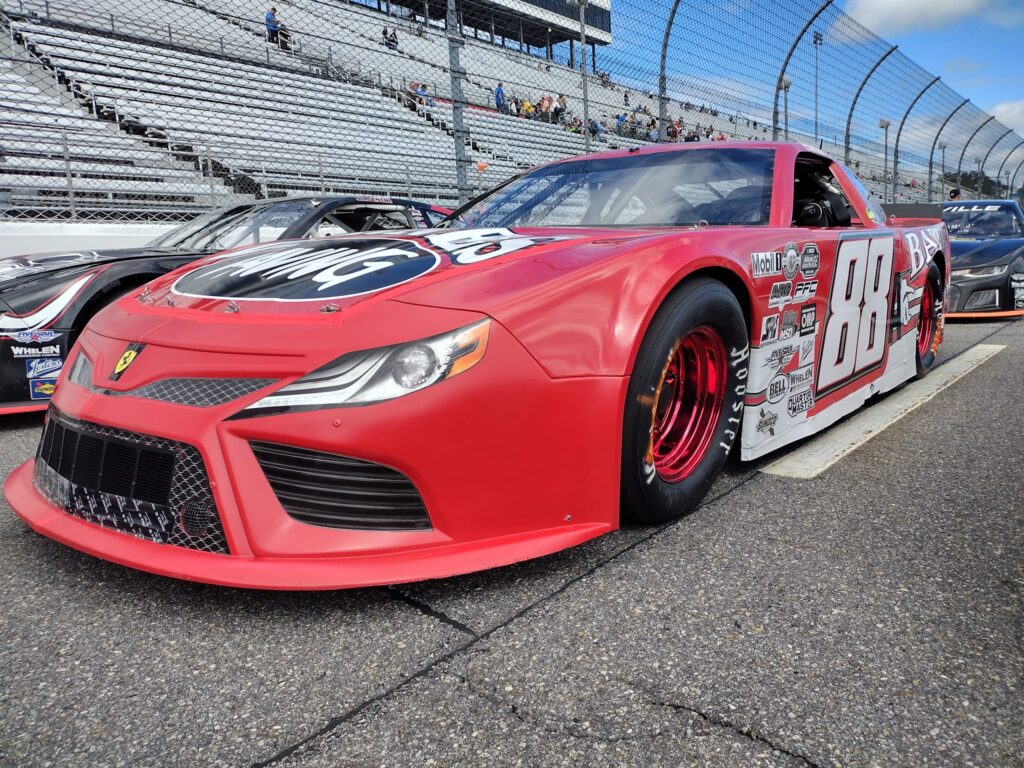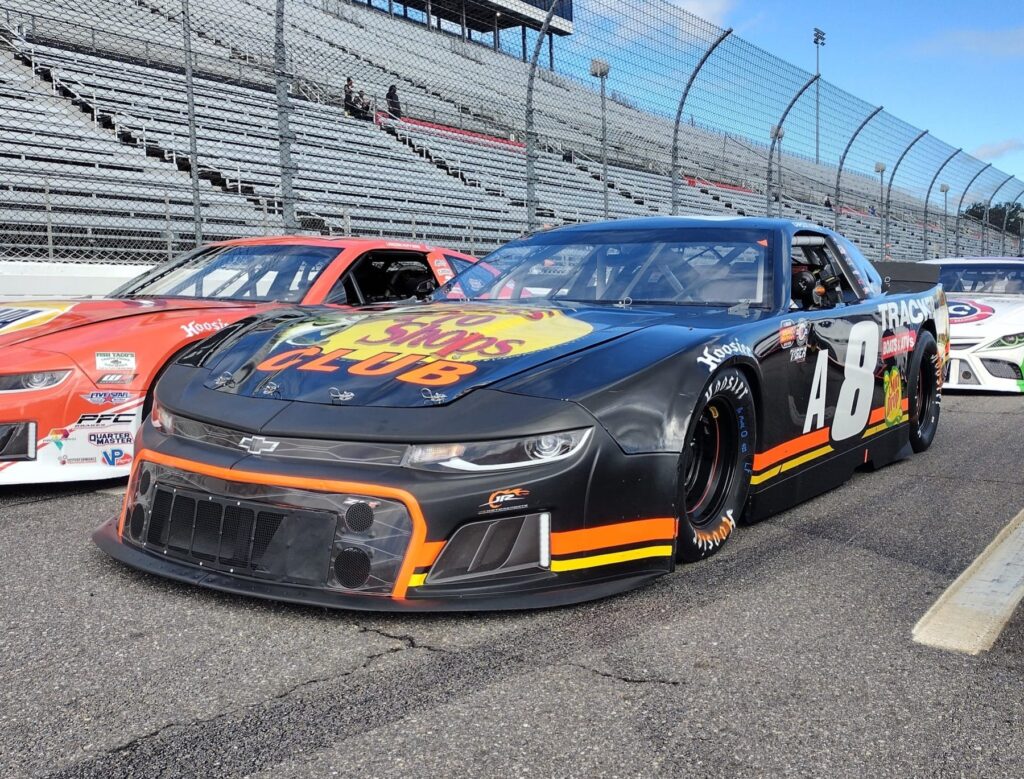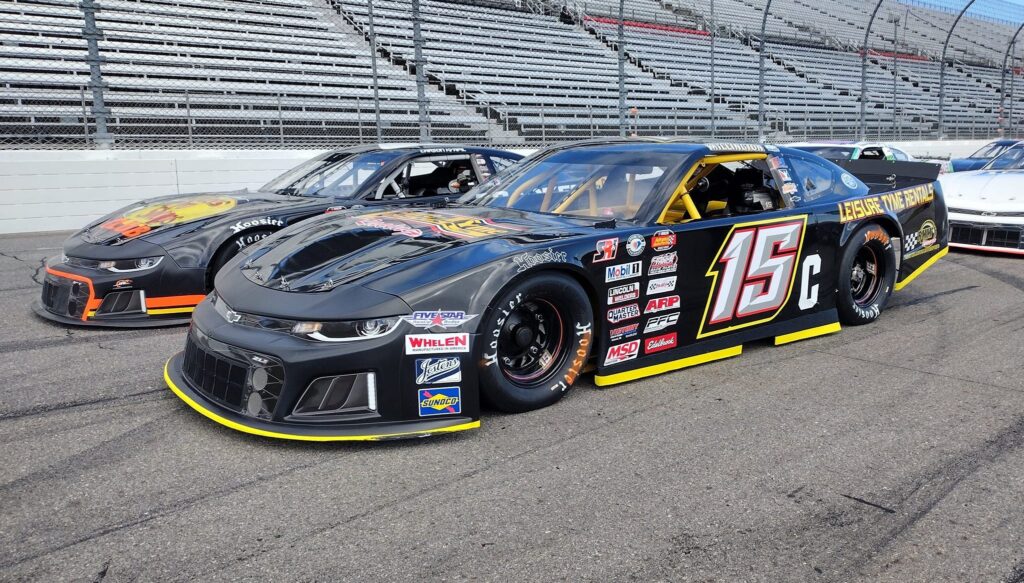 VALLEYSTAR CREDIT UNION 300 FEATURE
The fastest man in town, Bobby McCarty will start on the pole followed by Doug Barnes Jr, current CARS Tour Late Model Stock points leader Carson Kvapil, Ryan Millington, and Daniel Silvestri in the # 97 rounds out the top five. Flagman Brandon Willard looks over the field consisting of the forty best Late Model Stock drivers in the country, likes the formation, and we're underway in the biggest race of the year! McCarty shoots off like a rocket as Silvestri and Landon Huffman are side by side for fifth, but the caution is already out as the # 14 of Jared Fryar has slowed with a flat tire. It'll be the same top five as the start, with McCarty and Barnes Jr now in a dead heat for the top spot. Barnes Jr is strong on the outside and clears McCarty as Silvestri gets by Millington for fourth. Silvestri hangs on to the spot for a handful of laps, but Millington looks underneath and takes the spot back. He goes into turn three and has a problem! The steering locks up, bringing Millington to a crawl for the caution. A major development as Millington was one of the favorites heading in but now has to take his machine behind the wall. Back on track, Barnes Jr lines up the leader followed by McCarty, Kvapil, Silvestri, and Huffman. Reminiscent of the start of the race, McCarty gets a fantastic launch and makes his home up front. It's a stackup behind though as cars are making contact everywhere. It eventually unravels in turn one as the # 87 of Mike Looney spins and collects # 51 Matt Cox, # 09 Riley Gentry, and the # 88C of Dustin Rumley! The caution flies yet again and the night is over for Cox and Gentry, with Looney and Rumley limping around with major damage. The Martinsville track crew is up to the task though and gets the track cleaned off in no time, setting the stage for the next restart with McCarty leading, Barnes Jr second, Kvapil third, Silvestri fourth, and Huffman fifth.
McCarty once again fires off first, with Silvestri giving Kvapil a fight for third. Silvestri will barely grab that spot, leaving Kvapil to deal with Huffman. Huffman sticks it on the inside, but Kvapil is able to find the grip on the outside. The field begins to single file out now, but that'll be interrupted as the # 01A of G.R. Waldrop has spun his machine in turn four, bringing the caution out. He gets it back going without issue, leaving little to no cleanup to be done. McCarty once again will fire off first followed by Barnes Jr, Silvestri, Kvapil, and Huffman. Same song and dance for McCarty clearing for the point, as here comes the # 77 of Trevor Ward! He gets by Huffman, then follows it up by passing both Kvapil and Silvestri. Silvestri falls back to sixth as the racing is starting to get hot and heavy leading up to the first stage break. Ward looks to the inside of Barnes Jr and gets by without issue, bringing Kvapil along with him. Coming out of turn four, Kres VanDyke in the # 15A slows, bringing another caution out. Due to the time of caution, Barnes Jr gets his spot back behind McCarty while Ward starts third, Kvapil fourth, and Huffman fifth. McCarty gets another flawless restart as Kvapil moves all the way to second by Ward and Barnes. Silvestri briefly passes Huffman, but Huffman finds his way back around with Ward now getting by Barnes Jr, with Huffman right there in the shadows. Barnes Jr is a thorn in Huffman's side up high, but Huffman executes the pass with McCarty grabbing the Stage victory. The entire field comes down pit road for fresh rubber and adjustments, with no one losing spots since it's a controlled caution. Leading the field for Stage Two will be McCarty, Kvapil, Ward, Huffman, and Barnes. Willard looks them over, likes the formation, and we're back underway!
There's a bit of a stackup in the middle of the field as Jacob Heafner in the # 95A doesn't get going, but everyone stays straight. It's now Kvapil who takes the lead with McCarty slotting into second. Ward and Huffman go to war over third with Ward getting it on the inside. He doesn't stop there either as he now slides underneath McCarty, and he's successful in the pass. Huffman follows through as well, kicking McCarty to fourth. And here comes last year's winner of # 26 Peyton Sellers, getting by Barnes Jr for fifth. It's a long green flag run now as both Kvapil and Ward navigate lap traffic with numerous close calls sprinkled in. Behind them, Mason Diaz in the # 24 makes his presence known, getting by Sellers for fifth. Ahead, McCarty goes up in smoke! He comes to a stop off of turn four, bringing the caution out as one of the favorites has fallen to the wayside. Despite all the fluid, it's a surprisingly quick yellow as Kvapil leads followed by Ward, Huffman, Sellers who takes the choose, and Diaz. It's short lived as Kaden Honeycutt in the # 10 goes for a spin in between turns three and four. It'll be the same top five as Kvapil clears with ease with Sellers getting by Huffman. And now Trevor Ward makes his move! He dives to the inside of Kvapil and they make contact! Kvapil nearly spins but saves it as Ward backs out a little bit. Kvapil is able to hang on and wins Stage Two, setting up a 25 lap shootout for a Grandfather Clock. None of the frontrunners pit, leaving the top five to be Kvapil, Ward, Sellers, Huffman, and Diaz. Willard anxiously gazes over the pack, approves the lineup, and we're green for $32,000 and a Clock!
Ward doesn't get a good start, allowing Sellers to dive to the inside. Sellers is right beside Kvapil as now Ward almost makes it three wide! Sellers takes the top spot, but Ward lays the bumper to him, sending him up the track. Huffman now moves to third with Kvapil in fourth. Huffman looks to make it three wide, but thinks better of it as Ward again dives under Sellers. He makes it work this time and takes the lead. He starts to pull away but the deficit is erased as fluid is being scattered across the track, bringing the caution out. Ward, looking for the biggest win of his life lines up first. Sellers, looking for back to back Martinsville triumphs is second. Huffman, looking for another big money win in 2023 lines up third. Kvapil, trying to add another crown jewel to his resume is fourth. And Diaz, in what many say is his break out year is fifth. Willard looks them over, likes what he sees, and we're green. Ward and Sellers bang doors at the line, nearly wrecking! They save it as Huffman takes the lead! Kvapil positions himself in third with Sellers stopping the bleeding in fourth. Now Ward looks to the inside of Huffman, and the two make contact! They bang doors once more coming under the white flag as they're both sideways with the fans going crazy! It's a dead heat going into three, but Ward gets the run off of four and coming to the line side by side, it's Ward who grabs the win and the Virginia Triple Crown championship! Huffman comes home second in a valiant effort followed by Kvapil, Sellers, and Barnes Jr who comes back for a fifth. What a race!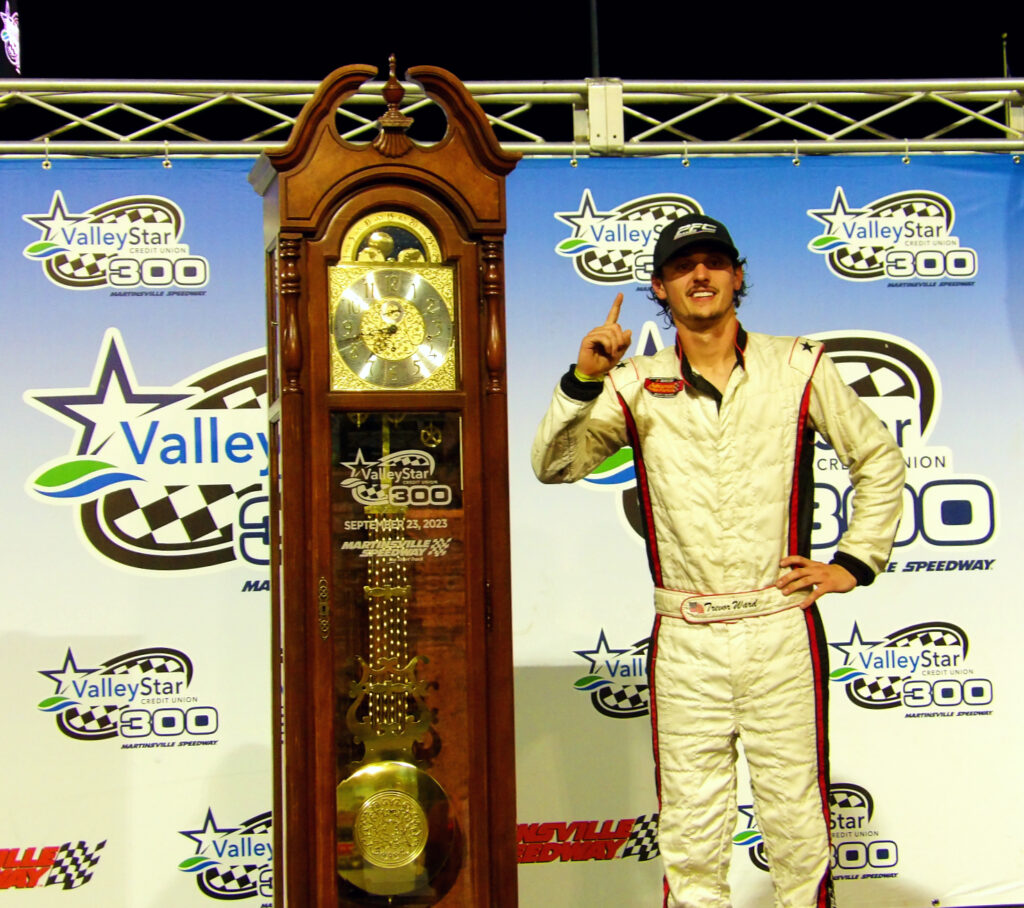 MY TAKE
Even in my highest expectations, and they were high, I couldn't have imagined how it would all turn out. I knew some big names were going to be eliminated. They always are. Everything has to go right to even get in the feature. I knew the racing would be intense. I knew that the drama would be thick after the Late Model Stock year I'd seen thus far. But all that said, the racing I saw by the drivers in this race, especially coming down the stretch, was nothing short of amazing. The things I saw them do…sideways leaning on each other. Completely out of shape but never lifting and able to correct to keep themselves in position. Crossovers. Three wide at some points for the lead. It was extremely exciting. But more than that, it was a showcase of talent and will. And for me to repeat that they took each other to the limit would still be understating it. What these drivers can do today in a Late Model Stock Car amazes me. I'm not trying to be cliche or to cater to their egos here. They are just that good. But equally amazing is how deep the talent runs. Out of the forty cars that started the feature, every one of them is capable of winning races on any given night.
But in this race, as always, there were some that stood out in their performances above the rest. And in this field, that's saying something. Our Short Track Report Blue Collar Racer Of The Week contention turned into an awesome conversation. And as you would imagine, there was quite the contention to talk about, and in the end, we realized they had one thing in common. And it's a great indicator for short track racing that most wouldn't even suspect, especially in this era. First off in our mentions this week, we have to talk about the performance of Justin Hicks. Justin Hicks was impressive all day. He qualified 22nd on Friday, putting him closer to the transfer spot in his heat than he would have liked. He then however worked through the carnage near to the transfer spot to enter the feature fourteenth. He then quietly followed that up with an outstanding top ten finish, crossing the line ninth overall against the odds in a determined finish that was as smart as it was impressive. Next we had to talk about Heath Causey. Causey qualified 52nd on Friday. But as the chaos around the transfer in his heat transpired, he took advantage of every opening he could find and earned a 32nd starting spot for the feature. He then made a remarkable run that was equally as quiet as Hicks as he also used his experience to again search for openings, and when it was all said and done, finished just outside the top ten in twelfth in a performance that has to leave him and his team holding their head high with what they were able to achieve in such a stacked field of talent.
Our conversation then led to Dexter Canipe Jr, who qualified 24th on Friday. When the racing got underway, he found himself constantly in a battle for position, leaving him with a 36th starting position in the 200 lap feature. With just four cars behind him at the start, he worked hard all night to make as much ground as he could, and when the dust settled, he crossed the stripe sixteenth, battling for every spot he advanced. But of course, our conversation ended with one blue collar performance we or anyone else couldn't deny. Trevor Ward slipped under the radar with his 24th place qualifying attempt. But when his heat started it was clear to those paying attention that he had a good piece to work with. But even though he came into the event in third place in the Virginia Triple Crown points and found himself starting the feature in ninth, we didn't hear any of the experts mentioning him as a favorite in the ValleyStar Credit Union 300. But in the stands he was an underdog favorite. Like the rest of the drivers we discussed for this week's award, he drives for his family team. A daunting task in today's Late Model Stock environment that takes a huge amount of money just to compete, much less win. But Trevor Ward raced his way to a top ten starting position in the feature, starting ninth on the field, and used that to his advantage keeping the leaders in sight and moving forward when the opportunity arose. And before the final stage began, he was right where he needed to be. He then became locked in a battle with Peyton Sellers, Carson Kvapil, and in the closing laps, Landon Huffman.
It was a 25 lap battle at the end that was nothing short of epic. It had the fans on their feet and for good reason. It was an amazing short track race that will go down in the Late Model Stock and Martinsville history books, not only because Trevor Ward earned his first clock and his first Virginia Triple Crown, but because of it's greatness as well. And in victory lane Trevor Ward said one sentence that every fan in attendance could feel. It was a statement that everyone needed to hear. "The true blue collar racer can still get it done!" How fitting. Trevor Ward and the Ward Racing team from Winston-Salem, North Carolina came into Martinsville, Virginia against the best in the business and took it all. The coveted Grandfather Clock, the ValleyStar Credit Union 300 win, and the Virginia Triple Crown, netting him and his team a cool $39,000 in total in a performance that we just couldn't deny for the Short Track Report Blue Collar Racer Of The Week. Congratulations to you and your team for the biggest win of your career! No one can say you didn't earn this one. And although Martinsville Speedway lies just above the foothills in Ridgeway, Trevor Ward climbed to the top and leaves Virginia King Of The Mountain. Until next time, See You At The Track!
(Race write up by Joshua Weatherman. Intro and My Take written by Billy Weatherman. 2023 Copyright SHORT TRACK REPORT)
Tags
Andrew Grady
,
Blue Collar Racer Of The Week
,
Bobby McCarty
,
Carson Kvapil
,
Casey Kelley
,
Conner Jones
,
Connor Hall
,
Daniel Silvestri
,
Davey Callihan
,
Dexter Canipe Jr.
,
Doug Barnes Jr.
,
Dustin Rumley
,
Grandfather Clock
,
Heath Causey
,
Jacob Heafner
,
Jared Fryar
,
Justin Hicks
,
Kaden Honeycutt
,
Kres VanDyke
,
Landon Huffman
,
Magnum Tate
,
Martinsville Speedway
,
Mason Diaz
,
Matt Cox
,
Mike Looney
,
Peyton Sellers
,
Riley Gentry
,
Ronnie Bassett Jr.
,
Ross Dalton
,
Ryan Millington
,
Thomas Scott
,
Trevor Ward
,
ValleyStar Credit Union 300
,
Virginia Triple Crown
,
William Sawalich