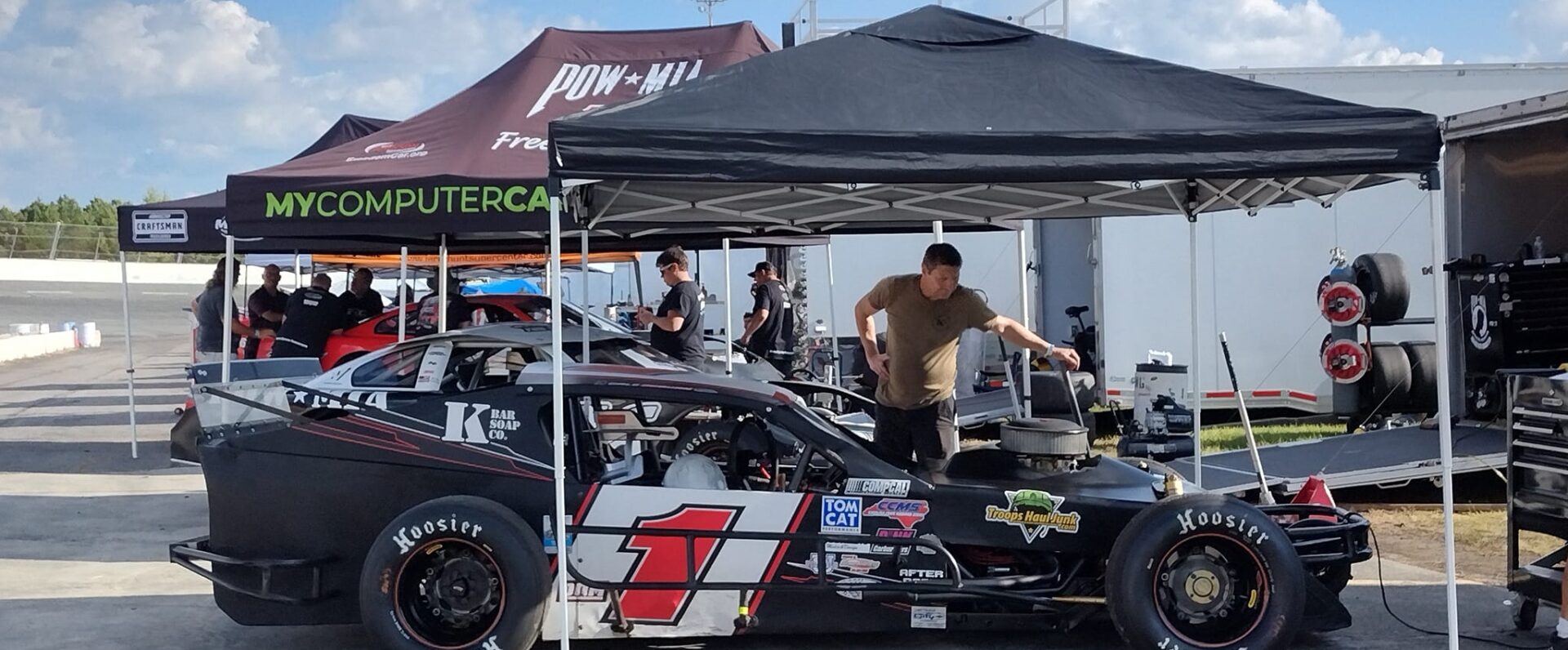 MORE THAN MEETS THE EYE – Carolina Crate Modified Series Championship Night At Orange County Speedway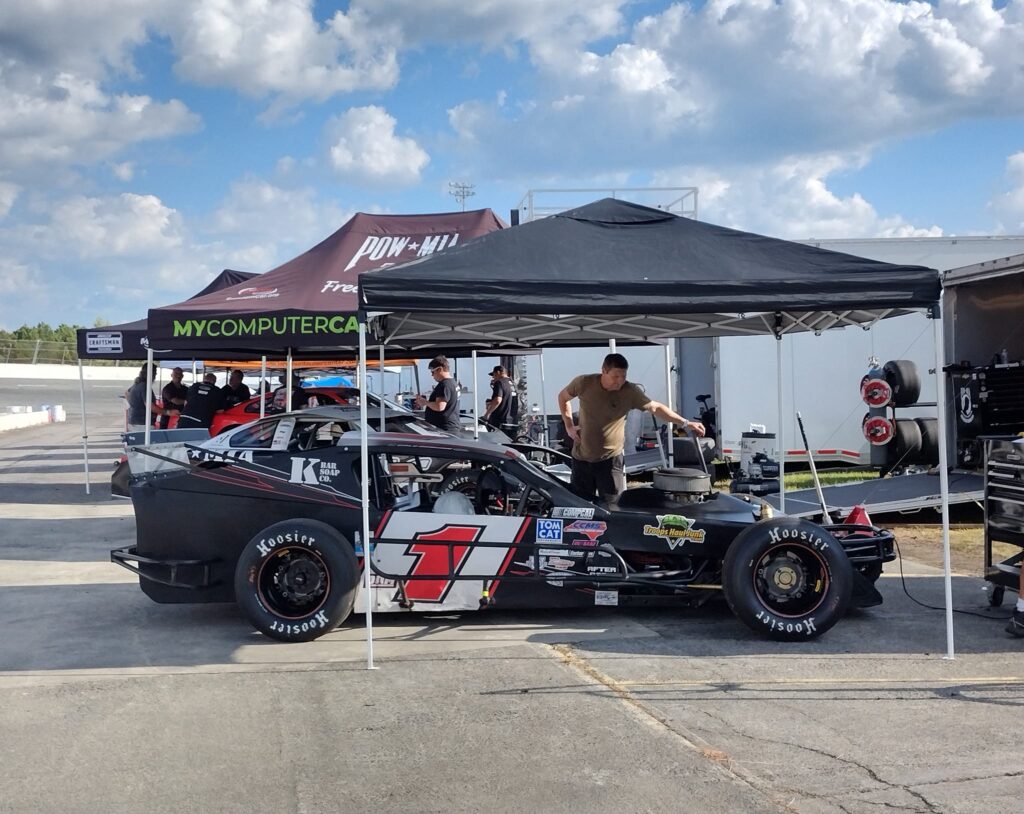 "The most precious gems lie beneath the surface."

Short Track Report
This past weekend was Championship Night for the Carolina Crate Modified Series at Orange County Speedway. And what better place to crown a champion for the touring series than the place we call 'The House Of Speed'. It's a place that will definitely test your skills as a driver. But more than that, it's a place that tests your will as well. Every time we come to see a race at Orange County, I'm reminded of a quote we were given to describe the place on our first visit there that said, "If you want to take advantage of the great speed the track gives you here, when you get to the third turn, go until you see Jesus and make a left." I'll never forget that quote. There was so much to take from it. But what's for sure is that whoever comes home with the Crate Modified Championship this weekend is gonna have to earn it. Their skills will be on full display.
But that was just one part of the show this weekend as no less than seven features were run as the Carolina Pros and Carolina Crates came to town. Joining them were the Allison Legacy Race Series and the Virginia Mini Cup Racing Association, not to mention the local division features that included a 75 lap feature for the always exciting Late Model Stocks. What we've found over the last few years covering short track racing is that on any given weekend, history will be made, and there's often much more to it all than meets the eye. This show at Orange County Speedway was the very definition of that. So without further delay, let's take a look at the racing this week at Orange County Speedway!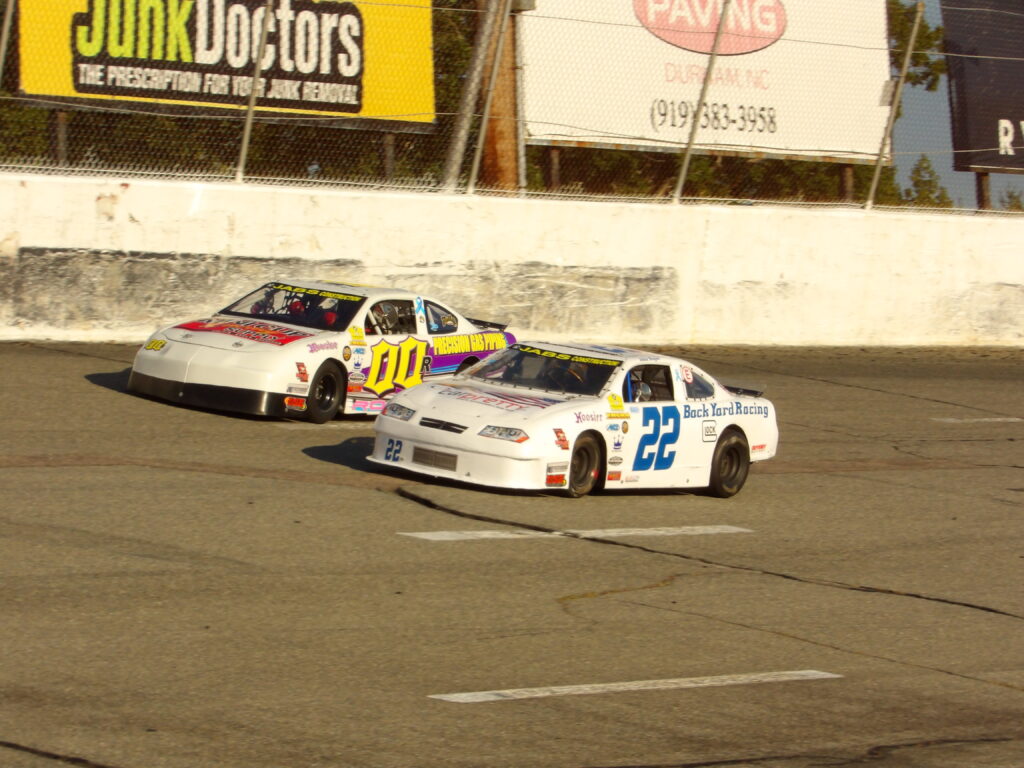 ALLISON LEGACY RACE SERIES FEATURE
Justin Oplinger in the # 03 starts on pole for the Allison Legacy feature with former champion Ethan Elder in the # 08 rolling off alongside. # 9 Andon Mendenhall, # 70 Ryan Todd, and the # 56 of Alyssa Mendenhall will round out the top five as guest flagman Mark Turner looks them over, likes what he sees, and we're underway! Oplinger clears coming out of turn two as the # 12 of Clay Abbott breaks into the top five over Alyssa Mendenhall. Elder is keeping Oplinger within reach for the moment, but with every passing lap, Elder gets smaller in Oplinger's mirror. And now there's trouble as Abbott has spun his machine in turn one, bringing out a caution. Oplinger takes the outside for the restart ahead of Elder, Andon Mendenhall, Todd, and Alyssa Mendenhall. Oplinger makes it work flawlessly as he clears Elder once more but Abbott now backs his machine into the outside turn four wall hard, also collecting Todd. It's a surprisingly quick yellow with Oplinger, Elder, Andon Mendenhall, Alyssa Mendenhall, and Todd your top five. It's the same song and dance for Oplinger as he clears and sets sail. Elder tries his best to mount a charge, but Oplinger is just too fast as he takes the checkered first ahead of Elder, Andon Mendenhall, Alyssa Mendenhall, and Todd.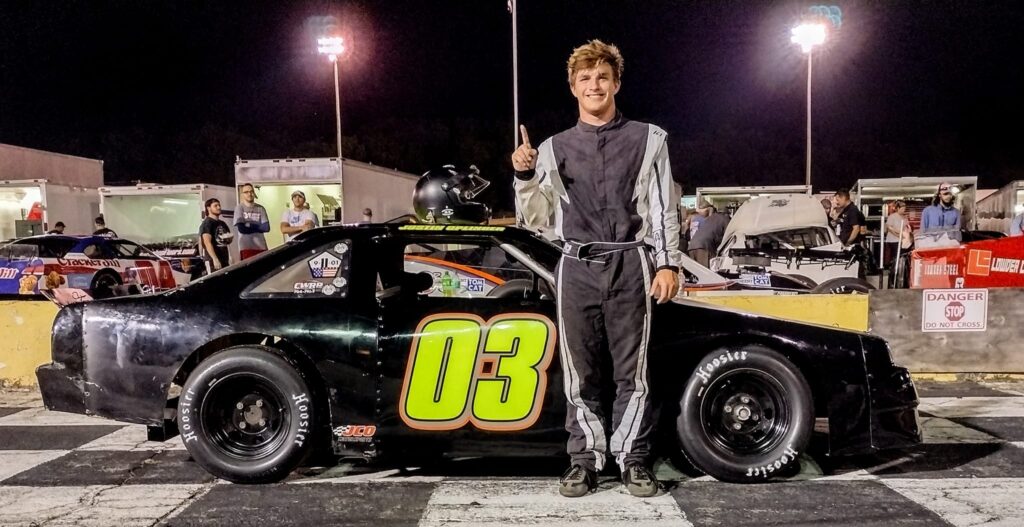 VIRGINIA MINI CUP RACING ASSOCIATION FEATURE
#11 Noah Matthews will roll off first in the Virginia Mini Cups, with Tyler Warriner in the # 12 starting second, # 86 Zach Sprouse third, # 7 Nate Thomas fourth, and the # 95 of Travis Roach will round out the top five. Turner looks over the mighty Mini Cup field, approves the formation, and we're green! Matthews and Warriner are dead even for an entire two lap run, as Matthews now washes up high and clears as Warriner falls back to fourth. Sprouse takes over second with Thomas running third, but Warriner goes back on the attack and takes third, now setting his sights on Sprouse. Sprouse puts up a good fight, but it's not enough as Warriner is back in second. Back in fifth is now the # 64 of Josh Dillon as Matthews has made himself an insurmountable gap for the lead and bags the win at Orange County Speedway. Warriner comes home second followed by Sprouse, Thomas, and Dillon.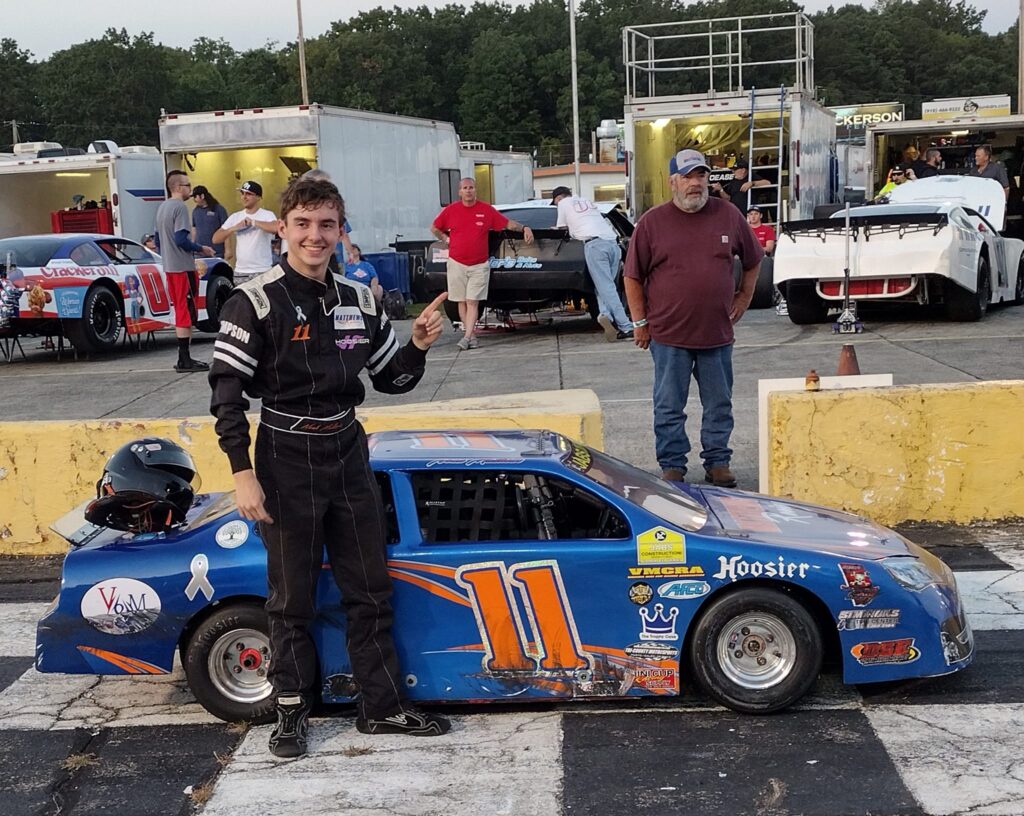 MOD 4 FEATURE
Defending champion Harold Sumney Jr in the # 87 is the lucky polesitter for tonight's Mod 4 twenty lapper, with Ricky Brown in the # 00 and Lane Woods in the # 92 rounding out the top three. Turner likes what he sees, and we're racing! Sumney Jr gets away early but Brown is fast tonight and dives in underneath the defending title holder. Brown paints the white line and makes the pass work as now Woods is all over Sumney Jr, now looking to the outside. He finds the momentum and move Woods into second. Behind, the # 12 of Joseph Kiger follows through for third as Brown has a problem! He slows from the lead, allowing Woods to take the top spot. He'll be followed by Kiger and the # 53 of Darrell Haynie as Woods looks to strengthen his lead. Kiger is right there though, waiting for any mistake to be made. Now Kiger looks to the inside as the white flag flies! Woods holds the high lane with force, taking advantage of all of the momentum he can muster. Kiger sends it in one last time, but it's not enough as twelve year old Lane Woods grabs his first career Orange County Mod 4 win! Kiger comes home second followed by Haynie in third.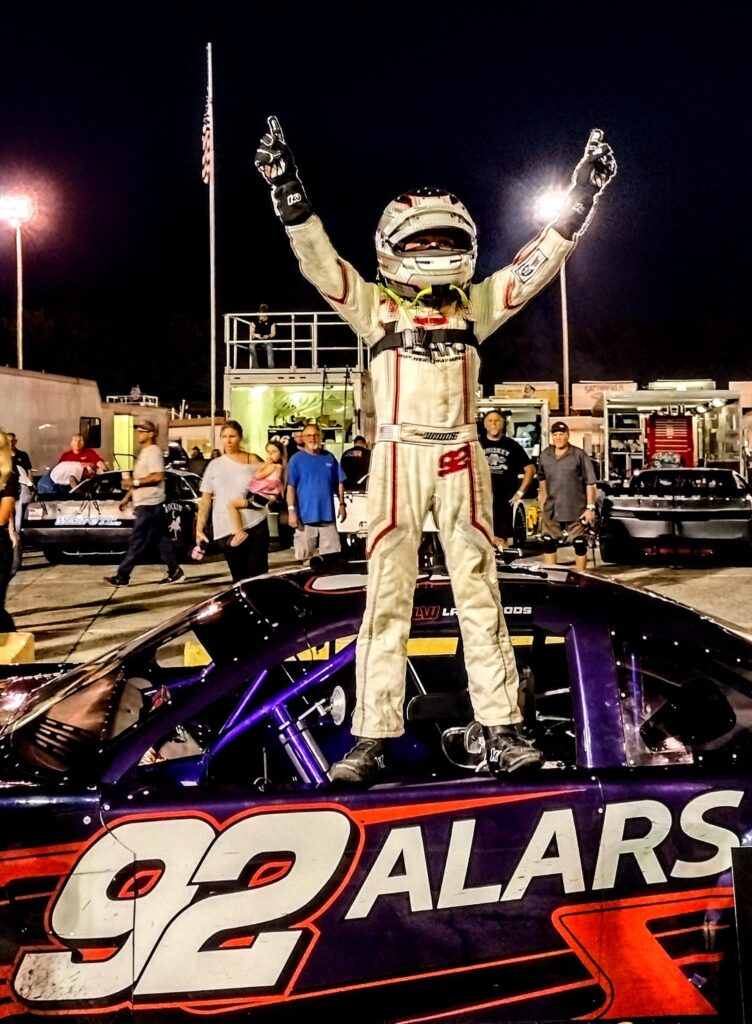 CHOICE AUTOMOTIVE CHARGERS FEATURE
The # 76 of Tyler Johnson sits on the pole for tonight's Charger feature alongside the # 8 of Tripp Evans, with the # 94 of Nicholas Graham starting third. Johnson gets a perfect start as defending champion # 32 Austin Purnell moves up to third by Graham. Evans now pressures Johnson, but Johnson keeps cool under pressure and maintains the lead. Now Evans gets wrecking loose out of turn two, but somehow saves his machine without issue. That allows Purnell to get by for second, a great opportunity for Purnell to pounce for the lead. But Johnson seems to have a perfect setup for tonight and leads wire to wire to pick up the checkered flag first in tonight's Charger feature. Purnell comes home second followed by Evans in third after his wild save.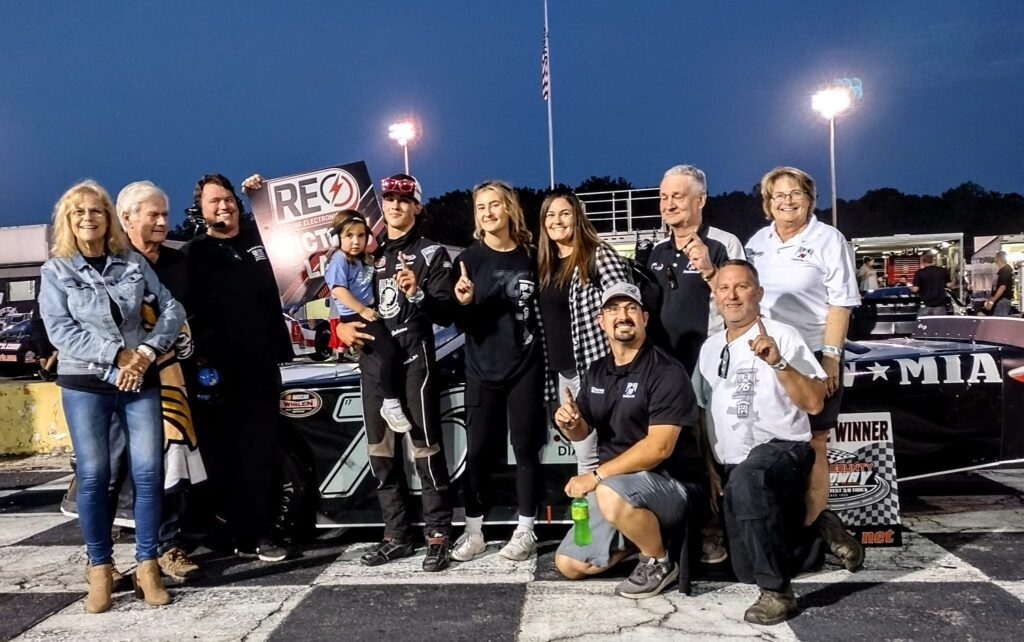 LATE MODEL STOCK FEATURE
Defending Late Model Stock champion Tristan McKee in the # 7TM will roll off on the pole with the # 151 of Grant Davidson starting second, Jeff Sparks in the # 7JS in third, Blake Bledsole in the # 26 in fourth, and the # 6 of Terry Dease in fifth. Turner gazes over the competitive field, likes the formation, and we're green! McKee and Davidson get identical starts but it's McKee who prevails early as Sparks finds his way by Davidson for second. Sparks doesn't stop there either as he's right on McKee's bumper and makes it by as now Camden Gullie in the # 01 has made an absolutely incredible charge, sliding by McKee and setting his sights on Sparks. Dease now rides fourth with Bledsole holding his own in fifth as back up front, Gullie puts his nose to the inside of Sparks, engaging in a classic Orange County battle for the lead with Sparks holding the high ground on the outside. But Gullie has an incredible car tonight and takes over the top spot as behind, McKee is trying to hang on for third with a determined Dease breathing right down his neck. Dease looks to the outside and the two make minor contact, keeping Dease at bay for now. Bledsole now looks to show his muscle under Dease, but can't make anything happen as Gullie continues to lead. Bledsole continues to put down great laps but now he gets loose and spins on the frontstretch, bringing the caution out for the first time. It's thankfully a quick yellow with Gullie lining up first, Sparks second, McKee third, Dease fourth, and the # 31 of Richard Hayden fifth.
Gullie and Sparks come to a stalemate on the restart as now McKee looks to make it three wide for a split second, but thinks better of it. Sparks is the one who grabs the lead this time around, but Gullie is still right in his footsteps. Bledsole has begun to fight back as well, breaking back into the top five by Hayden. Back up front, Gullie dives under Sparks, but Sparks has the preferred groove up top, causing Gullie to work a little extra harder. Gullie is no stranger to this type of racing though, but he just can't capitalize as McKee now works his way by. McKee's car has really come to life now, scooting under Sparks and eventually passing him for the top spot. That leaves Sparks to once again deal with Gullie, and Gullie won't take no for an answer this time as he takes away second. And now the caution flies again, this time for Hayden who has spun against the outside wall off of two. It'll be an eight lap shootout now as McKee lines up first followed by Gullie, Sparks, Dease, and Bledsole. The green flies and there's immediate contact! Gullie comes down a tick to get a better entry into the corner but he touches wheels with McKee, sending both cars sideways with Gullie spinning hard into the wall. McKee saves it, but it's a heartbreak for Gullie who is in a fierce points battle with Dease. McKee is sent to the rear for rough driving in a controversial call making your top five will now be Sparks, Dease, Bledsole, # J12 Wesley Johnson, and the # 42 of Amber Slagle. Sparks and Dease bang doors numerous times now for the lead with Sparks barely clearing! McKee now charges back up through the field all the way to second after a hard fight with Dease. But up front, it's all Jeff Sparks as the short track veteran picks up his first career Orange County Late Model Stock victory. McKee rallies back for second, Dease hangs on for third, Bledsole gets a solid fourth, and Johnson gets a quiet fifth.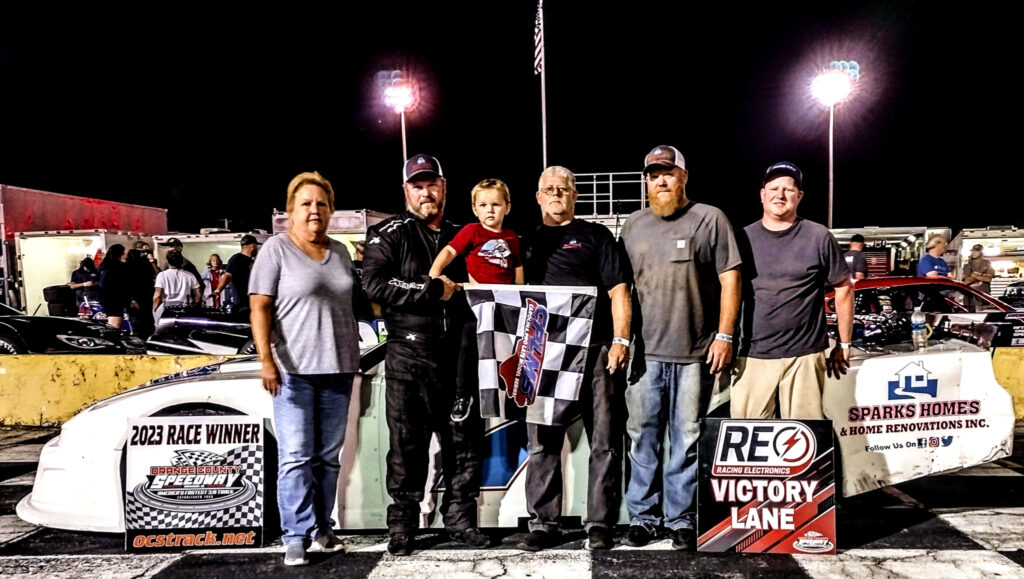 CAROLINA PRO LATE MODEL FEATURE
With an amazing lap of 14.031 seconds, points leader # 6 George Phillips picks up yet another pole in 2023. After an eight car invert though, your top five will be the # 07 of Clint King, # 7JC Justin Crider, # 88 Carson Lucas, # 23 Beckham Malone, and the # 5 of Max Price. Turner is a fan of what he sees, and we're underway with Carolina Pro Late Model action! King clears with no issue as Malone takes third away, bringing the # 94 of Holden Allen along with him. Lucas now falls back to seventh with Phillips already moving up to sixth. Make that fifth now as he gets by Price without issue, now looking to the inside of Allen, getting that position as well. Next up is Malone, but he isn't an issue for Phillips as he gets both Malone and now Crider, already setting his sights on King. Clint King puts up a valiant fight, but Phillips is on a roll, moving by the # 07 for the lead. Behind, Allen now gets by Malone for fourth, now working on veteran Crider. Allen and Crider make contact in turn one, but they both hang on as Price picks off Malone for fifth. Allen continues to look on Crider, but here comes Price as he gives Allen a nudge, moving himself up to fourth. Caution now flies as E.J. Tamayo in the # 10 brings his machine down pit road with an issue. Phillips remains in first followed by King, Crider, Price, and Allen. King has a hiccup on the restart, allowing Phillips to get a great jump. King maintains the second position as here comes Allen, looking on Crider. But Crider hangs on as now Price makes contact with King, nearly sending Price spinning. Price somehow saves it, but he'll lose fourth to Allen. The competition caution flies with thirty to go, as Phillips continues to lead followed by King, Crider, Allen, and Price. Both Phillips and Malone come down pit road, but for some reason, Phillips gets to start back up front while Malone starts from the rear. No confirmation on those calls, but we don't make them, we just report on them. But we what we do know is that Phillips is fast, and he'll be hard to beat on this restart.
King puts in a spirited effort and gets an amazing restart, clearing Phillips, but Phillips crosses him over and retains the lead as Allen finds his way by Crider. The # 92 of Levie Jones breaks into the top five by Price, but it's not long before Price gets right back by. Price dives under Crider, but Crider is like a kidney stone up high as they battle side by side for a handful of laps before Price finally clears. None of that matters to George Phillips though as the # 6 Setzer Racing And Development machine gets the win. King comes home second followed by Allen, Price, and Crider.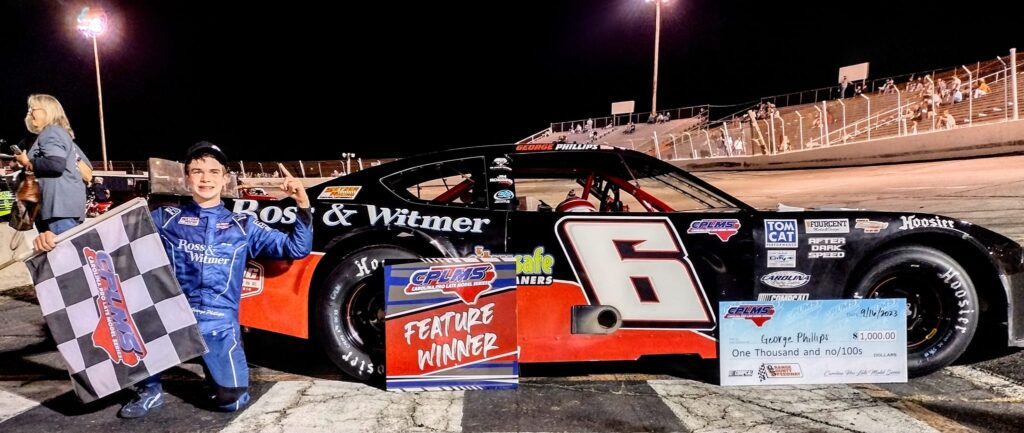 CAROLINA CRATE MODIFIED SERIES CHAMPIONSHIP FEATURE
The # 63 of 2022 Carolina Pro champion Josh Lowder clocks in at 14.574 seconds, winning the pole for tonight's Carolina Crate Modified Series Championship race. With an invert of six however, Brian Weber in the # 01 will start first followed by former Pro Late Model competitor Tovia Grynewicz in the # 48, championship contender Dale Ogburn in the # 1, # 55 Jeremy Gerstner, and championship contender # 12 Cody Norman. Before the race even gets going, Gerstner's engine blows, leaving a lot of cleanup to be done before the green tonight, an unfortunate ending for Gerstner. After all is said and done, the green finally waves as Grynewicz briefly clears before Weber is right back around, leading the first lap. It doesn't last for long though as both Ogburn and Norman move to first and second, with Lowder, Grynewicz, and Weber your top five. Norman now loses an important spot to Lowder, giving up points to Ogburn. Ogburn isn't safe from Lowder either though as Lowder is all over the # 1. Lowder is underneath with both of them not giving an inch. Lowder finally clears with Ogburn slotting into second as the caution flies for competition purposes. Lowder remains on top followed by Ogburn, Norman, Grynewicz, and Weber. Ogburn is fast on the outside, but it's still Lowder who reigns supreme as Norman looks for any opening on Ogburn. But up front, Lowder continues to lead, opening the gap ever so slightly as the race goes on. Behind, Ogburn and Norman's lap times are around the same, but it's Ogburn who has the track position. As the white flag flies, both Lowder and Ogburn maintain their spots. It'll be Lowder grabbing the win tonight at Orange County, but behind, Ogburn comes across the stripe as the 2023 Carolina Crate Modified Series champion. Points runner up Norman will finish third followed by Grynewicz and Weber.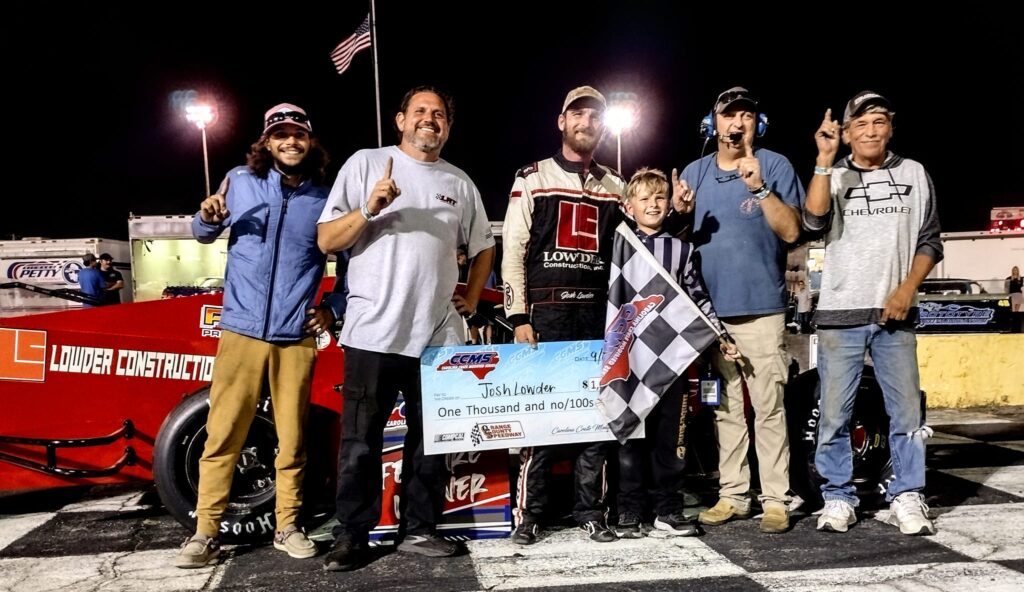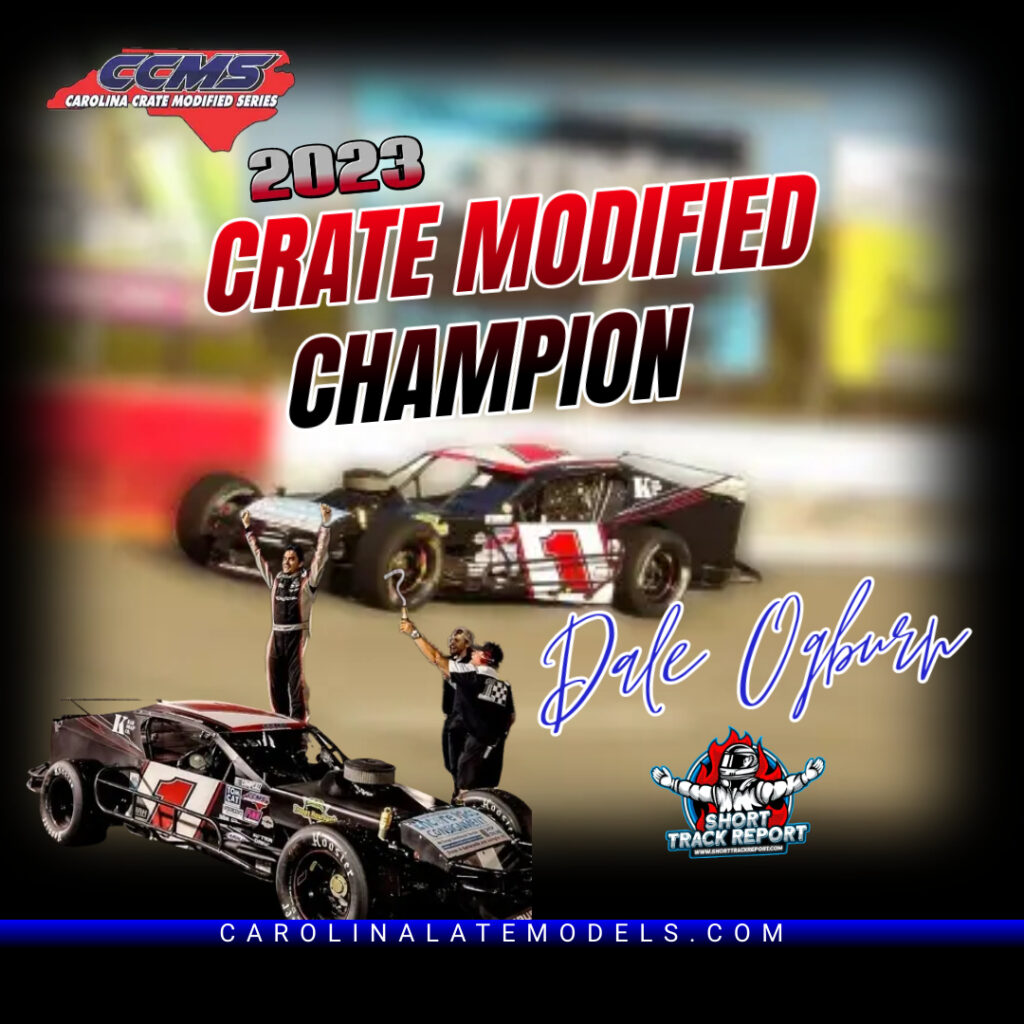 MY TAKE
After a full night of racing at Orange County Speedway, there was more to it all than meets the eye. First time winners, a new champion was crowned, a dominating streak was continued, and yes, a bit of controversy reared it's head. Congratulations to Lane Woods and Jeff Sparks for their first victories at the speedway, and to George Phillips who's completely dominated the Carolina Pro Late Model division this year, building a winning record that will sit in the history books for the series. And to Dale Ogburn who took his first Carolina Crate Modified Championship with determination and class in a tight race with defending 2022 Champion Cody Norman. Both true champions who represent the series well with both talent and dignity. Tyler Johnson got the win he was looking for as he checked out on the Charger field, and Noah Matthews and Justin Oplinger also took dominating wins as the Virginia Mini Cups and the Allison Legacy Race Series came to experience the speed of Orange County. But what was on the minds of many as they left the track was the incident between Camden Gullie and Tristan McKee in the Late Model Stock race. It was an unfortunate occurrence in an awesome race that featured a battle between the two along with Jeff Sparks, and it created controversy in the minds of many, fed by the intensity of the race itself.
But intensity is the norm for Late Model Stock racing at this track. The speedway is truly made for today's Late Models as the weight and speed of these cars fit perfectly with what the track was made for, premier series racing. True, the track provides racing for every class that puts tires to it, but the car that generates the most speed, with the weight ratio that challenges even the best of them, well…that's where the magic happens. This year has been no different. It seems that every time we've come here this year, the Late Model Stock races have been defined by epic battles. Saturday night was another of those. And in these epic battles, it's very easy to get emotionally involved and see what you want to see. After all, every one of those battles involve some seriously talented individuals putting it all on the line. You can't help but love those guys for what they do. And so it's easy to enforce blame before emotions are cleared. No race fan with a pension for their favorite driver goes into it unbiased. We understand that and we love the passion for the sport as we share that passion. And although we've been accused by some of doing otherwise, as a race coverage entity, we have to go into every event we cover unbiased and with fully open eyes. We know that not everyone will agree with us at all times, but we take our duty VERY seriously. It's our duty after all to call it as we see it. Our integrity depends on it. Besides, we are not unaware that there are cameras everywhere and we are constantly being vetted. We said from the very beginning that we would be true to the sport as it deserves nothing less than that from us.
In the end of this one, after we dug under the surface, it came down to what it often does. Two drivers going for the win late in an event. I heard from many that it was youth that caused it. Yes, on the surface, it may have seemed that way as both drivers are youthful. That's what the sport has come to. But unlike many, I see it as a plus more than a minus. Drivers are starting at a much earlier age, but truthfully it's creating a bevy of young talent that's going to be tremendous for the sports future.
But it wasn't age that led to this incident. remember, these guys were pacing the field. It's easy to get caught up in seeing what you want to see. But the truth of it is that both these drivers have proven their talents over and over again, and for those that doubt it, there's no denying that they always seem to find the front of the pack. There's a reason for that, and it's more than the car because a good car is useless without a driver that can pilot it to the front, where you find these guys in most every event they race in. The truth here is that when you take it to the limit, you will find it. The good news is that both drivers will remember and learn from this one and be able to take away from it what they need to, which is another true testament to the safety of today's cars. It's never a guarantee when the stakes are this high, but the saying, "And they walked away", is one that we love to hear as often as possible. In the end however there is one huge consolation for those who made it about the youth of the drivers involved, and that was the huge win for the veteran that battled amongst them. And when I say battled in this case, it may be a huge understatement.
This race was a fight. Camden Gullie, Tristan McKee, and Jeff Sparks went at it. Using their muscle, talent, and a bit of strategy, they traded positions time and time again until they were locked in a 3 way battle coming to the stretch. And when the smoke cleared, veteran Jeff Sparks found his way for the very first time to victory lane in a Late Model Stock at Orange County Speedway. And as this race attested to, that's no easy feat here. So while we congratulate George Phillips for taking the pole and the win in the Carolina Pros, and Josh Lowder for accomplishing the same feat. And to Lane Woods for a tremendous performance in the Mod 4s along with Tyler Johnson in the Chargers. And as we again include a congrats to Noah Matthews and Justin Oplinger on their amazing races, Jeff Sparks' performance this Saturday night couldn't be denied for this week's Short Track Report Blue Collar Racer Of The Week. He maintained his composure in the heat of battle and fought to put him and his team in position, and when the moment arose, he took full advantage and took the exciting win. Congratulations team! You definitely earned this one. Jeff Sparks' first Blue Collar Racer Of The Week award will be one we remember for some time to come. Until next time, See You At The Track!
(Race write up by Joshua Weatherman. Intro and My Take written by Billy Weatherman. 2023 Copyright SHORT TRACK REPORT)
Tags
Allison Legacy Race Series
,
Alyssa Mendenhall
,
Amber Slagle
,
Andon Mendenhall
,
Austin Purnell
,
Beckham Malone
,
Blake Bledsole
,
Brian Weber
,
Carolina Crate Modified Series
,
Carolina Pro Late Model Series
,
Carson Lucas
,
Chargers
,
Clay Abbott
,
Clint King
,
Cody Norman
,
Crate Modifieds
,
Dale Ogburn
,
Darrell Haynie
,
E.J. Tamayo
,
Ethan Elder
,
George Phillips
,
Grant Davidson
,
Harold Sumney Jr.
,
Holden Allen
,
Jeff Sparks
,
Jeremy Gerstner
,
Joseph Kiger
,
Josh Dillon
,
Josh Lowder
,
Justin Crider
,
Justin Oplinger
,
Lane Woods
,
Late Model Stocks
,
Late Models
,
Levie Jones
,
Max Price
,
Mini Cups
,
Mod 4s
,
Nate Thomas
,
Nicholas Graham
,
Noah Matthews
,
Orange County
,
Orange County Speedway
,
Pro Late Models
,
Richard Hayden
,
Ricky Brown
,
Ryan Todd
,
Setzer Racing And Development
,
Terry Dease
,
Tovia Grynewicz
,
Travis Roach
,
Tripp Evans
,
Tristan McKee
,
Tyler Johnson
,
Tyler Warriner
,
Virginia Mini Cup Racing Association
,
Wesley Johnson
,
Zach Sprouse