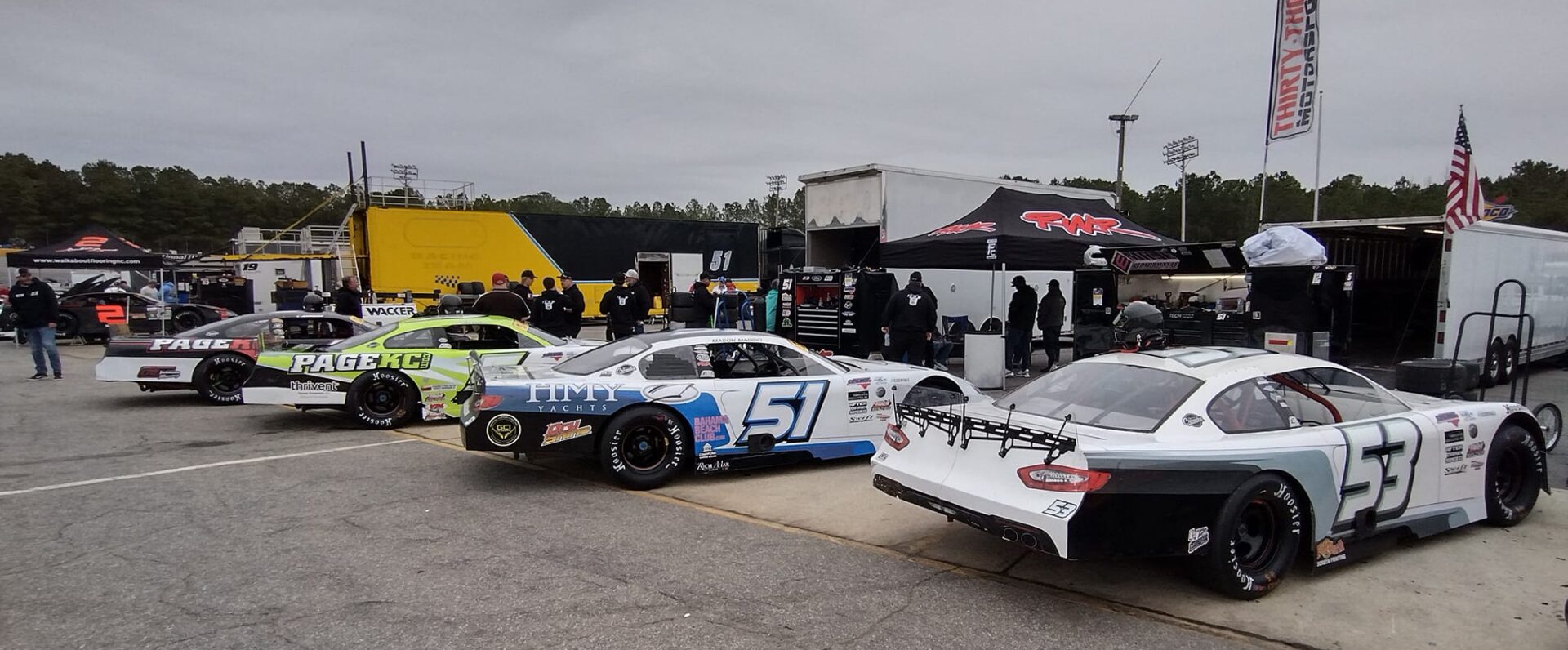 MAKING STATEMENTS – Carolina Pro Late Model Series 2022 Season Opener At Southern National Motorsports Park
It was a beautiful day in Lucama, North Carolina at the season opener for the Carolina Pro Late Model Series, and the perfect place to hold the inaugural event of the year at Southern National Motorsports Park. Promoter and track owner Michael Diaz had the place looking immaculate, and with the track temperatures being almost perfect, the teams couldn't have had a better place to roll into the new points season. What may have not been noticed by some however, is that the during the day, many statements were being made silently, but loud enough for the purist race fan to hear. So without further delay, lets dive right into the racing action.
Any Car/Bomber Feature
The # 24 of Harold Williams will start up front for this one with the # 81 of Tyler Hogan starting alongside. Flagman Brandon Willard looks the field over, likes what he sees, and we're green! Right off the bat, the front row doesn't get the best start and that allows the # 44 of Nicholas Pollock to charge up front and challenge for the lead. He gets by Williams and then proceeds to divebomb Hogan for the point. The first caution flies as 2020 Any Car/Bomber track champion # 28 Brad Blizzard is stopped on the back. It'll be Pollock up front alongside Hogan for the restart. Willard looks them over, and we're back green in no time.
Pollock gets a great start but the caution is out again as the # 35 of Brennon Cox is stopped on the back. So, once again, Pollock and Hogan will lead the field. Willard displays the green and Hogan attacks immediately, retaking the lead. But Pollock won't be denied as he powers right back by Hogan and starts to pull away. But Pollock has a slight problem and Hogan takes it back! Now here comes Harold Williams along with the # 68 of Cameron Parks. Williams takes the lead as Parks follows, but Williams gets into the wall! Cox spins in the middle of 1 and 2 at the same time as chaos has broken out at The Park!
This caution will set up a 3 lap battle as Parks leads with Williams still in second. Hogan heads down pit road with a flat tire that he's had for half of the race, finally waving the white flag on his effort. Willard nervously looks over the field and we're back green. Parks gets an amazing start as Pollock takes second away from a wounded Williams. Pollock gives Parks a valiant fight to the checkered but it's Cameron Parks who takes the victory at Southern National.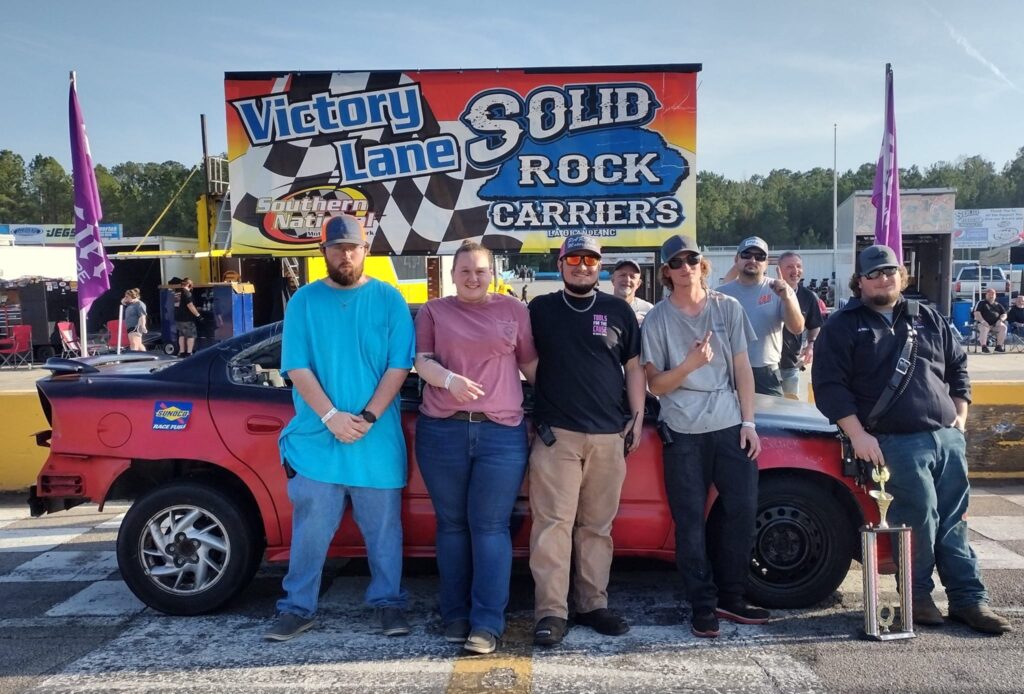 Bandolero Feature
Bryson Brinkley in his fast # 24 machine will lead the field for this one alongside the # 88W of Brian Rundstrom. Willard likes what he sees and we're green for the popular Bandoleros! Brinkley gets a great start as the # 88 of Phoenyx Kimball powers under Rundstrom to take second away. Rundstrom gets back under Kimball and makes a little contact, sending Kimball up the track which allows Rundstrom to retake second place. Meanwhile, Brinkley has already gapped the field as his machine is handling nearly perfectly. Rundstrom and Kimball try to pair up and draft to the Brinkley hot rod, but it's not enough as Brinkley leads every lap and wins in the Bandoleros.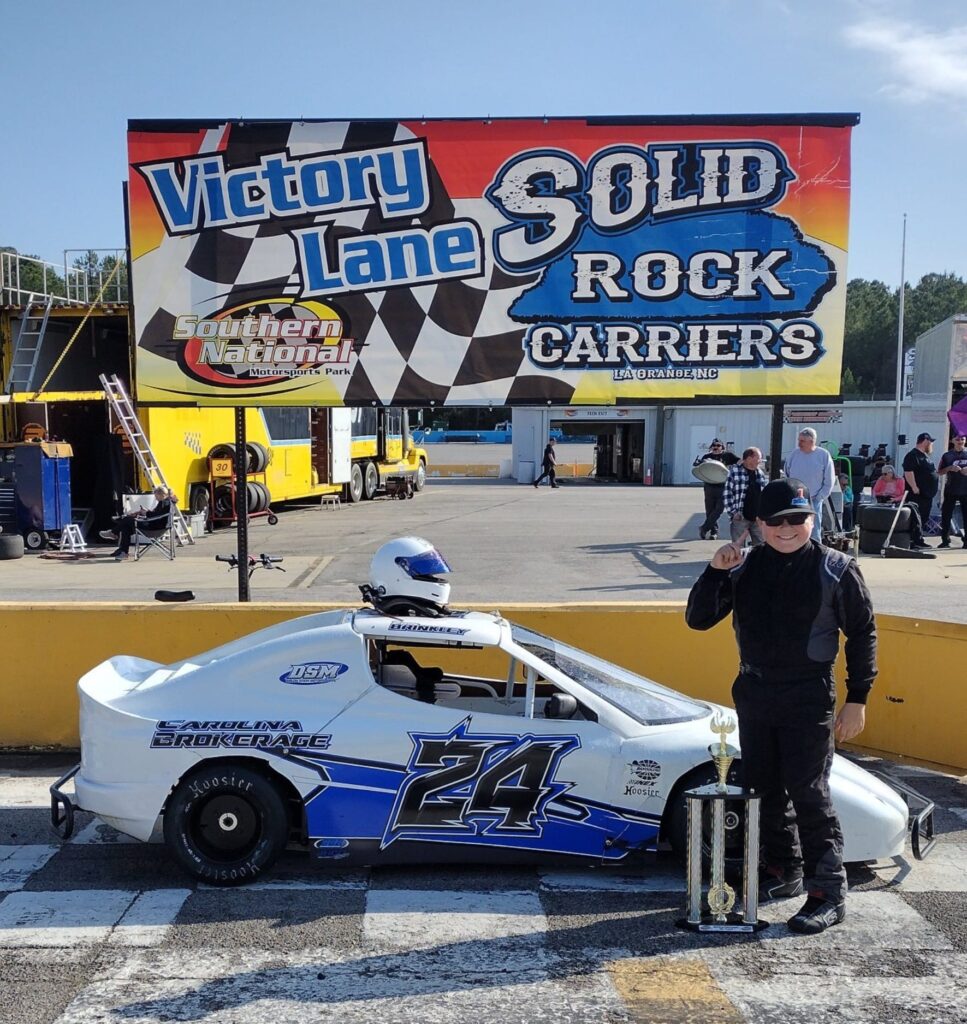 Legend Feature
The # 08 of Carson Haislip finds himself up front for the Legend feature with the # 8 of Conner Weddell starting second. Willard looks over the hungry field, gives the thumbs up, and we're green! Haislip gets a great jump, but it's a little too great as the start is called off. The green gets waved yet again as it's a nice, even start this time around. Haislip clears as the # 75 of Chase Singletary pounces on Weddell and snags second away. Weddell gets shuffled in the pack and eventually makes contact with his father, Mike Weddell in the # 8W. Mike spins and the caution is out early on. Mike apparently thinks the # 4 of Alek Andres is to blame for the incident and pushes him down the back under caution. Haislip will restart in first as Conner Weddell takes advantage of the orange cone and will restart second
Willard approves the lineup and we're back under green. Haislip clears as Mike Weddell sticks his nose under Conner Weddell to take second. He then attacks Haislip for the lead but overcooks turn 3, which allows Chase Singletary to make it three wide for the lead. The veteran Singletary shows his experience and starts to pull away from the frenzy behind. The handling on the Mike Weddell car starts to show flaws as Andres is able to take third away. Andres starts to show his long run speed and eventually catches the back bumper of the Haislip machine to take the silver spot. But it's all Chase Singletary up front as he adds another Legend victory to his long resume here at Southern National.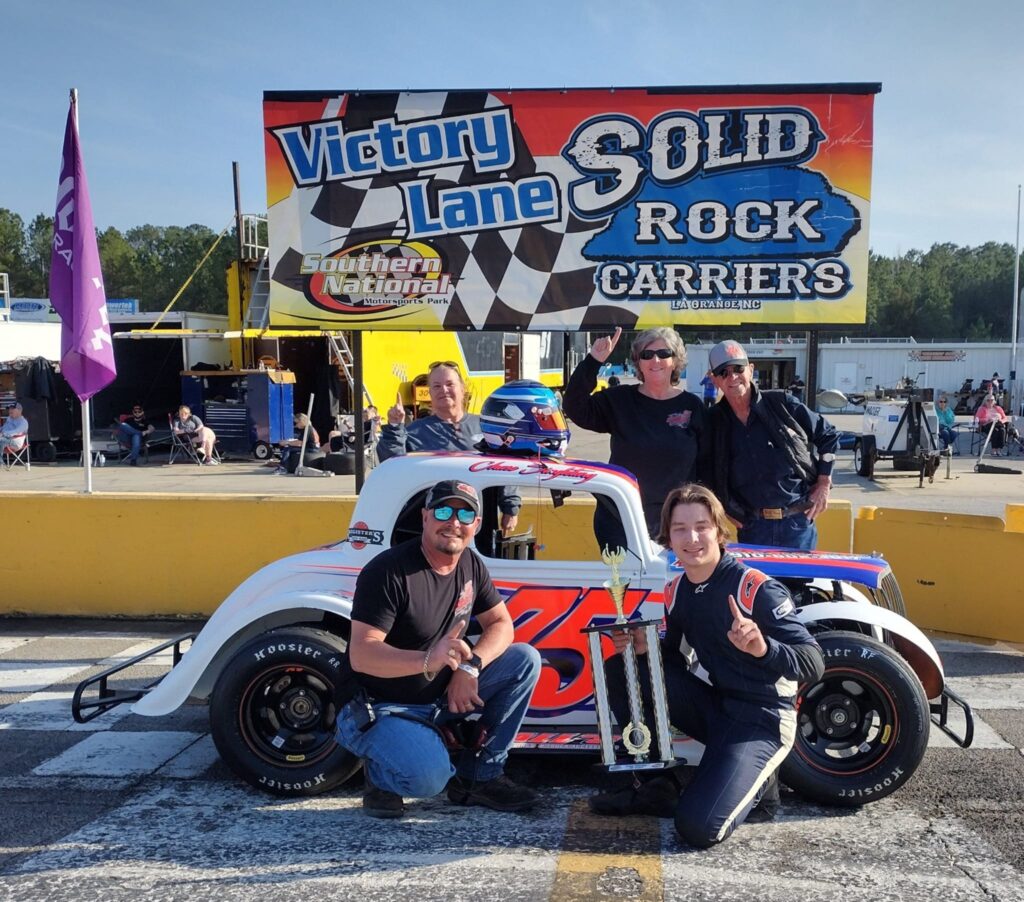 Limited Late Model Feature
# 71 Katie Hettinger sets fastest qualifying time for the Limited feature with a lap of 16.224 with # 7O Bradley McCaskill just a tick behind on a slick Southern National track. They will be the front row for the start of the 50 lap feature, followed by # 1 Brandon Hobbs starting third, # 81 Adam Murray fourth, and # 84 Jared Fryar rounding out the top 5.
Hettinger brings the field around on the pace laps as Flagman Brandon Willard gives the signal for the field to double up and get ready for the start. Hettinger brings 'em around as Willard surveys the field, then gives his approval and shows 'em the green, and we are underway in the Limited Late Model feature at Southern National Motorsports Park! Hettinger gets a good start, but McCaskill wastes no time on moving to the point of the field and Hettinger will have to settle in behind. Murray settles into third and # 31 Clay Jones gets a great start in this one and brings his machine to fourth ahead of Hobbs who falls in fifth. McCaskill moves out to a five car length lead as Murray and Jones close in on Hettinger, but the real battle for the moment is for sixth as Fryar, # 7 Tristan McKee, and # 44 Justin Whitaker battle for the spot. Murray now moves in on the back of Hettinger's machine and he starts to work her over looking for a way by, and he dives underneath as the two almost make contact, and he gets beside her and the two touch door to door as Murray now moves his machine to the second spot. And now Jones moves in on her as well as the handling starts to go away on the # 71 machine of Katie Hettinger. # 17 Parker Frazier is off the pace and brings his car down pit road, as Murray sets his sights on McCaskill, but McCaskill still sets a blistering pace and sits up front, now with a good 8 to 9 car length lead. Jones has now caught Hettinger and he's working to find a clean way past as she starts looking for a better line, and for now holds on to her spot in third. Up front, Murray puts together some great laps, trying everything he has to close in on leader McCaskill, but Bradley's just setting the pace now, taking care of his machine, and keeping a nice gap on the second place runner.
Clay Jones has worked his car right to the rear of Katie Hettinger's machine, almost making contact and he dives underneath, just getting into her rear quarter a bit, and it gives him just enough room to move past for third, but up front, nobody has an answer for Bradley McCaskill, and for the last two times we've seen him, takes the win in the Louis White entry, making the statement that although he ran a lighter schedule than he had earlier in his career as of late, he indeed comes to the track to win, and is still a threat wherever he goes. Adam Murray finishes second, Clay Jones third, Katie Hettinger fourth, and Brandon Hobbs comes home with a respectable fifth place finish.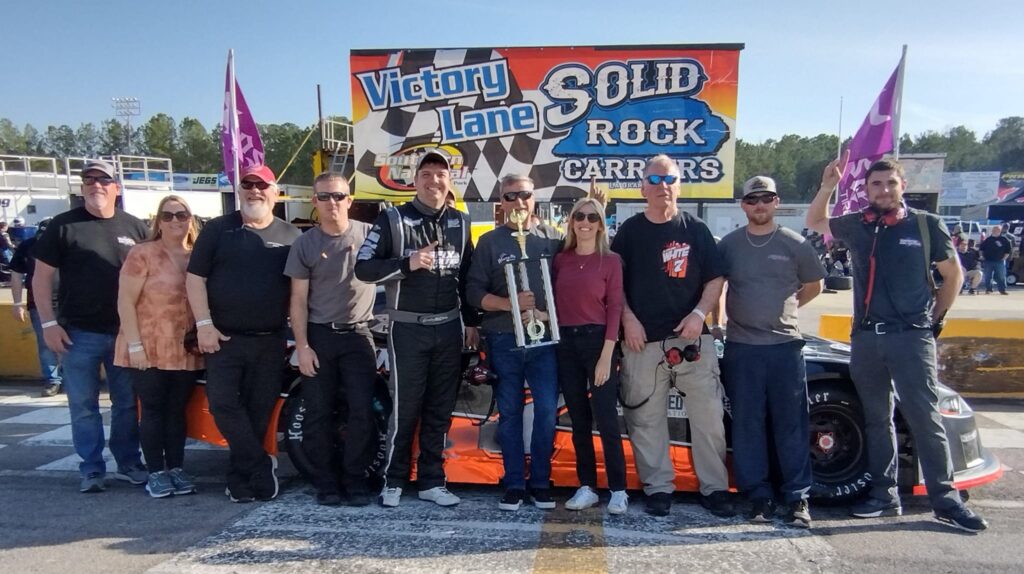 Carolina Pro Late Model Series Feature Event
# 63 Josh Lowder lays down the fastest qualifying lap at 15.199 just ahead of # 2 Amber Lynn, but the Series inverts for their starting positions, and Lowder pulls the number 4, which means he will start fourth in the feature. That puts former Xfinity Series competitor and 2019 Southeast Super Truck Series Champion # 07 Clint King on the point for the start, followed by former Camping World Truck Series contender # 21 Ryan Mathews second, # 2 Amber Lynn third, # 63 Josh Lowder fourth, and # 48 Tovia Grynewicz rounds out the top five starting fifth.
King brings the field around under the parade laps as the teams clean and warm their tires, as flagman Willard gives the signal for the drivers to double up and get ready for the start. King brings them around and Willard gives the field a good look, and he likes the view and throws the green and we are underway in the 2022 season opener for the Carolina Pro Late Model Series! It's a great start and King and Mathews are dead even on the start. King is able to clear coming off of turn two as Mathews will settle in behind him, and Amber Lynn clears for third ahead of Lowder and Grynewicz who battle for fourth. It's three wide behind them as they battle for fifth between # 44 Josh Van Winkle, # 96 Katie Hettinger, who's running double duty today in the Carolina Pro and the Southern National Limited Late Models, and # 51 Mason Maggio. Maggio wisely drops in behind Van Winkle and Hettinger as they were headed three wide going into four, as # 1 David Thomas and # 5 Jasec Holladay both move in to try and get some of the action. Leader King gets a great run down the straight, as the field moves into single file behind him with Mathews second, Lynn third, Grynewicz clearing for fourth, and Lowder clearing for fifth. Hettinger clears for sixth with Maggio and Thomas still trying to work out seventh. Up front the field tightens up as Grynewicz and Lowder put pressure on Lynn, and Mathews closes up on leader King as Thomas drops in behind Holladay and the field on a whole now runs single file.
Lynn brings Grynewicz and Lowder up to the back of leaders KIng and Mathews, and the top five run under a blanket with a bit of a gap to the next group, who now puts pressure on each other to get back to the front group, but King's leading at a pretty good clip causing the separation between the front runners and the rest of the field. Lowder moves up under Grynewicz and brings his machine to the rear of Amber Lynn who seems to be trying to settle in and save some tires, but is constantly being challenged by the two running behind her. Lowder now starts looking, and he sticks his nose underneath and moves alongside, and then gets the position and moves past for third. Lowder then immediately starts making a run up to second place running Mathews, and he begins to run him down. And in no time, he's there, and Mathews moves over and lets him go, not quite ready to put the wear on his tires that he would've had to challenge Lowder at this point, content to let him go and fall in behind in third. Behind them Hettinger closes back in on Grynewicz to put pressure for fifth, and now Lynn, Grynewicz, Hettinger, and Maggio start to race each other hard, challenging each other and again trying to get back to the leading three. And in an unfortunate turn of events, Mathews drops off the pace and heads to pit road to never return. You have to hate it for the team as they showed some great speed in practice and qualifying, and was running a strong third before things went awry.
Meanwhile, Lowder has caught leader Clint King, but for now, is content to ride behind him, as both log laps and put themselves in a strong position for when it becomes go time to settle it at the end. Behind them, Hettinger's finally able to get by Grynewicz and is all over the rear of the Amber Lynn machine, who still appears to be saving her stuff for the end, but now has to hold off a charging Hettinger who's decided it's time to move back up on the leaders. Up front, Lowder decides it's time to make his move, and he effortlessly dives under King who puts up a short battle, and puts the # 63 up front for the first time in the race. King tries to dive back under, but Lowder gets a great corner exit and he sets sail up front. Lap traffic starts to come into play as well, as the two leaders move past the # 95 of Caleb Costner, but as Amber Lynn moves up to lap Costner as well, he gets loose and Amber has to adjust her line, allowing Hettinger, Grynewicz and Maggio to move up tighter, and as the four move back in on Costner again in the next corner, he slips up and again Lynn has to adjust, and Hettinger moves right in to her bumper and checks up to keep from running her over or get into Costner just beneath them, causing Grynewicz to respond and he gets loose, almost going around, as Maggio also has to check up to avoid a huge crash. They all get through however, but now Lynn again has a mirror full of Hettinger, as Grynewicz and Maggio scramble to get back to them, and Costner again gets sideways, but holds on leaving everyone unscathed. But Hettinger, seeing this may be her best opportunity to get by Lynn, sticks her nose in on Lynn's quarter panel and tries to root her up and out of position. But veteran Lynn holds her ground and throws her car straight as Hettinger climbs her fender, sending Hettinger around on the backstretch. Hettinger got just a little too eager, and now she'll have to come down pit road to her crew. She's got a fast Pro Late Model machine here today however, so it's going to be interesting to see if she can bounce back for a good finish here today, but she'll have to do it restarting at the end of the lead lap group of strong competition.
With virtually no cleanup from the incident, the track crew has us back and ready to go racing in no time with Lowder restarting from the point, King second, Lynn third, Grynewicz fourth, and Maggio fifth. Flagman Willard gives them the signal and the cars line up double file and bunch up for the restart. Lowder brings them around, Willard likes the view, and the green is out and we are back underway. Lowder gets a good start, but King times it out perfectly and rolls his machine off to an amazing start, and he retakes the lead from the outside going into one. Also getting an amazing start is Tovia Grynewicz, who powers his way to third. Amber Lynn has to settle for fourth, but as she moves to clear, Maggio gets into her rear bumper and they both skate up the track, with Van Winkle, Holladay, and # 03 Kyle Campbell trying to take advantage, with Hettinger diving into the mix as well. Lynn gets shuffled to the outside as Maggio moves to fourth with Van Winkle coming to fifth. Lynn fights off Campbell, Holladay, and Hettinger to clear for sixth, as the battle is on for the position. Up front, Lowder puts the heat on for the lead, with Grynewicz hanging around looking to capitalize on his great run here today. Lowder dives under for the lead, but King fights hard this time knowing he needs to hold his ground if he wants a shot at the win over Lowder, and the two touch again and bang doors. But Lowder is just too strong and he moves to the point and again sets sail up front. Behind him, King secures the second spot, but Grynewicz loses his battle for third to Mason Maggio, and Katie Hettinger fights her way back to an exciting fifth place finish, after Amber Lynn's car ends her day up in smoke. Unfortunate as I feel Amber was trying to save her car all day for the end, fighting off numerous attempts to root her out of her top 5 position for the most part all day, only to have to settle for a finish way beneath her efforts all day, finally ending up thirteenth for the finish, nowhere near the indicator of her strong and crowd pleasing performance for most of the race. In the end, Josh Lowder has himself the perfect day in the season opener for the Carolina Pro Late Model Series, taking the top time in qualifying and showing that at least for today, the Lowder racing team was the class of the field.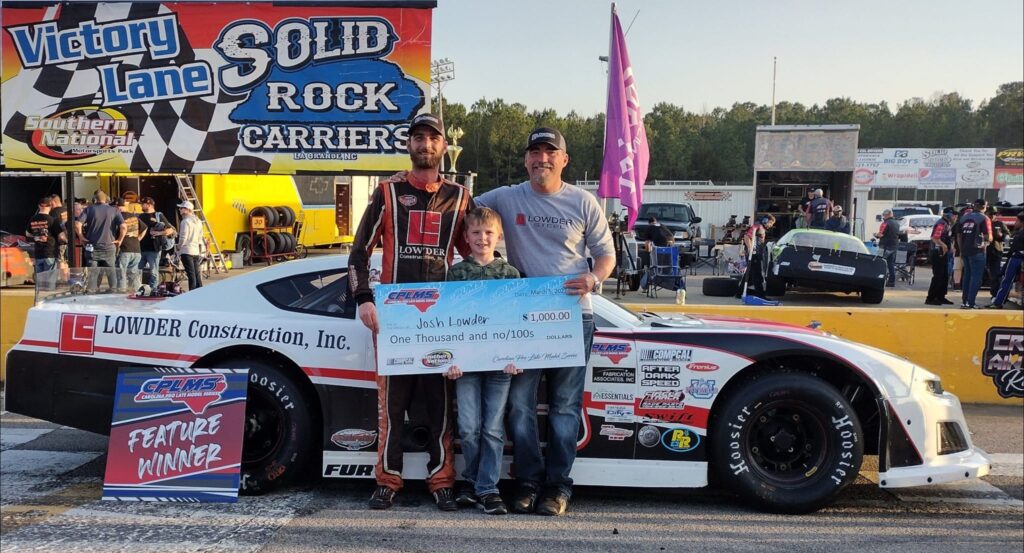 MY TAKE
Saturday, March fifth was a beautiful day for racing, and as it turns out, a day of making statements. In the Limited Late Model feature, we saw Bradley McCaskill again make a statement that if anyone thought he was done winning races, they better think again. If you as a competitor see McCaskill's name on the entry list, you should understand that you'll need to tighten those belts and get down to business, as he's coming to win and nothing less. And as far as the Carolina Pro Late Model Series goes, they're just getting started. With a revamped lineup filled with a healthy mix of veterans and amazing upcoming young talent, the 2022 season is guaranteed to be filled with exciting racing action all year. The first race that we covered as Short Track Report was last year with the Carolina Pro Late Model Series, and we watched all year as they made a huge impact on the regional racing scene. And so we couldn't wait to start our 2022 weekly points racing coverage with the Series, and they didn't disappoint with Josh Lowder sending his own message to the rest of the Carolina Pro Late Model Series contenders that if they want a shot at the title this year, they will have to deal with him first, as Josh and the Lowder Racing team are focused on the 2022 championship.
Owner/Promoter Michael Diaz had his Southern National Motorsports Park looking immaculate for the 2022 season opener. He's been the leader over at the Speedway since he purchased the Speedway in 2011, and truth be told, since it's opening in 1993, for one reason after another, the track has yet to reach it's greatest potential. And the pandemic and it's aftermath have recently had a part in that. Although it has had great years and great events over it's short existence, we feel that the track's best years are clearly still ahead of it. Diaz and his family and partners are dedicated to that. One great proof of their intentions is the fact that with the help of Solid Rock Carriers, they will hold at the end of the year a premier Late Model Stock event with the highest offered purse in the central east coast region, paying fifty thousand dollars to win. And if that isn't making a statement, I don't know what is.
Our Blue Collar Racer Of The Week was an obvious one this week. As we could look to the hard work put in by many drivers and teams during this weeks event, such as Katie Hettinger running double duty to a fifth place finish in the Carolina Pro Late Model opener, and a pole and a fourth place finish in the Limited Late Model feature, but Josh Lowder's performance could not be denied. The team worked hard in practice and it paid off with the fastest qualifying lap, and a dominating win, earning Josh Lowder and the Lowder Racing team our Short Track Report Blue Collar Racer Of The Week honors.
Despite the challenges to the region, 2022 is set to be one of the best short track racing seasons on record, and we look forward to a great and exciting year. It's off to a great start, and we look forward to every event on schedule. So as always, till next time, See You At The Track!
(This extended race coverage article from Short Track report brought to you by STAR COURIERS. With today's supply shortages, when you need dedicated delivery, you need STAR COURIERS!)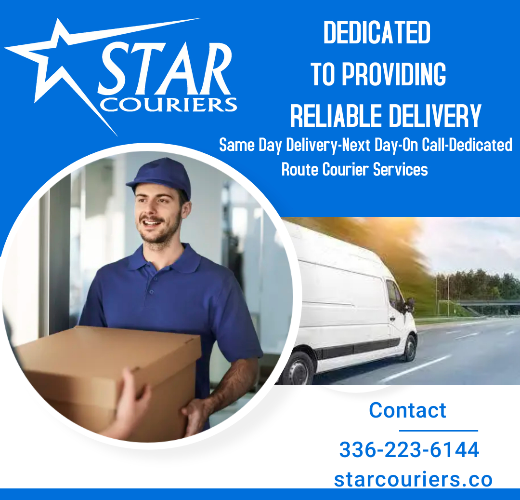 Tags
Adam Murray
,
Alek Andres
,
Amber Lynn
,
Any Cars
,
Bandoleros
,
Bombers
,
Brad Blizzard
,
Bradley McCaskill
,
Brandon Hobbs
,
Brandon Willard
,
Brennon Cox
,
Brian Rundstrom
,
Bryson Brinkley
,
Caleb Costner
,
Cameron Parks
,
Carolina Pro Late Model Series
,
Carson Haislip
,
Chase Singletary
,
Clay Jones
,
Clint King
,
Conner Weddell
,
David Thomas
,
Harold Williams
,
Jared Fryar
,
Jasec Holladay
,
Josh Lowder
,
Josh Van Winkle
,
Justin Whitaker
,
Katie Hettinger
,
Kyle Campbell
,
Legends
,
Limited Late Models
,
Mason Maggio
,
Michael Diaz
,
Mike Weddell
,
Nicholas Pollock
,
Parker Frazier
,
Phoenyx Kimball
,
Pro Late Models
,
Ryan Mathews
,
Southern National
,
Southern National Motorsports Park
,
Tovia Grynewicz
,
Tristan McKee
,
Tyler Hogan