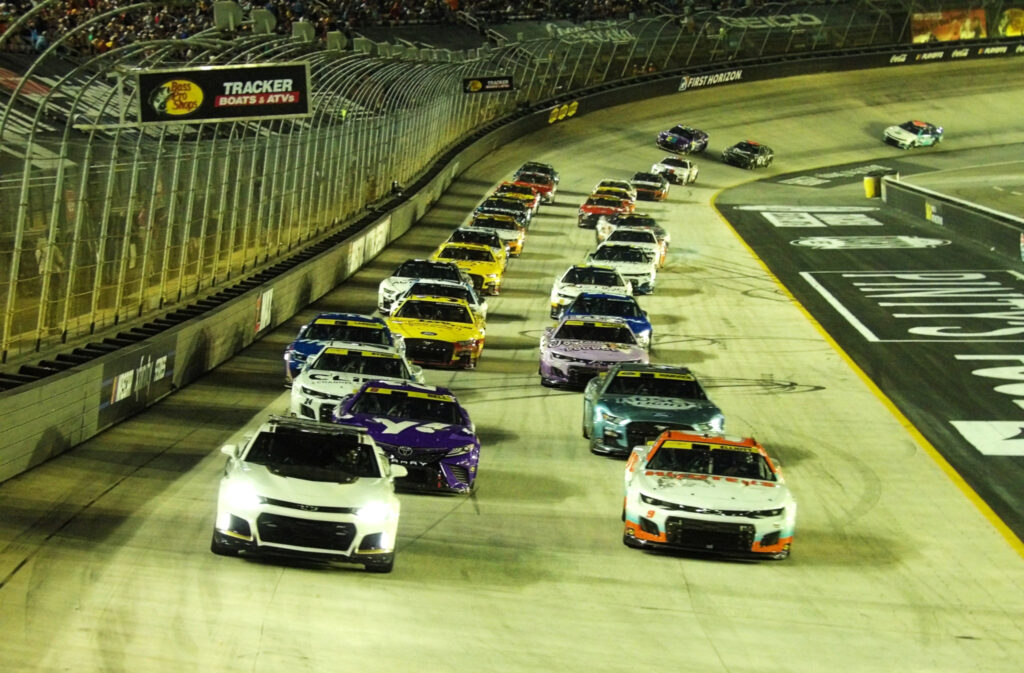 This week's race choice was another first for Short Track Report, and was one we've been looking towards for a long time. First of all because we made a promise to cover the best in short track racing in our region, and it doesn't get much better than NASCAR's premier series on "The World's Fastest Half Mile". But also because, as many of you know, we've been taking a good look at the new NASCAR Cup Series Next Gen car. We took stock when we visited Martinsville earlier in the year, but being the first short track test for NASCAR's new ride, we were more than willing to give the car a pass as the Series puts the new car to the test on all of it's performance surfaces from the Superspeedways of Daytona and Talladega, to the mile and a halves that make up the crust of the schedule, to the road courses of Sonoma and Watkins Glen among others. The car has been great racing wise at all of these, but the performance at Martinsville left a lot to be desired to say the least. Not to mention the little things the car has struggled with such as parts failures and wheel issues for the teams, but we're more concerned with the performance of the car racing wise, and especially on the short tracks where we spend our focus.
But we were also eager to get out to our second NASCAR event since becoming NASCAR credentialed to take a close look at this week's NASCAR weekend at the famed Bristol Motor Speedway where everyone knows they understand how to put on an amazing show. And that they did, from live concerts featuring 3 Doors Down to an amazing military flyover, the track pulled out all the stops and put on a spectacular short track event. But once that was said and done, it all came down to the racing on the track. So, Let's Go Racin'!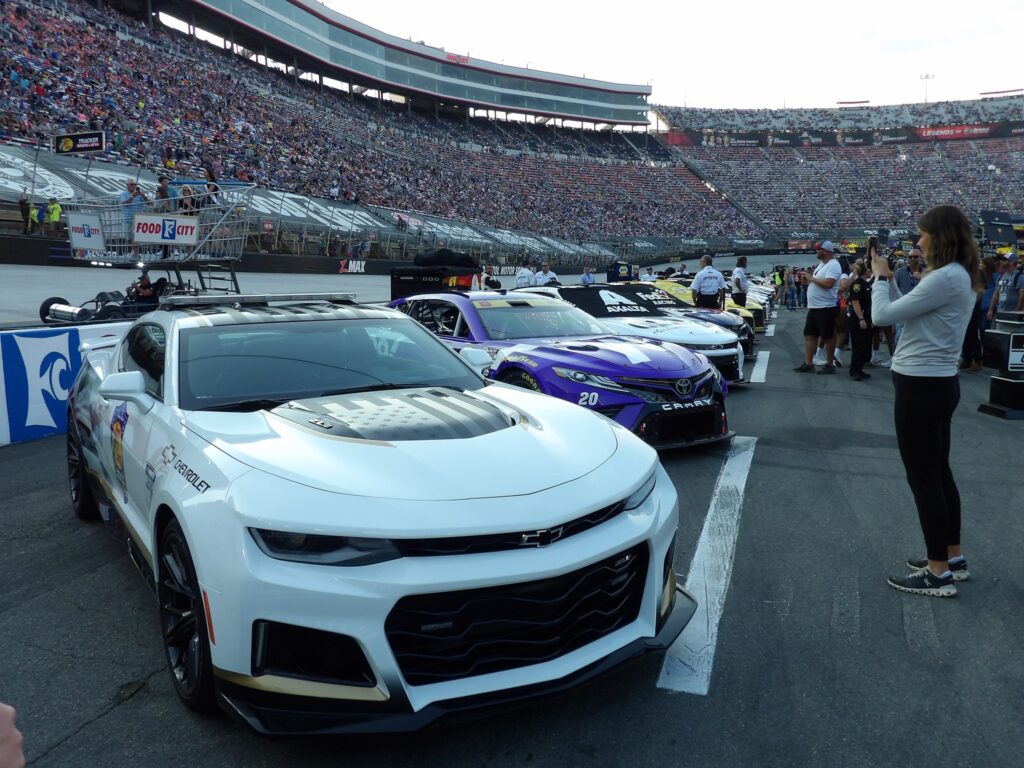 ARCA MENARDS SERIES/ARCA MENARDS SERIES EAST BUSH'S BEANS 200
ARCA East points leader # 18 Sammy Smith would start on the pole with a blistering time of 15.171 seconds. Satellite teammate # 81 Brandon Jones would start alongside and would be his main competition all day, challenging for the lead multiple times. The # 6 of Rajah Caruth would also throw his hat into the ring, but didn't have enough for both Smith and Jones. The caution would come out plenty of times, including crashes with the # 30 of Amber Balcaen and the # 55 of local Late Model Stock competitor Conner Jones. Late Model Stock favorite # 3 Mason Diaz would have an oil line issue while another local favorite in the # 49 of Ashton Higgins would have a phenomenal night, but would spin and hit the inside wall hard with just eight laps remaining, ending his night in 19th. This set up a two lap dash between Smith and Jones for the checkered. Jones would nearly spin underneath Smith, but would hang on as Smith capped off a dominant race by taking the win, the East title, and the Sioux Chief Showdown championship. Finishing second would be Jones, # 17 Taylor Gray third, Caruth hangs on in fourth, and the # 43 of Daniel Dye would round out the top five.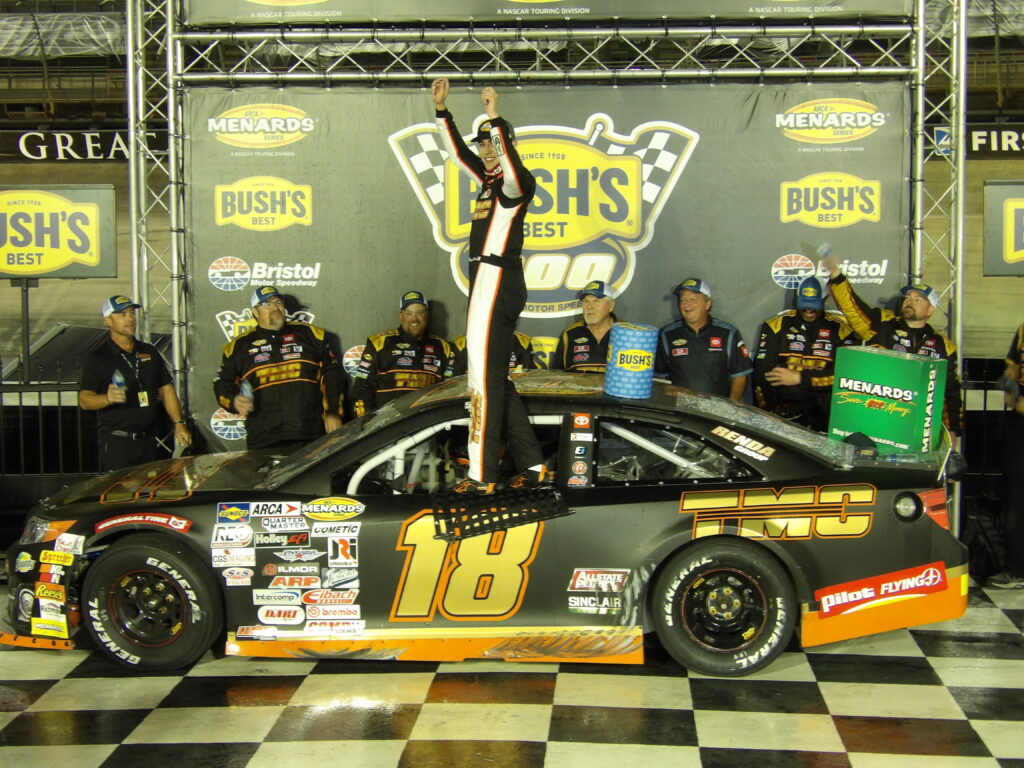 NASCAR CAMPING WORLD TRUCK SERIES UNOH 200 PRESENTED BY OHIO LOGISTICS
Qualifying would see a surprise in the # 19 of Derek Kraus grabbing the pole with a time of 15.276 seconds. The # 18 of hot commodity Chandler Smith would start alongside and grab the lead early, leading the most laps. A scary incident would occur on lap 38 as the # 43 of Josh Reaume would spin, leaving the # 7 of Rajah Caruth with nowhere to go. Reaume would suffer a concussion, while Caruth would be eliminated from the race. After the last cycle of pit stops, the front of the field would see a change as the # 38 of Zane Smith and the # 66 of Super Late Model ace Ty Majeski found their way on the first row, trying to save fuel. Majeski would execute perfect restarts at the end of the night, allowing him to finally grab his first career Truck Series win along with punching his ticket to the championship round at Phoenix. Zane Smith would get second, the # 75 of Parker Kligerman sneaks up for a third, # 23 Grant Enfinger gets fourth, and the # 88 of Matt Crafton rounds out the top five.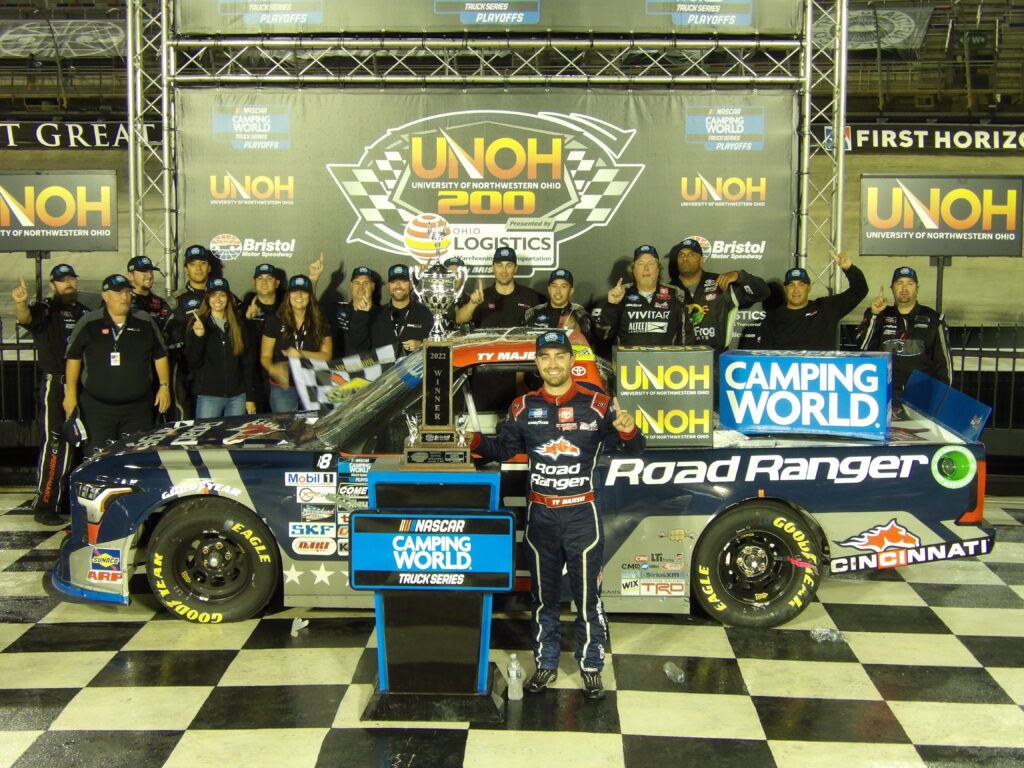 NASCAR XFINITY SERIES FOOD CITY 300
Prospect Ty Gibbs in the # 54 posts the quickest qualifying time with a lap of 15.653 seconds. Starting alongside would be Late Model Stock veteran Josh Berry in the # 8. The first part of the race would be dominated by Gibbs and caution flags as five yellows would be thrown in the first 100 laps. The race would see some controversy in Stage 2 as the # 9 of Noah Gragson made contact with Gibbs, sending both Gibbs and the # 2 of Playoff hopeful Sheldon Creed hard into the wall, effectively ending both of their nights. Most of the second half would then be dominated by the # 7 of Justin Allgaier, but a late speeding penalty would bite him, leaving the race to be settled between Gragson and # 19 Brandon Jones. Jones would try repeatedly to get to the back bumper of Gragson, but it wouldn't be enough as Gragson grabs yet another win. Barely making the Playoffs would be the # 39 of Ryan Sieg, while Creed and the # 10 of Landon Cassill would barely miss out. The # 16 of A.J. Allmendinger would also end the night bringing home his second consecutive Regular Season Championship. Finishing second in the race would be Jones, followed by the # 21 of Austin Hill, the # 1 of Sam Mayer, and the # 98 of Riley Herbst. Putting in an amazing effort would be the # 45 of Stefan Parsons, starting shotgun on the field and making his way all the way back to eighth for Alpha Prime Racing. Bayley Currey would also turn in an impressive run for JD Motorsports in the # 4, finishing 11th.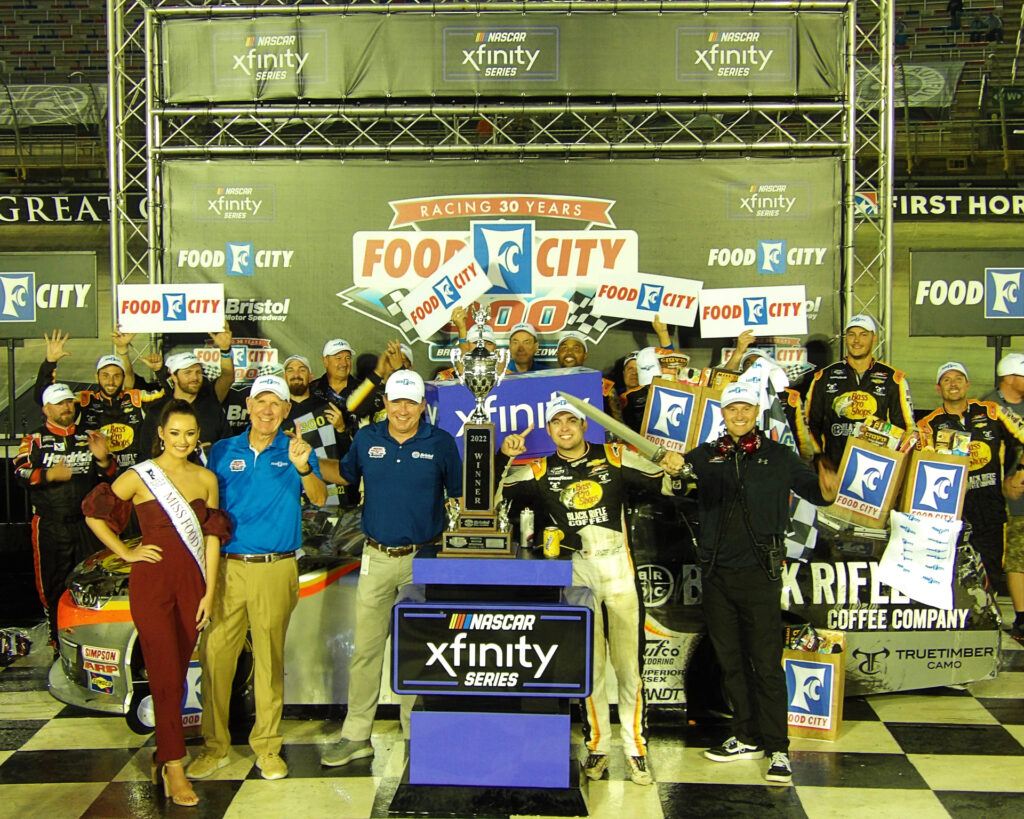 NASCAR CUP SERIES BASS PRO SHOPS NIGHT RACE
The # 10 of Aric Almirola grabs the surprising pole with a time of 14.946 seconds. Starting alongside would be teammate # 14 Chase Briscoe. The lead would be exchanged multiple times early, with the # 6 of Brad Keselowski ultimately holding the lead for good. The # 21 of Harrison Burton and the # 2 of Playoff contender Austin Cindric would suffer early tire issues, something that would plague the field all night. The # 5 of Kyle Larson and the # 20 of Christopher Bell would battle for the lead later on, as more of the field suffered tire blowouts. The # 18 of Kyle Busch would suffer an engine failure while # 19 Martin Truex Jr and # 23 Ty Gibbs would suffer power steering issues. As the night went on, a multi-car crash would take out Playoff contenders # 48 Alex Bowman and # 3 Austin Dillon, while also damaging the # 8 of Tyler Reddick. Near the end, the race was between both Keselowski and Bell. But, as the theme was all night, both suffered tire issues, putting the race into the # 17 of Chris Buescher's hands. The # 9 of Chase Elliott would try to mount a charge, but with corner speeds being so high along with a non-wearing Goodyear tire, passing was a challenge all night, allowing Buescher to secure his second career victory along with Keselowski's first as an owner in the Cup Series. Elliott would come home second, # 24 William Byron third, Bell would rally back for fourth, and Larson fifth. The four eliminated from the playoffs were Kyle Busch, # 4 Kevin Harvick, Austin Dillon, and Tyler Reddick.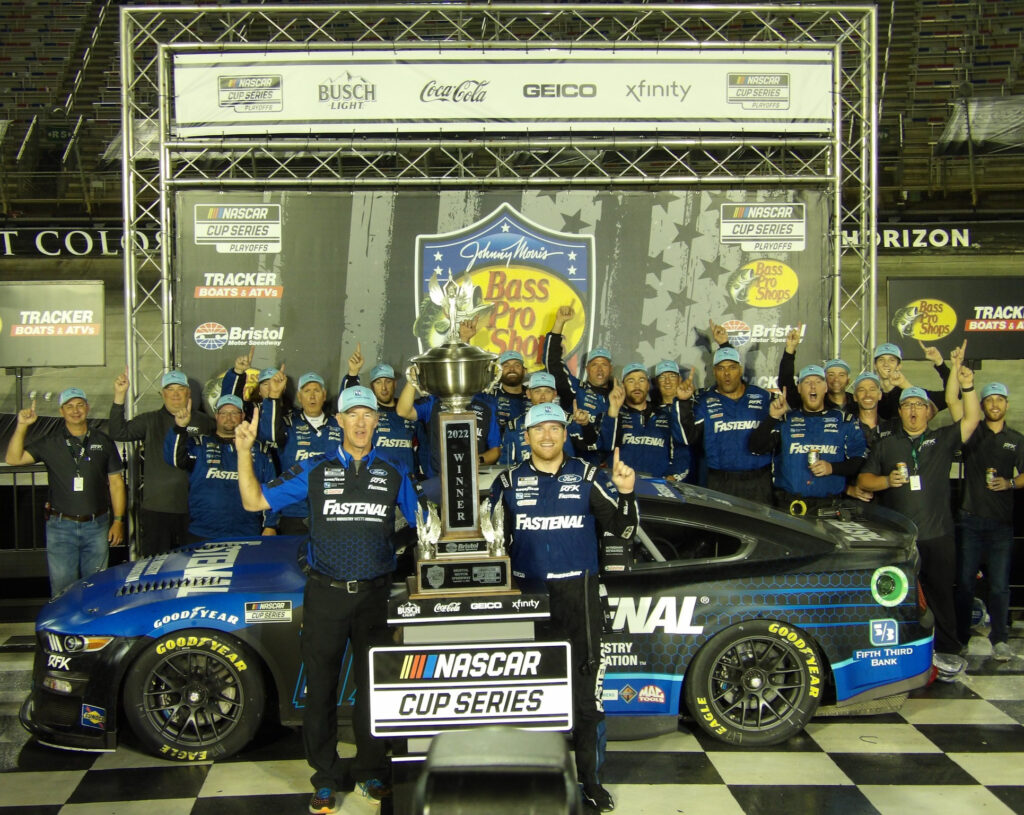 MY TAKE
First of all, we want to take this time to thank Bristol Motor Speedway, and in particular Bristol Motor Speedway Communications, not only for their hospitality, but for granting us full access to their great facility. And when I say full access, I mean FULL access. Thank you for your understanding of the importance of grassroots racing coverage! It was a fantastic learning experience watching what it takes to put on a show at the highest level, and we tremendously appreciate you guys making sure we had everything we needed to watch it all unfold. It was an amazing experience to say the least and one that we won't forget.
And what an amazing week of racing it was. It was playoff week for Trucks and Cup, while it was the last race of the regular season for Xfinity, and the first round of cutoffs in the Cup Series. We saw Sammy Smith show why he was the best this year in ARCA, and we watched that awesome team celebrate as they took home not only the win, but the ARCA East title to boot in an amazing performance. We watched as Ty Majeski took home his first Camping World Truck Series win and secure himself in the final four at Phoenix. We also saw Noah Gragson show why he will be in the Cup Series next year as he once again took his JR Motorsports Xfinity Series team back to victory lane, and we saw Chris Buescher take his team to victory lane for the first time this year and for the second time in his career, thus proving what we have been saying that RFK Racing is improving and will definitely be a team to contend with next year.
But when it comes to driver performances this week, we watched as one flew under the radar, but not for us. It was a performance worthy of mention but most hardly seemed to notice. But we did. Stefan Parsons came into the week as he always does, looking to make a name for himself and secure a place in the upper echelons of the sport. Driving for Alpha Prime Racing, a small Tommy Joe Martins owned independent Xfinity team looking to make a mark themselves, Stefan Parsons started dead last after dropping to the rear for unapproved adjustments. But after a very eventful Xfinity Series race overall, Parsons found himself finishing eighth after all was said and done. And to say he had to work for it would be the understatement of the year. I personally watched Stefan Parsons turned completely sideways twice as the field tried to wedge him from the front late in the race, but Parsons was determined to come away with a great finish for his little team, and we watched him fight harder than anyone else all weekend for it. And for that, we can't deny Stefan Parsons and his team this week's nod for our Short Track Report Blue Collar Racer Of The Week. No one deserved it more, and our hats are off to Stefan and the Alpha Prime Racing team on a performance so great, we couldn't deny them our award for this weekend's effort.
Finally however we must address the elephant in the room. There are four things that we felt would make this Next Gen car exceptional. First, it may be vanity, but the car has to look appealing. Check. The car looks great, and there's no denying it. It is one awesome looking machine. Second, it has to be great on superspeedways. Check. The car put on great racing at Daytona and Talladega and had us excited. Third, it has to perform well at the intermediates and road courses, which the car was actually designed to stand out at, and it has racing wise. The car has been as exciting at those tracks as NASCAR hoped it would, putting on some of the best racing we've seen. Some would disagree, as the car has had some issues, first with the wheels that the teams have seemed for the most part to have handled. Secondly however, the parts the car relies on to perform has been suspect in some areas, and it has been the take of most from this week's racing at Bristol, but we have full confidence that NASCAR will rectify that as it hits on their own credibility. So we feel all of this will be taken care of in the long run so we're not too concerned with it honestly.
What does concern us however is the cars performance on a short track. And if the four things that make up what would make this car exceptional was a dollar, we feel the car is a quarter off. And NASCAR is going to have it's hands full fixing it because it comes down to something that's ingrained in the car itself – corner speed. Listening to all the drivers try to explain it was interesting, but we did hear one that was on it completely. Kevin Harvick said the car is too fast in the center of the corner for the drivers to be able to make ground on their competitors, and he is completely right. The way we do coverage allows us to see it all as we have one in the booth watching the overall race, and one on the ground watching the cars up close as they speed around the track. It allows for us to see what cars are loose, tight, who's good and who's faking it. And what we saw was a car so fast in the center of the corners that the drivers couldn't challenge each other. Now that bodes well for any other style of racing, but a short track usually puts the racing in the hands of the drivers, which makes short track racing special. We know that on short tracks, the drivers themselves go head to head, rubbing fenders and challenging wills. But in order for that to happen, the cars have to be a handful in the turns. But this car, so far eliminates that. And with Goodyear bringing a tire that doesn't fall off in speed…that's a combination that leads to lackluster short track racing. NASCAR has their hands full with this. And at a time when short track racing, the foundation of the sport in our opinion, is making a resurgence, and especially in the local weekend racing regiment, the timing couldn't be worse.
We love short track racing for many reasons, but one of the big ones is that it puts the racing in the hands of the drivers who must deal with one another in hand to hand combat. If that element is taken away from the sport, it takes away a key element that makes stock car racing special over every other form of racing, it's driver and their personalities. Let's hope they can find a package that allows the car to race better on the short track. Not only for NASCAR and it's fans, but for short track stock car racing in general. 'Till next time, See You At The Track!
(Race writeup by Joshua Weatherman. Intro and My Take written by Billy Weatherman. 2022 Copyright SHORT TRACK REPORT)
Tags
A.J. Allmendinger
,
AJ Allmendinger
,
Alex Bowman
,
Alpha Prime Racing
,
Amber Balcaen
,
ARCA
,
ARCA Menards Series
,
ARCA Menards Series East
,
Aric Almirola
,
Ashton Higgins
,
Austin Cindric
,
Austin Dillon
,
Austin Hill
,
Bass Pro Shops Night Race
,
Bayley Currey
,
Brad Keselowski
,
Brandon Jones
,
Bristol
,
Bristol Motor Speedway
,
Bristol Night Race
,
Bush's Beans 200
,
Chandler Smith
,
Chase Briscoe
,
Chase Elliott
,
Chris Buescher
,
Christopher Bell
,
Conner Jones
,
Daniel Dye
,
Derek Kraus
,
Food City 300
,
Grant Enfinger
,
Harrison Burton
,
JD Motorsports
,
Josh Berry
,
Josh Reaume
,
JR Motorsports
,
Justin Allgaier
,
Kevin Harvick
,
Kyle Busch
,
Kyle Larson
,
Landon Cassill
,
Martin Truex Jr.
,
Mason Diaz
,
Matt Crafton
,
NASCAR
,
NASCAR Camping World Truck Series
,
NASCAR Cup Series
,
NASCAR Xfinity Series
,
Noah Gragson
,
Parker Kligerman
,
Rajah Caruth
,
RFK Racing
,
Riley Herbst
,
Ryan Sieg
,
Sam Mayer
,
Sammy Smith
,
Sheldon Creed
,
Stefan Parsons
,
Taylor Gray
,
Tommy Joe Martins
,
Ty Gibbs
,
Ty Majeski
,
Tyler Reddick
,
UNOH 200
,
UNOH 200 Presented By Ohio Logistics
,
William Byron
,
Zane Smith