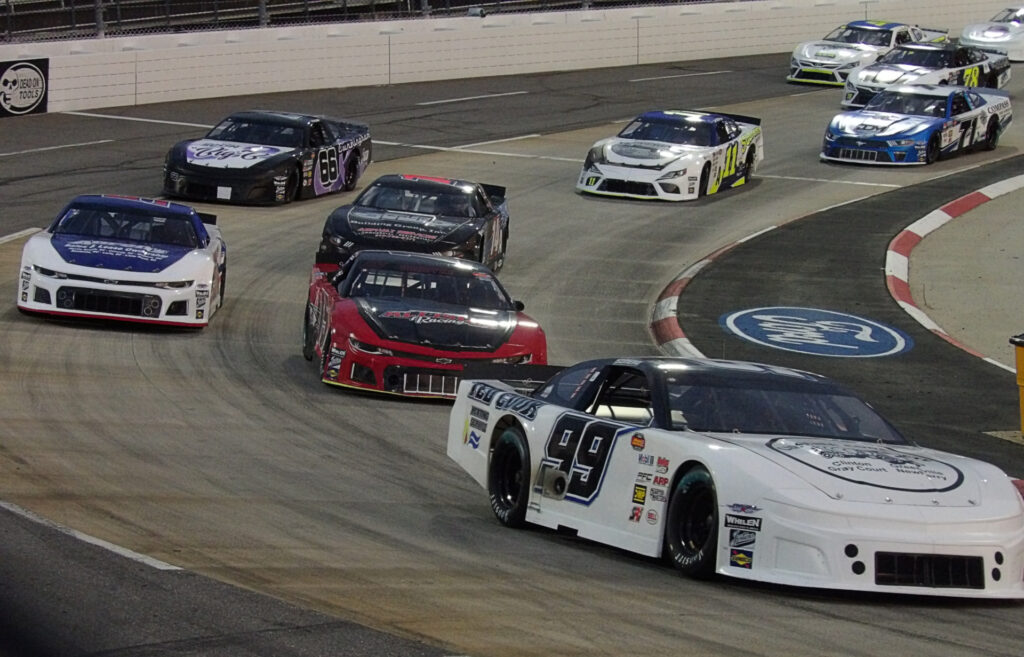 In 2005, I was at Martinsville Speedway for a great experiment. For the first time ever, the track dubbed the "Half Mile Of Mayhem" was going to try it's luck at running under the lights. They brought in some generator powered industrial construction lights for the 2005 Made In America 300 NASCAR Whelen Modified Tour race won by the one and only Ted Christopher. I had been to the famous short track many times but that night was majestic, and it was clear that to me then that one day in the future we would see a NASCAR Cup race under the lights at the famous half mile track. But it wouldn't be until 2017 that Martinsville Speedway would hold a night race under it's newly installed permanent lighting system, and it did so not for the Cup race, but for the final leg of the Virginia Triple Crown in the biggest and most prestigious Late Model race in the country, the ValleyStar Credit Union 300, won that night by Timothy Peters.
This year, in the second full season of short track racing coverage for Short Track Report, we had the honor to cover this outstanding event, and we couldn't have been more excited about getting a closer look. We have but one word for this event in 2022 – EPIC. Chocked full of excitement and drama, this race had everything a short track fan could want from a top tier event, full of storylines that would make even the most dramatic of novelists jealous. Over 90 cars entered this amazing race, representing the entire spectrum of the Late Model scene, from fan favorites, grizzled veterans, to the upset contenders looking to make their mark. So, let's take a look at the action on the track. The fans were ready, the teams have all prepared as well as they were able, so, Let's Go Racin'!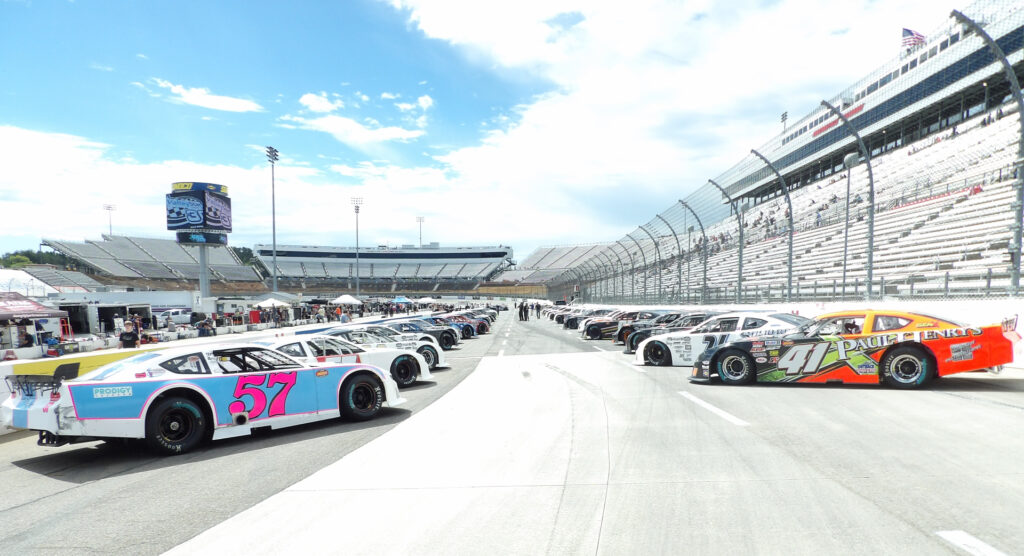 HEAT RACES
Bobby McCarty in the # 22 would grab the overall pole with a time of 19.748 seconds. After a fierce battle with the # 78 of Corey Heim and teammate # 12A Kaden Honeycutt, he would come out on top to win the first Heat Race of the night as well. Heavy hitters Katie Hettinger, Brandon Pierce, and Andrew Grady would all fail to qualify. The biggest story to come out of the race would be the # 41 of Davey Callihan getting into both Pierce and Grady for the transfer spot, wrecking them both. Afterwards, Grady would get into an altercation with Callihan, having to be restrained after multiple fists flew. Heat Race # 2 would start off with a bang as Jacob Borst would have a mechanical failure going into turn 1 on the first lap, spinning in front of the field and collecting Rajah Caruth, Magnum Tate, and Bruce Anderson. The rest of the race would go off fairly smoothly for Martinsville standards as the # 8B of Chase Burrow would take the win. Heavy hitters Conner Jones, Jacob Borst, and Rajah Caruth would all fail to make the field. Heat Race # 3 would see more carnage, ending Stacy Puryear's night early along with Ross "Boo Boo" Dalton. Fan favorite # 87 Mike Looney would take the win. The final Heat Race of the night would see the # 97 of Daniel Silvestri take the checkered with defending winner # 0 Landon Pembelton in tow. Heavy hitter Ryan Millington would have a heavy crash, taking him out of contention. Among others not making the field would be Sam Yarbrough, Derrick Lancaster, and Connor Mosack. The biggest story of the race would be the # 91 of Jonathan Shafer, as his car would have major mechanical trouble at the beginning, blowing smoke out of the back. But when it mattered most, Shafer made his way through the field, avoiding all trouble to take the final transfer spot.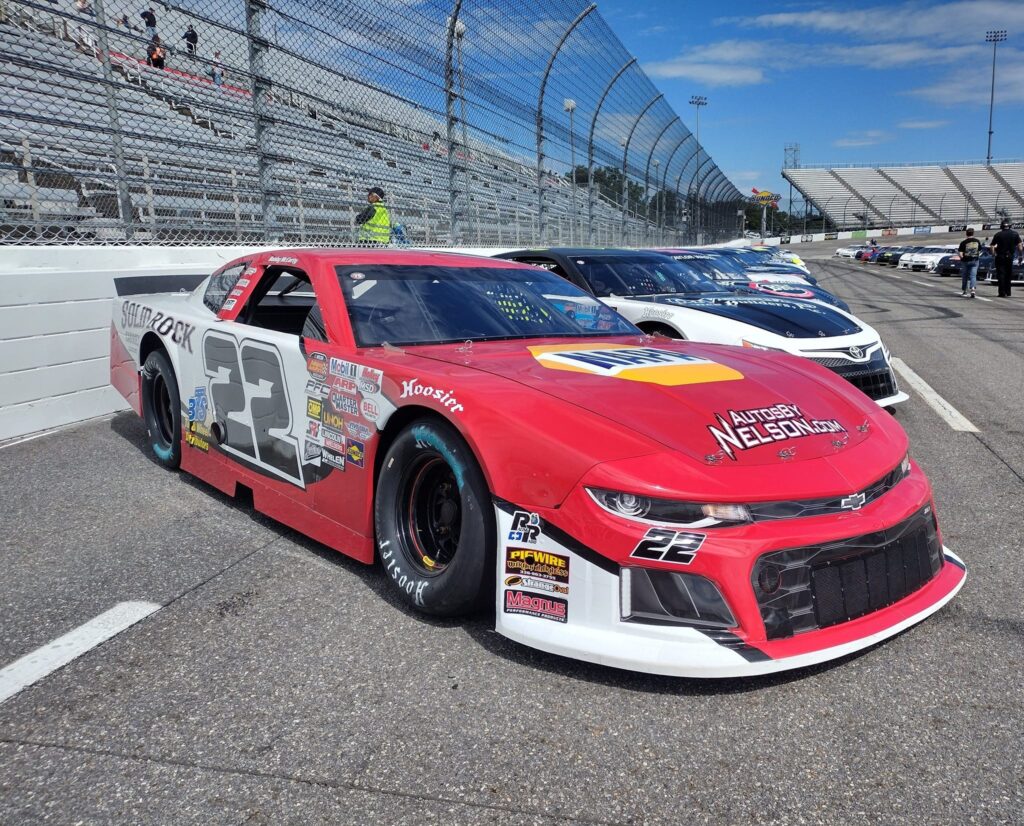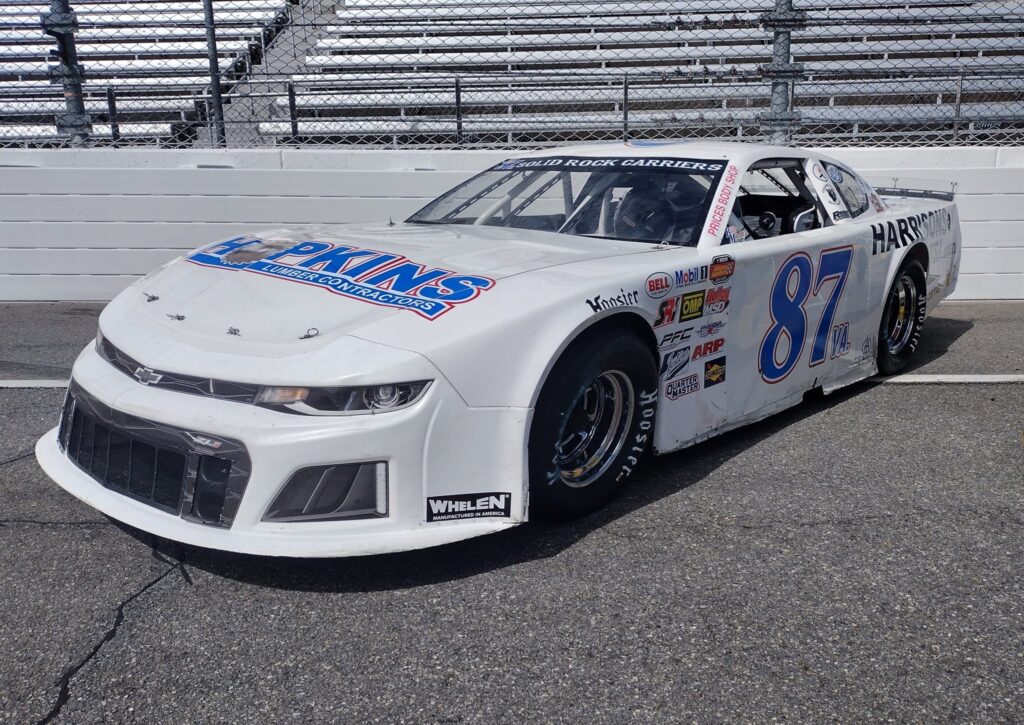 VALLEYSTAR CREDIT UNION 300 FEATURE
The # 22 of Bobby McCarty survives his Heat Race to start on the pole followed by the # 8B of Chase Burrow, # 87 Mike Looney, # 97 Daniel Silvestri, and the # 03 of Brenden "Butterbean" Queen. Veteran flagman Brandon Willard looks over the amazing field, likes what he sees, and we're green for the biggest race of the year! McCarty immediately clears as the # 77B of Trevor Ward powers by Queen for the fifth position. Burrow and Looney are dead even for 3rd as Looney finally clears for that spot. Silvestri follows Looney through as Burrow settles in fourth. Behind them, the # 51 of Matt Cox and # 11A of Timothy Peters are making noise as they make their way through the field. The first caution flies early as Tate Fogleman in the # 8C has a motor let go on the frontstretch, ending his night prematurely. After the choose, McCarty will line up first followed by Looney, Silvestri, Ward who moves up a spot, and Burrow. Willard likes the formation and we're back green in no time. McCarty gets a fantastic restart, scooting ahead in the lead as the # 26 of Peyton Sellers is able to get by Burrow to enter the top 5. Meanwhile, Silvestri muscles his way past Looney, moving him into second. The # 12A of Kaden Honeycutt starts to make hay as he gets by a few more cars along with the # 91 of Jonathan Shafer, who started shotgun on the field. The # 5A of Carter Langley has a right rear issue and slows on the track, eventually bringing his car to pit road without a caution. Add the # 95A of Jacob Heafner to the list of drivers making their way through the field, as he now is gaining a bunch of spots midpack. But it's still all McCarty up front as he leads Silvestri. The caution is back out though as the # 1 of Trent Barnes has a problem and slows in turn 4. It's a quick yellow though as after the choose, McCarty will line up first, Looney second, Silvestri third, Sellers fourth, and Ward fifth. Willard gives the thumbs up and we're back racing at the Paperclip.
McCarty and Looney make a little contact for the top spot with McCarty gaining the advantage. Silvestri takes advantage of the chaos as he moves by the 87 machine, pitting Looney in third. But not for long as Looney is able to put the power down and gets back by Silvestri. Ty Majeski in the # 66 finds himself on pit road, and the Truck Series Playoff contender is unfortunately done for the night early, ending his perfect Late Model Stock record. And as that's happening, the caution flies yet again as the # 8 of Thomas Scott has stopped out of turn 2. After the choose, it'll be McCarty, Silvestri, Looney, Sellers, and Ward. Willard looks the field over, likes the lineup, and we're green again. McCarty and Silvestri are dead even for the point as the whole field is side by side. It doesn't last long as the yellow is out for a big pileup in between turns 3 and 4 involving the # 4A of Kyle Dudley, # 71 Jake Crum, # 2 Ryan Wilson, # 5B Dexter Canipe Jr., and # 81A Mini Tyrrell. Everyone is able to limp away and continue except for Dudley as his night is done. Tyrrell would try to continue, but the damage was just too much as he parks his machine as well. After the choose, it'll be McCarty, Looney, Silvestri, Sellers, and Honeycutt who now enters the top 5. Willard likes the lineup and we're back green. This restart mimics the last as the whole field is side by side, swapping paint as they go. Looney makes the outside work and clears McCarty, taking the lead. Honeycutt loses position to Ward as Sellers starts to make a run, getting by both Silvestri and McCarty for second. But now it's all Looney as he tries to capture the Stage 1 victory. But he'll have to execute another restart as the caution is out as the # 7 of Dylan Ward has a problem on the frontstretch, sending sparks flying behind. It's a quick caution though as after the choose it'll be Looney, Sellers, McCarty, Silvestri, and Honeycutt. Willard likes what he sees and we're back racing. Silvestri powers down for third as Looney again shuts the door for the top spot. Trevor Ward gets back in the top 5 as he now powers by Honeycutt. Fenders fly behind as Cox, Peters, Heafner, and now # 8A Carson Kvapil make their way through the field. Honeycutt is now back underneath Ward for fifth. Ward is a headache on the outside, but Honeycutt is able to clear, getting back into the top 5. But it's all Looney as he takes the Stage 1 victory and a cool thousand bucks to go along with it. After a short break and pit stops, the lineup for the start of Stage 2 will be Looney, Sellers, McCarty, Silvestri, and Honeycutt. Willard looks over the field, likes the formation, and we're back racing!
Looney quickly files in front of Sellers as McCarty and Silvestri fight tooth and nail for the third spot. But back up front for the lead, Sellers is underneath Looney and gains the spot, leading for the first time of the night. McCarty finally retains his third position as now Honeycutt is under Silvestri, powering by and leaving Silvestri to deal with a valiant Kvapil. Kvapil gets by for fifth as Silvestri's car is not to his liking on the outside. Kvapil now slides by Honeycutt as his JR Motorsports car is coming to life. Before you know it, he's by McCarty with ease as Sellers continues to lead. But Looney is determined as he now looks underneath Sellers and gets the lead back. Behind them, after moving through the field all night long, Heafner is now able to pass Honeycutt for fifth. Shafer also continues to move through the field as the caution is out for the # 15 of Kres VanDyke who has spun in turn 4. It's another quick stoppage as after the choose, it'll be Looney, Sellers, Kvapil, McCarty, and Heafner. Willard looks over the competitors, likes what he sees, and we're back underway. Looney slides by Sellers to retain the lead as Heafner gets by McCarty for fourth. Kvapil is able to power by Sellers for second and looks on Looney for the top spot. But there's a big wreck on the frontstretch as Doug Barnes Jr., Ryan Matthews, and Kres VanDyke all pile up near the start/finish line. Matthews and Barnes are able to continue but VanDyke has irreparable damage and will have to end his night on a wrecker. Meanwhile, the # 55 of Mark Wertz has brought his machine into the garage with a problem, ending his Virginia Triple Crown hopes. Lining up after the choose will be Looney, Kvapil, Sellers, Honeycutt, and Heafner. The green waves and Looney immediately clears as Sellers gets by Kvapil for second. Kvapil gets pitted on the outside as Heafner gets by Honeycutt. Heafner then capitalizes on his momentum and gets by Kvapil, bringing Honeycutt along with him. Back up front, Sellers looks underneath Looney, but Looney hangs on as Kvapil is now back by Honeycutt. He turns the wick up again as he powers by Heafner, now setting his sights on Sellers. But it's not enough time as Looney takes the Stage 2 victory and another thousand dollar bonus, setting up one final, 25 lap shootout. For the restart, it'll be Looney, Sellers, Kvapil, Honeycutt, and Heafner. Willard nervously looks over the field, the crowd is on their feet, and we're green for a Grandfather Clock!
Looney clears as Sellers gets a little high in the groove. Heafner clears Honeycutt for fourth as now Sellers looks underneath Looney and barely gets the spot. Behind them, Silvestri clears Honeycutt as now Honeycutt is stuck on the outside. Meanwhile, Shafer is up to an amazing 12th after mechanical problems in his heat, barely making the field only to start dead last and is now looking to crack the top ten. Back up front, Sellers has begun to pull away, a sight that Looney definitely doesn't want to see. Burrow now looks on Silvestri, completing that pass for fifth. Sellers pulls away even more but the caution is out! The reason is unclear, but what is clear is the opportunity this opens up for Looney and Kvapil. After the choose, it'll be Sellers, Kvapil who moves up a spot, Looney, Burrow, and Heafner. The green waves and all chaos breaks loose. Looney and Burrow make major contact, stacking up the whole field behind as Sellers and Kvapil are dead even. Sellers barely clears but the caution is out yet again for debris on the track, setting up a green, white, checkered finish. It'll be Sellers looking for his first Grandfather Clock, Kvapil looking to make his dominant year even better, Heafner looking to pull off the upset, Looney looking to make the fans happy, and Honeycutt looking to finally break his 2022 drought. The green flies and Sellers gets an amazing restart. Kvapil gives him the bumper, but Sellers' 26 is just too strong. Kvapil tries to mount one last charge as the field goes crazy behind. But it's not enough as Sellers, after an emotional week regarding the National Championship, finally earns a ValleyStar 300 victory! Kvapil comes home second, Heafner gets an outstanding third, Looney drops down to fourth, and Honeycutt gets an impressive fifth. Behind them, Jonathan Shafer somehow gets a 10th place finish, avoiding all of the craziness in the final 10 laps to crack the top 10. Along with his win, Sellers also captures the 2022 Virginia Triple Crown Championship.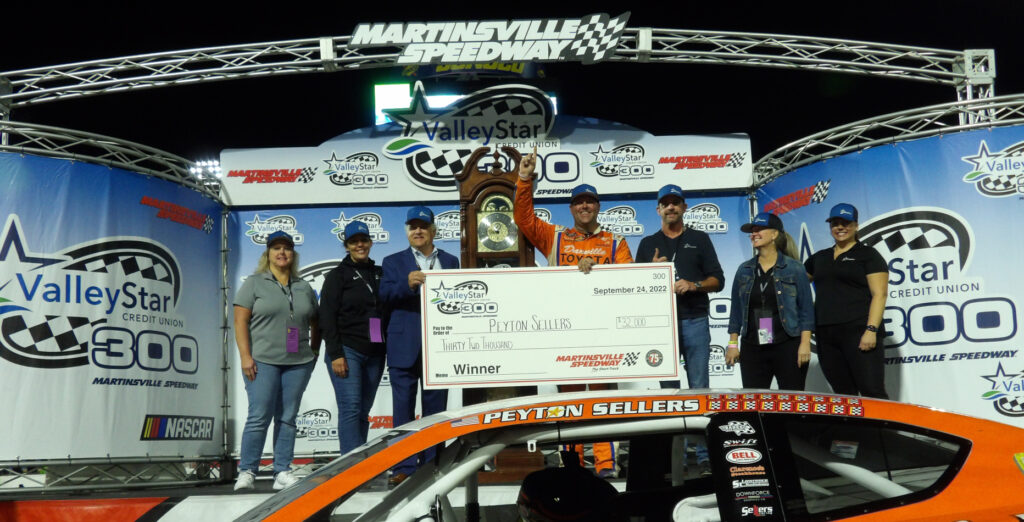 MY TAKE
What an amazing event! It was everything it was hyped up to be and more. We saw over 90 cars come to compete for the most prestigious Late Model trophy in the country, and every one of them laid it all on the line. We saw couple of drivers go viral, and say what you will about that incident, from the on track battle to the off track dust up, to me it just shows the emotion the drivers deal with at such a high stakes event, and in the end, it will be those drivers that have to deal with the aftermath for awhile to come. But overall, we saw the best in the business go head to head, doing everything they could to give themselves a chance to add their names to the Martinsville history books, but in the end it was Peyton Sellers getting his first Martinsville Grandfather Clock. Yes, you heard that right. After the many years of success that Sellers and his family team have had, including two National Championships for Sellers, a Grandfather Clock has always eluded him. But after all that, the emotions that the team and their driver displayed is a pure indication of how big it is to win this crowning event. So focused on the win, that Peyton Sellers and his team were even surprised that they had also pulled off the coveted 2022 Triple Crown. They were so focused on the win that they had lost sight of it for just a moment, and were trying to get off the stage for the Triple Crown winner when they were told that the winner was them. But we can't help but see it as a perfect crowning achievement for the Danville, Virginia team.
The competition was fierce all day. But it came down to strategy as Peyton pushed the early and most lap led leader Mike Looney to a faster pace than he may have wanted, while he would drop back just a bit to save just enough to challenge Looney in the final laps, and eventually take the lead and the amazing win. But behind them, a number of drivers were battling it out to get to the front to be in contention for the win. So of course, that made our Short Track Report Blue Collar Racer Of The Week a tremendous challenge. So many names were discussed, and so many drivers deserved the honor this week, it may have been the toughest choice we have ever made. But after a couple of days of discussion, disagreement, and then reevaluation, we finally came to a consensus on three drivers we felt tackled the most diversity for a great finish in the race. First we had to consider Carter Langley. Carter had a tire go down and had to pit to change it, losing four laps in the process in the fast paced feature, only to make up every lap and come home with a respectable fifteenth place finish. Second, we couldn't ignore Jacob Heafner. Heafner and team started 24th, but spent the race coming through the field of the best in the business to bring home a remarkable third place finish. Quite the feat considering the competition. But in the end, we couldn't deny young Jonathan Shafer. Shafer started last in his heat race due to mechanical issues on his machine. And when he entered the track for pace laps, he had smoke trailing from the back of the car and had to bring it down to his crew who tried but failed to get him back on track just before the green fell. So the team was ecstatic to see an early caution brought out by Ryan Millington backing it into the turn 3 fence, saving Shafer from losing a lap, and had him out before the next green fell. He would go on to take the last transfer spot in his heat, finishing tenth, but that left him starting again dead last in the feature. Jonathan Shafer then proceeded to battle his way through the stout field in a very eventful race, bringing the car home in one piece with a top 10, finishing tenth overall. And for that performance, against all odds, in the biggest Late Model race of the year, we couldn't deny Jonathan Shafer and his hard working team this week's Short Track Report Blue Collar Racer Of The Week. Congratulations guys, you most certainly earned this one!
I don't know if I could really sum up how big this race is, and the extent of the work Martinsville Speedway does to make sure that it's all it's billed to be, but I have to say to each and every true short track racing fan, that if you truly love short track racing, you have to make it out to this event. And with Clay Campbell and the ValleyStar Credit Union management breaking news that they will extend this event for at least five years, you'll have the chance if you haven't to come see the greatest Late Model race in the country for years to come. See You At The Track!
(Race writeup by Joshua Weatherman. Intro and My Take written by Billy Weatherman. 2022 Copyright SHORT TRACK REPORT)
Tags
Andrew Grady
,
Bobby McCarty
,
Boo Boo Dalton
,
Brandon Pierce
,
Brandon Willard
,
Brenden Queen
,
Bruce Anderson
,
Butterbean Queen
,
Carson Kvapil
,
Carter Langley
,
Chase Burrow
,
Conner Jones
,
Connor Mosack
,
Corey Heim
,
Daniel Silvestri
,
Davey Callihan
,
Derrick Lancaster
,
Dexter Canipe Jr.
,
Doug Barnes Jr.
,
Dylan Ward
,
Jacob Borst
,
Jacob Heafner
,
Jake Crum
,
Jonathan Shafer
,
JR Motorsports
,
Kaden Honeycutt
,
Katie Hettinger
,
Kres VanDyke
,
Kyle Dudley
,
Landon Pembelton
,
Late Model Stocks
,
Magnum Tate
,
Mark Wertz
,
Martinsville Speedway
,
Matt Cox
,
Mike Looney
,
Mini Tyrrell
,
Peyton Sellers
,
Rajah Caruth
,
Ross Dalton
,
Ryan Matthews
,
Ryan Millington
,
Ryan Wilson
,
Sam Yarbrough
,
Stacy Puryear
,
Thomas Scott
,
Timothy Peters
,
Trent Barnes
,
Trevor Ward
,
Ty Majeski
,
ValleyStar Credit Union 300
,
Virginia Triple Crown