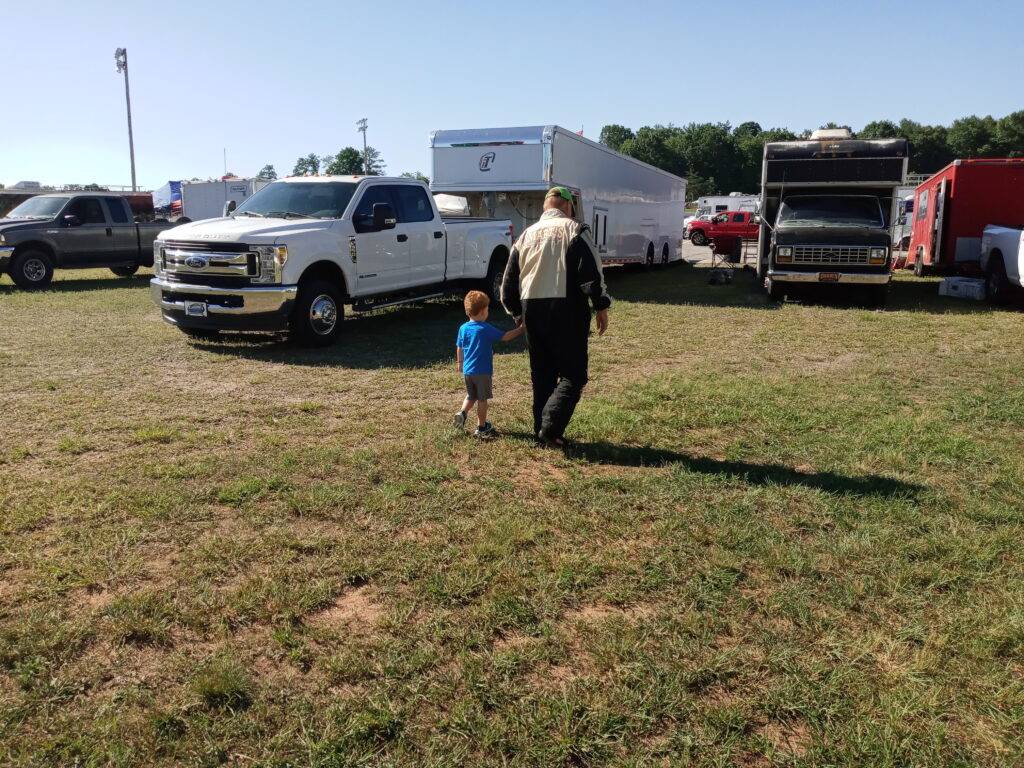 Nothing is given to you. You've got to work for it.

Jack Charlton
Jack Charlton was quoted saying the truest saying I've ever heard. And he would know, as Jack Charlton was a champion. Winning the World Cup in the year I was born in 1966, and following that up with two World Cup wins as a manager. The man knew a thing or two about winning and what it takes to do so. He also knew a thing or two about the payoff that comes from the hard work put in to be a champion. He's right. Nothing comes for free no matter what anyone tells you. There is always a price. But when the price is worth the payoff, history happens. And epic memories are made that will last a lifetime. That's the real payoff. The ones money can't buy. Moments in life that are cherished forever. In racing, often times, the cost to win can go unmeasured. But the payoff is often captured as a moment in time, that will not be forgotten.
On Father's Day Weekend, we started our day at The Winston Cup Museum where they held a Father's Day Weekend Cruise In with special guests NASCAR Hall Of Fame Inductee Kirk Shelmerdine and legendary crewman and former crew chief Mike Hill. But we ended the night at our home track of Tri-County Speedway, where again they proved that nothing is given and you must work for everything earned. But even the outstanding crowd that joined us shared in the great payoff as we all enjoyed another great night of exciting racing action. How exciting? Well let's get to it. The track is ready, the teams and drivers are ready. And the growing crowd is always ready for some great racing at Tri-County. The invocation has been spoken, and the National Anthem has been played. There's only one thing left to do so, Let's Go Racin!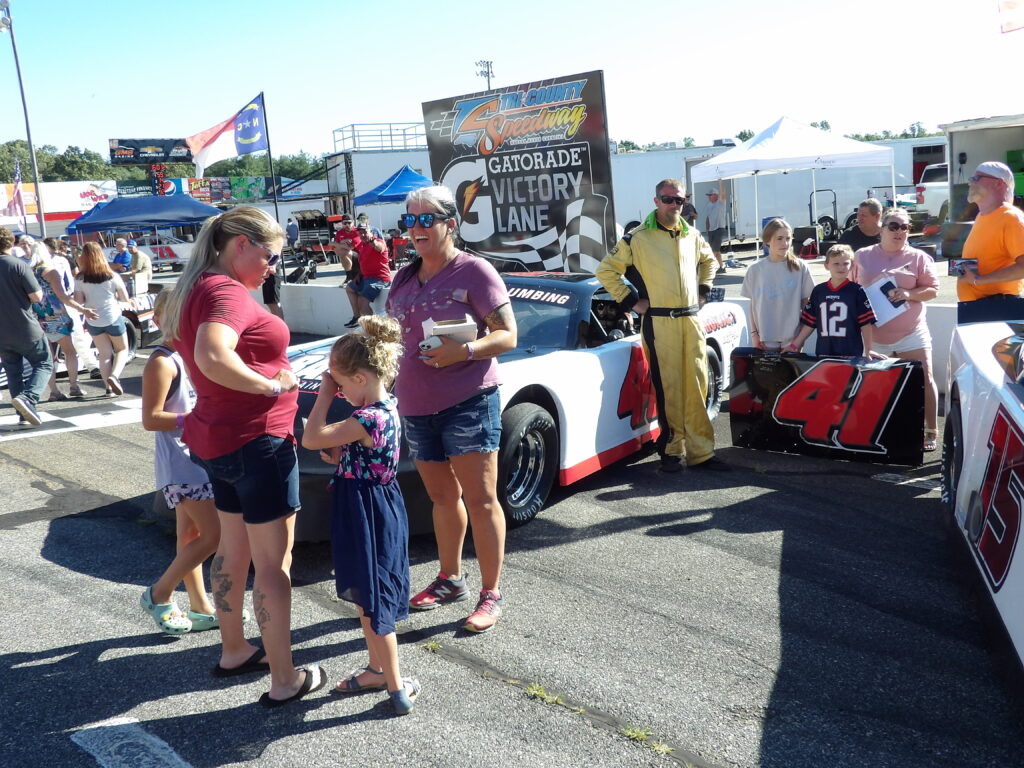 VINTAGE FEATURE
Eddie Gilbert in the # 39 machine will start on pole for this one with father Tim in the # 95 starting second. The flagman looks over the field, likes what he sees, and we're green! Eddie gets a great start, but Tim won't make it easy on him as he starts to look on Eddie. And before you know it, Tim is under him and they battle side by side. Eddie hangs on for now, but not for long as Tim looks on him again, but only to be denied once more. He'll try one last time on Eddie as the laps continue to wind down, but it won't be enough as Eddie and Tim Gilbert make it a son and father one-two finish as Eddie takes the dominant win!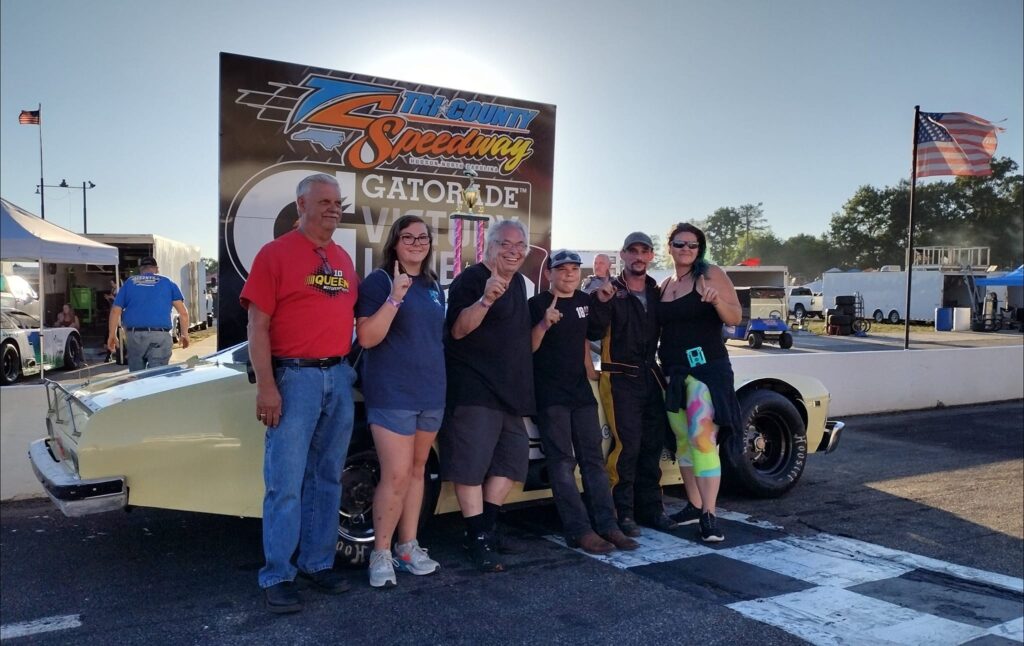 FRONT WHEEL DRIVE FEATURE
The # 4 of Brian Dodd has the top spot for the Front Wheel Drive feature as the # 44 of Chuck Sims will line up second, # 54H Randy Hupp third, # 102 Rayna Holland fourth, and the # 54 of Gary Willard will round out the top five. The flagman looks over the great field of Front Wheel Drive machines, likes what he sees, and we're green! Dodd gets a good start as Hupp is able to immediately get around Sims for second. Behind them, points leader # 27 James Powell is already making hay as he now gets around Willard for fifth, then follows through to get Holland for fourth. Sims tries to give him a challenge, but it's not enough as Powell now gets around for third. Dodd and Hupp hold their ground up front, but it'll be spoiled as here comes Powell as he looks for position number two on Hupp. Hupp maintains however as Powell gets loose behind. But the calm doesn't last long as the top three are now three wide for the lead! And there's trouble! Dodd pounds the wall and brings out the caution. And did I mention that we're only on lap 5? For the restart, it'll be Powell who takes the outside in first, Hupp second, Sims third, the # 11 of Bradlee Jones in fourth, and Holland who rounds out the top five. The flagman looks over the field, likes what he sees, and we're green once again. Hupp gets a great restart and takes the lead from Powell. But we're back under caution as the # 81 of Dewayne Smith has stalled. We'll resort back to the original lineup as the green immediately comes back out with Hupp retaking the lead in a hurry. But Powell won't have it as he looks on the outside and takes the lead back from Hupp. Behind them, Jones is able to get by Sims for third as he looks for a great finish tonight. But once again, trouble strikes as the # 1 of Dana Maxwell spins in turn one. For the restart, it'll be Powell, Hupp, Jones, Holland, and Smith who has reemerged in the top five. The flagman looks over the field, likes what he sees, and we're back green.
Powell gets a great jump, but Hupp is better as Hupp files in line first. But it's the same song and dance as Powell looks on the outside and takes the lead yet again from Hupp. In the mirror, Smith is able to get around Holland. But that doesn't last long either as Smith nearly loses it, giving Holland fourth back as Powell starts to pull away. Hupp makes one last charge but it doesn't matter as Powell continues his astronomical streak, taking the checkered flag once more. In post race technical inspection, Hupp's machine is found to be illegal, giving Jones second, Holland third, Smith fourth, and the # 0 of Jacob Hayes fifth.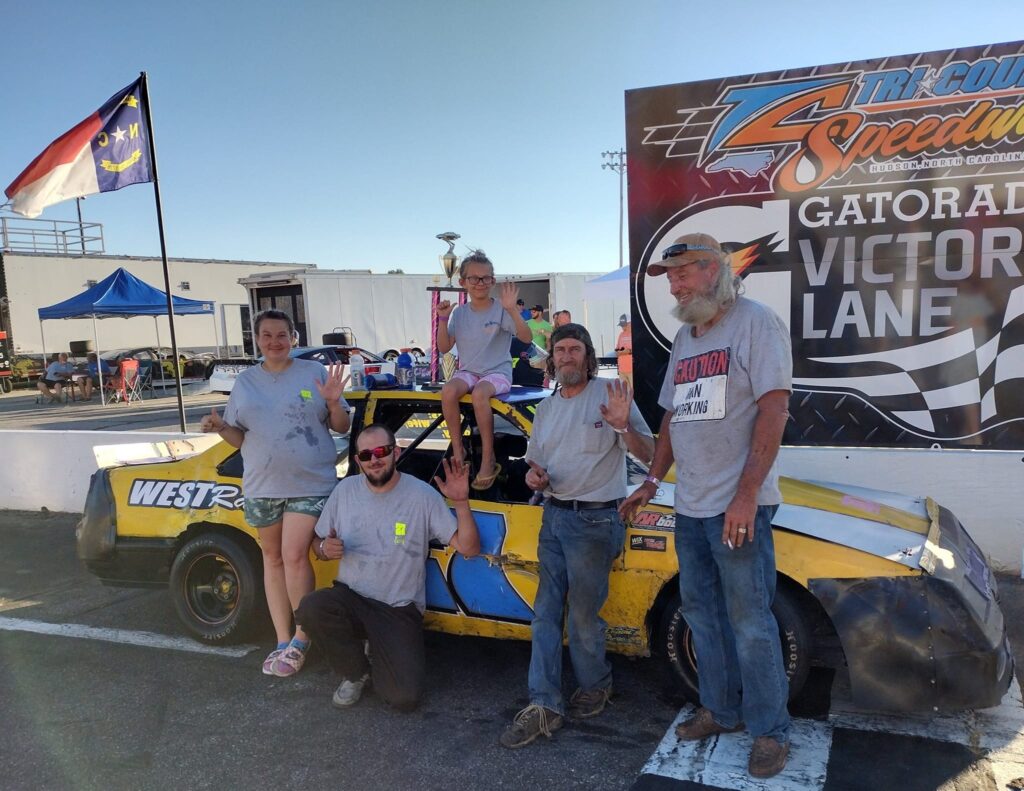 STREET STOCK FEATURE
The fast # 12H machine of Mike Hatton starts on the pole with the # 22 of Jeff Allen starting second, # 12 Cody DeMarmels third, # 07 Davey Smart fourth, and the # 55 of Johnny Reynolds will round out the top five. The flagman looks over the field, likes the view, and we're green! Allen wastes no time and takes the top spot from Hatton as defending champion Smart gets by DeMarmels and starts to look on Hatton, putting immense pressure on that machine. Smart marks his prey and pounces, getting by Hatton and now setting his sights on Allen. Behind them, DeMarmels mounts his charge, also getting by Hatton as Smart is able to get by Allen for the top spot. Allen is now under pressure from DeMarmels as those two battle tooth and nail. Hatton continues to fall as both Reynolds and the # 73 of Kyle Boice get by. But back up front, DeMarmels puts the bumper to Allen, but to no avail as Davey Smart makes it two in a row, taking the checkered flag first followed by Allen, DeMarmels, Reynolds, and Boice.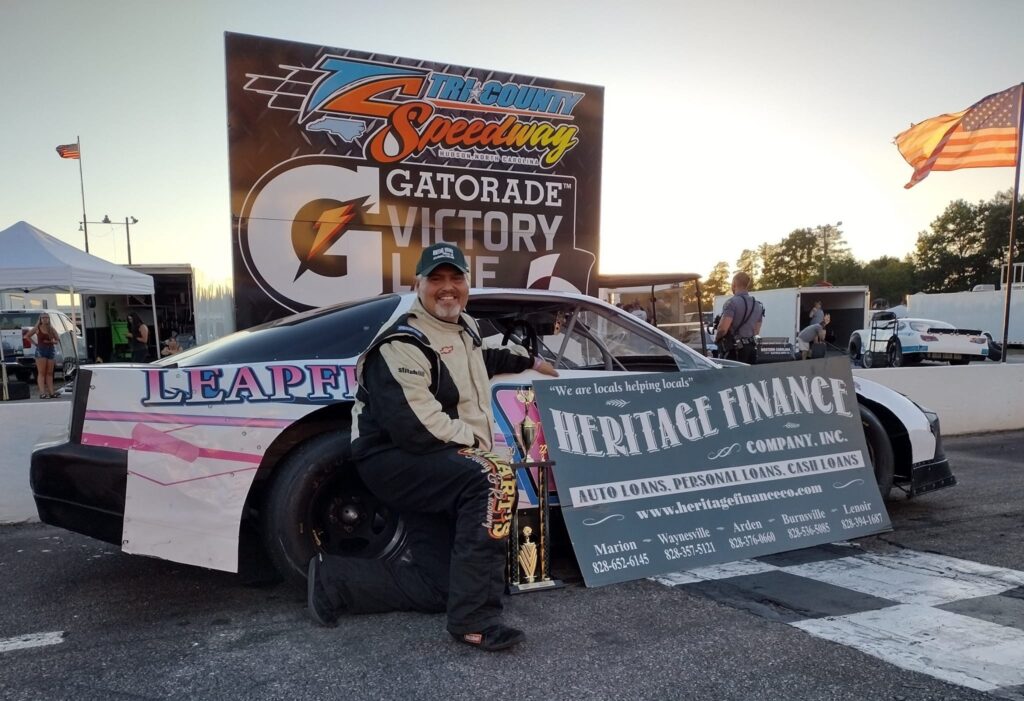 RENEGADE FEATURE ONE
Defending winner # 9 Klint Townsend has the pole for feature number one as the # 16 of Steve Smart starts second, # 1 Justin Austin third, # 22 Jacob Hickman fourth, and # 1.5 Shawn Thomason rounds out the top five. The flagman looks over the field, likes the formation, and we're green! Townsend gets a good jump but the caution is immediately out as the rest of the field is jumbled up at the line. We'll try it again as the green comes out and the field is clean this time around. But right as I say that, Thomason is into the frontstretch wall, bringing out another caution. Lining up for the restart, it'll be Townsend, Smart, Austin, Hickman, and # 18 Rodney Elkins. The flagman nervously looks over the field, likes the formation, and we're back green. Townsend gets another great start as Austin gets around Smart for second. But not so fast as Smart dive bombs Austin to get the spot back. As the front runners shuffle, the # 17 of Barney Arnette spins in turns one and two, bringing out the caution again. Under the caution, Austin finds issues, unfortunately ending his night early. Townsend lines up first followed by Smart, Thomason who has worked his way back up, Hickman, and Arnette. Townsend gets yet another fantastic start as the field looks to finally get into a rhythm. Townsend and Smart gap the field as Thomason is busy with Hickman, with Hickman's car coming to life. Thomason tries every trick in the book to hold Hickman off, but the 22 won't be denied as he gets by Thomason, putting Hickman in third. But up front, it's the Klint Townsend show as he takes the checkered flag first. But as is common at Tri-County, Townsend can't get past the tech shed clean as Steve Smart picks up the victory with Hickman coming home second, Thomason third, and Arnette fourth.
RENEGADE FEATURE TWO
After putting in an impressive performance in race one, # 22 Jacob Hickman starts on pole for feature two as # 9 Klint Townsend starts second, # 16 Steve Smart third, and # 1.5 Shawn Thomason fourth. Before the race gets underway, Thomason has to bring his car down pit road with mechanical gremlins. In true short track Saturday night fashion, Shawn himself gets out of the car and starts to work on his machine. But before you know it, it seems like an entire section of pit road has surrounded themselves around the 1.5, doing everything in their power to get the hot rod back on track. And before you know it, all of the work pays off as Thomason heads back out on track right before the green flag. As the green flies, Townsend shoots out like a rocket, getting by Hickman and bringing Smart along with him. Townsend starts to gap the field but Smart's car has gained a second life! Smart is all of a sudden all over Townsend as he gets by for the lead! Townsend digs deep but it's not enough as fan favorite Smart will sweep the night! Townsend again would not pass inspection, giving Hickman second and Thomason third.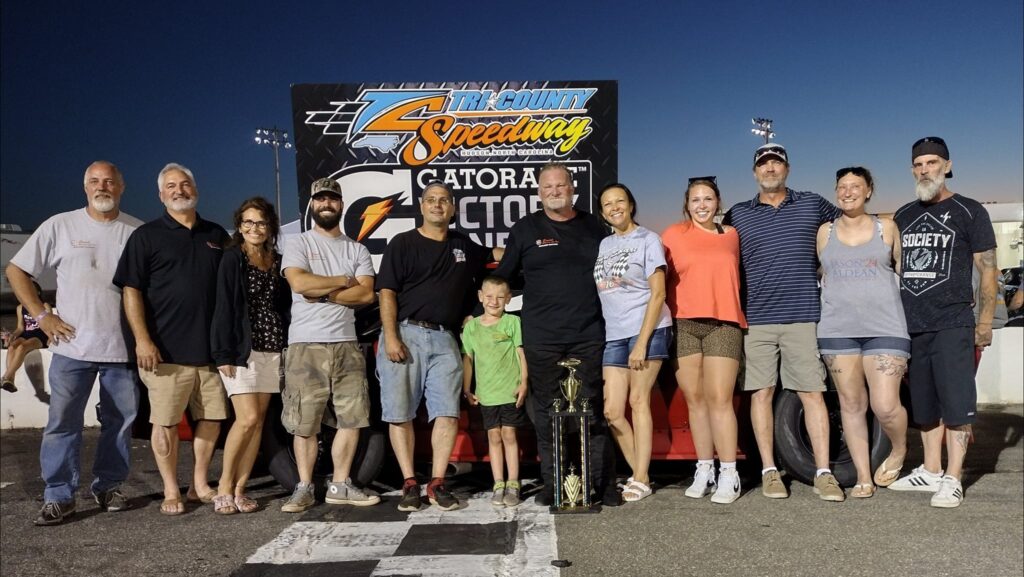 LIMITED LATE MODEL FEATURE
Proven winner # 92 Taylor Nesbitt starts on pole with the # 21 of track veteran Monty Cox starting second, # 14 Don Carlton third, # 59 Austin Harris fourth, and # 97 Jacob York fifth. The flagman looks over the great field of Limited Late Models, likes the view, and we're green! Cox gets a great jump and takes over the top spot as Nesbitt is left to hold off a charging Harris. But behind them is early trouble as the # 70 of Marion Thomas is spun by a falling Carlton, bringing out the caution. Thomas is none too happy and pulls up to Carlton to show his displeasure. Thomas eventually brings his machine down pit road as Cox will line up first, Nesbitt second, Harris third, Carlton fourth, and York fifth. The flagman looks over the field, likes the lineup, and we're back green. Cox gets another rocket jump as Harris is just too strong for Nesbitt as he takes the silver spot from her. Behind, York gets by Carlton, now bringing the # 15 of William Aldred into the mix as the field is putting on an amazing race! Everything finally settles down with Cox still in the lead, Harris second, Nesbitt third, York fourth, and Carlton fifth. Nesbitt starts to look on Harris, but can't do anything as he continues to shut the door. Behind them, Aldred comes back to life as he gets by Carlton for fifth. Back up front, Harris is breathing down Cox's neck, but isn't able to do anything as Cox maintains his veteran line. Nesbitt is there as well with the three putting on a race for the ages!
Harris continues to look with Nesbitt right behind. But Cox is just too good as York now enters the frame. Harris and Nesbitt mount one last charge, but it's not enough as Cox stays cool under pressure and takes the victory ahead of Harris, Nesbitt, York, and a hard charging Aldred.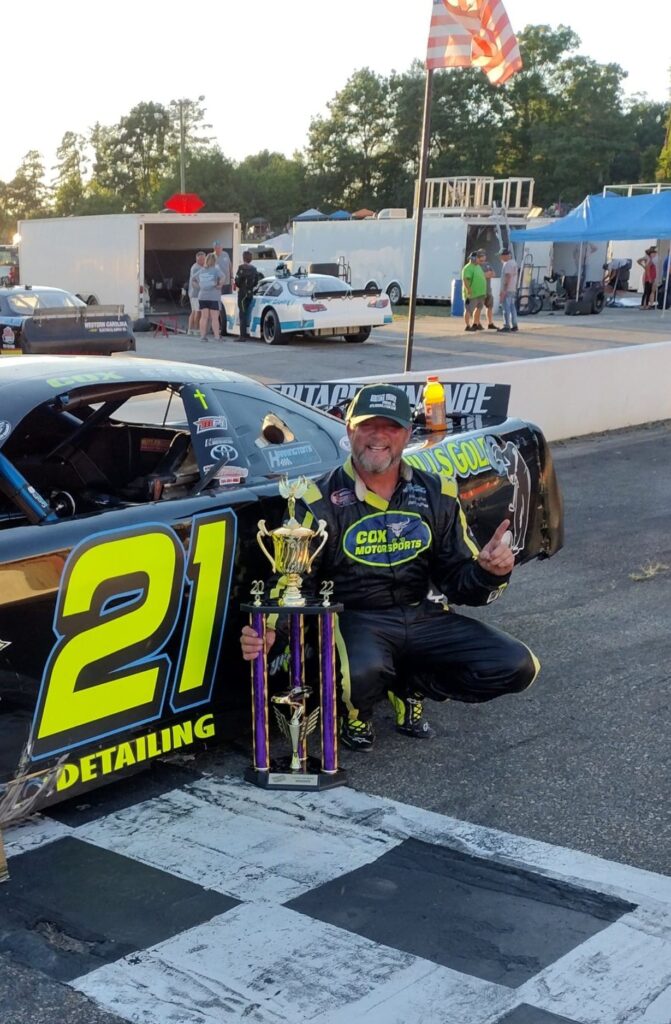 LATE MODEL STOCK FEATURE
Young upstart # 55 Isabella Robusto starts on pole with the # 1 of defending Limited Late Model champion Zack Franks starting second. Rounding out the top five will be the # 28 of Thomas Beane, # 71S Stephen Shore, and the # 15 of Mitch Walker. The flagman looks over the field, likes the view, and we're green for the Late Model Stocks! Robusto gets a great start but Franks is automatically on attack mode as he gets into the back of Robusto. Robusto hangs on however as Walker gets by the Shore machine for fourth. Franks won't give up the ghost just yet as he gives another tap to Robusto, but Robusto is driving her machine like a veteran, keeping the 55 nice and clean. Franks tries one last time with Robusto still hanging on. Franks has enough for the time being and starts to save his tires as Walker is all over Beane for third. Beane knows this track like the back of his hand though, and hangs on as Robusto has put up an impressive lead. The fans are on their feet as the young upstart teenager looks to bag her first career victory. But she's up in smoke! A heartbreak for her and the entire Lee Faulk team as she easily had this race in hand. After a lengthy cleanup, it's Franks who picks the outside with Beane in second. The flagman looks over the field, likes the lineup, and we're back green. Franks gets a fantastic jump as Walker goes toe to toe with Beane, with Beane coming out on top yet again as Franks cruises to his second victory of the year, followed by Beane, Walker, and Shore.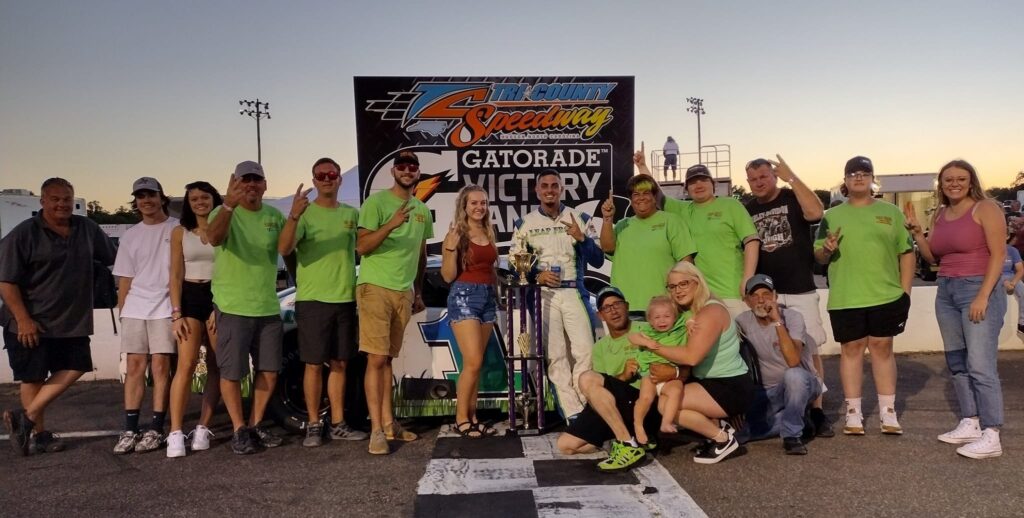 MY TAKE
In the end, the payoff is worth it if you put the work in. The Franks family worked hard to get their win Saturday night, but it came down to being in position when the flag fell. Steve Smart honored his father Carl with the only way he knew how, by replicating his many trips to victory lane. James Powell continues his dominant streak on a shoestring budget, showcasing just how much hard work can pay off. Davey Smart and his team proved once again that persistence and determination pay off as Davey continues his championship defense. And Monty Cox worked so hard in his race to get the win, that he just couldn't be denied for this week's Blue Collar Racer Of The Week. Both Austin Harris and Taylor Nesbitt challenged Cox multiple times throughout the entertaining Limited Late Model feature, but Cox with his veteran instinct and thousands of laps around Tri-County was able to return to victory lane, greeted first by his son Drew, a fellow Street Stock competitor. In the end though, the crowd was the real winner. Beautiful weather, amazing racing, and storybook endings. All for just five bucks. Nothing can beat that. And so, until next time, See You At The Track!
Tags
Austin Harris
,
Barney Arnette
,
Bradlee Jones
,
Brian Dodd
,
Carl Smart
,
Chuck Sims
,
Cody DeMarmels
,
Davey Smart
,
Don Carlton
,
Drew Cox
,
Eddie Gilbert
,
Front Wheel Drive
,
Front Wheel Drives
,
FWD
,
Gary Willard
,
Isabella Robusto
,
Jacob Hayes
,
Jacob Hickman
,
Jacob York
,
James Powell
,
Jeff Allen
,
Johnny Reynolds
,
Justin Austin
,
Klint Townsend
,
Kyle Boice
,
Late Model Stock
,
Late Model Stocks
,
Lee Faulk
,
Lee Faulk Racing And Development
,
Limited Late Model
,
Limited Late Models
,
Marion Thomas
,
Mike Hatton
,
Mitch Walker
,
Monty Cox
,
Randy Hupp
,
Rayna Holland
,
Renegade
,
Renegades
,
Rodney Elkins
,
Shawn Thomason
,
Stephen Shore
,
Steve Smart
,
Street Stock
,
Street Stocks
,
Taylor Nesbitt
,
Thomas Beane
,
Tim Gilbert
,
Tri-County
,
Tri-County Speedway
,
Vintage
,
William Aldred
,
Zack Franks