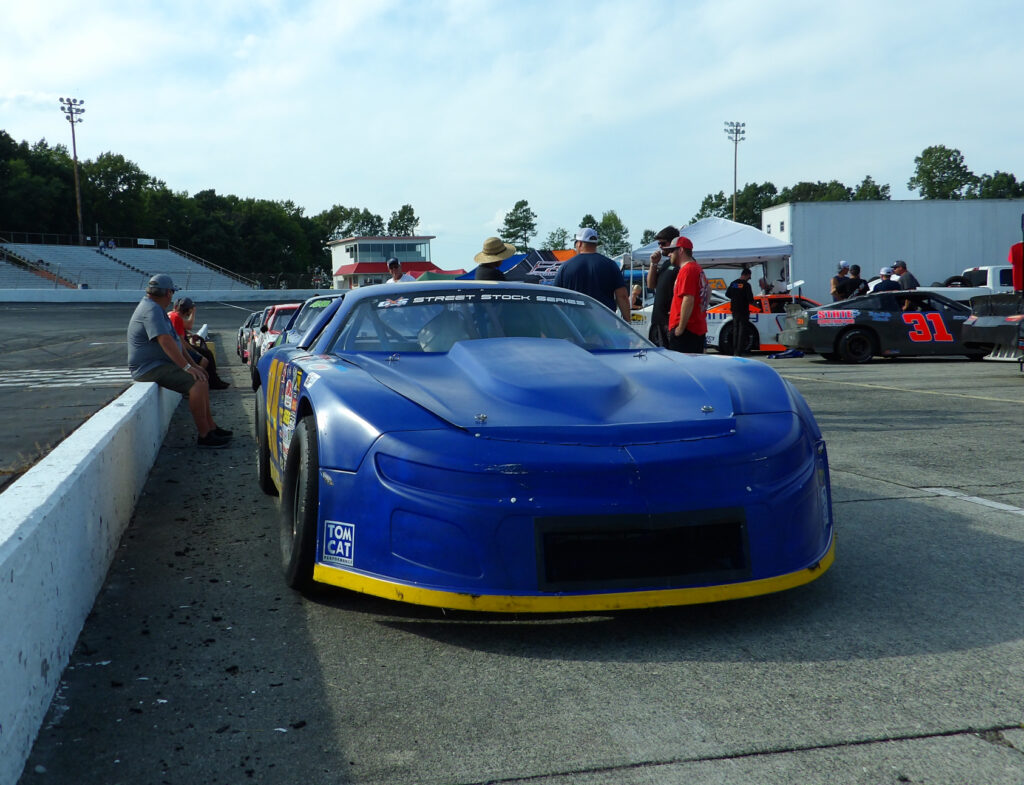 I've heard it said that the first time is always the best. While that may not be totally true, the first time IS the first step. That's true with any life experience. And so when we are talking about greatness, the first time is the best step in the right direction. A step you can learn from. The first step of many that leads you to your goal. And while you may face a ton of obstacles along the way, that first step is the one that leads you to the breakthrough that then leads you to greatness. This week we had the pleasure of covering the first visit to Orange County Speedway, the track we've dubbed the 'House Of Speed', for the GXS Street Stock Series. We were fortunate enough to catch their inaugural event at Tri-County Speedway, and we didn't want to miss their first of hopefully many to one of the fastest tracks in the region. The series is exciting to us as it's a blue collar tour featuring blue collar Street Stock drivers, giving them an even greater chance at exposure and stature for one of the oldest divisions in the sport. And if you know anything about us here at Short Track Report, you know that we think every division in short track racing helps make it special. It's one of the few sports where on any given weekend event, you can see multi-divisional performances that give the sport a dimensional aspect rarely seen in any other sport.
And so was the case at Orange County Speedway as the GXS Street Stocks joined a card that featured all the local divisions from the speedway. And not to spoil any outcomes before we get into the race rundowns, but there were a lot of firsts on a night where the number 1 was prominent. Fate has a way of showing itself with clear signs for those who pay attention. And what we took away from this exciting night of racing is that not only was it a good day in the present, but it had all the markings of greatness to come as well. With that let's take a closer look at all the night's action. There was a good crowd in attendance as the touching invocation was given and a passionate version of the National Anthem sung, and so without further ado, Let's Go Racin'!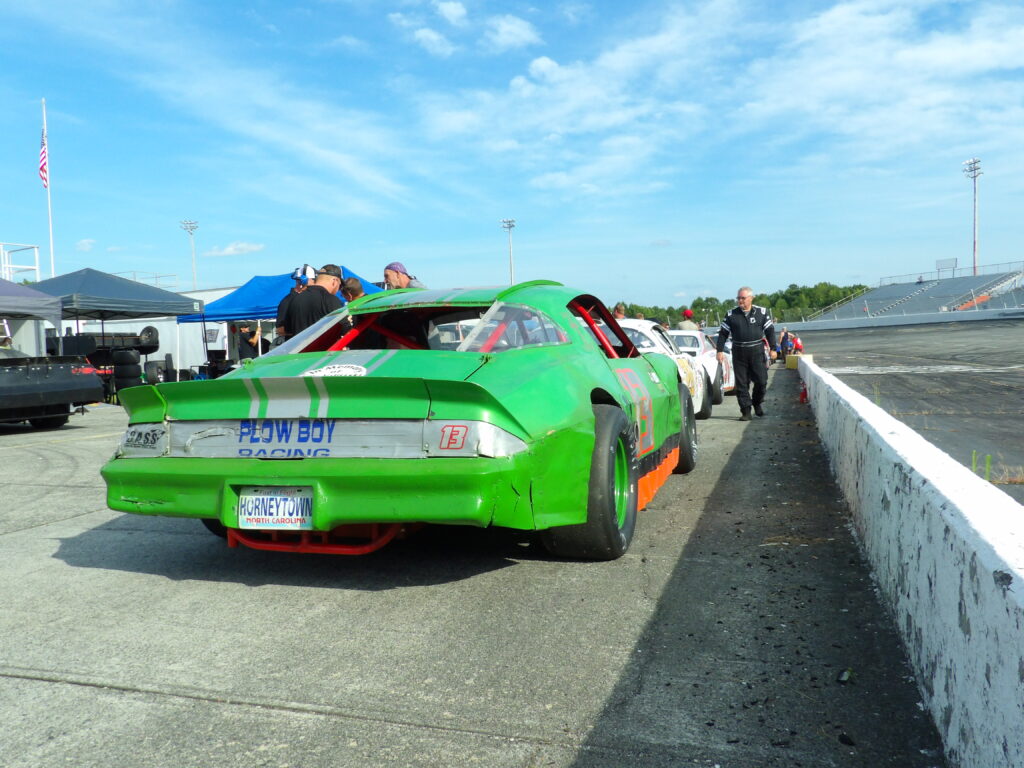 VINTAGE SPORTSMAN FEATURE
Points leader Chris Mincey in the # 11 lays down the pole lap and starts up front alongside Paul Blalock in the # 88, with Stewart Dillehay in the # 8 rounding out the top three. Guest flagman Jeff Bunton of the SMART Modified Tour looks the gorgeous field over, likes what he sees, and we're green in the Vintage Sportsman! Mincey fires off like a rocket as behind, Dillehay mounts a run on Blalock and takes away the second spot. Dillehay starts to lay down some fantastic lap times, but Mincey is in a different zip code as he leads every single lap and takes home the victory, strengthening his points lead. Dillehay comes home an impressive second while Blalock finishes third.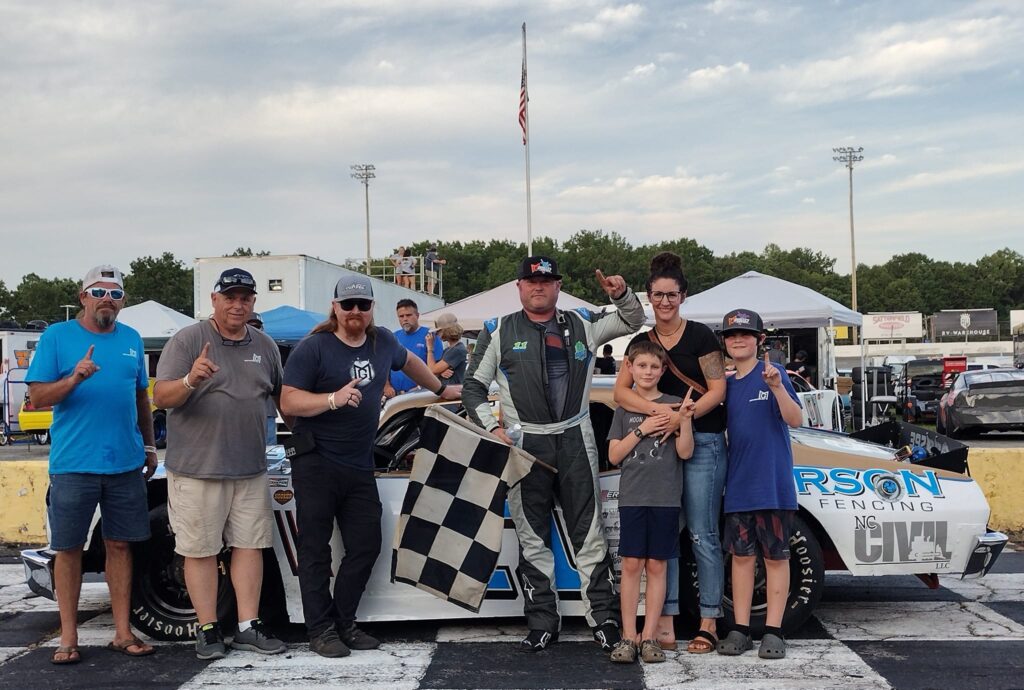 WINSTEAD FARMS PURE STOCK FEATURE
South Boston Speedway regular Caleb Sanford comes to Orange County in the # 31 and takes the pole over Scott Phillips in the # 66. Rounding out the top five will be the # 11 of B.J. Reaves, # 75 Hunter Durham, and the # 15 of Thomas Penny. Bunton looks over the quality field of Pure Stocks, gives the thumbs up, and we're green! Sanford jumps out in front as B.J. Reaves now takes second, bringing Durham along with him. Penny starts to drop back drastically as Zach Reaves in the # 77 breaks into the top five. But Zach has his hands full as the # 76 of Andrew Turner dives underneath and takes the spot. Back up front, Durham and B.J. Reaves engage in a side by side duel, with Durham barely getting the position. Caution is out though as Turner gets into turn one a little too hot and loops his machine around. Thankfully it's a quick yellow as Sanford will line back up in first followed by Durham, B.J. Reaves, Phillips, and Zach Reaves. Sanford once again retains the point as B.J. Reaves challenges Durham, but Reaves hangs on. Behind, a caution nearly flies as Zach Reaves gets very sideways in turn four, but somehow saves it, giving up fifth to the # 42 of Jason Richardson. But up front, it's all Caleb Sanford as he breaks through for his first career Orange County Pure Stock victory followed by Durham and B.J. Reaves.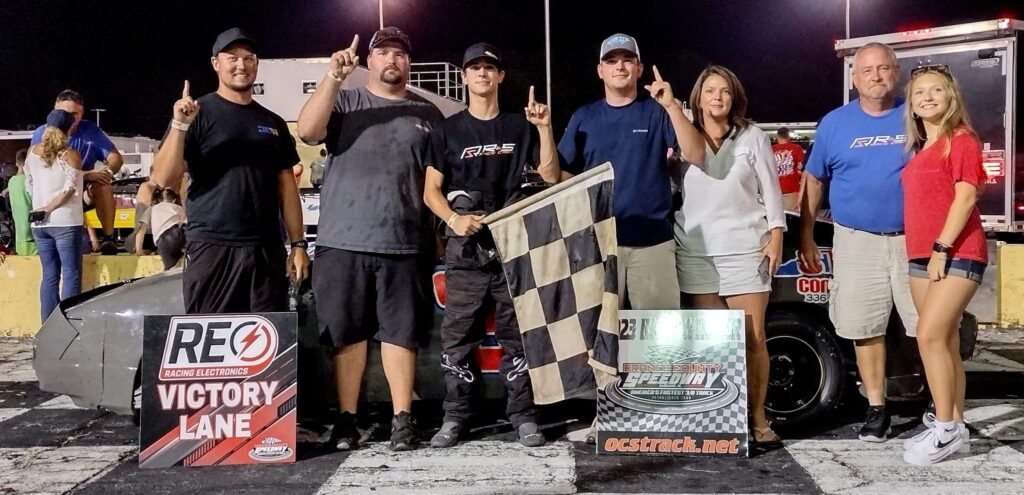 MOD 4 FEATURE
Darrell Haynie in the # 53 will lead the charge for the ever growing Mod 4 class with young phenom Lane Woods in the # 92 rolling off second followed by defending champion Harold Sumney Jr in the # 87. Haynie gets a great jump as Woods doesn't immediately get going, causing a small stackup in the outside lane. That allows Ricky Brown in the # 00 to take third ahead of Woods who now has his machine running. The field is quickly slowed though as debris is found on the racetrack, causing the field to be restacked for the upcoming restart. Haynie remains in front followed by Sumney Jr and Ricky Brown. Now it's Haynie who doesn't get going as Sumney Jr takes the top spot. Aaron Brown in the # 0 moves all the way up to second as a result of the stackup but now his machine drifts up into the wall and nearly goes upside down as he briefly balances on two tires, thankfully coming back on all fours as the red flag flies. Thankfully Aaron is okay, but the same can't be said for his car as he's unfortunately done for the night. After the cleanup, Sumney Jr remains in front as he's now shadowed by Woods and Ricky Brown. Woods once again can't get going as Sumney Jr fires off up front. Joseph Kiger in the # 12 races up into third as the caution flies once more, this time for Woods who has spun in turn two. It'll be a classic short track shootout with Sumney Jr remaining in front followed by Ricky Brown and Kiger. Ricky Brown now falls victim to the restart curse as he can't get going, allowing Kiger to take second. Kiger now dives his machine underneath Sumney Jr, but he just can't make it stick as Sumney Jr makes it to victory lane. Kiger takes second while Ricky Brown hangs onto third.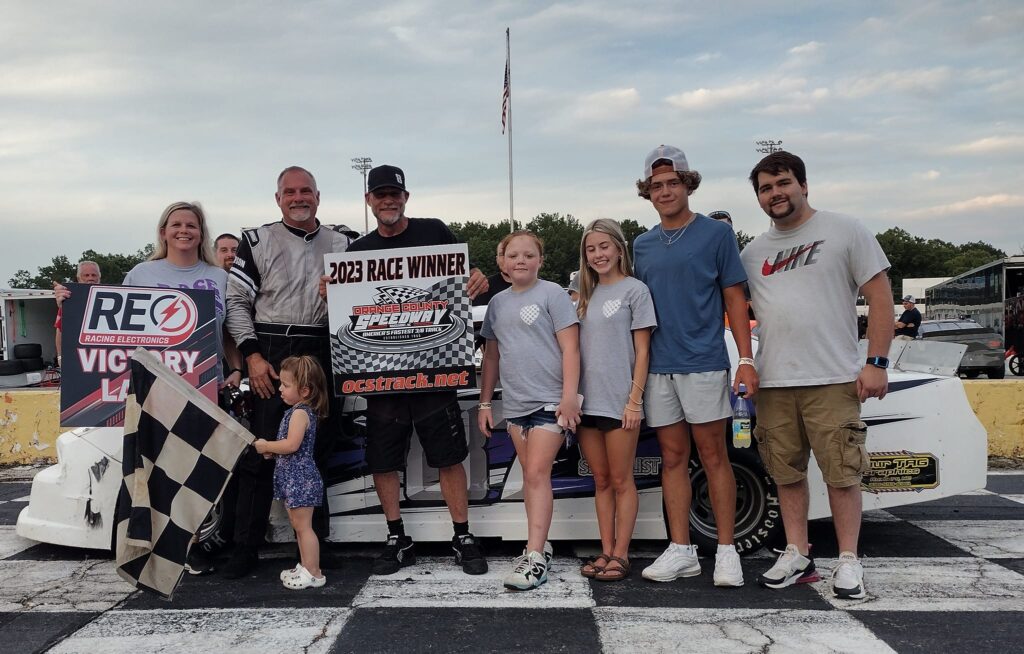 CHOICE AUTOMOTIVE CHARGER FEATURE
Co-points leader Tyler Johnson in the # 76 captures the pole ahead of Lee Godbold in the # 11. Rolling off on the tail of the top three will be Tripp Evans in the # 8 as Bunton looks the field over, approves the formation, and we're green! Johnson and Godbold battle side by side for the lead with Johnson prevailing on the outside. Behind them, Evans has a very loose hot rod, allowing the Tech Racing # 12 machine of Tyler Kiger to take third. Smoke fills the frontstretch though as Joe Lunsford in the # 22 spins, bringing out the caution. It's still all Johnson up front with Godbold lining up second followed by Kiger in third. Johnson gets a fantastic start, but it's a little too fantastic as it's called back. Godbold takes advantage of the re-do as he now powers ahead of Johnson, with defending champion Austin Purnell in the # 32 breaking into the top three by Kiger. Another caution flies though due to track maintenance issues in turn four. The track crew thankfully makes quick work of it as Godbold will now line up first followed by Johnson and Purnell. Godbold clears with ease as the field single files out behind. Johnson stays right in Godbold's footsteps, but it's just not enough as Lee Godbold captures his first career Orange County Charger victory over Johnson and Purnell.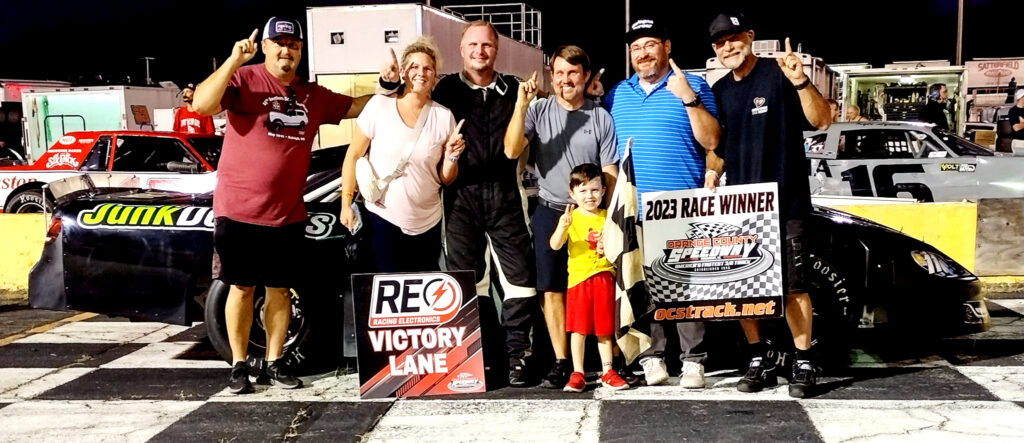 LATE MODEL STOCK FEATURE
Grant Davidson lays down the lap of a lifetime in the # 151 machine and takes the pole for tonight's 75 lapper. Buddy Isles Jr in the # 11 starts second followed by Camden Gullie in the # 01, Terry Dease in the # 6, and Blaine Donahue in the # 48. Bunton looks over the very competitive field of Late Model Stocks, likes what he sees, and we're green in the Late Model Stocks! Buddy Isles Jr quickly takes the top spot as Davidson falls all the way to fourth on the start. Wesley Johnson in the # J12 takes fifth away as Dease finds his way by Gullie. But Gullie fights right back as the two battle side by side with Gullie eventually clearing. Isles Jr tries to gap the field a bit as Jeff Sparks in the # 7 breaks into the top five by Johnson. Gullie is slowly but surely catching up to Isles Jr as now Sparks is under Dease for fourth. The two make a little casual contact with Sparks clearing. The caution flies though for competition purposes, setting up a great opportunity for Gullie and Davidson to tackle Isles Jr's lead. Isles Jr will lead them off followed by Gullie, Davidson, Sparks, and Dease. Isles Jr and Gullie are in a dead heat for the top position as they make contact! The fans are on their feet as neither one gives an inch! Behind them, Sparks has moved into third as Gullie now clears for the lead. But Isles Jr is right back under and the two continue to fight door to door with occasional contact. Once more Gullie clears but it's the same song and dance as Isles Jr is right back underneath, reminding everyone watching why short track racing is one of the greatest things on Earth. The contact starts to escalate a bit as smoke flies, with both cars sideways!
Now Davidson has a problem behind but up front, Gullie slips and Isles Jr is by! Isles Jr now turns up the wick and starts to slightly pull away from Gullie. Gullie starts to gain a slight bit, but the 01 machine's tires are shot and just have no more life as Buddy Isles Jr caps off an amazing performance with the checkered flag. Gullie takes second, Jeff Sparks finishes third, Dease hangs onto fourth, and the # 19 of Jessica Cann grabs a phenomenal fifth place finish. What a race!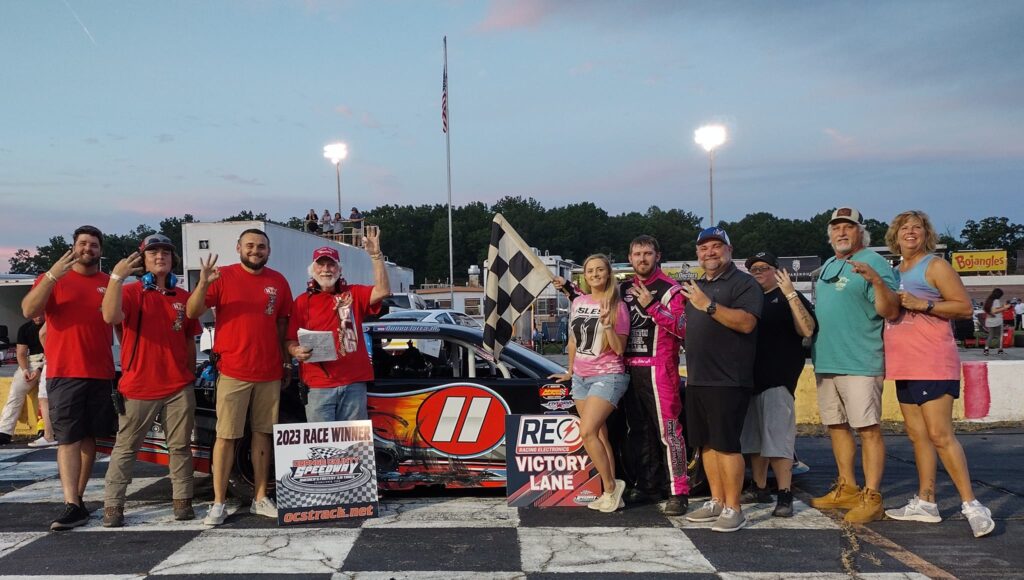 GXS STREET STOCK SERIES M51 DESIGNS SPECIAL
With an absolutely blistering lap of 15.285 seconds, Marlin Yoder in the # 08 grabs his third consecutive VOLT Battery Technology pole for the tour's inaugural visit to Orange County. Starting alongside will be Vermont native Chris Riendeau in the # 4CR followed by Jeff Sparks in the # 48, Street Stock legend Gary Ledbetter Jr in the # 4GL, and Maxx Porter in the # 96. Jeff Bunton looks over the hungry pack, approves the lineup, and we're green in the GXS Street Stock Series! Yoder quickly makes his home up front as Ledbetter Jr flies by Sparks to take away third. He now looks to mount a charge on Riendeau as Yoder is running near perfect laps in the lead, the fastest ever done by a Street Stock at America's Fastest 3/8 Mile. The frontrunners now start to encounter some lap traffic as there's a very close call between leader Yoder and the # 99 of Jeff Morse. Morse seems to have an issue as he now comes to a crawl, causing the caution to be thrown for the first time. He's luckily able to make repairs and get back on track for the remainder of the event. But up front, it's Yoder who continues to lead, Riendeau in second, Ledbetter Jr third, Sparks fourth, and Porter fifth. Can Yoder or Riendeau break Ledbetter Jr's win streak? Or will the crafty veteran find a way around in the late stages? Bunton looks them over, likes what he sees, and we're back off and running!
Yoder gets a fantastic jump at the line as Ledbetter Jr clears Riendeau! But Ledbetter Jr can't focus on Yoder because now Riendeau peeks to the inside, looking for any opportunity to sneak by. Riendeau continues to dive in underneath, but he just doesn't have the grip as Ledbetter Jr continues to high side hustle in second. Behind them, the battle for fifth is really heating up as the Brewster Baker inspired # 49 of Jeff Melton is all over the Porter machine, waiting for a door to potentially open. And it finally does as Melton gets by, finally making his presence known in the top five. But back up front, Riendeau still won't give up as he and Ledbetter Jr are having an amazing battle for the second position. Just when it seems that Riendeau has the run, Ledbetter flicks a switch and gets a bit faster. But up front, Yoder is picture perfect as he knocks the monkey off of his back and takes his first career GXS Street Stock Series victory! Ledbetter Jr and Riendeau are STILL side by side for second with Ledbetter Jr barely edging out the Vermonter. Sparks gets a great fourth and rounding out the top five is Jeff Melton.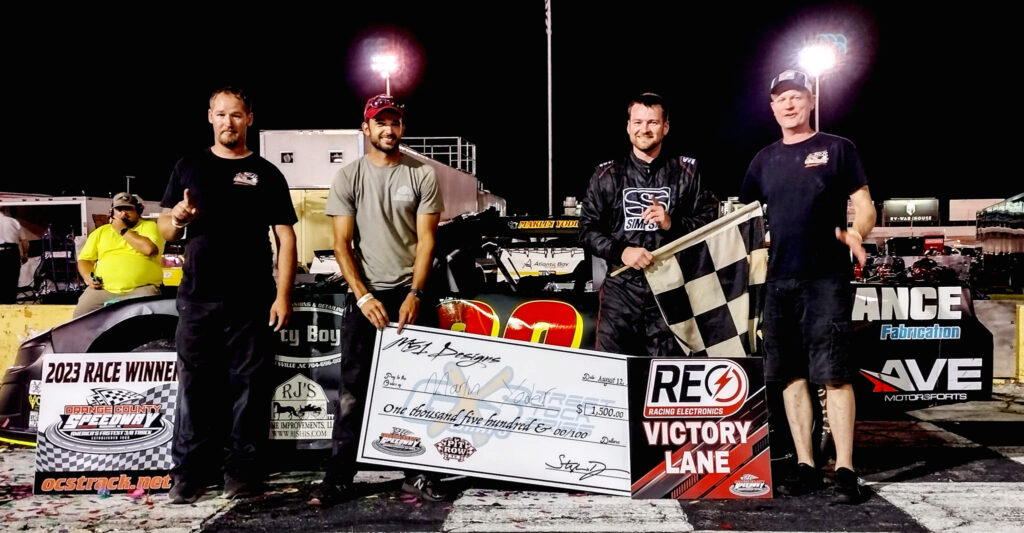 MY TAKE
There are moments in time that pass by in life that go unnoticed by some for their importance. This race Saturday night was one of those. But to those who paid attention there were plenty of signs. Without getting too philosophical, numbers are important, and this night was filled with the number 1. First of all, as I stated in the opening of this article, they say the first time is always the best, but I don't quite agree. But what is true is that the first time of anything has it's extreme importance. And you won't get an argument from Pure Stock driver Caleb Sanford or Charger driver Lee Godbold who both got their first divisional wins at Orange County Speedway on Saturday. Nor would you get an argument on it from GXS Street Stock driver Marlin Yoder who took his first win in the GXS Street Stock Series on their first visit to the track. Notable as well was the fact that it was Sanford and Yoder's first ever visit to the speedway. But you wouldn't know that by their outstanding performances. And the ones just kept making an appearance, as the number 11 came into play as well, with three of the six winners driving a number 11 machine to victory lane. So call me someone who reads too much into things if you will, but I saw this as a sign to look further into the importance of this night.
It's no secret to anyone in Orange County and the surrounding areas that Orange County Speedway is working it's way back into prominence. It's kind of in line with the story of the sport as the period of decline of short track racing is undeniable. But we'll tell you the growing story of it's resurgence to anyone who'll listen, and we'll do so to the chagrin of that story's detractors. There's a quote that comes to my mind that states, "Successful people build each other up. They motivate, inspire, and push each other. Unsuccessful people just hate, blame, and complain." And we all know there are two different groups that talk about stock car racing, and especially on social media. But we'll tell you straight out that the haters, complainers, and keyboard warriors are missing the real story. While stock car racing is going through real change, it's nowhere near the doom and gloom some would have you to believe. And it all starts with those who have taken the time to build each other up. They have motivated, inspired, and pushed each other, and it's showing in the competition on the track. The truth is there has never been a time when the competition has been as tight as it is today. And that's in the middle of challenges the sport has faced that were greater than anytime after the beginning. From cost to shortages, the list is nearly endless. But none of that has hurt the sport more than it's detractors, some of which who've claimed to love the sport. In the midst of that is the love of the sport from those who consider it life that have and will keep it alive.
Rebounding hasn't been easy, and it's not to say that every track will survive as the sport moves forward. And you see it with tracks all over the country that have closed their gates. The struggle is real. But there are also tracks that struggled who are beginning to see the turnaround. It's been slower for some than others, that much is true. It takes the right people and a tremendous amount of perseverance to find success after a downturn, and an even more firm dedication. Orange County Speedway is one of those who are starting to break through, and I'm even more convinced of it after a conversation I had with Mr. Stephen Dunn, and after the event here Saturday night. Yes, despite what you may have heard, short track racing has entered into a new era, fueled by a new generation that have the same dedication to the sport I saw in my early youth when I became a lifelong fan of the sport of stock car racing. And for the first time in a LONG time, I can see that it will be in the right hands moving forward.
Important in rebuilding anything is the strengthening of the foundation, and the addition to the central east coast of the GXS Street Stock Series will go a long way in doing that by highlighting the grassroots Street Stock division. As one of the oldest blue collar core divisions in short track racing, Street Stocks literally represent the very foundations of the sport itself. And true that the GXS Street Stock Series is not the first Street Stock tour, it is the first that has the vision of taking it to the highest levels they can achieve. They want to not only highlight the best Street Stock racers in the region, but also draw the best Street Stock racers in the country. And as a man that drew his love of racing from the first sight of a Street Stock machine as a child, I understand the importance of that vision. It's going to be a challenge however to reach it. Because the sad truth is that when we started our own dream of covering short track racing here at Short Track Report, we did so knowing that all divisions mattered. And we had people all over the region tell us, "Please cover the support divisions. No one covers them like they should, and if you do, you will be huge just for that alone." It's true, that's what we were told. But we aren't naive. And as we begin covering the sport on the vision we had for ourselves, we have indeed covered all divisions knowing the importance of it.
That being said however, you aren't going to make a difference covering just those support divisions as no matter how much coverage we give them, those promises made have proven to be pretty empty, and I hate to say that as much as you might hate to hear it. That said however, we won't stop what we do as we feel it's important to give you the whole picture, and the whole picture of short track racing would never be complete without the support divisions. But, with that truth, we know the hill the GXS Street Stock Series has to climb. Fortunately, again, we see a dedication from them that we know will get them over the hill and onto the mountaintop. And you can already see the progress they've made. And the addition of placing their brand on Pit Row TV is a huge step in moving along that progress. And so it's fitting then that even though we put the Short Track Report Blue Collar Racer choice this week through our usual scrutiny, the conversation began this week with Marlin Yoder as he put on an amazing performance in his # 08 hot rod as he opened it up on one of the fastest short tracks in the country and he set sail on the field. We then turned our attention to one Mr. Jeff Sparks who pulled the double, managing a top five in the first ever GXS Street Stock event at the speedway, and then turned around with a podium finish, placing third in the Late Model Stock feature. Or Jessica Cann, who put together possibly the race of her life. In the end however, we just couldn't deny Buddy Isles Jr. and the Flyin' 11 team for one of the hardest fought wins we've seen yet. It was relentless as he had a battle with # 01 Camden Gullie that was nothing short of epic. Congratulations team, you definitely earned this one. And until next time, as always, See You At The Track!
(Race write up by Joshua Weatherman. Intro and My Take written by Billy Weatherman. 2023 Copyright SHORT TRACK REPORT)
Tags
Aaron Brown
,
Andrew Turner
,
Austin Purnell
,
B.J. Reaves
,
Blaine Donahue
,
Blue Collar Racer
,
Blue Collar Racer Of The Week
,
Boo Carlisle
,
Brewster Baker
,
Buddy Isles Jr.
,
Caleb Sanford
,
Camden Gullie
,
Chargers
,
Chris Mincey
,
Chris Riendeau
,
Darrell Haynie
,
Gary Ledbetter Jr.
,
Grant Davidson
,
GXS Street Stock Series
,
GXS Street Stocks
,
Harold Sumney Jr.
,
Hunter Durham
,
Jason Richardson
,
Jeff Bunton
,
Jeff Melton
,
Jeff Morse
,
Jeff Sparks
,
Jessica Cann
,
Joe Lunsford
,
Joseph Kiger
,
Lane Woods
,
Late Model Stocks
,
Lee Godbold
,
M51 Designs Special
,
Marlin Yoder
,
Maxx Porter
,
Mod 4s
,
Orange County Speedway
,
Paul Blalock
,
Pure Stocks
,
Ricky Brown
,
Scott Phillips
,
Stephen Dunn
,
Stewart Dillehay
,
Street Stocks
,
Tech Racing
,
Terry Dease
,
Thomas Penny
,
Tripp Evans
,
Tyler Johnson
,
Tyler Kiger
,
Vintage Sportsman
,
Wesley Johnson
,
Zach Reaves