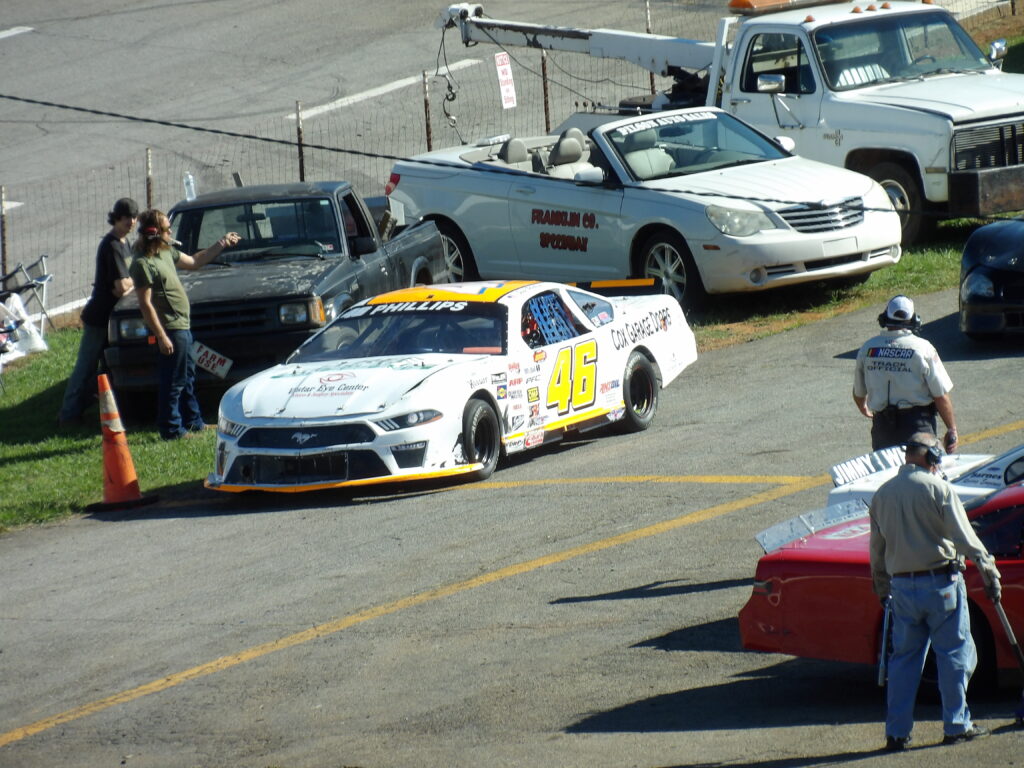 This week we decided to head out to the mountains to honor true blue collar racing and one blue collar racer in particular at Franklin County Speedway for the Buster Carroll Memorial. You see, Buster Carroll raced as many do in the region, not for money, fame or glory, but for the love of the sport itself. Buster Carroll raced because he loved short track racing. And he loved Franklin County Speedway where he became not only a multi-time champion, but many a kid's childhood hero. One in particular was Franklin County track promoter Langley Austin, who's stated he always loved to watch Buster race not only because of his competitive nature and skill, but one thing that stood out to Austin and many others we heard from was that Buster Carroll had an infectious smile. A smile that came from his before mentioned love of competing at Franklin County. I never saw it, but I do recognize it. And if you ever get out to the storied track in Callaway, Virginia, you'll see it too on most of the drivers that compete there.
The track has a way of doing it to most of the competitors that try that surface and I have come to understand it too, even though I have never taken a lap at the track myself. I've hinted at it before though, as I've stated on a number of occasions, that when you get down to the track, you can feel it. That might sound strange to some, but I promise, the drivers that come to race here know exactly what I'm talking about. If this place could talk, it would have amazing stories to tell, and some would be about the feats of one multi-time champion and Street Stock favorite Buster Carroll. And today, a good number of blue collar racers have come to race in his honor, and we can't wait for the races to begin. The invocation has been spoken, the national anthem has been played, and the fans are on their feet ready for the races to begin, so, Let's Go Racin'!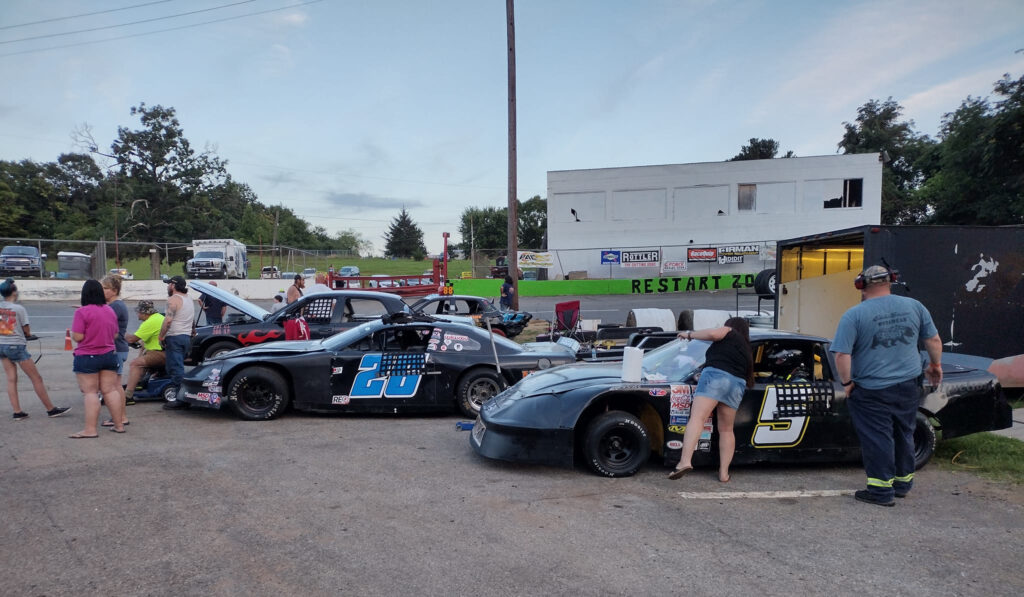 ANY CAR FEATURE
As is a staple at Franklin County Speedway, a $1,000 to win Any Car race was added last minute, much to the fans' delight. The name implies exactly what the division is all about: you got a car? Bring it on up and race it! Tonight's race was full of drivers doing double duty, which we'll get to later. But after all of the chaos, points leader Wesley Givens in the # 5 machine would take home the win and the paycheck. Givens was a factor all night long, but again, we'll get to that later.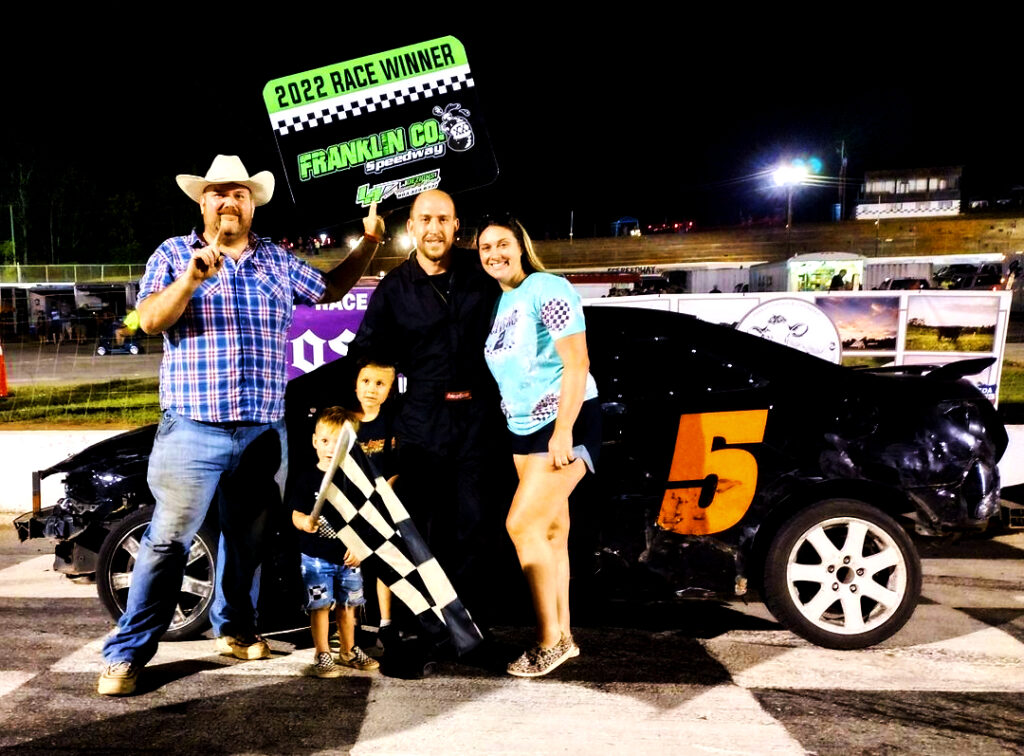 DANGEROUS DIVAS FEATURE
The # 48 of Angie Campbell will start on pole for tonight's all female feature as the # 421 of Lizzy Aquilina will start alongside. As the green waves, Aquilina clears with ease as Campbell slots right in behind. Behind them, the # 07 of Zoe Wagoner is moving her way up, getting by the # 422 of Renee Aquilina, and quickly setting her sights on Campbell. Campbell tries all she can, but Wagoner is able to power by for second. But up front, it's still all Aquilina as she gets another Dangerous Divas victory in 2022. Wagoner would come home a close second, Campbell hangs on for third, and Renee Aquilina gets the fourth position.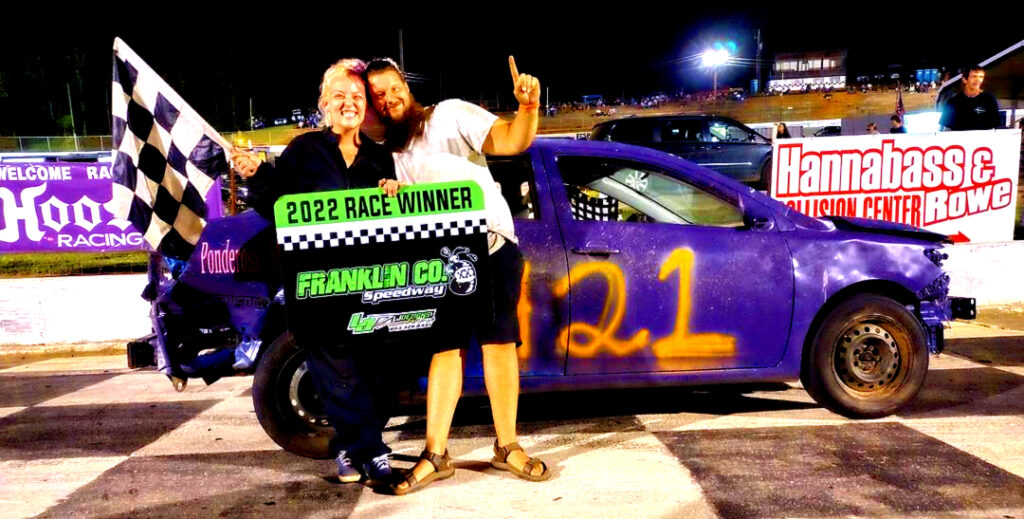 BOOTLEGGERS FEATURE
Greg Mattingly in the # 88 hot rod makes the trek from Maryland all the way to Virginia to start up front for this one with the # 3 of Keyshaun Claytor starting alongside. The # 1 of John Burch and the # X of Timmy Meadows will round out the top 4. The green waves and there's immediate trouble in turns 1 and 2 as Burch goes spinning. We'll go back to the original lineup as the green waves once again. Mattingly gets a great jump as Meadows is able to power by Burch for third. But it doesn't last long as he goes around off of turn 2. He heads to the pits for a quick adjustment and so does second place running Claytor. They both get back out on track right before the restart as Mattingly lines up first followed by Meadows, who takes advantage of the choose cone, Burch, and Claytor. Mattingly gets another great jump as Meadows doesn't get a good start, allowing Burch and Claytor by. As Mattingly starts to pull away, Claytor gets under Burch, eventually getting past. As Mattingly takes the white flag with a huge lead, Burch has trouble in turn 1 and spins. But he's out of harm's way as no caution is thrown and Mattingly takes the dominating win with Claytor coming home second.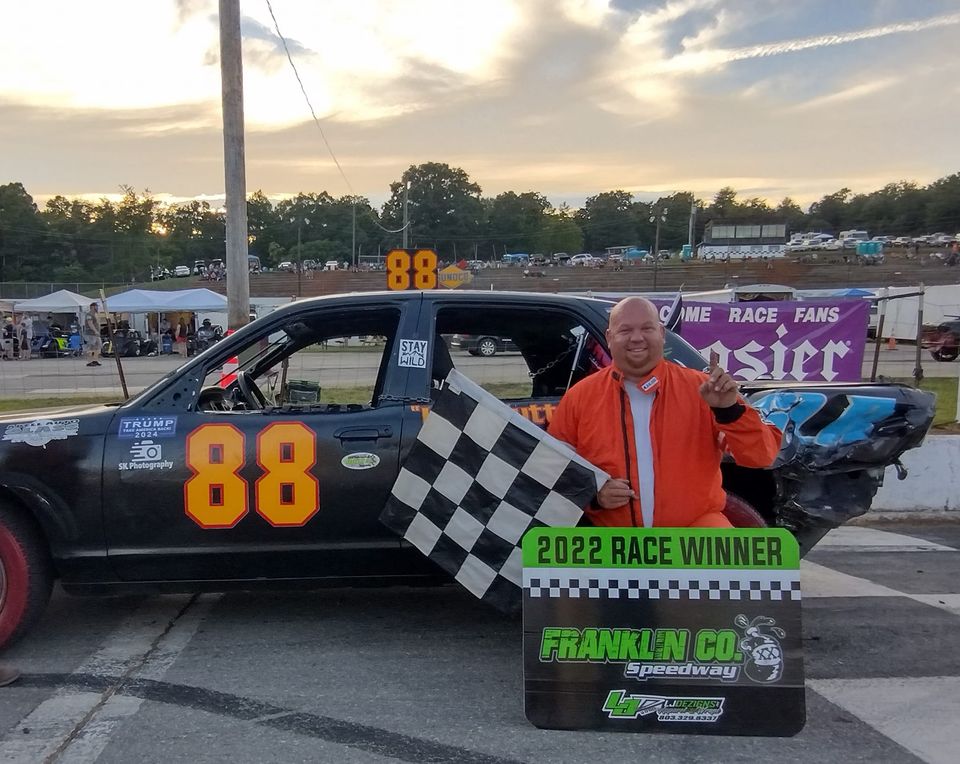 STOCK 6 FEATURE
The # 34 of Rodney Hart has the privilege of starting first in this one, followed by the # 2 of Jeff Inman, # 007 Kevin Spence, # 69 Joey Scott, and the # 13 1/2 of Chris Meeks rounds out the top 5. As the green waves, Hart gets a great start as Spence gets by Inman early for the silver spot. Behind him, Meeks gets around Scott, then Inman. Scott takes advantage of Inman's lost momentum as he takes fourth. Scott then gets back around Meeks, setting his sights on the frontrunners. Spence looks to the outside of Hart, barely getting by. As Spence takes the lead, Hart gets a little crossed up, allowing Scott to get second. And before you know it, Scott is right there on Spence, looking underneath. Spence hangs tough but it's not enough as Scott gets by for the top spot. Behind them, Inman has a problem and takes his machine to the pits, as his night ends prematurely. As Scott tries to get away up front, the caution flies as Meeks is slow on the track. For the restart, it'll be Scott, Spence, and Hart your top three. Scott doesn't get going at the line, allowing the field to pounce. Spence takes the lead as Hart and Meeks get together in turn 1, almost spinning but barely saving it. As they get their machines gathered back up, it's Scott who's car is rolling yet again, marching towards the front. But there's another caution, this time for the # 89 of Robbie Young slowing, who's been on and off the track all race with mechanical gremlins. Lining up for the restart will be Spence, Scott, and Hart your top three. Spence gets a great launch as Scott once again doesn't get going. Meeks gets by both Hart and Scott, looking to get around Spence. But Scott is too determined, as his car comes back to life, mounting one last charge as he gets by Meeks. But it's just not enough as Spence gets the big win tonight, followed by Scott and Meeks.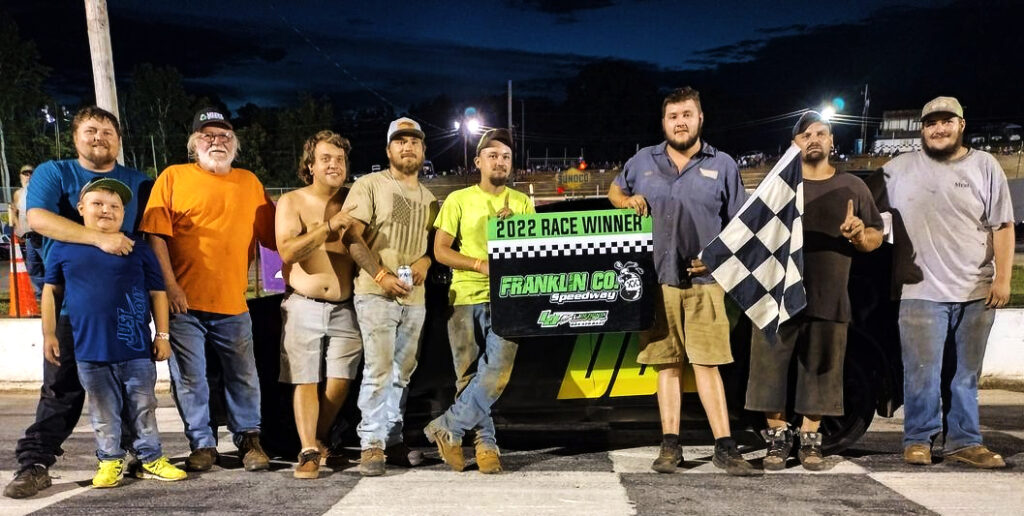 ROOKIE 4 FEATURE
New to Franklin County, the Rookie 4 division is a class for less experienced Stock 4 competitors to get more track time, and boy do they put on quite a show. It's a bit of an excursion getting lined up for the start, but again, that's what this division is for. Ryan Woods in the # 07 will start on the pole followed by the # 8 of Sam Russell, # 28 Will Stevens, # 419 Cody Arrington, and the # 7 of Keyshaun Claytor will round out the top 5. The green waves and Claytor immediately gets to work, getting around the Arrington machine. In front of him, the field fans out like it's Talladega, and this leads to trouble as the Russell machine goes head on into the outside frontstraight wall, bringing out the first caution. Lining up for the restart will be Woods, Stevens, Claytor, the # 20 of Noah Hinchee, and the # 63 of Jaden Austin. The green flies and Woods gets a great start. Claytor moves up another spot, this time getting by Stevens, bringing Hinchee along with him as Stevens drops to fourth. Woods now has company in the form of Claytor, who keeps looking on the lead machine. But now Hinchee looks under Claytor as the top four are under a blanket. Hinchee eventually gets by, with Stevens following through. Hinchee eventually falls victim to Claytor as he moves back to third. Before you know it, the white flag is out. Woods tries to cover all lanes, but both Stevens and Claytor are there, making it three wide for the lead! The fans are going wild as Woods and Stevens battle side by side to the line with Claytor in tow! At the line, it's Woods who gets the narrow victory with Stevens coming home second, Claytor third, Hinchee fourth, and Austin fifth.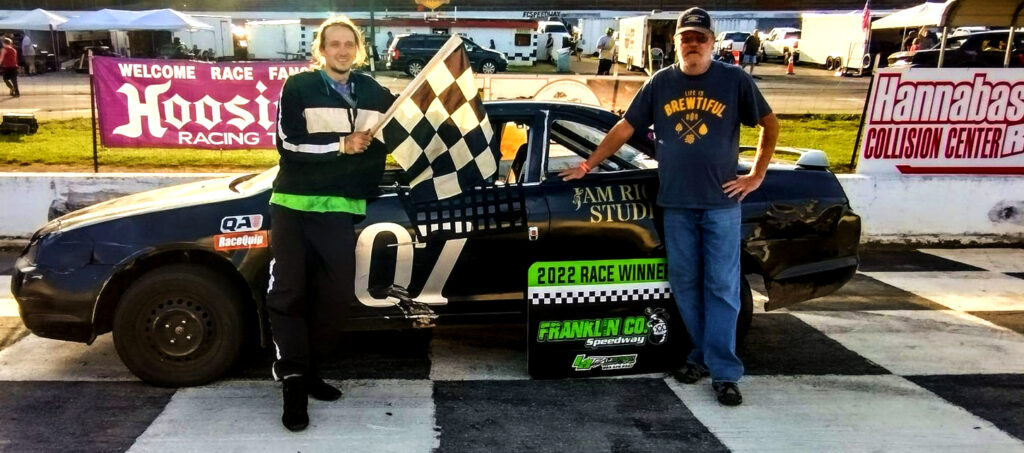 MINI STOCK FEATURE
Fan favorite # 97 Scott Foley starts with the top spot for the Mini Stocks as the # 4 of point leader Daniel Hutson starts second, # 12 Jessie Yopp third, # 27 Stonewall Kniceley fourth, and # 46 Joshua Phillips fifth. The green is out as Hutson is quickly able to dispose of Foley. Everyone files in line as they try to log laps in. Foley looks to be a good match for Hutson, but he unfortunately has to head down pit road with detrimental problems, putting him out early. That gives former track champion Yopp second with plenty of time to run Hutson down. The # 82 of Alex Whatley emerges in the top five, looking under Phillips for the fourth position. The two battle it out, with Whatley winning it out. But back up front, Hutson shows exactly why he's the current point leader, leading flag-to-flag in this one. Yopp comes home second, Kniceley gets third, Whatley nabs a fourth, and Phillips rounds out the top five.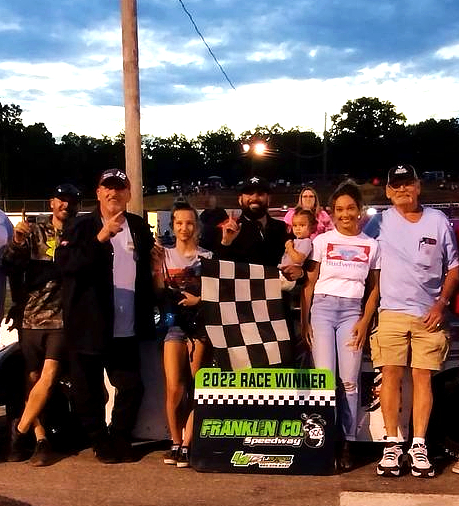 LEGENDS FEATURE
History is being made tonight as the Legend cars make their way on the track for the very first time at Franklin County. The # 15 of James Folds starts up front for this one, with the Perk Brown inspired # 45 of Kyle Clingenpeel starting alongside. The green waves and Folds gets a monster start, sending his machine into turn one full speed. As I sit and watch, I just can't believe how fast these little cars can get around Franklin County. It's borderline scary to witness. Folds continues to put down fast laps, but Clingenpeel is giving his all, staying within close distance of Folds. Folds starts to turn up the wick towards the end though, as he makes history, becoming the first ever Legend winner in the history of Franklin County. Clingenpeel comes home second, wondering what would've happened if he had just 10 more laps.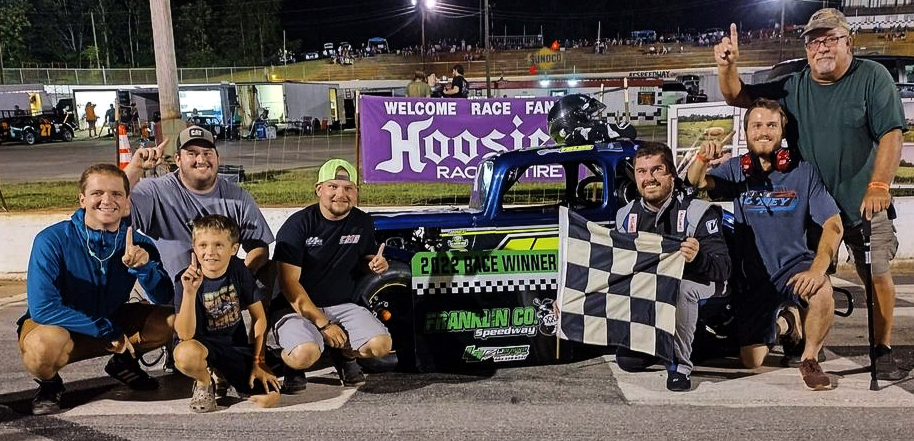 STOCK 4 FEATURE ONE
With twin features tonight are Franklin County's most popular division, the Stock 4's. Defending champion # 66 Darrell Chrisley starts on pole for race one with # 28G Wesley Givens starting second, # 44 Adam Metzger third, # 34 Chris Meeks fourth, and the # 7 of Keyshaun Claytor rounding out the top five. The flagman looks over the great field of Stock 4's, likes the formation, and we're green! Givens gets the jump at the line, looking to clear Chrisley early. But there's early trouble as Meeks, the # 07 of Ryan Woods, and the # 28 of Will Stevens all wreck in turns 3 and 4. We'll resort back to the original lineup, putting Chrisley first, Givens second, Metzger third, Claytor fourth, and the # 20 of Noah Hinchee fifth as a result of Meeks wrecking early. The green flies and Givens gets the jump once again, clearing Chrisley quickly. Before you know it, Meeks is back in the frame, getting by Hinchee and then Claytor. Metzger gives him a fight, but Meeks dirt tracks his way by him as well, moving into third. But there's a problem with Chrisley! Chrisley slows and brings out a caution as there's something wrong with his machine. He's able to get back out on track though as Givens, Meeks, Metzger, Hinchee, and the # 33 of Austin Guilliams will lead the field back to green. The green is out and all mayhem ensues. The entire field dirt tracks it into one, with Meeks sending it, almost clipping the grass to take the lead. Behind, Guilliams is able to get by both Hinchee and Metzger. Also making his way back through the field quickly is Chrisley, as he gets by Hinchee. The chaos catches up to the field as Stevens spins in turn two, bringing out another caution. Meeks, Givens, Guilliams, Metzger, and Chrisley will lead the field back to green as the top two are dead even at the start. Givens is eventually able to clear as Chrisley powers by Metzger, moving into fourth. But there's major trouble! Meeks' wheel comes off exiting four, causing him to slam the outside wall! It's a hard hit, but thankfully he's okay as the race's complexion is turned upside down. Throwing another wrench into the race is the Metzger machine, who comes down pit road under caution. After a lengthy cleanup, it'll be Givens, Guilliams, Chrisley, Hinchee, and Stevens the top 5. Givens gets the jump this time around as Metzger is now back into the top five, getting by Stevens and Hinchee. Up front, it's all Givens and Guilliams. Guilliams tries a couple of divebombs, but it's ultimately not enough as Givens gets the victory in a wild one. Guilliams comes home second, Chrisley third, Metzger fourth, and Hinchee fifth.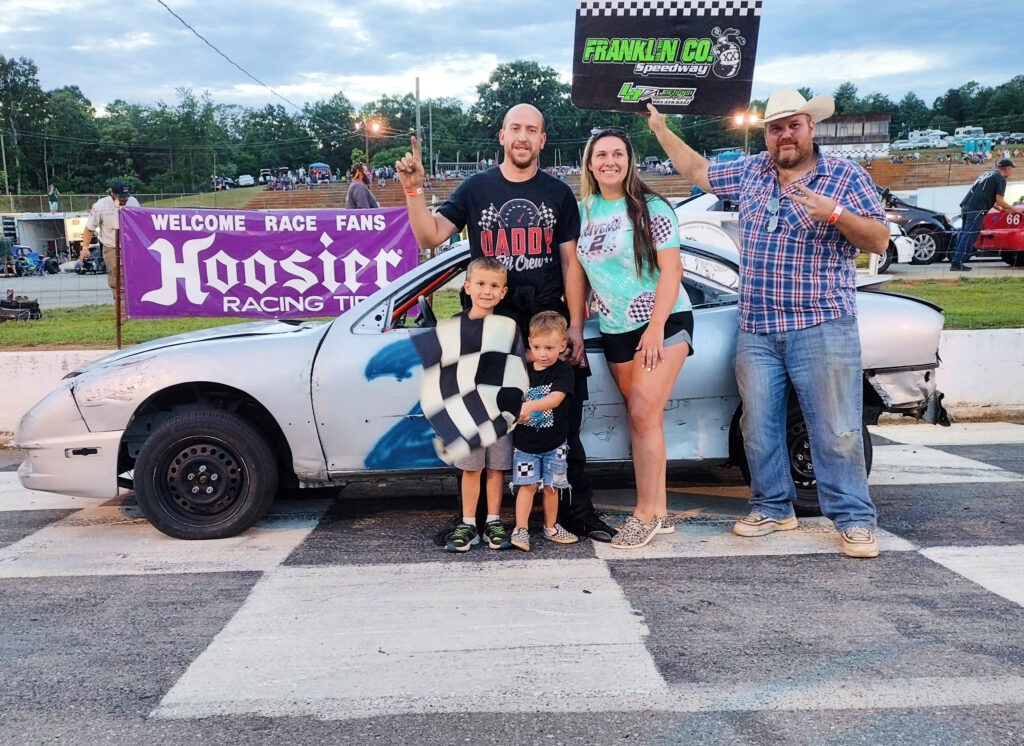 STOCK 4 FEATURE TWO
Not as many cars are lucky to start feature # 2 as the # 20 of Noah Hinchee will start up front, followed by the # 44 of Adam Metzger and the # 28G of Wesley Givens. The flagman looks over the thinned field, likes what he sees, and we're green! Metzger gets the jump as now Givens looks under Hinchee, getting the spot. Hinchee is then under fire from the # 66 of Darrell Chrisley. Chrisley gets by and now it's a three horse race up front with Metzger, Givens, and Chrisley. The three duke it out all race long, trying to keep it cleaner than the first race. It's a dogfight as they come to the white flag, as they start to trade paint. As they round turns three and four, they fan out three wide! It's a three wide, bumping and banging finish as Metzger gets the nod while spinning with Chrisley coming home second and Givens getting third. Unbelievable racing tonight from the Stock 4 gang, possibly the best we've seen all year.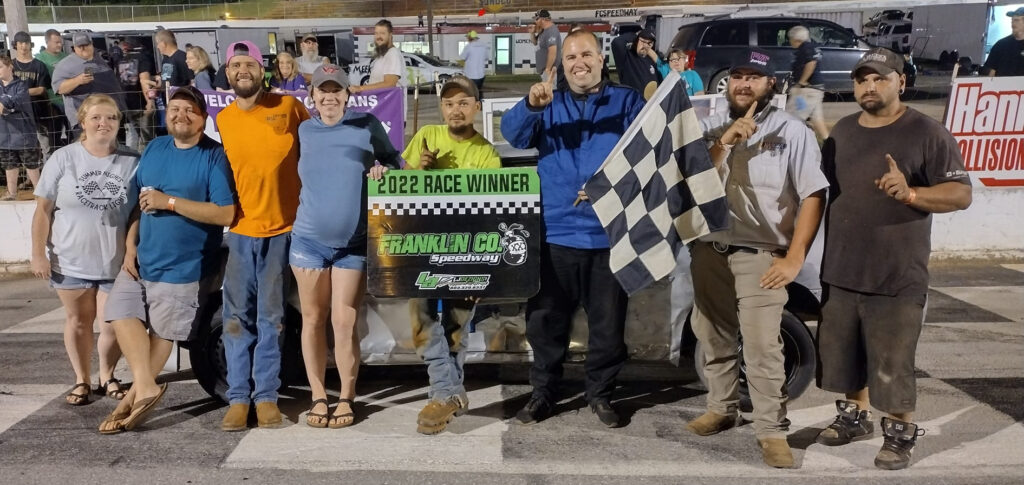 SUPER STREET FEATURE
The # 15 of Tristen Barnes will start on pole for this one with a blistering qualifying time of 15.017 seconds. Franklin County legend # 12 Jimmy Mullins will start alongside with the # 99 of Tyler Ashley rounding out the top 3. The flagman looks over the field, gives the thumbs up, and we're green! Mullins gets a great launch but it's too good as the caution immediately flies for a false start. The second time around is much cleaner as Barnes gets a better start. But Mullins quickly pounces, clearing for the lead immediately. Tristen tries to mimic Mullins' line, but just doesn't have the horses Mullins does, as Mullins continues to lead. Behind them, the # 20 of Kevin Wright heads down pit road as his night is over. Back up front, it's still all Mullins. Barnes keeps him in sight though, just hoping that the veteran makes a rare mistake. But the mistake never happens as Mullins gets the big win tonight in dominating style. Barnes comes home second with Ashley nabbing the third spot.

LATE MODEL SPORTSMAN BUSTER CARROLL MEMORIAL FEATURE
South Boston Limited Sportsman point leader # 02 Kyle Barnes decides to make a trip to Callaway in an effort to capture Franklin County's Late Model Crown Jewel. In doing so, he also captures the pole with a time of 14.464 seconds. Franklin County veteran # 18 Bobby Gillespie will start alongside in second, # 57 Super Street winner Jimmy Mullins starts third, and the # 44 of Ronnie RIggs will round out the top four. The flagman looks over the field, likes the formation, and we're green for the Buster Carroll Memorial! Barnes immediately gets the launch and clears as the # 26 of Tony Housman gets by Riggs for fourth early. Mullins doesn't waste time as he gets by Gillespie for second, tracking down Barnes. Mullins is there in no time, and Barnes knows this, so he lets Mullins by to play a little tire conservation. As Mullins tries to pull away, the first caution of the night flies as Gillespie is slow on the track. Everything seems okay for now as he lines back up for the restart. Up front, it'll be Mullins, Barnes, Housman, and Riggs the top four. The green flies and Mullins takes his place in front of Barnes. Behind, Housman slips on the restart, allowing Riggs back by. Gillespie comes back down pit road, as his night is unfortunately over. Back on track, Riggs and Housman are fighting tooth and nail, as they trade paint multiple times. Housman eventually nudges him out of the way, but Riggs has none of it as he punts Housman back, regaining his position. The laps tick off as the field has seemed to calm down. With every lap completed, Barnes starts to reel Mullins back in, playing conservation to perfection. With under ten to go, Barnes is right on Mullins' back bumper. It's now a game of chess as Barnes tries to get by the veteran.
Barnes continues to look as he's closer than he's been all race long coming out of turn 2. He dives into three and the two make contact! Their wheels connect, sending Mullins around! Mullins gets it back going as the track now has a tough call to make. After multiple pace laps, the track makes the decision to put Barnes in the rear. The crowd is making their feelings known, both good and bad. As they're getting everything sorted out, it's the opportunity of a lifetime for both Riggs and Housman, as they'll lineup 1 and 2 for the ensuing late race restart. The flagman looks over the field, likes what he sees, and we're green! Riggs gets a phenomenal restart as Housman gets passed by both Mullins and Barnes, who are both on a rampage trying to get back to the front. Riggs' mirror is now full of two proven winners and champions, as they come down to the white flag. You can throw all three under a blanket as Mullins and Barnes are coming full song. Mullins sends his car into turn three as if he has no brakes, trying all he can to get by Riggs. But it's to no avail as Riggs gets the HUGE upset win! Mullins comes home second, Barnes comes home third, and Housman ultimately finishes in fourth. Both Mullins and Barnes chalk their incident up to short track racing in victory lane, but the man of the hour is Riggs, as he celebrates the biggest win of his career.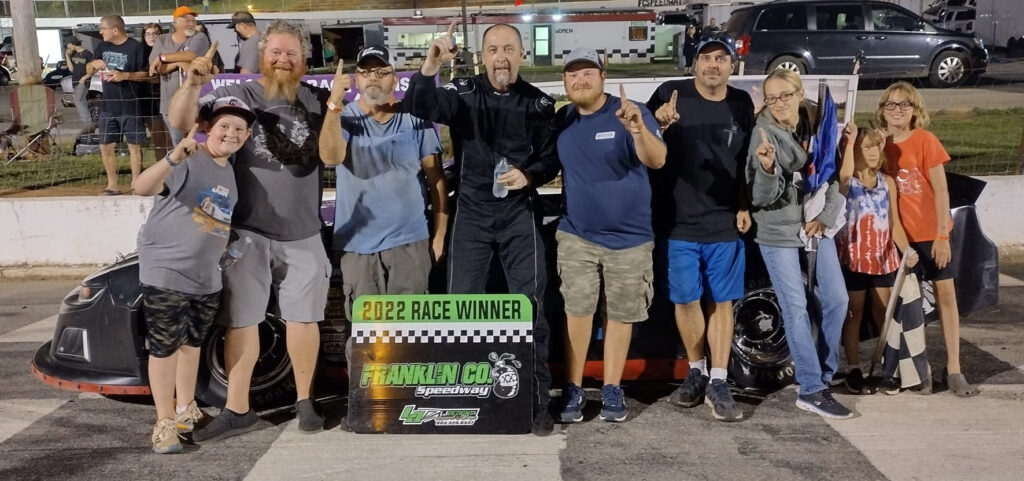 MY TAKE
What a great night of racing! The fans got their money's worth and more with 11 feature events, closing out with a thousand to win Any Car race. The Stock 4 class was amazing in both races with the drivers looking like dirt trackers with the leaders almost completely sideways in the middle of the corners. Absolutely awesome. Jimmy Mullins shows he knows how to get around this place and Ronnie Riggs coming home with the huge win in the Late Model Sportsman Feature event. All in all a great night of racing in the mountains of Callaway, Virginia.
But the night didn't come without a bit of controversy. In the Buster Carroll Late Model feature, Jimmy Mullins and Kyle Barnes were putting on quite the show. Mullins went out to a huge lead, but with twenty laps to go, Kyle Barnes started running him down, and with about five laps to go, he got a great run on Mullins down the backstretch and sent it in turn three, getting a fender almost up to the wheel well of the # 57 machine, but at the same time, Mullins was moving to shut the door and the two had contact sending the 57 car spinning, and ultimately seeing the # 02 of Kyle Barnes get sent to the rear of the field for rough driving.
First off, let me just say that I am not a big fan of the rough driving rule, but I understand it, especially in this case. For many reasons that I won't fully go into here because it would be another complete article in itself, Franklin County did get a reputation for being a rough track to race, largely unwarranted, but it's the reputation the track had gotten. Langley Austin has moved to change that perception and we applaud what he is achieving here. It's not a small challenge. So, we understand why the rule is in place here, but, the rule relies on human judgement, which we know at the best of tracks can be flawed. It's not unlike referee calls in other sports, which we know can go wrong and change the outcome of the event. And after replays and talking to both drivers, we don't agree with the call here. It seemed to us a racing deal, as both drivers even told us, but that said, the track stands by it's call, as they should. It's their right, and we respect the fact that they indeed stand behind the call at the highest level. It's their track and their rules. In the end though, it did change the outcome of the race.
None of that takes away from the fact that Ronnie Riggs ran an excellent race and comes away with an impressive and much needed win. He's driving for a lot this year, and in no way do we think he didn't deserve this one after all was said and done. And that brings us to this week's Blue Collar Racer Of The Week. There were a lot of candidates from this event, so much so that we once again had to debate it. There was Riggs, who came out of nowhere to take the biggest win of his career. There was Greg Mattingly, who came all the way from Maryland to take the Bootlegger victory, as well as coming close to the Any Car checkered. And then there was Jimmy Mullins, who took the dominating victory in the Super Streets just to turn around and finish runner up in the Buster Carroll Memorial. So, who gets the nod? None other than Wesley Givens. Givens started his night off by fighting tooth and nail for the first Stock 4 victory, sliding sideways every single lap and fending off all challengers. He then came close to the sweep in the second feature, coming across the line in a three wide photo finish, just to come home third. And to top the night off, he doubled up on trophies and took the wild victory in the Any Car race. A first, second, and first, all under very close circumstances earns Givens this week's Blue Collar Racer Of The Week.
It was an amazing night in the mountains of Callaway celebrating the life of a role model for many, Buster Carroll. While this may be the last visit for us this year in Franklin County, rest assured that next year will see us visit the fast 3/8 mile multiple times, as we can't wait to see what it has in store for us when we come again. So, until next time, as always, See You At The Track!
(Race writeup by Joshua Weatherman. Intro and My Take written by Billy Weatherman. 2022 Copyright SHORT TRACK REPORT)
Tags
Adam Metzger
,
Alex Whatley
,
Angie Campbell
,
Any Cars
,
Austin Guilliams
,
Bobby Gillespie
,
Bootleggers
,
Buster Carroll
,
Buster Carroll Memorial
,
Chris Meeks
,
Cody Arrington
,
Dangerous Divas
,
Daniel Hutson
,
Darrell Chrisley
,
Franklin County Speedway
,
Greg Mattingly
,
Jaden Austin
,
James Folds
,
Jeff Inman
,
Jessie Yopp
,
Jimmy Mullins
,
Joey Scott
,
John Burch
,
Joshua Phillips
,
Kevin Wright
,
Keyshaun Claytor
,
Kyle Barnes
,
Kyle Clingenpeel
,
Late Model Sportsman
,
Legends
,
Lizzy Aquilina
,
Mini Stocks
,
Noah Hinchee
,
Renee Aquilina
,
Robbie Young
,
Rodney Hart
,
Ronnie Riggs
,
Rookie 4
,
Ryan Woods
,
Sam Russell
,
Scott Foley
,
Stock 4
,
Stock 6
,
Stonewall Kniceley
,
Super Streets
,
Timmy Meadows
,
Tony Housman
,
Tristen Barnes
,
Tyler Ashley
,
Wesley Givens
,
Will Stevens
,
Zoe Wagoner