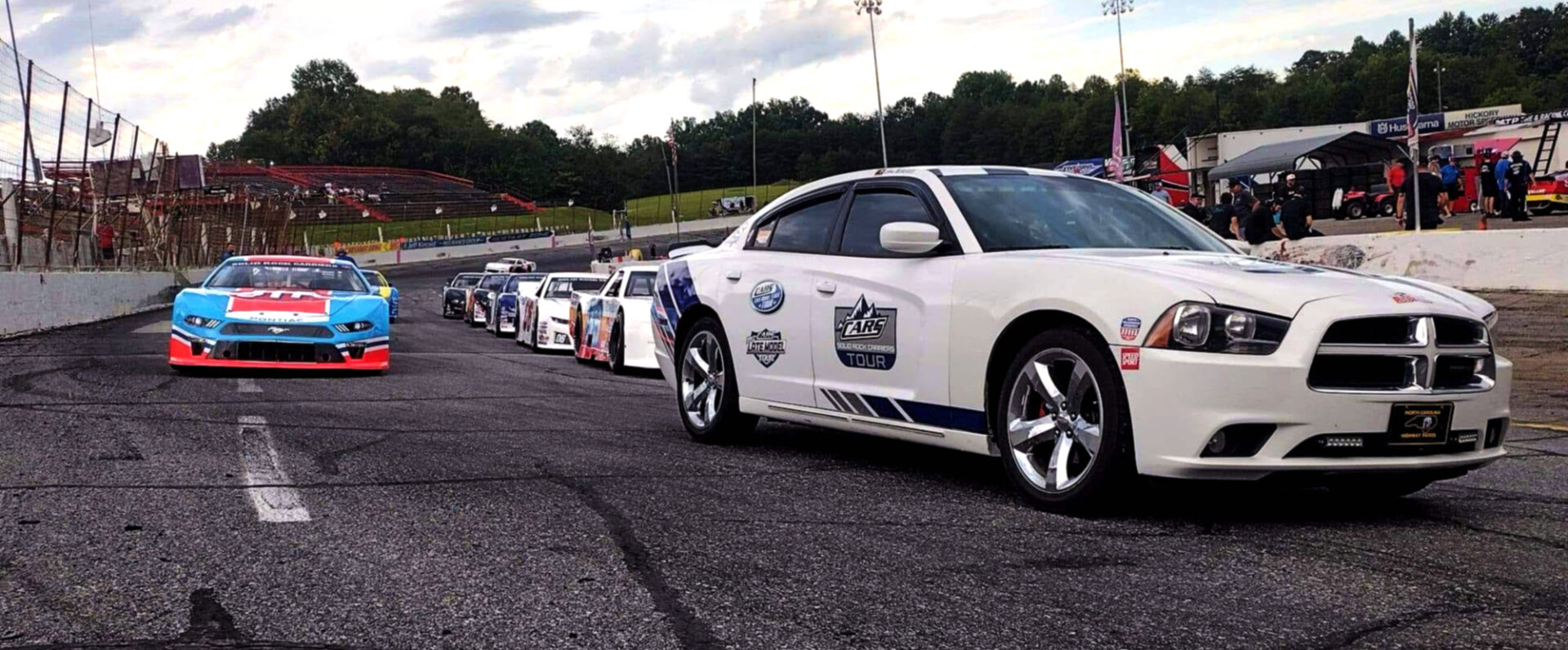 PROVING GROUNDS – 2022 CARS Tour Throwback 276 and Carolina Pro Late Model Series At Hickory Motor Speedway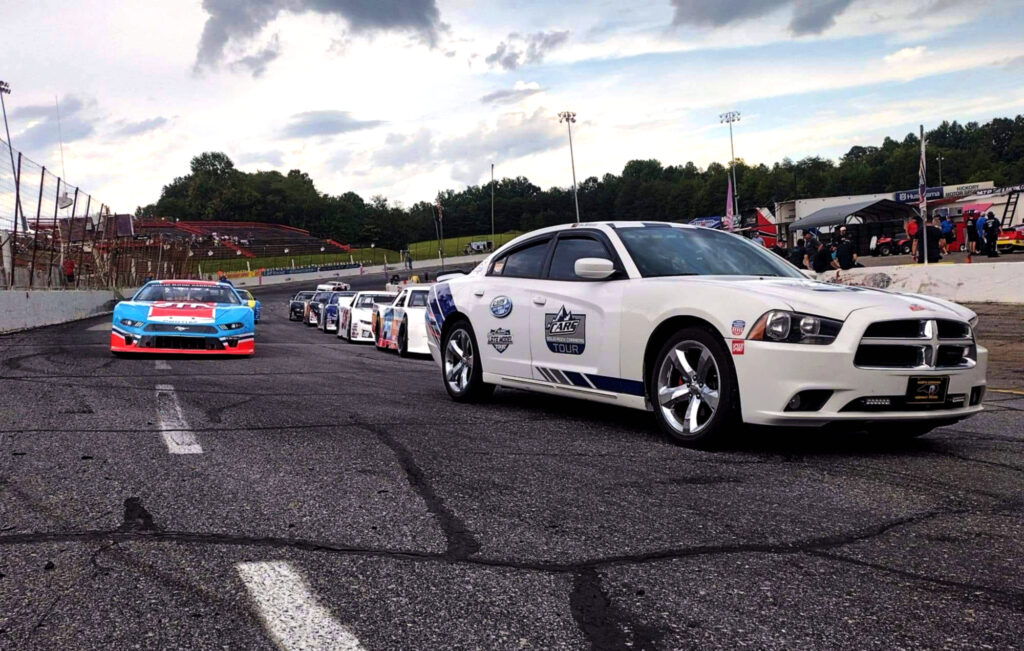 This extended coverage article is going to be a little different than most of what we do, but, it's definitely warranted. You see, this week, we are going to focus on a landmark. A destination. And a birthplace. Originally opening as a half mile dirt track, Hickory Motor Speedway has become a place of legend. From the moment Gwyn Staley won the first race and went on to win the first ever championship at the famed track, it has become synonymous for great racing, mainly because of the competition that it has brought to compete here. It's moniker is the "Birthplace Of The NASCAR Stars", along with "The World's Most Famous Short Track". So is it?
Although it's not the oldest short track in the region, as Bowman Gray Stadium was the first, it's winners list is just as prestigious. In 1953, Tim Flock won the first NASCAR Grand National Series race, (now the Cup Series), but the championship list gets even more exciting. Ralph Earnhardt has a championship here as does Junior Johnson and Ned Jarrett. The list is tremendous. A lot of milestones have been reached here, including Jack Ingram and Tommy Houston both have eight Busch Series (now Xfinity) wins here at the famed track. Other feature winners include names like Lee and Richard Petty, David Pearson, Bobby Isaac, Tiny Lund, Ricky Craven, Bobby Labonte…I mean the list goes on and on…tremendous.
But the old girl is starting to show her age. She's looking old. Run down. The surface is clearly showing quite a bit of wear. And what about the talent that runs here today? Is this track still living up to it's moniker? Well, let's take a good look at the racing that took place over just the last couple of weeks before we discuss it any further.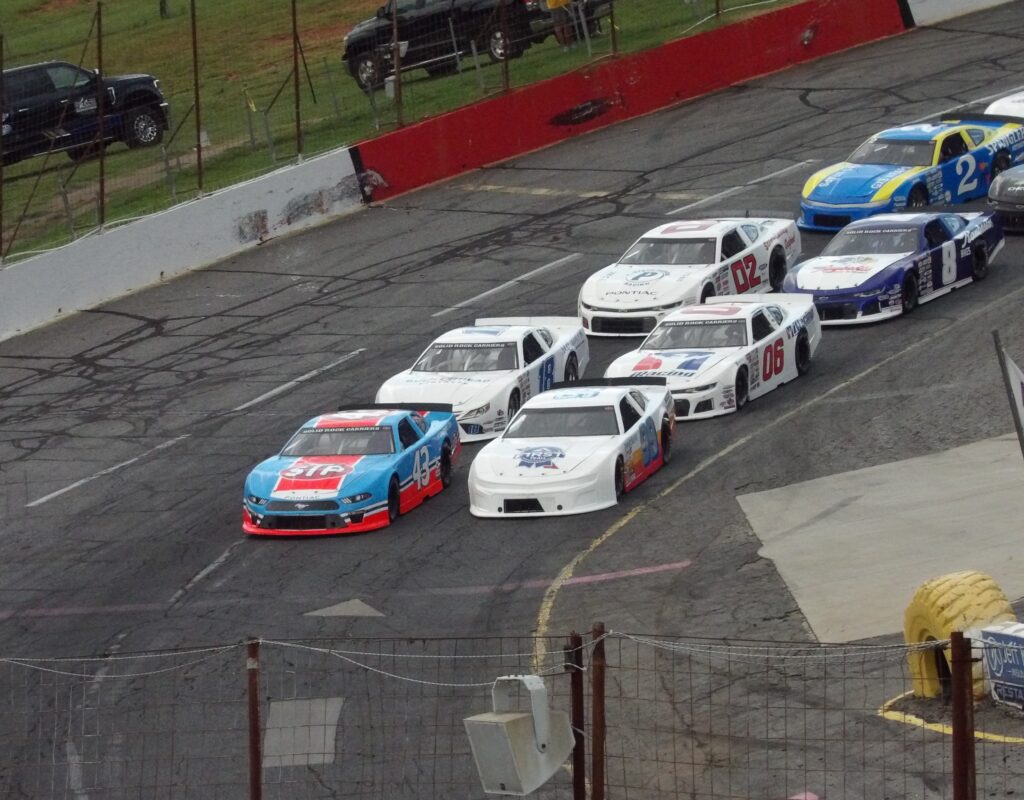 HERITAGE FINANCE COMPANY STREET STOCK FEATURE
Street Stock extraordinaire # 32 Gary Ledbetter captures the pole with a fast time of 16.529 seconds. Starting alongside will be the # 99 of Greg Wise, followed by # 1 Joseph Hodges and the # 9 of Jon Austin. The Hickory Motor Speedway flagman looks the field over, likes what he sees, and we're green for the Street Stocks! Ledbetter immediately jumps to a sizable lead as Wise slots in line for second. As Wise tries to walk down Ledbetter, it's a fierce battle behind for third as Hodges has an ill-handling race car, allowing Austin to peek his nose in every once and awhile. Austin finally gets underneath of him for good, and the two battle it out while Ledbetter starts to gap the field. The two make minor contact, but it's no hindrance to Austin as he is finally able to grab the third position from Hodges. But up front, the field is no match for Gary Ledbetter as he collects another Street Stock trophy ahead of Wise, Hodges, and Austin.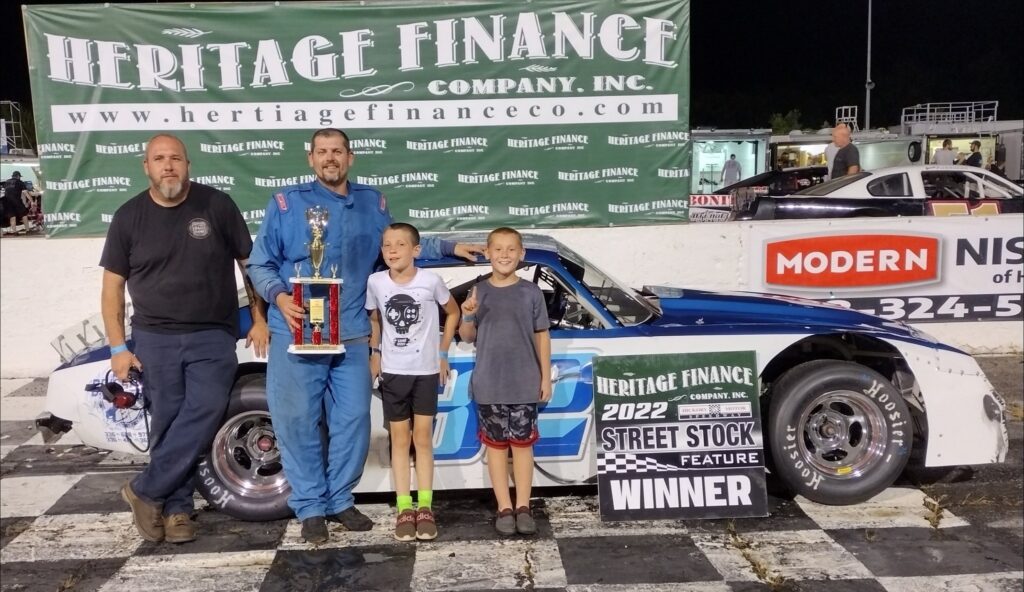 PARAMOUNT AUTO GROUP LIMITED LATE MODEL FEATURE
The # 12 of Christopher Martin Jr. starts on the pole for this one with the # 97 of Michael Bumgarner starting alongside. Starting third will be the # 22 of Max Price followed by the # 66 of Zack Wells with the # 7D of Kevin Dill rounding out the top five. The flagman likes the view and we're green for the Limiteds! Martin Jr and Bumgarner are dead even at the start but there's immediate trouble as the # 25 of Graham Hollar makes contact with the # 30 of Jordan McGregor, sending both into the turn 1 wall hard. It's a lengthy cleanup as we eventually get back to racing with the top five staying the same. Bumgarner gets the better start this time around as he's able to clear Martin Jr for the lead. Martin Jr suddenly appears to have a problem as he slips all the way out of the top five, letting the # 98 of Billy Smith into the fray. Back up front, Price is all over Bumgarner as he gets underneath him for the lead. Bumgarner hangs tough on the outside for multiple laps, but it's ultimately Price who ends up with the lead. The # 23 of Reilly Doyle makes his way into the top five as he gets by Smith who is battling a very loose race car in the middle of the pack. Back up front, it's Price who has slightly gapped Bumgarner. But as Price approaches lap traffic, Bumgarner starts to gain substantially and takes the lead back as the two start to battle back and forth through lap traffic. Price is right back underneath but Bumgarner hangs on for the moment. Price is determined though as he dives back underneath and retakes the lead once more. Bumgarner has none of it and looks back under again, but this time they're caught in lap traffic, causing the two to make contact! Price ultimately goes around in turn 1, with the lapped car of # 51 Garrett Freeman spinning to avoid but ultimately making contact with the Price machine. It's another long cleanup as the fans are making their feelings known in the grandstands.
It'll be Bumgarner, Wells, Dill, Doyle, and Smith the top five as they come back to the green for a late race shootout. Bumgarner gets a fantastic restart as Dill is able to get around Wells for second. But there's more trouble as the Smith machine spins on the frontstraight and backs into the inside wall. We'll resort to the last completed lap for the lineup which will be Bumgarner, Wells, Dill, Doyle, and Freeman, who has somehow got himself back on the lead lap and into fifth late in the game. Bumgarner gets another rocket start as Smith makes his way back into the top five, getting by Freeman with only a handful of laps to go. But back up front, it's Michael Bumgarner who gets the chaotic victory followed by Dill, Doyle, Smith, and Freeman. Zack Wells would be disqualified in post-race technical inspection.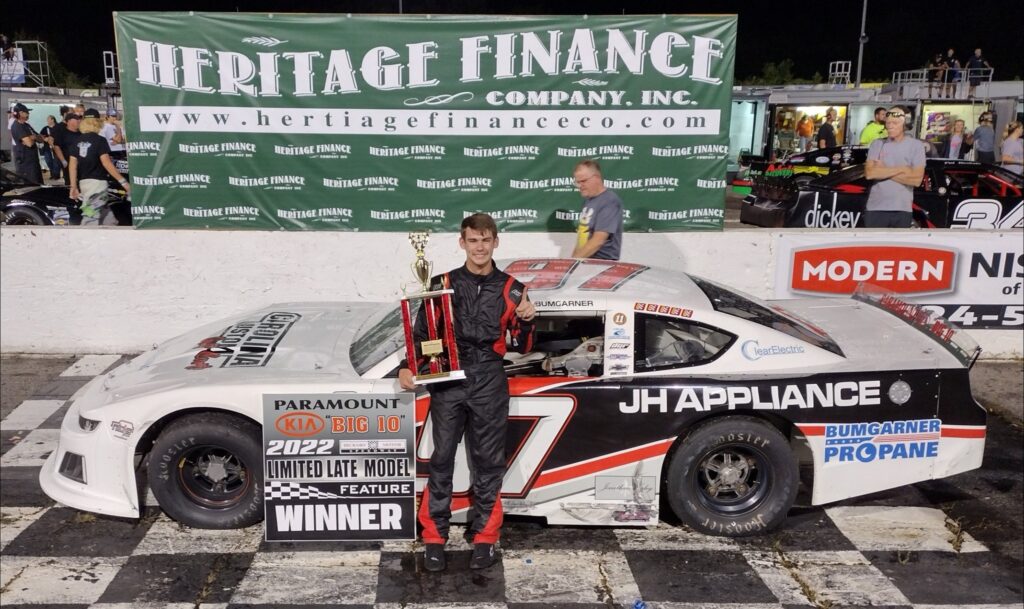 CAROLINA PRO LATE MODEL SERIES PRIMARY SERVICE GROUP 100
Qualifying would ultimately be rained out so the field is set by random draw. Starting on pole will be the # 95 of Caleb Costner followed by the # 03 of Kyle Campbell, # 88 T.J. DeCaire, # 74 Jonathan Kievman, and rounding out the top five will be the # 35 of Caden Kvapil. The flagman likes the formation, and we're green for the Carolina Pros! Costner gets a good start, but Campbell uses his experience as an advantage and gets by Costner to lead lap 1. Behind, Kievman gets by DeCaire, leaving DeCaire to fend off Kvapil. Kvapil eventually gets by DeCaire as he begins his charge towards the front. DeCaire can't get an early rhythm going as he ultimately falls out of the top 5, giving up the fifth spot to the # 75 of Tovia Grynewicz. Back up front, Costner washes way high, allowing both Kievman and Kvapil to get by for second and third. Campbell on the other hand has pulled out to a huge lead, trying to run perfect laps early in this one. Costner can't quite recover fast enough as it's now Grynewicz getting by him for fourth. Kvapil is able to get a run on the outside of Kievman, who gives way to both Kvapil and Grynewicz. We soon have our first caution of the night as the # 5 of Gavan Boschele is slow on the backstraight. Under this caution, fan favorite Travis "Moonhead" Brown has a mechanical issue and has to bring his machine down pit lane, prematurely ending his night. Lining back up for the restart will be Campbell, Kvapil, Grynewicz, Kievman, and Costner. Kvapil gets his car to hook up for the restart as he's able to get by Campbell on the outside. Campbell slides in line second as Costner loses fifth spot to the # 5H of Jasec Holladay. Costner soon brings his Pro down to the attention of his crew as there's something majorly wrong with his machine. They eventually get back on track, but any chance of a top five has been sucked down the drain.
Kievman continues to lose spots as he's passed by both Holladay and the # 63 of Josh Lowder, moving him outside of the top five. Meanwhile, Grynewicz is underneath Campbell for second and takes that spot as Kvapil has a sizable lead on the field. But that lead will be erased as the caution is out, this time for the # 51 of Mason Maggio spinning out of turn four. Kvapil maintains the lead for the restart with Grynewicz lining up second followed by Campbell, Holladay, and Lowder. Kvapil gets a picture perfect launch as Campbell retakes second spot from Grynewicz. But Grynewicz is right back underneath, retaking that spot as Kvapil once again pulls away. Lowder slips by Holladay for fourth as he starts to make his run to the top spot. The # 4 of Sean Abell is able to take advantage of Holladay's lost momentum as he wrestles the fifth spot away. Lowder is on a roll as he now gets by Campbell, bringing Abell along with him, dropping Campbell to fifth. Back up front, Grynewicz is all over Kvapil, but just can't seem to do anything as Kvapil is just too good at the moment. As they battle, there's big trouble on the frontstraight as the # 11 of Nicolas Caldwell has spun and nosed his machine hard into the inside wall. Thankfully Nicolas is okay as they swiftly get the wreckage cleaned. Lining up for the restart will be Kvapil, Grynewicz, Lowder, Abell, and Campbell. It's a messy restart as both Kvapil and Grynewicz make contact, stacking the field up. So messy in fact that the caution will wave once again in order to have a much cleaner restart at the line. The lineup will be the same as Kvapil gets a massive jump on Grynewicz at the line. Lowder then slips underneath Grynewicz as Grynewicz's machine has gone awry due to the contact with Kvapil. He barely slips in third as Campbell is able to get by Abell for fourth. Campbell then gets by Grynewicz for third as Grynewicz's car is starting to show significant tire smoke. Grynewicz tries to fight off Abell, but just can't do it as he now drops to fifth. Abell then powers by Campbell for third, trying to mount a late race charge. Back up front, Lowder has played tire conservation to perfection as he now is all over Kvapil's back bumper. But the caution is out for Grynewicz, who's car has finally given up the ghost between turns three and four. As Kvapil slows down for the caution, Lowder gets into him and they both spin! Luckily, due to CPLMS rules, both keep their position since they weren't the cause of caution and they relegate to the last completed lap of competition. This will set up another late race shootout, with Kvapil lining up first followed by Lowder, Abell, Campbell, and the # 1X of Mike Toner Jr, who has made his way into fifth.
Both Kvapil and Lowder get outstanding restarts, but it's Kvapil who ultimately clears for the lead. Behind, Toner Jr. and # 5 Gavan Boschele, who had problems early, battle for the fifth spot. Toner Jr is able to keep the spot and sets his sights on Campbell. He gives Campbell a nudge, moving him out of the way, allowing both Toner Jr and Boschele to get by. But up front, it's all Caden Kvapil, as he gets yet another victory at Hickory. Lowder comes home second, Abell gets a third in his debut, Toner Jr gets fourth, and Boschele somehow guts out a fifth place finish.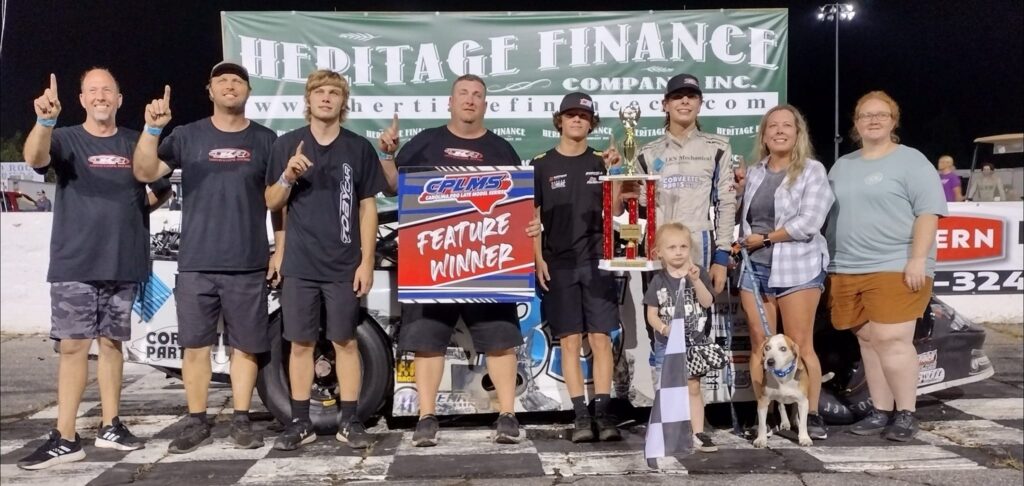 CARS PRO LATE MODEL TOUR HONEYWELL HOME THROWBACK 276 PRESENTED BY BAKER DISTRIBUTING
Young phenom # 4 William Sawalich sets fast time with a blistering qualifying time of 14.780 seconds. Starting alongside will be the # 35 of Caden Kvapil followed by the # 96 of Luke Fenhaus, # 62 William Hale, and the # 6H of Clark Houston will round out the top five. CARS Tour flagman Brandon Willard looks over the field, likes what he sees, and we're green for the CARS Tour Pros! Sawalich clears early as the rest of the field slips in line, trying to get into an early rhythm. The caution comes out early however as the # 1 of Kody King is stopped in between turns three and four. His night is unfortunately over as Sawalich, Kvapil, Fenhaus, Hale, and Houston will be the top five for the restart. Kvapil gives Sawalich a good challenge but it's not enough as Sawalich once again clears for the top spot. Behind, the # 13 of Austin MacDonald powers by Houston for the fifth spot with the # 29 of 2021 CPLMS champion Nick Loden following through for sixth. The field once again settles in, playing any game of tire conservation they can. As the field nears the calm before the storm, the competition caution flies as the field has completed 50 consecutive laps without a caution. For the upcoming restart, it'll be Sawalich, Fenhaus, Hale, and MacDonald.
Sawalich and Kvapil are dead even for the restart as is the next two rows of cars. Fenhaus and Hale hold on to third and fourth respectively while MacDonald loses the fifth spot to Loden. But up front, Sawalich and Kvapil are still side by side for the lead. Sawalich barely clears, but Kvapil gives him a bump coming out of two. Sawalich hangs on as Kvapil looks underneath to no avail. Sawalich finally has breathing room as he tries to gap Kvapil. Kvapil seems to have an issue in the right rear, which has slowed his progress tremendously. He still hangs on in second as Sawalich looks to be nearing a Throwback victory in the Orange Blossom Special made famous by Dennis Setzer. But the caution flies late! Nick Loden and Austin MacDonald get together out of turn two, sending Loden around. Slight rain has also started to fall around the historic track, bringing an extra factor into this next restart. The lineup will be Sawalich, Kvapil, Fenhaus, Hale, and MacDonald. Willard nervously looks over the field, gives the thumbs up, and we're back green! Sawalich and Kvapil are once again dead even, but Kvapil has a major issue going into one! Huge sparks fly out of his machine as he slips high, losing many positions in the process. This leaves Sawalich to deal with a hungry Luke Fenhaus. Sawalich is in qualifying mode, running the best laps he possibly can. But Fenhaus seems to have more tire left, and mounts one last charge. When it seems that Fenhaus is there, Sawalich turns the wick up once more. Fenhaus tries again, but it's to no avail as William Sawalich brings the Orange Blossom special back to victory lane for the Setzers! Finishing second is Fenhaus, followed by Hale with an amazing run in third, Loden, who somehow came back to fourth in the melee of people trying to avoid Kvapil, and the # 77 of Logan Jones comes out of nowhere to round out the top five.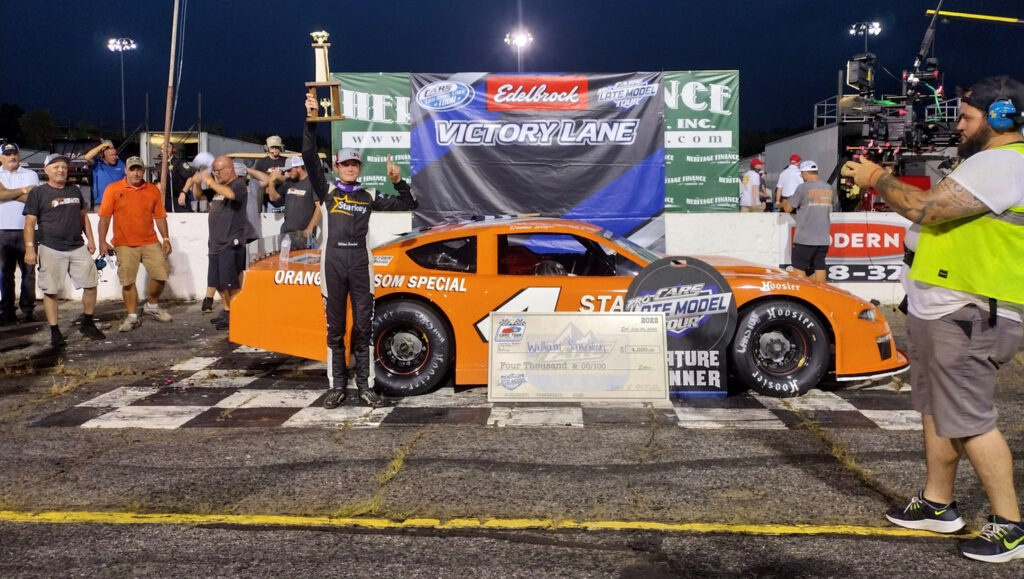 HICKORY MOTOR SPEEDWAY LATE MODEL STOCK FEATURE
Due to qualifying being rained out, tonight's field will be set by track points, putting the # 75 of Landon Huffman on pole. Following him will be the # 12 of Annabeth Barnes-Crum, the # 17 of Skyler Chaney, the # 9 of Charlie Watson, and the # 10 of Isabella Robusto will round out the top five. The Hickory flagman looks over the great field, likes what he sees, and we're green! Huffman and Barnes-Crum are dead even for the top spot, but there's already major trouble behind! Chaney and Watson make contact, triggering a major pileup coming out of turn 2. Multiple cars sustain damage, including Robusto, but she's fortunately able to make it back on track. Not so lucky are Watson, the # 34R of Pat Rachels, # 51 Chase Dixon, and the # 71 of Katie Hettinger, as their nights are done on lap one. Lining back up for the restart will be Huffman, Barnes-Crum, Chaney, # 27 Matthew Gould, and the # 3 of Mitch Walker. Barnes-Crum is able to quickly clear Huffman for first, but it seems to be too good of a start as the caution is waved immediately. On the second time around, it's Huffman who gets the advantage. But not for long as Barnes-Crum looks to the inside. Huffman is just too strong on the outside though as he tries to gap the field. Behind, Chaney and Walker have fallen all the way to sixth and seventh respectively, allowing Gould to capture third with the # 24 of Bryson Ruff following suit in fourth and # 77 Connor Hall in fifth. Ruff wastes no time as he then gets by Gould for third, bringing Hall along once again. Walker takes advantage of Gould's slip up, taking fifth away from the 27. Up ahead, Ruff and Hall are on a mission as they both now get around Barnes-Crum. Meanwhile, up front, Huffman has sailed to a sizable lead as the middle of the field keeps shuffling positions left and right. Walker is able to get by Barnes-Crum, as she continues to fall through the field. While that's happening, Hall jacks up Ruff for second, ultimately getting that position. Now the # 88 of Doug Barnes Jr is underneath Barnes-Crum for fifth, but Barnes-Crum won't give up easily as she and Barnes battle side by side for a handful of laps. Barnes Jr eventually wins that battle as Huffman continues to command the field.
Walker nudges Ruff out of the way for third as his machine seems to finally be coming to him. He then loses another spot as Barnes Jr is able to get underneath and by, dropping Ruff to fifth. Back up front, Huffman has caught a group of lap traffic, allowing Hall to reel him in each and every lap. Hall is eventually there but there's trouble in turn four as the # 93 of Jason Miles has looped his machine around. For the restart, it'll be Huffman, Hall, Walker, Barnes Jr, and Ruff. Huffman gets a fantastic jump as Barnes Jr somehow gets by Walker on the outside for third. Back up front, Hall is able to get underneath Huffman, but Huffman hangs tough on the outside. They make slight door contact, with Hall eventually clearing Huffman. Behind them, Walker and Barnes Jr battle once again, with Walker taking the bronze spot back. Hall starts to sail away as Huffman seems to have burnt his stuff up from the first stint. Walker is eventually able to catch Huffman, getting by for second position. None of that matters to Hall though as he takes the victory at Hickory, with Walker coming home second, Huffman third, Barnes Jr fourth, and Ruff fifth. Huffman is none too happy after the checkered however, as he pulls up beside Hall in victory lane. Both drivers proceed to have words about the slight door contact earlier in the race as the fans make their feelings known in the process. With how slight the contact was for the lead, I can't say I'm not perplexed as to why Huffman has such a big problem with it. This is short track racing in the toughest region in the country, and unless this is all show for some YouTube fans, frustration has led to some heated conversation here in victory lane.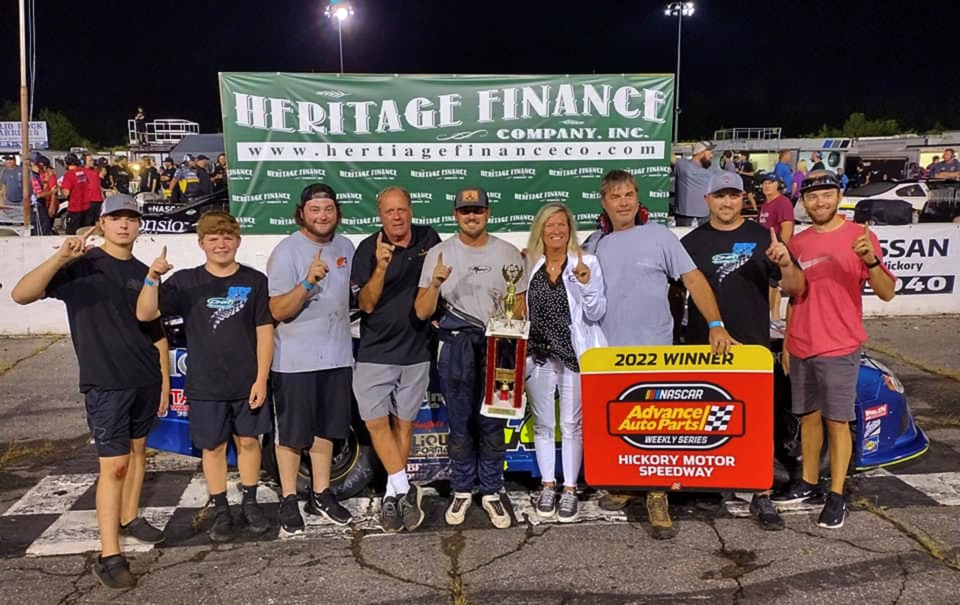 CARS TOUR LATE MODEL STOCK TOUR HONEYWELL HOME THROWBACK 276 PRESENTED BY BAKER DISTRIBUTING
The Dick Trickle inspired # 99 of Connor Hall qualifies fastest with a time of 14.978 seconds. Starting alongside will be the Richard Petty inspired # 43 of William Sawalich followed by the Travis Kvapil inspired # 06 of Carson Kvapil, the Dennis Setzer inspired # 18 of Conner Jones, and the Jeff Burton inspired # 8M of Zack Miracle. Brandon Willard looks over the huge field of throwback Late Model Stocks, likes what he sees, and we're green for one of the most prestigious races of the year! Hall gets the jump but Sawalich is hanging tough on the outside, staying there for two laps before Hall can finally clear. Behind them, Miracle is able to power by Jones as the Perk Brown inspired # 45 of Kaden Honeycutt follows through, moving Jones to sixth. Back up front, Hall decides to play the tire conservation game early, letting Sawalich by for the top spot. Both Miracle and Honeycutt slide by Kvapil as the first caution flies early for the Clint Bowyer inspired # 2S of Hayden Swank around in turn 1. For the ensuing restart, it'll be Sawalich, Hall, Miracle, Honeycutt, and Kvapil. Sawalich is able to clear Hall once again as the rest of the field resembles Daytona with every car two by two, or even three by three back in the pack. Miracle gets by Hall with both Honeycutt and Kvapil following through, dropping Hall to fifth as he continues to save tires. Jones eventually gets by Hall as well, knocking Hall out of the top five. But in the back, there's major trouble behind as the # 4 of Luke Fenhaus, the Dean Ward inspired # 77 of Dylan Ward, the Tim Richmond inspired # 25 of Jonathan Shafer, and the # 8B of Chase Burrow have piled up out of turn 4. Burrow and Ward escape with minor damage, but Fenhaus and Shafer are both done for the night. After a lengthy cleanup, the ensuing restart sees Sawalich, Miracle, Honeycutt, Kvapil, and Jones as the top five.
Both Sawalich and Miracle are dead even, with Sawalich eventually getting the advantage as Miracle slides in line. Behind, Hall gets back by Jones for fifth as Honeycutt and Kvapil fight tooth and nail for the third position. Honeycutt finally edges out as Sawalich starts to carve out a large lead up front. Honeycutt keeps his momentum going as he powers by Miracle for second, setting his eyes on the Petty Blue and Red machine of Sawalich. The battle for fifth continues to rage as Jones gets back by Hall, then getting by Kvapil, dropping the JR Motorsports driver to fifth. He's eventually able to drive by Miracle as well, moving up to third. As Sawalich starts to travel to another zip code, the caution comes out once again, this time for Mother Nature. After a short burst of precipitation, the Hickory Motor Speedway track crew gets the track dry and we're going green in no time. The lineup will be Sawalich, Honeycutt, Jones, Miracle, and Kvapil as the top five. Sawalich and Honeycutt are dead even, but Sawalich has the horsepower and clears once again for the point. Miracle gets by Jones for third, as the rest of the field scrambles behind. They eventually get it all sorted out as Sawalich attempts to run away once more. After a calm portion is ran, the action starts to heat up again as Kvapil is able to power by Jones for fourth, bringing Hall along with him. Hall seems to have hit the go button as now the Carl Edwards inspired # 99M of Deac McCaskill enters the fray, stealing fifth from Jones. Hall then gets by Kvapil, bringing McCaskill along with him. McCaskill gets trapped behind Kvapil though as Hall now gets by Miracle, putting him in third. Before you know it, Hall is all over Honeycutt. Honeycutt puts up a good fight, but it's Hall who now sits in second. There's only one obstacle between Hall and the Throwback 276, and that's young phenom William Sawalich.
As William Sawalich continues to lead, this long green flag run has brought lap traffic into play. Hall uses this to his advantage, trying anyway he can to get by the slower cars better than Sawalich. With under 10 to go, Hall is finally there, stalking Sawalich's every move. Hall is underneath and gets by, but it's not going to be that easy as Sawalich gets into the back of him, crossing over and nearly hitting the end of the pit wall. The fans are on their feet as they know they're about to witness something special. Sawalich is now back by, but Hall pulls the exact same crossover in turn 4 that William did, almost sending Sawalich around. He somehow hangs on as now Hall gains the lead. But Sawalich hangs on like a kidney stone, bumping Hall again. Hall hangs on this time around, so Sawalich gives him yet another big nudge. This one works, allowing Sawalich to get back out front. But Hall pushes him down the backstraight into turn three! They both nearly wreck as they start to doorbang each other with now 3 to go. Hall gets by once more, with Sawalich still filling his mirror up. Sawalich seems to have finally burnt his tires up and he can't quite make it to Hall's bumper anymore, allowing Connor Hall to capture one of the biggest wins of his career in the Throwback 276. Sawalich gets a WELL deserved second, Honeycutt comes home third, Kvapil gets fourth, and McCaskill gets a sneaky fifth. After the race, both Hall and Sawalich shook hands and laughed about the finish, knowing that they just gave the fans a show they'll never forget.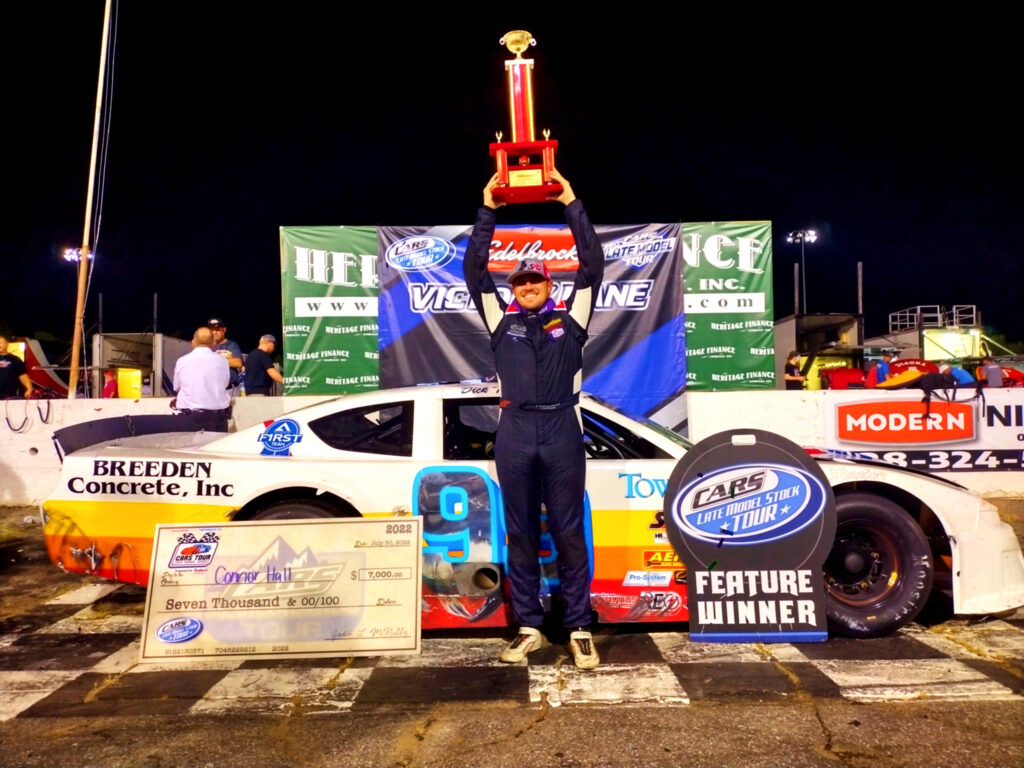 MY TAKE
Our time at Hickory the last couple of weeks has been sort of vindicating. You see, we've been waiting for just a moment like this to take a moment and focus on the true essence of Hickory Motor Speedway today. And these last two shows are perfect examples of what this Speedway is still truly all about. The Birthplace Of The NASCAR Stars. Is it still? Well, the proof is in the competition that has, and currently does, run here. This track still holds up to it's moniker. She's old, but it works. The surface is challenging. Bumpy. Aged, but with character. And she is still truly a proving ground, where it's absolutely true that if you can win here, you can win anywhere. All of this is undeniable still today after all these years.
Connor Hall and William Sawalich's battle for the win was nothing short of epic. They took each other to the edge…to the very limit. But what they didn't do is put each other in the fence. They raced. They raced each other has hard as two truly gifted short track racers could race each other without wrecking. And when it was over, they shook hands. Respect! But that's what this track does. It challenges you. And if you have the talent, and something under you that can meet that challenge, you can then double the challenge to your competition and apply the pressure it takes to take the win. This track allows it. It demands it. And so, wins are important. In fact, just running well here can get you noticed. Just ask Layne Riggs, who's great night here a few weeks back got him a look for a Camping World Truck Series ride for a couple of races, placing 7th in the first at IRP. So, you can imagine how big it is to add your name to the beyond prestigious, amazing list of previous winners. And it showed in the absolutely amazing performance Hall and Sawalich produced.
The next night, Connor Hall did it again, sweeping the Late Models in the CARS Tour feature and the Hickory Late Model feature in consecutive nights. This time when he got to leader Landon Huffman however, he made quick work of him and walked away, as Huffman dropped another spot and finished third behind Mitch Walker who had a great second place finish in the 75 lap feature. So imagine everyone's surprise when Huffman then pulled up beside of Connor Hall's car sitting in victory lane as the team and family went to meet their winning driver. At first it was thought that Landon Huffman had just stopped to congratulate the winner but, that wasn't at all the case, as he then proceeded shouting and charging at Hall, saying he couldn't win without hitting him, if he was so fast he should have just driven around him in the lane he'd given him, and that he thought Hall ran Sawalich dirty too, and a lot of other stuff I can't remember. It got heated. Huffman was not a happy camper by a long shot. But here's the thing.
We watched it in person as Connor Hall worked his way through the field of Hickory Motor Speedway Late Models. He was putting on another clinic of how you save tires and walk them down at the end. It's an old tradition that takes a lot of feel for the race, and a lot of talent to pull it off. And here Connor Hall was doing it two nights in a row. Then afterward the next morning, we watched the replay, and it was just as we remembered it. Connor Hall had very minimal contact, especially considering the region they were racing in, and so minimal in fact, we would call it unremarkable. And we challenge anyone else to watch it and tell us you see it otherwise. Now, we can understand the frustration of the loss…we get it, as we just spoke to above, winning here is huge, we understand. So it was confusing. Landon Huffman is the Hickory Late Model regular season Champion. After all we've written here, there is no denying the accomplishment. So it comes to reason that Huffman is at the least a good driver. On top of that, he is also a social media personality. He makes a difference in the sport. So we hated to see what we thought was a huge, and a bit reckless considering the circumstances, overreaction to what was also another great race.
What shouldn't get lost in it is that Connor Hall had an historic weekend at what could indeed be the most famous short track in the world. It is arguably the most storied and it can't be denied, and Hall's performances have to be put up close to the top of the list. So great in fact that we can't deny him and his team the Short Track Report Blue Collar Racer Of The Week. But, you might be surprised if we tell you that it didn't come without a big debate. William Sawalich too had a banner weekend for him and his team. He qualified on the front row for both events he entered, taking the pole in the CARS Tour Pro Late Model race, and followed that up with the impressive win, only to qualify second in the CARS Tour Late Model Stock feature, led a ton of laps, had one of the greatest battles we have ever seen with Connor Hall, and came away second, in another impressive performance. But in the end, Connor Hall's back to back wins, in truly epic fashion, takes the honor this week.
And finally, we want to take a moment to thank all of you for your great support, helping us to grow on social media, and now reaching over 3,000 likes and close to 4,000 followers in just 15 months. We can't thank you enough. Short track racing is alive and well, and so, until next time, as always, See You At The Track!
(Race writeup by Joshua Weatherman. Intro and My Take written by Billy Weatherman. 2022 Copyright SHORT TRACK REPORT)
Tags
Annabeth Barnes-Crum
,
Austin MacDonald
,
Billy Smith
,
Brandon Willard
,
Bryson Ruff
,
Caden Kvapil
,
Caleb Costner
,
Carl Edwards
,
Carolina Pro Late Model Series
,
CARS Tour
,
Carson Kvapil
,
Charlie Watson
,
Chase Burrow
,
Chase Dixon
,
Christopher Martin Jr.
,
Clark Houston
,
Clint Bowyer
,
Conner Jones
,
Connor Hall
,
CPLMS
,
Deac McCaskill
,
Dean Ward
,
Dennis Setzer
,
Dick Trickle
,
Doug Barnes Jr.
,
Dylan Ward
,
Garrett Freeman
,
Gary Ledbetter
,
Gavan Boschele
,
Graham Hollar
,
Greg Wise
,
Hayden Swank
,
Hickory Motor Speedway
,
Isabella Robusto
,
Jasec Holladay
,
Jason Miles
,
Jeff Burton
,
Jon Austin
,
Jonathan Kievman
,
Jonathan Shafer
,
Jonny Kay
,
Jordan McGregor
,
Joseph Hodges
,
Josh Lowder
,
Kaden Honeycutt
,
Katie Hettinger
,
Kevin Dill
,
Kody King
,
Kyle Campbell
,
Landon Huffman
,
Late Model Stocks
,
Limited Late Models
,
Logan Jones
,
Luke Fenhaus
,
Mason Maggio
,
Matt Gould
,
Matthew Gould
,
Max Price
,
Michael Bumgarner
,
Mike Toner Jr.
,
Mitch Walker
,
Nick Loden
,
Nicolas Caldwell
,
Pat Rachels
,
Perk Brown
,
Pro Late Models
,
Reilly Doyle
,
Richard Petty
,
Sean Abell
,
Skyler Chaney
,
Street Stocks
,
T.J. DeCaire
,
Throwback 276
,
Tim Richmond
,
Toby Grynewicz
,
Tovia Grynewicz
,
Travis Kvapil
,
William Hale
,
William Sawalich
,
Zack Miracle
,
Zack Wells