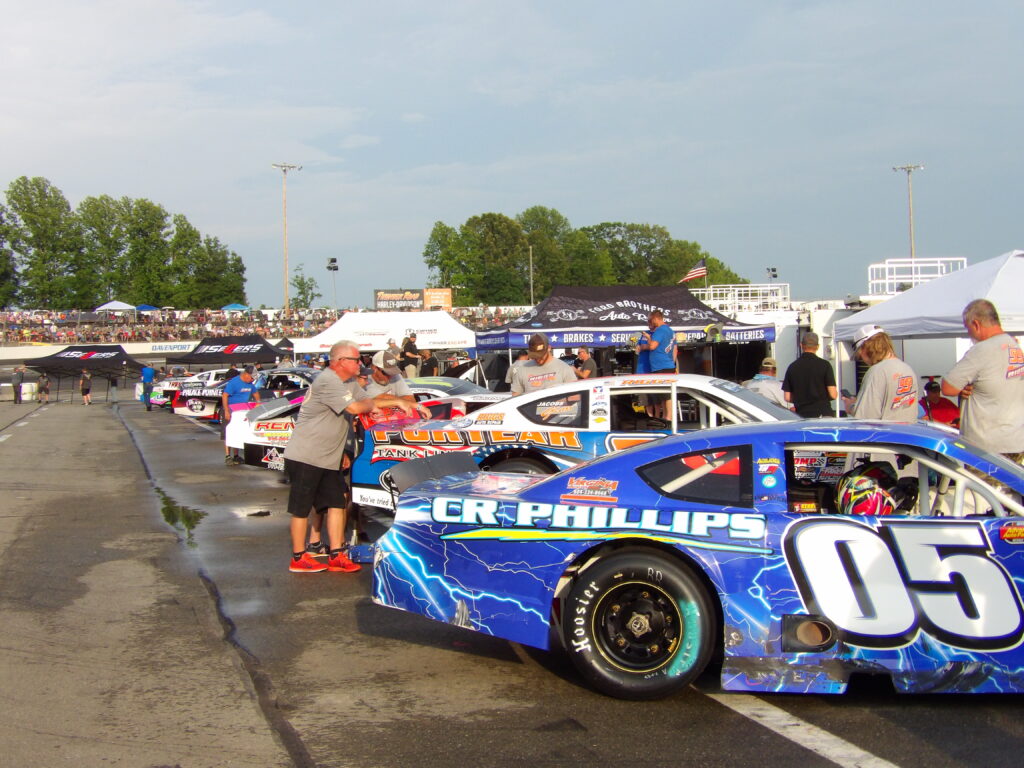 In 2012, the president of Martinsville Speedway, Clay Campbell, the owner of Larry King Law's Langley Speedway Bill Mullis, and the general manager of South Boston Speedway Cathy Rice had a meeting that changed the world of Late Model Stock racing in Virginia forever. The decision that changed it was the formation of the Virginia Triple Crown. A three race series that crowned a Virginia Late Model Stock Champion that has drawn some of the very best Late Model Stock racers in the region and beyond in a competition that was meant to highlight Late Model Stock racing in the state of Virginia. Fitting really as even we have been truly impressed with the short track racing scene in the Commonwealth State. Hailing from North Carolina, where the very heart of stock car racing resides, we end up spending a great deal of our time in Virginia for a reason. It's a state with impressive race tracks, promoters, and racing talent. But what we have been impressed with the most is the love of the sport they possess. There's a reason why some of the best short track racing in the nation happens here. And where tracks compete for fans all over the country, the Virginia tracks seem to have a way of working around and with each other because they are keenly aware that a healthy short track racing scene benefits the group of tracks as a whole. And it's a tendency that should be paid attention too by the rest of the short track racing nation.
The goal of the Triple Crown was to make Late Model Stock racing in the state of Virginia bigger, and in that goal it has been a rousing success. But if the opening event in South Boston this past Saturday night was any indication, they're not done, not even by a long shot. South Boston has proven time and time again that it knows how to put on big races, and so it's only fitting that the Virginia Triple Crown starts the first race there at the start of the Independence Day weekend, and it sets the tone for the other two races that consist of the second leg in the Hampton Heat at Larry King Law's Langley Speedway, and closing in the ValleyStar Credit Union 300 at Martinsville, arguably the crowning Late Model Stock event in all the nation. Only 5 drivers have won the Triple Crown. Peyton Sellers has the most with 4, Lee Pulliam managed 2, and Bobby McCarty earned 1 along with Timothy Peters and C.E. Falk, who won the opening salvo in 2012. This year's event will start with one of the most competitive field of drivers to date and it's going to be interesting to say the least to see the lengths these teams and drivers will go to in their quest for the 2023 title. And it all starts here in South Boston, Virginia in front of a sold out crowd. It's time to celebrate the freedoms this great country of ours provides, and what better way to start the celebration than the opening round of the Virginia Triple Crown? There's nothing more left to do or say as the amazing patriotic pre race show concludes. Ladies and gentlemen and children of all ages…It's SHOWTIME!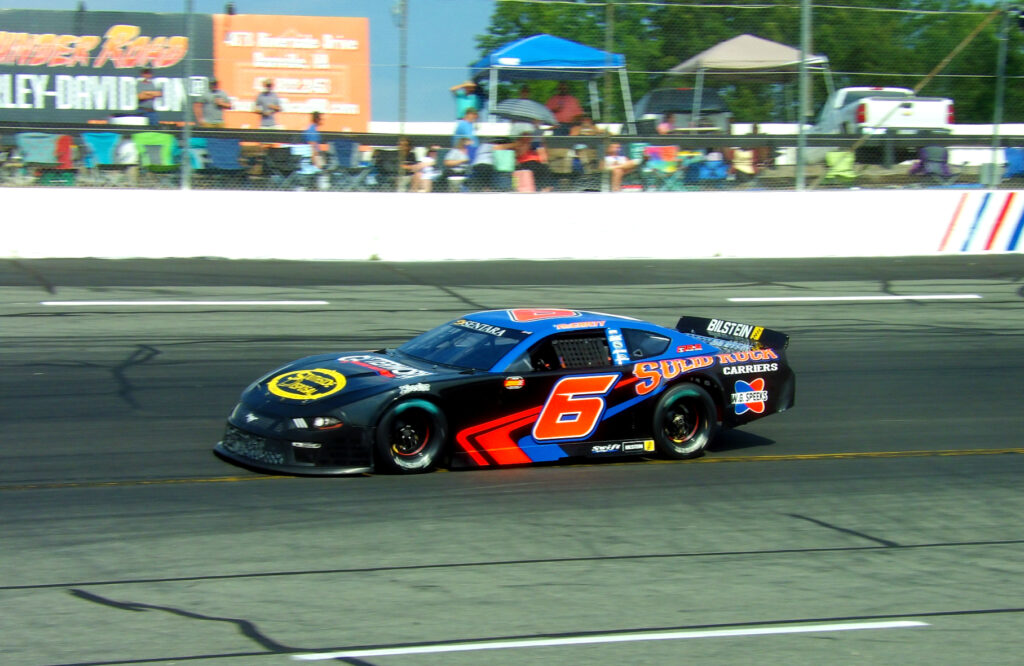 VIRGINIA STATE POLICE HEAT HORNET FEATURE
Defending champion Jason DeCarlo in the # 54 starts up front for the Hornet feature as he'll be followed by the # 19 of Billy Goble and the # 07 of Jordaine Penick. South Boston flagman Brandon Willard looks over the competitive Hornet field, likes what he sees, and we're green! DeCarlo gets a great jump but it's a little too good as the start is called off. The second go around is not any better as Goble doesn't get going, stacking up the field behind. Most of the field is able to navigate the slow machine successfully except for Landon Milam in the # 50 who's exceptionally slowed up and then is hit hard from behind by Jarrett Milam in the # 1 on the backstretch. This brings out the caution yet again, but it's a quick one as after the choose, DeCarlo remains out front now followed by the # 3 of Steven Layne and Penick. There's a brief battle between DeCarlo and Layne with DeCarlo maintaining the point. Behind, Penick is now passed by the # 20 of D.J. Moser for third. It doesn't last long though as now Kendall Milam in the # 28 peeks his nose in on Moser and gets around with little trouble as DeCarlo continues to pull away. Layne tries to mount one last charge, but it's not enough as DeCarlo gets the big win. Layne comes home in second while Kendall Milam rounds out the podium.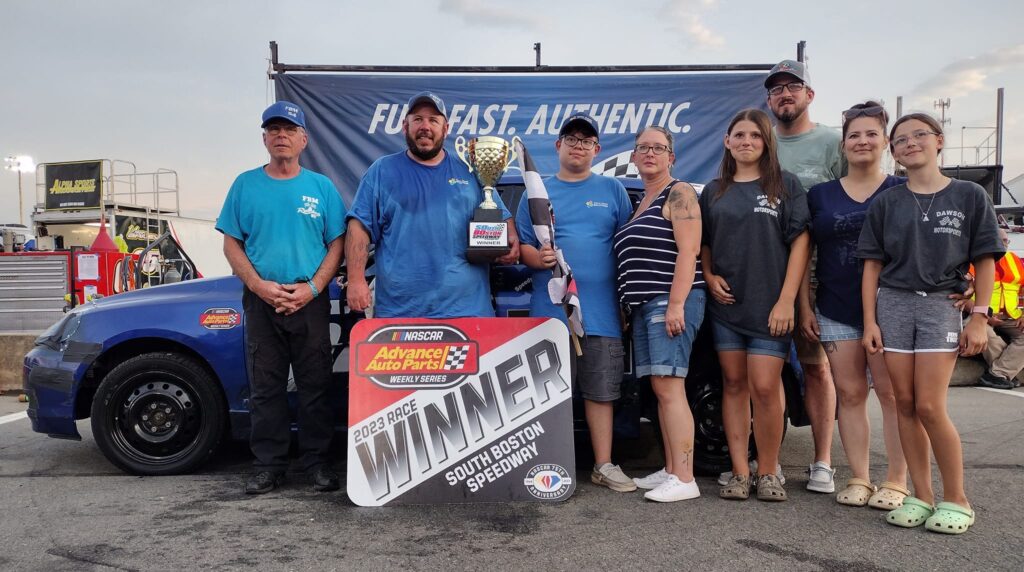 SOUTHSIDE DISPOSAL PURE STOCK FEATURE
The # 00 of longtime Pure Stock competitor Bruce Mayo will line up first alongside multi time season winner Johnny Layne in the # 9. The # 77 of Zach Reaves will round out the top three as Willard looks over the pack, approves the formation, and we're green! Mayo and Layne are dead even as the entire first half of the field is side by side. Neither one gives an inch, giving Zach Reaves an opportunity to go three wide. He decides against it as Layne finally clears after an awesome battle. But he seems to have a problem! Layne starts to fall through the pack, eventually taking his machine to the pits. This also allows the # 66 of Scott Phillips to get by Reaves, moving the # 77 machine to third. He then uses that momentum to his advantage, stalking Mayo's every move. But Mayo seems to get faster every lap, slowly pulling away. Coming to the white, Mayo has a comfortable gap between he and defending champ Phillips, but behind, the # 76 of Andrew Turner gets into the # 11 of B.J. Reaves, spinning him around in turn two. This brings out the caution and ultimately the checkered as the white flag was already shown. Fan favorite Mayo takes his machine to victory lane with Phillips following behind in second and Zach Reaves in third.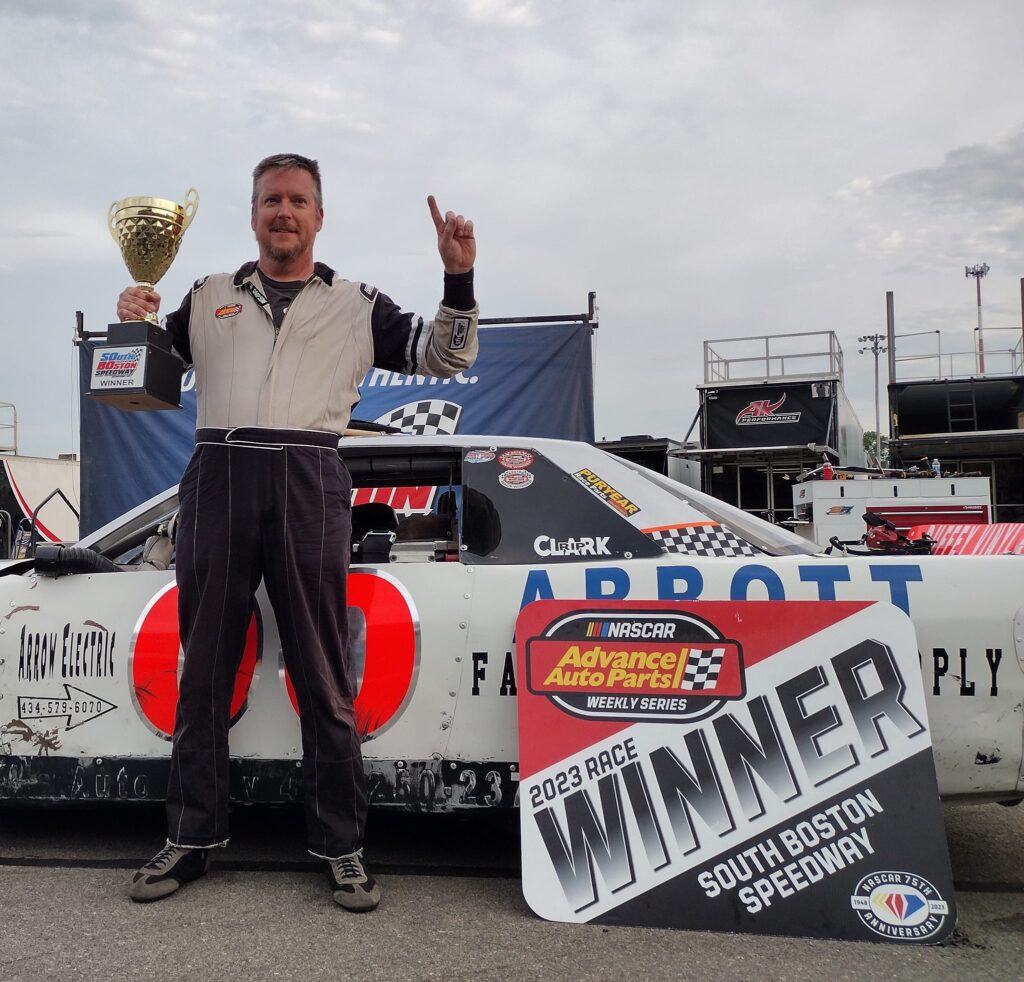 BUDWEISER LIMITED SPORTSMAN FEATURE
Taking the track now will be the Budweiser Limited Sportsman division. Returning to South Boston in style is the # 22 of Eric Winslow as he'll start up front for this forty lap feature. Starting second will be the # 17 of Jason Myers followed by the # 19 of Bob Davis. Willard looks over the fast field, gives the thumbs up, and we're racing in the Limited Sportsman class! Winslow launches off like a rocket with Davis immediately challenging Myers for second as Myers barely hangs on. But there's already issues as Zach Peregoy in the # 12 gets spun by the # 01 of Jared Dawson, also collecting the # 7C of Cory Pack. Peregoy and Jared Dawson are able to drive away but the same is not said for Pack as his night is done early. It'll once again be Winslow, Myers, and Davis the top three as Winslow once again gets a flawless start. Justin Dawson in the # 88 duels with Davis for third, almost clearing numerous times. After around five laps, Justin Dawson finally assumes third as Davis slots in line. Caution is out though as the # 22G of Dusty Garus has contact behind from Peregoy, sending Garus around in turn three. A quick caution ensues with Winslow lining up first followed by Myers and Justin Dawson. Winslow does what he's done all race and gets away early at the line while Davis is hot on Justin Dawson's bumper for third. Davis sends it underneath and he won't be denied this time as he retakes third. Back up in the lead, Winslow continues to put down fast laps, building the gap even more. It's a clear path to victory for Winslow as he takes the dominant victory, leading flag to flag. Myers brings the # 17 car across the line second while Davis gets a great third place finish.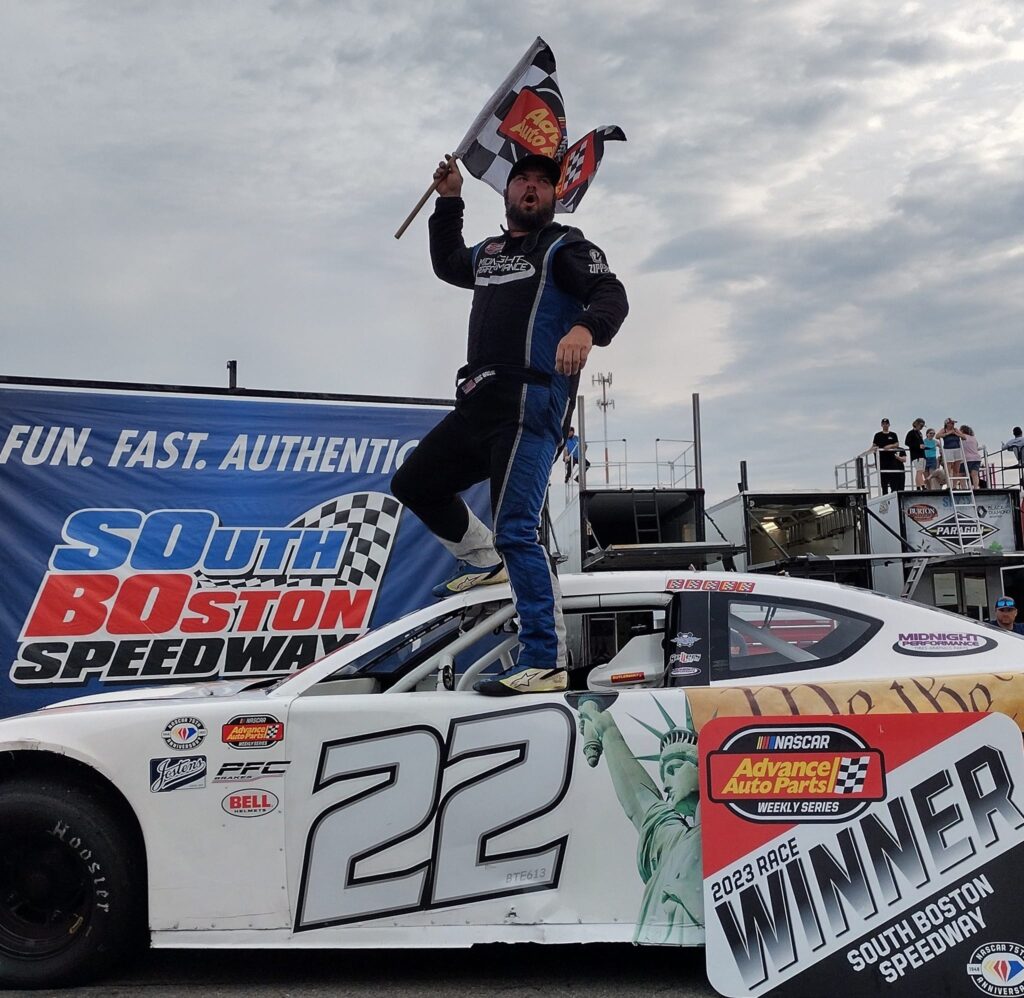 SENTARA HEALTHCARE LATE MODEL STOCK THUNDER ROAD HARLEY-DAVIDSON 200
Brenden "Butterbean" Queen in the Lee Pulliam Performance # 03 grabs the pole with a time of 15.170 seconds. Starting alongside will be Nelson Motorsports driver Landon Huffman in the # 12. Rounding out the top five will be the # 26 of Peyton Sellers, # 0 Landon Pembelton, and the # 2P of Brandon Pierce. Brandon Willard looks over the massive field of Late Model Stocks, loves what he sees, and we're green in the first leg of the Virginia Triple Crown! Queen jumps out in front as Pembelton gets by Sellers for third. The # 25 of Jacob Borst takes fifth for a split second but the # 4 of Kyle Dudley rockets around him. Behind, as you would expect in a thirty plus car Late Model Stock field, the field is absolutely on top of each other, as saving doesn't seem to be the name of the game for most people. Back up front, Dudley continues his trek to the front as he gets by Sellers for fourth. Michael Rogers in the # 09 is quickly caught by the field, as now a group of two wide drivers encounter him, causing major trouble! Rogers goes around and collects the # 87 of Mike Looney, # 77W Trevor Ward, and the # 95 of Sam Yarbrough who slams into Rogers extremely hard in turn three. Rogers and Yarbrough are out early as Looney and Ward look to recover. Under the red flag, Sellers comes into pit road with a problem, but is luckily able to get back out at the tail end of the field. After a red flag and the first choose of the night, Queen is your leader followed by Huffman, Pembelton, Dudley, and the # 6 of Bobby McCarty. Queen gets a huge restart as the # 8 of Carson Kvapil moves up into fifth by McCarty. Ahead of him, Huffman and Pembelton have an amazing battle for third, with Pembelton getting the advantage. The first competition caution flies on lap fifty as Queen wins stage one. After the choose, lining up for the start of stage two will be Queen, Huffman, Pembelton, Kvapil, and Dudley. Willard looks them over, likes what he sees, and we're back racing!
Queen launches off first as Pembelton now moves up to second by Huffman. Also by Huffman is a very fast Kvapil, as he now works on Pembelton. As they battle, McCarty moves back into the top five by Dudley. The battle rages on between Pembelton and Kvapil with Kvapil finally clearing heading into turn three. But behind, Ronald Hill in the # 74 bounces off of the outside frontstretch wall into the # 2T of Austin Thaxton. Thaxton then collides with Looney, is sent into the inside wall hard and bounces back into Sellers who sends Thaxton into the outside turn one wall with an horrific impact. The crowd falls into silence, but then erupts into a roar as Thaxton exits his car thankfully unscathed. His car however is completely destroyed, along with the # 26 of Sellers. Sellers attempts to fix his battered machine up, but Thaxton is done for the night as the red comes out.
After the lengthy cleanup, the top five is ready to go with Queen still leading followed by Kvapil, Pembelton, Huffman, and now Dudley who moves up a spot after the choose. Kvapil gives Queen a slight challenge this time, but Queen barely hangs on. The stint is short though as Lanie Buice in the # 21 spins on the front and impacts the inside wall. Queen will still line up first followed by Kvapil, Pembelton, Dudley, and Huffman. It's another great restart for Butterbean with Pembelton challenging Kvapil for second. Kvapil hangs on though as more trouble breaks out in the middle of the pack as Hill, Eddie Johnson in the # 57, and the # 15 of Logan Clark all spin in three. Without issue, they all skate away as this sets up a shootout to the end of stage two. Queen gives Kvapil a run for his money, but Kvapil is the one who clears at the very end and takes stage two. The drivers now head to pit road for an extended break. As they all stop, Stacy Puryear in the # 17S and Borst exchange words on pit road, almost coming to blows at points. Everyone is broken up though as after the break, it's now Kvapil who lines up first followed by CARS Tour points rival Queen, Pembelton, Dudley, and Huffman. 100 laps to settle it for a crown jewel victory. Willard nervously looks them over, likes the formation, and waves the green flag.
Carson gets out in clean air but behind, Dudley goes three wide into turn three, causing a pileup that takes out the likes of # 14 Jared Fryar, Looney, # 9 Trey Crews, Ronald Hill, and many others including himself. South Boston's cleanup crew goes to work, and surprisingly rids the debris and fluid in no time at all. Once again, Kvapil's first followed by Pembelton, Queen, Huffman, and a new contender in the # 99 of Layne Riggs. Queen gets a run and clears Pembelton this time around as Kvapil takes off. Huffman follows through as well, leaving Pembelton to deal with Riggs, two drivers that have plenty of history together. Riggs lays the bumper to the # 0 time after time, but Pembelton holds strong. Riggs then gets underneath Pembelton out of two, and Pembelton bounces off of the wall exiting the corner, losing control and coming back down into Riggs and causing Riggs to spin into the inside wall hard. Riggs is none too happy as he gestures to Pembelton after he gets out of the car. Loads of fluid is put down, causing yet another red flag.
After all is said and done and the choose is completed, Huffman now lines up second beside of Kvapil, followed by Queen, McCarty, and a slightly wounded Pembelton. Kvapil and Huffman have a short battle as Huffman sticks to his inside, but Kvapil clears with Pembelton now fighting around McCarty. Caution is out again though with a huge piece of debris finding itself on the track. Once again the choose is implemented, leaving the top five as Kvapil, Huffman, Queen, McCarty, and Pembelton. Kvapil again is too much for Huffman to handle on the outside, leaving the Nelson machine to battle Queen. Queen clears as behind, somehow and someway, Ward has brought himself back to the front after an early crash, looking on Pembelton. He can't get it done yet though as the final stage caution is thrown, leaving fifty laps to settle it. The choose is Huffman's best friend as he lines back up beside of Kvapil, followed by Queen, McCarty, and Pembelton.
Huffman puts up a fantastic fight, but Kvapil still prevails. As Kvapil tries to get away once more, a classic South Boston battle begins between two fantastic drivers in Huffman and Queen. They're side by side, leaving room for each driver, lap after lap after lap. Neither one has a clear edge as Huffman edges ahead one lap, Queen the other. While they battle, Ward has gotten by Pembelton, trying to grab any spot he can. And now the caution is out! Ronnie Bassett Jr in the # 04 has spun off of turn four, giving Huffman one last opportunity at the biggest win of his career. Like he has all race, he'll line up on the inside followed by Queen, McCarty, and Pembelton after the choose. Willard looks them over, likes the lineup, and we're green! Huffman gets a great restart next to Kvapil and sticks to his inside. Going into turn three, Huffman completely sends it, nearly spinning out in front of the entire field! He barely hangs on, but that allows Kvapil to pull away while McCarty gets by both Huffman and Queen. Huffman stays in front of Queen while Ward rides in fifth again. McCarty has a very fast car, but as the laps tick off, Kvapil gets smaller and smaller in McCarty's windshield. Kvapil runs near perfect laps, taking the white flag and crossing the line first at South Boston. However, two days after the checkered flag fell, both Kvapil and Huffman are found to be illegal, giving Bobby McCarty and R&S Race Cars the Triple Crown victory. Queen now finishes second, Ward gets an astonishing third, Pembelton gets a hard fought fourth, and Borst rounds out the top five.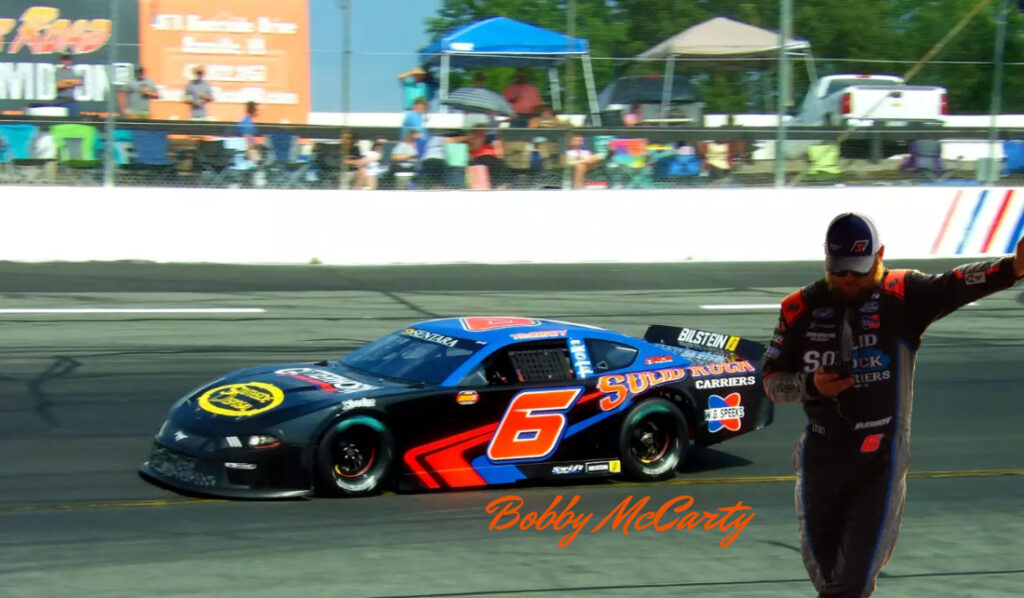 MY TAKE
For the second time this week the car that crossed the line first was disqualified from the win in the main event. Yes, it can be frustrating for the fans. But truth is, skirting around the rulebook has been a part of the sport from the very beginning of the sport. Smokey Yunick is a name that comes to mind when you talk about, let's say, being a master of innovation. And as the years have gone by, short track engineers and mechanics have ultimately been great contributors of the addition to stock car racing rulebooks. Today, those rulebooks are much thicker than they used to be. The goal is to keep the playing field as fair as possible. But they have not kept the "innovation" from being applied. Truth is today there are many reasons why teams can easily end up on the wrong side of the final inspection results however. And sometimes it can be because the teams race under differing rulebooks depending on where they race. In this case it's to note that the CARS Tour rulebook and the NASCAR Late Model Stock rulebook differ just a bit. Now we're not going to make any excuses however, as it's up to the teams to remember and adhere to the rulebook they're racing under. And it's to note also that every team that we've seen get caught on the downside of the post race inspection process will always declare that they had no intention of skirting anything in the rulebook that inspection was enforcing. In the end however, sanctioning bodies have to do what will keep the competition on a level playing field if they want integrity in their competitions, and their decisions in that effort are final, albeit they do in most cases leave you with an appeal process. Again though, for teams and their fans, it can be frustrating when your team is found on the other side of the book, but at the same time, you have to understand the reasoning behind the sanctioning body enforcing every rule that's put in that book, and every rule is in that book for a reason. Integrity must be a part of any serious and legitimate competition.
It is also to note however that in many cases when a car is found illegal and is disqualified, the driver of said car is totally unaware of the infraction. And to us, it's unfortunate that a great performance by those drivers can be tarnished by it. A racers job is not as easy as a lot of people seem to want to imply, and it's them who take the bulk of the risk when it comes to racing, and we feel that those who call themselves fans of the sport shouldn't have to be reminded. But in a day of the keyboard warrior, it starts to become clear that those who claim to be true racing fans are really just folks that think their opinion is always the right one and are just looking for a forum to express that opinion. And if you're not careful they'll distract you away from the true reality of any situation.
But I mention all of this because the truth of this situation is that this week's races were amazing to say the least. The racing was outstanding! And the crowds that came out to see it all go down were amazing. Again we thank you as we know the sport deserves it, and the truth of that is in the shows themselves, from the time the fans walked through the gates until the final results were posted. Short track racing is in a great place right now and don't let anyone tell you otherwise. Yes, it can be better for the local short tracks on their regular schedule shows, we agree, but to say that short track racing is not experiencing an amazing resurgence is ignoring the true reality. Nothing that is considered greatness is going to happen overnight. And if you want bigger crowds at your local shows like we've seen this week in these two big events, it's up to you to help make that happen, it always has been, and your work starts with the countering of those who are always trying to bash the sport you love. For us, it's the greatest sport in the world, and no one can tell us otherwise. It's time for people to start seeing beneath the surface again in everything in life and recognize the truth of it all.
The truth this week is that we saw two amazing shows. Late Model Stock drivers and teams are as competitive as ever and it's showing. If you're watching on TV you're missing the great action that takes place in the middle of the field, that's just the truth of it. These teams are so even that sometimes the show is watching those drivers in the middle of the pack battle to see which ones emerge and break away to challenge the leaders for the win. We have seen some amazing battles this year that those watching at home have no idea about. If you're just watching the battles up front, you're missing the heart of the racing we witness each and every week. And you may be forgetting how hard it is to make your way to the front in short track racing today. We can't blame the race coverage companies for not showing all the battles in any given race today as they would need 4 to 5 split screens to show it all. But you should know that in any given short track racing event, the hardest work being done is by the drivers trying to work their way through the field of every growing amazing competition. It doesn't make our choice for the Short Track Report Blue Collar Racer easy, and it's one of the reasons we take those choices so seriously, and this week it's made even harder by the rare occasion that we had to make our choice from two outstanding short track racing events. It would take another full article to tell you about the driver performances that we had to sift through this week to come to our conclusion, such as Carter Langley at South Boston who started 28th after sorting through performance issues that left him with a qualifying effort that put them near the rear of the field to start, but battled his way to an impressive top ten after finishing eighth overall. But after days of deliberation, we narrowed it down to two drivers, one from each event, that we feel worked the hardest throughout their races for great outcomes in the end.
On Wednesday night in the CARS Tour 265 at Caraway Speedway, Mason Diaz started the event 20th, but after battling through the field of some of the best Late Model Stock racers in the region, in the end Diaz came away with a remarkable second place finish in a performance that we couldn't deny for our Racer Of The Race nomination to be considered for the Blue Collar Racer Of The Week. And on Saturday night in the opening salvo of the Virginia Triple Crown at South Boston, in a race where the competition did everything in their power in an attempt to make it to the front to compete for the win, Trevor Ward got caught in a wreck early in the event, having to go to the rear after repairs from that incident, fought and clawed his way back to the front against the odds to come away ultimately with a third place finish in such an impressive performance, we couldn't deny him and his team for this week's Short Track Report Blue Collar Racer Of The Week. Congratulations team! No one can say you didn't deserve this one! At the halfway point of the short track racing season, it's been nothing but "Showtime" so far! And we can't wait to see what the rest of the season has in store. Support your local speedway, and as always, See You At The Track!
(Race write up by Joshua Weatherman. Intro and My Take written by Billy Weatherman. 2023 Copyright SHORT TRACK REPORT)
Tags
Andrew Turner
,
Austin Thaxton
,
B.J. Reaves
,
Bill Mullis
,
Billy Goble
,
Blue Collar Racer Of The Week
,
Bob Davis
,
Bobby McCarty
,
Brandon Pierce
,
Brandon Willard
,
Brenden Queen
,
Bruce Mayo
,
Budweiser Limited Sportsman
,
C.E. Falk
,
Carson Kvapil
,
Carter Langley
,
Cathy Rice
,
Clay Campbell
,
Cory Pack
,
D.J. Moser
,
Dusty Garus
,
Eddie Johnson
,
Eric Winslow
,
Hampton Heat
,
Hornets
,
Jacob Borst
,
Jared Dawson
,
Jared Fryar
,
Jarrett Milam
,
Jason DeCarlo
,
Jason Myers
,
Johnny Layne
,
Jordaine Penick
,
Justin Dawson
,
Kendall Milam
,
Kyle Dudley
,
Landon Huffman
,
Landon Milam
,
Landon Pembelton
,
Langley Speedway
,
Lanie Buice
,
Larry King Law's Langley Speedway
,
Late Model Stocks
,
Layne Riggs
,
Lee Pulliam
,
Lee Pulliam Performance
,
Limited Sportsman
,
Logan Clark
,
Martinsville Speedway
,
Mason Diaz
,
Michael Rogers
,
Mike Looney
,
Nelson Motorsports
,
Peyton Sellers
,
Pure Stocks
,
R&S Race Cars
,
Ronald Hill
,
Ronnie Bassett Jr.
,
Sam Yarbrough
,
Scott Phillips
,
Sentara Healthcare Late Model Stocks
,
South Boston
,
South Boston Speedway
,
Southside Disposal Pure Stocks
,
Stacy Puryear
,
Steven Layne
,
Thunder Road Harley-Davidson 200
,
Timothy Peters
,
Trevor Ward
,
Trey Crews
,
ValleyStar Credit Union 300
,
Virginia State Police HEAT Hornets
,
Virginia Triple Crown
,
Zach Peregoy
,
Zach Reaves