THE QUEST TO WIN THE SHAWN BALLUZZO MEMORIAL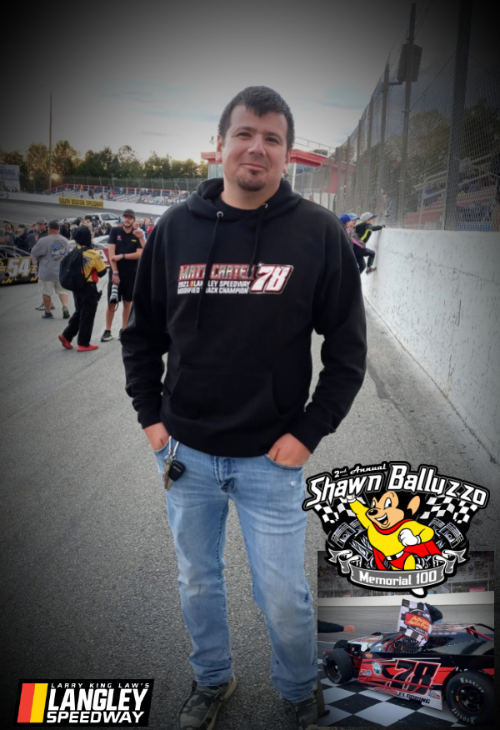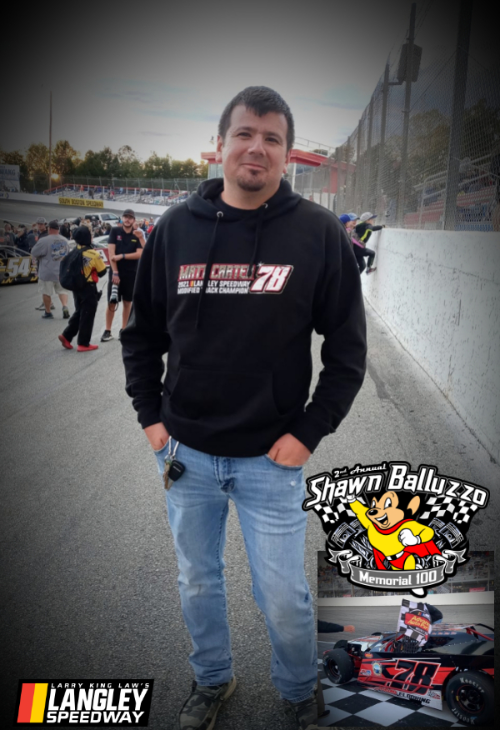 Life is not measured by the number of breaths we take, but by the moments that take our breath away

Vicki Corona
In a quest to live life to the fullest, there comes an inevitability that one will have to take it to the edge of capability itself, putting it all on the line. And then there are those who do that over and over again, not for greatness, but to live life to the fullest extent possible. You see, these guys love racing. And they're willing to go to the full extent on the track to be the best that they can be. For them, it is the icing on the cake what makes life worth living. Not to throw danger to the wind, but to conquer it. Man and machine versus all others and theirs, in an equal environment constructed for the mere sake of competition. But to the true driver, it's much more than that. Pushing to the edge and coming to know where your talent limit is, making the car stick when it shouldn't…the feeling when the car is hooked up and you can enjoy the rush of coming to throttle off the corner, and even more when you send it to get all of the good out of the lap. These kinds of people, that love it enough to take a loss week after week, and that's the ones having decent finishes, much less those that endure a trying season. Those are the ones still working to be better week in and week out. Successful or not, always working to be better. Because, when a driver puts on his or her helmet, and they tighten down the strap…they know it's time to get down to business. There are no friends on the track. Only associates and adversaries. But none of it matters to you. When the helmet goes on, it's time to go to work at what you do best. And what you do is work to win. Everything is potentially against you. But you are willing to put all doubt aside, and take it to the very limits, risking all willingly in pursuit of the best life. A life to the fullest. And if you're lucky, a life with half of the success Shawn Balluzzo had. 11 time Champion, with a win loss record of legendary status. A career a young new driver could aspire to, and one a true veteran can fully respect and admire, much less shoot for.
As you know, we love racing. And we want to take the time here to thank each and every one of you drivers that compete. From the top Late Models to the Front Wheel Drive divisions, we truly want to give you all our heart felt thanks. The sacrifices you go through to compete cannot be understated. We have watched all it takes for you guys to be able to compete. And we have seen firsthand the risk. We know the sport has gone above every other sport to be as safe as it can be, learning throughout the years as problems arose. But the truth is, racing itself is inherently dangerous. The rush of the risk is at the height of appeal, and has been since the beginning of it all. When the racing was done in fields by moonshiners and an increasing number of war veterans looking to feed the adrenaline high they had come to get used to from risking their lives serving the country, and now only wanting to live life to the fullest to try and forget. And the combination of these two groups ingrained in the sport the driver trait of showing your competitors that you're willing to risk it all. Whatever it takes to be the best. The daredevils in their capable machines. But we also know that you also have heroes. Ones you have seen that were the best. And this year we have heard one name more than most. That name is Shawn Balluzzo. So of course we took a look at his career. There is so much to say about his career such as he set Langley Track records that may never be broken. An 11 time Langley Speedway Champion, what will be remembered more than the win numbers and records is that he was a true champion. He didn't give an inch, but, at the same time, he was an honest competitor. You knew you had to work if you were going to beat him. But you also knew, he was going to make you better. He was admired and respected, and after the years he put in, that says it all about his character. He was the kind of racer that makes drivers now want more than anything to win the Shawn Balluzzo Memorial. He was a real legend after all, and to some, to win this race is personal.
One of those drivers, is Langley Modified driver Matt Carter. In a year that leaves Matt looking at the reality of having a championship of his own in grasp, we ran into him at South Boston Speedway before the CARS Tour Championship race there a few weeks back. We had a great racing conversation that started with how much he loved racing at Langley Speedway, and ended with talking about how much it would mean to him to win the Shawn Balluzzo Memorial. His respect and admiration, the gleam in his eyes when he talked about Shawn. The rivalry and the competition. Taking you as a driver to the next level. It's what racing is about. Here is some of what we talked about with Matt as we waited for the race we were there to see.
STR – Hey Matt, first of all, thanks for coming and talking to us. And I think it's cool that we come to meet each other here at a huge race, knowing that in a few weeks you're going to have one of the biggest races of your career. First though, I'd like to know a little bit about how you got to this point in your career, so tell me about how you came to love racing, and tell us a bit about how you started racing yourself, a little bit about your career to this point –
MC – Racing has been part of my life since I was old enough to go the the track. I've been going out to Langley Speedway every year since 1982. My dad raced in the early 80's and 90's, and I enjoyed being part of trying to get the car faster each week. And I knew as a kid that one day it would be me racing. In 2006 I started helping Paul DeBolt with his LMSC team. He taught me a lot about modern setups at that time. And one day, I told him I wanted to get involved racing something. So we weighed the pros and cons of each division and what would be right for me at the time, and Langley had a division at the time called Wolf Trucks. We thought about how cool it would be to find an old Craftsman Truck Series truck and run in that. And so we found an old Ernie Irvan truck that was turnkey and ready to race, and I ran that in 2007. Found out real quick I had a lot to learn about throttle control, but we ran two years in that before Langley ended the division in 2009. So then we went to a Modified, mostly for me because they didn't have a lot of rules. As you can tell by these two division choices, I don't care to much for rules. We had to run partial seasons from 2010-2016 because we just didn't have the funding. We had an open trailer that wasn't registered for the road, Tupperware full of ratchets and sockets, and maybe a rubber check or two, hoping I made enough to cover the cost of fuel and tires. Eventually though, we got better funded and the results showed it. We began getting top 5's, and in 2017 we started doing that consistently, and finally we were able to run with division leader Shawn Balluzzo.
STR – Which perfectly brings me to my next question. Could you tell us about competing against Shawn and what it would mean to win this race in his honor? Especially in a year that looks to be the one you get your first Championship, what would it mean to top that off with a win in this emotional race?
MC – In 2017 I ended up with I believe 8 poles, and I got my first win. Huge accomplishment for us. To be able to run close to Shawn…well, it meant a lot. More than most will ever know. And in 2018 and 2019 Shawn and I had a great rivalry going. We would race each other hard, and then talk smack to each other on Facebook. He had the now famous Mighty Mouse logo, and so we ran a mouse trap. It was great when it started taking off. I will always cherish those times. The back and forth…what I didn't love though is that he would always find different ways to beat me. But, I learned so much from him because when I got better, he got better. I think I finished second to him over 30 times between 2018 and 2019. But toward the end of 2019 I had a crash that broke my leg pretty bad and destroyed my car. I didn't want to end my career like that so I put together a plan to partner up with Randy Sears. He told me, "If I'm going to get involved, we've got to have a car to wax Shawn's @$$. So I went to the guys at Port City Race Cars, and with their craftsmanship and attention to detail, I knew we were going to be a threat. And when I hit the track with that car, it was confirmed. I was confident then that Shawn was going to have a hard time beating us. And the smack talk was on once again when Shawn found out about the new car. We so looked forward to that season. We had geared up all we had for Shawn, because he had been so dominant over the years. And we were going to enjoy running with him and all that came with it. In the first race, I won. But in the second, we all lost. We lost Shawn. A friend…a true legend. Me and Shawn talked so much smack to each other that sometimes I wonder if people truly know…we did it because we had a ton of respect for one another. He is one of the reasons I have been so successful. He pushed me to be better. He taught me to work harder. I had to if I wanted to compete with him. I saw the work he put in, to the levels he was willing to go. The dedication. Doing so much with so little sometimes. His records may never be beat. That's how good he was. As we go into this race, we will all be thinking of Shawn. His family and his accomplishments. We have sat on the pole for the last two seasons in every race. We've won 10 of 14 races this season. We've got 14 top 5's and this will be our first championship. But all I can think about right now, is how cool it would be…how honored me and my team would be, to cap off our season with a win in the honor of the man, that drove us here.
Earlier in the year, we did a feature on Jeremy Gerstner, who we know to be one of the hardest working short track drivers in the country. We talked a lot about racing with Jeremy earlier in the year which is the point of the season when we cover SMART Modified Tour races, and one of the first things we talked about was drivers he respected and admired, and the first name up, was Shawn Balluzzo. Jeremy is a driver that will travel to any place to race, just for the opportunity to be able to compete, and he works as hard as anyone at it, and he told us that was the trait he liked about Shawn. He loved his will to compete, tied with his extreme talent so much he put Shawn in his race cars, with plans for more. Gerstner is bringing a modified Shawn was to compete in at Speedweeks in 2020, with driver Mark Wertz, the defending winner of the inaugural Shawn Balluzzo Memorial. Jeremy will also run a car that he will drive, in an effort to double the chance to win, as it's that important for him to win it. Here's what he had to say about Shawn Balluzzo and Saturday's race at Langley Speedway to honor Shawn:
Jeremy Gerstner –
Shawn was a very personable driver that loved to do Facebook Lives to share his love for the different tracks he visited. I can't help but use this as proof of the irony in racing sometimes as he drove a car for us at Bowman Gray on 8/18/2016 in the Whelen Southern Tour Race, and he was awarded the rookie of the race honors, even though he was at the time an 8 time Langley Speedway Champion. He was a man that never gave up on his dream! His passion for the sport was what we most had in common. He was a great friend. As a matter of fact, he was supposed to drive the blue # 70 Modified for us at Speedweeks the last season, but he was tragically killed before that could happen. So in his honor and memory, we are having the defending Champion of the Shawn Balluzzo Memorial, Mark Wertz, drive it this year in the 2021 Shawn Balluzzo Memorial. It would mean the world to our team to win this race.
Shawn Balluzzo's racing record is truly quite amazing. And his legacy will be remembered for years to come. But for us here at Short Track report, what we will remember most about him is his effect on his peers. He has made his competitors better by his hard work and dedication to the sport. A sport that he gave his life to in more ways than one. That is to be acknowledged, admired, aspired to, honored and respected for years to come. And he will be remembered by the sport as a true short track legend, as he should be.
( You can watch this great memorial event on NBC Trackpass if for whatever reason you can't make it out to Langley Speedway Saturday Night. –
Matt Carter would like to thank the partners that make it possible for him to compete:
Sears Sand And Gravel, Extra Storage, Adams Flooring, State Farm Agent- Dayton Wiese, Paint Supply Co., Snap Mobile Shop, East Coast Synthetics, Papa John Of Hampton Roads, Port City Race Cars, Hanner Race Engines, Keen's Performance Engines, Smith's Wraps And Graphics, and his team members – Paul Debolt, Rob Moore, Jeff Rohrs, Ryan DeBolt, Bobby Lamm, Andrea Carter, and spotter Anthony Warren. He would also like to thank the fans and management of Langley Speedway for all they do for short track racing.)