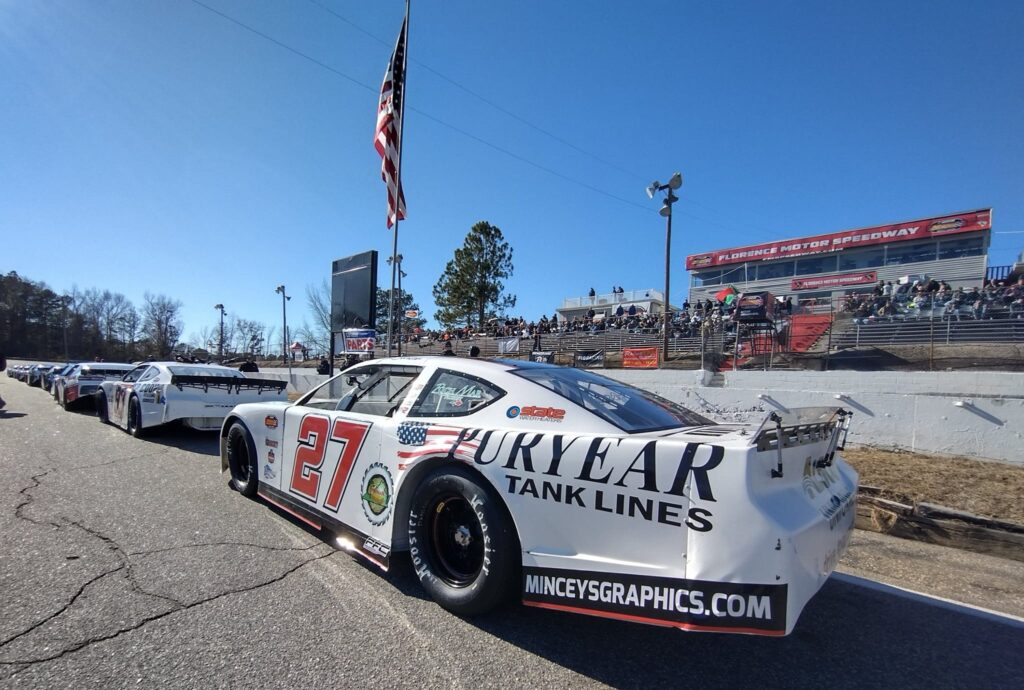 A week before Speedweeks, there's this little Late Model Stock event called the Icebreaker. Held on the coastal edge of South Carolina, the event has for some become known as a great gauge on the upcoming weekly racing season, and for good reason. Some of the very best in the business come to Timmonsville, South Carolina to shake off the offseason and get back to the business of racing. For many of the competitors, it's the first race of a new season, and so coming to compete in the Icebreaker has it's many benefits, but with that, also it's many challenges. The benefits include of course the chance at the $10,000 winner's prize, but getting a leg up on the competition also ranks highly on the list. A chance to shake the cars down, and for the driver, the opportunity for competitive seat time, before the weekly points seasons begin in earnest across the region. And for the short track racing fan, a chance to see the best racers, many with new schemes and even new teams and alliances, go at it for the first time this year. The Icebreaker is just what it's name implies, a chance to shake off the cold. But mother nature is stubborn sometimes. And so while this race marks the beginnings of a new racing season, the cold that marks the off season for now, is a little harder than hoped for.
So, with that, here we have to give some huge credit to the area's great short track racing fans. Because despite the fact that it was briskly cold, and the fact that the race was covered by FloRacing so fans could take advantage of watching the race in the warmth and comfort of their own homes, a large number of fans came out to the track and endured the conditions mother nature brought to the table, as for some, there is nothing like the live experience. And as we predicted last year, fans are coming back to the track in droves, and a little cold wasn't going to stop them at this year's Icebreaker. And so I may digress here, but if you want to go see a big short track race here in the foreseeable future and you want you favorite seat, you better get there early. But of course you readers know. When we said racing is back in a big way, we didn't understate it one bit. And with this article, I'm going to touch on a big reason we knew this was inevitable. But don't just take this reasoning from us. We reached out to a few of the areas greatest drivers with one question we know will help explain the new resurgence. We didn't tell them why we asked the question so they would be as honest as we could get from them, but as I expected, the answers explain a current and prevailing trend about short track racers that projects onto the short track racing fan who can feel this underlying trend and can feel the excitement around the sport as high as it's ever been.
The 2022 Icebreaker was an experience that held more than was at first realized. There was a lot to process from this event. So much so, that one event is still to this posting undecided. So before we get into the aforementioned drivers answer to our question, let's get into this years rundown of this amazing event.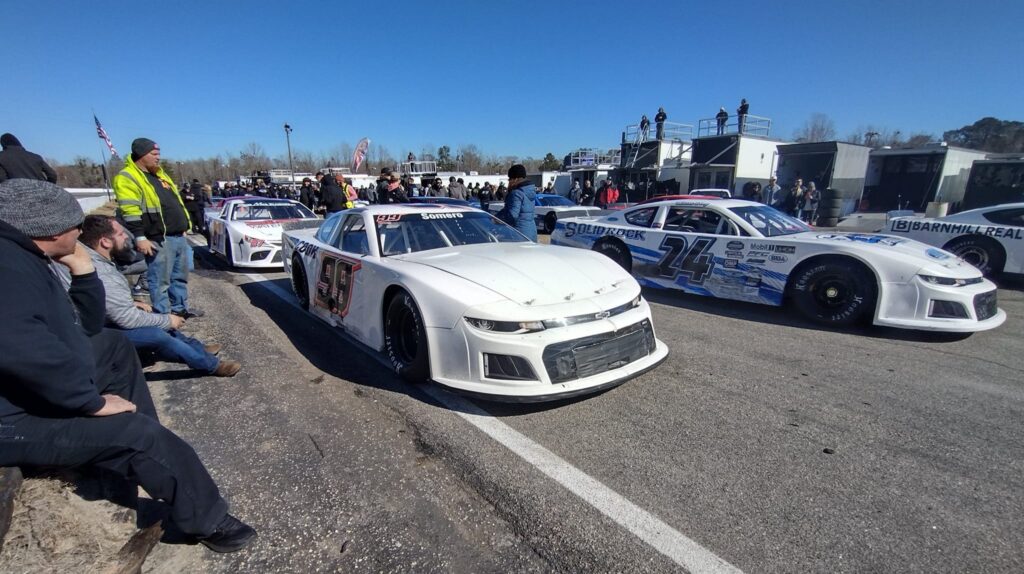 2022 ICEBREAKER STREET STOCK FEATURE:
The # 00T of Bobbie Tumbleston III starts on the pole as the # 25 of Ricky Locklair Jr. starts 2nd. Florence flagman John Spence Jr. looks over the field and throws the green on the ever popular Street Stocks. Tumbleston immediately clears without challenge, but just as it looks like Tumbleston is pulling away, Locklair starts to inch in. As the lead battle begins to brew, the caution flies as the # 51 of Todd Amerson slides in between turns 3 and 4. This gives Locklair another great chance to pounce on Tumbleston, but as the green waves, Tumbleston fires off like a rocket and eventually clears Locklair. As Locklair looks for a way around Bobbie, the # 7 of Brandon Callaway and # 32 of Gary Ledbetter Jr. both head down pit road and are done for the night. As the laps wind down, Tumbleston seems to grow a bigger lead. And as the white flag waves, Tumbleston has his sights set on victory, and he takes the checkered flag in the event.(As of the writing of this article, the official winner of this event had not been declared and was still pending inspection of the "winning" car. But just now, right as we are ready to publish this coverage article of the 2022 Icebreaker at Florence Motor Speedway, Bobbie Tumbleston III has been declared the official winner of the race, and one can say not without extreme scrutiny we might add.)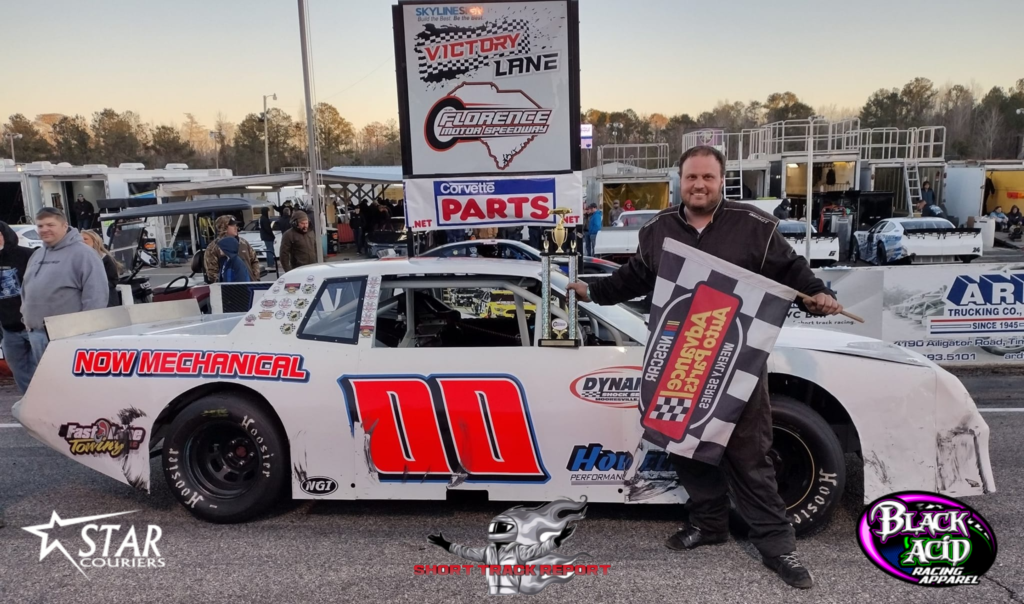 2022 ICEBREAKER LIMITED LATE MODEL FEATURE EVENT:
Ross "Boo Boo" Dalton finds himself up front in the # 50 machine as the # 81 of Travis Byrd starts alongside. Spence Jr. looks over the field and waves the green for the Limited Late Model feature. But madness ensues in the middle of the field as the # 14 of Landon DeVaughn has an issue and stacks up the grid behind him. As the cars scramble, the # 10 of Lucas Williams spins up front in turn 1. The caution immediately comes out before more calamity can happen. As the field catches their breath, Spence Jr. looks them over and decides that they're good to go and throws the green yet again. Boo Boo makes easy work of Byrd and tries to gap the field early. As everybody tries to get into a rhythm, Williams is driving like a man possessed and finds himself all the way up into second. The caution flies again as the # 25 of Remington Price climbs on top of the # 07L of Averitt Lucas and causes debris to litter the track. Boo Boo decides to take the outside lane to defend the high ground against Williams on the restart. As the green waves, Boo Boo yet again shows his muscle and walks away from the field. Meanwhile, the # 1 of Jamie York takes advantage of a now ill-handling # 10 and is able to take second away. But none of that matters as Boo Boo takes his dominant machine across the line first ahead of second place running Jamie York, third place Travis Byrd, fourth place # 9 Charlie Watson, and fifth place # 7 Bradley McCaskill.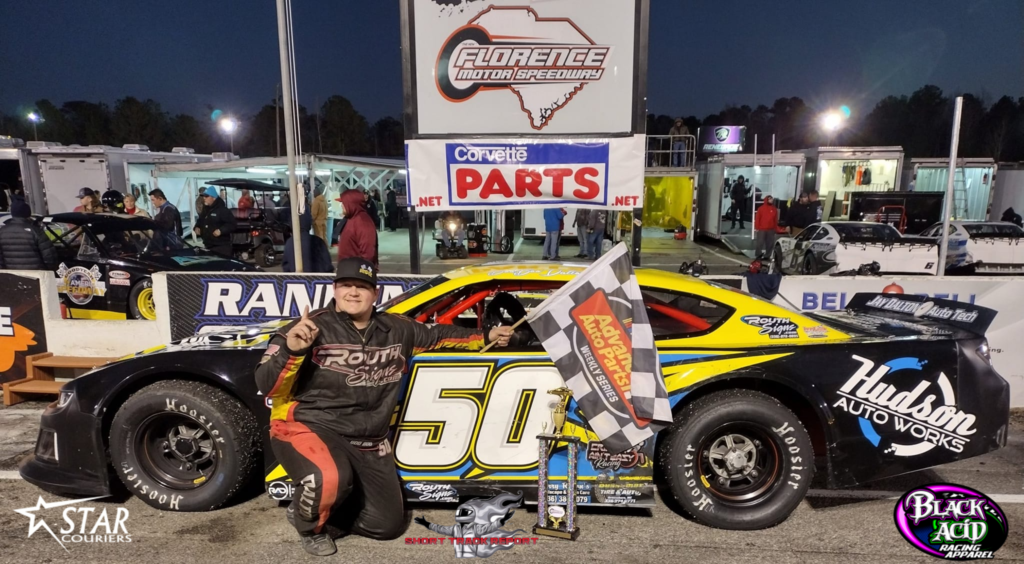 2022 ICEBREAKER CAROLINA MINI STOCK CHALLENGE FEATURE:
B.J. Thrasher in the # 19 car is on pole for this one as Mini Stock legend # 24 A.J. Sanders starts alongside. Spence Jr. looks over the mighty field of race cars and waves the green flag. Sanders gets an amazing jump as the field forms a pack reminiscent of a superspeedway behind. As the field tries to get into a single file line, Thrasher is able to get back by Sanders as previous winner # 1 Shane Canipe is able to follow, putting Sanders in third. Thrasher doesn't get to lead long however as Canipe powers his way to the lead. As Canipe begins to pull away, Sanders falls all the way back to fifth. The caution is soon displayed as the # 64 of Steven Truell is slow on the backstraightaway. Canipe and Thrasher again find themselves side by side as the green is thrown. Canipe is able to scoot away while Sanders seems to have found a great short run setup as he tries to regain all of his lost spots. Back in second, Thrasher has some sort of problem and heads down pit road. This gives Sanders second place.
As Canipe starts to inch towards back to back wins, the # 90 of Robert Strmiska, saving tires early, starts to make his way to the front. Sanders gives a good fight, but his long run speed isn't up to par and he gives way to Strmiska. As the two to go symbol is given, Strmiska is able to get under Canipe and they doorslam. They stay side by side to the white flag as Strmiska doesn't let up and bodyslams Canipe into turn one. Sanders is able to take advantage and grabs second away from Canipe as an undeniable Strmiska crosses the line first. Canipe gives Strmiska a love tap after the checkered to show his displeasure as Strmiska gets redemption from the first race of the year at Dillon where he lost to Canipe in a photo finish.What a race!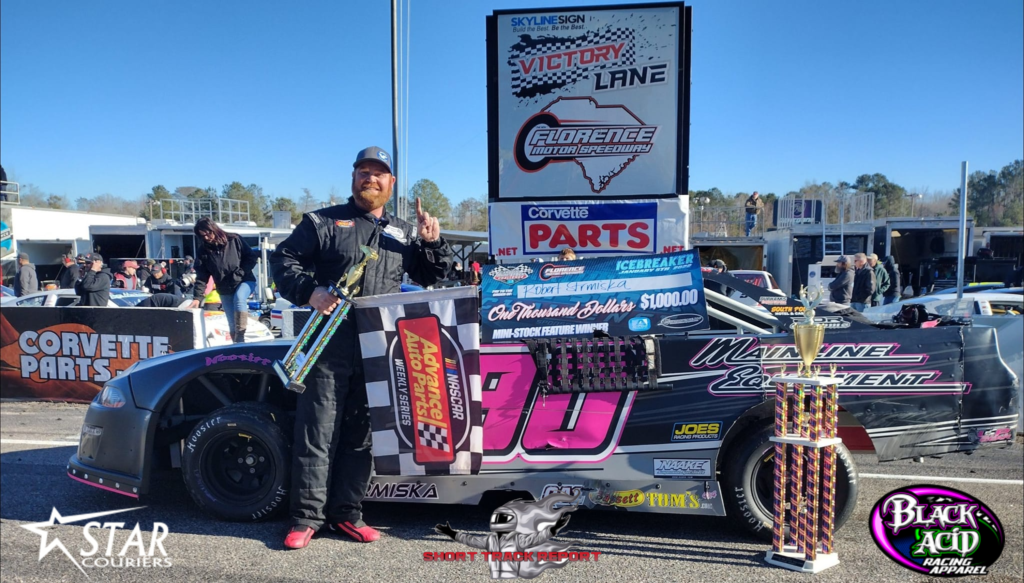 2022 ICEBREAKER ATLANTIC TURFSCAPES SUPER TRUCK SERIES FEATURE:
The newly formed Atlantic Turfscapes Super Truck Series finds it's inaugural race taking place at Florence. Starting up front is the # 5 of Florence regular Cody Kelley. Starting alongside will be the # 07 of Clint King. John Spence Jr. looks over the great field of Super Trucks and we're underway as the green flag is waved. King is able to clear himself on the outside but trouble happens early as the # 1 of Clay Thomas spins out of turn 4. King decides to take the outside for the restart, but as the green waves, Kelley makes his presence known as he gives King a run for his money on the inside. But there's a problem yet again as the # 00 of Tristan McKee spins on the backstraightaway. The green quickly comes back out and King is finally able to rid himself of Kelley. King then decides to experiment and runs a line almost off of the wall absent track. This is to his detriment however as Kelley is able to power by on the inside line. Behind them, the # 5Y of Jamie York and # 22 of Dusty Garus are bumping and banging for fourth place. Push comes to shove however as they touch and York spins while Garus goes off track. This brings out a caution as leader King speeds down pit road with an issue. Kelley inherits the lead as another Florence regular, # 7 Strom Altman, starts alongside. Spence Jr. waves the green and Kelley speeds off to a sizeable lead. As Kelley looks to make history as the Series' first ever winner, the caution comes out as Dusty Garus has a flat tire and is slowing on the track.
The race will now come down to a duo of drivers who know Florence like the back of their hand, Cody Kelley and Strom Altman. Kelley chooses the outside, while Altman takes the default inside. Spence Jr. anxiously looks over the field and waves the green for a two lap shootout. But the caution is out immediately as the # 7A of Chris Adkins spins going into turn 1 while the # 71 of Adam Fulford goes off track. We'll re-rack the field and try again. Spence Jr. nervously waves the green again and Altman gets a fantastic start. Kelley is right there though, and gives Altman all he's got. Going into the final turns, Kelley sends it hard on the outside, but it's not enough as Strom Altman makes history and becomes the first ever Atlantic Turfscapes Super Truck Series winner.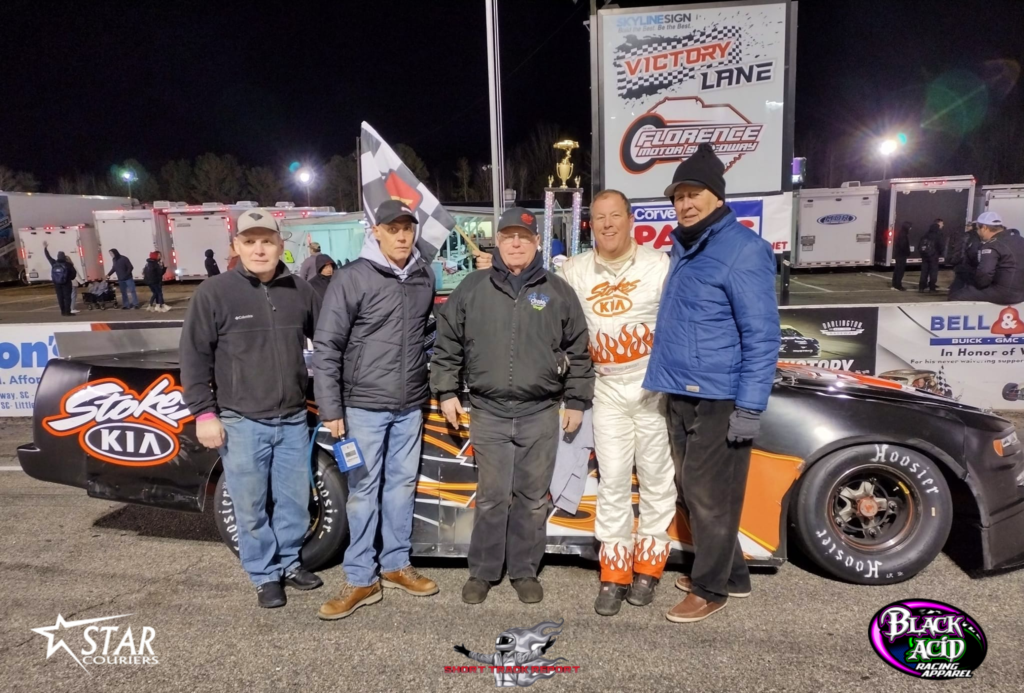 7th ANNUAL ICEBREAKER LATE MODEL STOCK PREMIER FEATURE EVENT:
Zack Miracle runs the fastest lap in group qualifying with a lap of 17.387, putting the # 32 machine on the pole, just nudging out # 77 Connor Hall and # 8 Josh Berry who'll start second and third respectively. And rounding out the top 5 is # 5K Casey Kelley who'll roll off fourth, and # 1B Trent Barnes who will line up fifth for this year's Icebreaker. Everyone is going to have to take care of their stuff early, not only because they'll need their equipment for the run to the finish at the end, but also because it's quite brisk out here today, and these engines tend to be at risk in these cooler temperatures.
So here we go. The track's given the drivers a few extra laps to get the cars warmed up, and now the region's hardest working flagman, Florence Motor Speedway flagman John Spence Jr., doubles up the field, and the drivers line up and get ready…Miracle brings them down, and the green is out, Let's go racin'!
Miracle clears on the start, but in no time, Casey Kelley works his way past Josh Berry and Connor Hall and sits in the lead, as Miracle is dropping fast. Berry also falls a few spots, but then settles in as we've seen him do so many times just inside the top 10. He's saving tires, as the rest of the field are pacing themselves up front, logging laps and saving all they can early, content to ride for awhile until the need to pick it up. These guys really are some of the best in the business, running side by side, looking throughout the field like Late Model Talladega, but for the most part with everyone not really abusing their stuff, except for the group around the tenth position on back, as those guys are all even and trying their best to stay with the leaders so they'll have a shot toward the end. # 98 Matt Linker has worked his way through the top five and now sits second, but here comes # 15 Ryan Millington who drops Linker to third and sets his sights on leader Kelley. But then Connor Hall goes up in smoke and we've got our first caution of the day, as the Florence Motor Speedway track crew gets to work to clean the oil and fluids off the track.
The officials bring the field to a stop on the frontstretch, and then inform the teams they are allowed a crewman to clean the drivers windshields as the drivers have been complaining of fluid even before the caution, but now everyone gets to restart with a clear view, and we are ready to get back to green flag racing. Kelley brings them down with Millington to his outside, Linker third, # 5 Carter Langley who's worked his way to restart fourth, and Zack Miracle who's stopped the bleeding and will restart fifth. FMS flagman Spence Jr. looks over the field, and he drops the green and we are back underway in the 2022 Icebreaker. Kelley clears for the point, as Miracle gets by Langley for fourth. # 51 Matt Cox wants in the top five, and he looks on Langley for fifth on the outside, while Miracle looks under Linker for third. Berry now makes a move to get back in the top five as he moves past Cox for fifth, and the rest of the field again plays Late Model Talladega, running side by side throughout, with the emphasis on saving every bit of car they can. But now the # 21 of Thad Moffitt is around with the # 24 of Mason Diaz in turns three and four, and for the second time of the event, we are under yellow. And we now have race officials looking for where the fluid is coming from as still the drivers are reporting slick conditions and fluid again on the front windshields. But this time, as we didn't run as many laps as in the beginnings of the race, the veteran officials can deduce by the cars with the most fluid from around where it's all coming from, and they have Zack Miracle stopped just past the start finish line and an official looks and feels under, and they've found it, and send Miracle to the pits, and sure enough, he's got an oil leak, and the challenge is on the crew to get it rectified without going a lap down to the field.
And as Miracle's crew gets to work, the officials again stop the field and allow a crew member to clean the windshields so we can go racing with a clear view for the drivers. # 18R David Roberts joins Miracle on pit road, as the track crew finishes up, and the field gets back under pace laps to get ready to go back to green. Kelley again will bring them down, with Millington second, Linker third, Berry fourth, and Matt Cox fifth. The hardest working flagman surveys the field…Kelley again gets a clean start, and we are back to green as Kelley clears up front. Linker gets under Millington for second, as Cox looks under Berry for fourth, and then he goes for Millington for third. And now # 2 Brandon Pierce wants in as he goes by Berry for fifth and now looks under Millington who's falling back, and now Pierce goes after Linker for third, as Berry fights back and now looks on Linker for fourth. Millington is still dropping through the field, as either the handling has gone away, or he's got an issue with that machine. Either way he has a handful. Meanwhile Berry now moves back past Pierce for third, as the # 88B of Doug Barnes Jr. also wants into the mix, and gets under Linker for fifth, but Linker isn't having it and fights back on the outside. An amazing battle up front now as they trade positions back and forth as it's now time to show some authority, and fight to get into position for the later stages. Now Linker goes to battle with Pierce, and they trade spots just inside the top five. And Berry meanwhile is still playing his strategy to a T. Again, we've seen it time and time again. He now moves into second under Matt Cox, and he sets his sights on leader Kelley, and he starts to eat in on his lead. # 70 Jeremy McDowell makes his first appearance in the top five as he makes the move on Linker for fifth. But now Millington is off the banking and on the hill, as he'd been battling around the tenth position with the likes of # 10 Janson Marchbanks, as the group battling for that spot has been going at it all race long, and now Millington is in the weeds and Marchbanks has a crumpled hood, both from different battles in the same area.
And now with the end looming, a number of cars bring their machines down pit road for service. # 27 Jeb Burton's in, along with # 55W Mark Wertz, Carter Langley, # 6 Mike Darne, Thad Moffitt, # 12 Annabeth Barnes-Crum is in, as well as # 99S Austin Sumero. All trying to make something happen as we get ready for the final stage of the race. Kelley has been in control through the whole event, but he has a looming challenge ahead in the name of Josh Berry who's right where he wants to be for the final run. Starting behind them is Matt Cox in third, Brandon Pierce fourth, and Linker still holding in the top five. All ready to show their cards and get down to business as it's time to decide the 2022 Icebreaker at Florence Motor Speedway, and determine who will be this year's Icebreaker Champion.
Kelley brings them down as flagman Spence Jr. eyes the field. He's gotten a clean start all day, and again it's no exception and the green is out and it's time to decide it. And as we expected, Berry's been holding his cards. But now he's there and he dives under Kelley for the lead. Kelley tries to put up a fight but it's to no use as Berry sends it and the car responds, putting Berry out front as Kelley settles in behind him. McDowell gets under Linker for fifth, as Pierce goes by Kelley for second. And now McDowell makes a move on Cox, but they have a problem coming up from behind them with Miracle coming through the field, passing a car a lap, and now two as he comes now through the top five, running fourth, and it doesn't seem that he's done yet. Trailing behind him is the # 16 of Kade Brown who's methodically maneuvered himself through the field here at the end, along with a hard fighting Trent Barnes who's not going anywhere. Those cars tore through the field here at the end as the battle is as intense as you can imagine in a race of this magnitude, as these drivers have now thrown caution to the wind and have just flat went at it. But, in the final laps, nobody had an answer for Berry as he again executes his flawless plan and comes home without a scratch as your 2022 Icebreaker Champion. Fighting to the very end and coming home second in an amazing run from the back is Zack Miracle, followed by Kade Brown in a very respectable hard fought third, with Trent Barnes holding off basically the whole field for fourth, and Brandon Pierce salvaging yet another top five in a downright battle at the end of the race.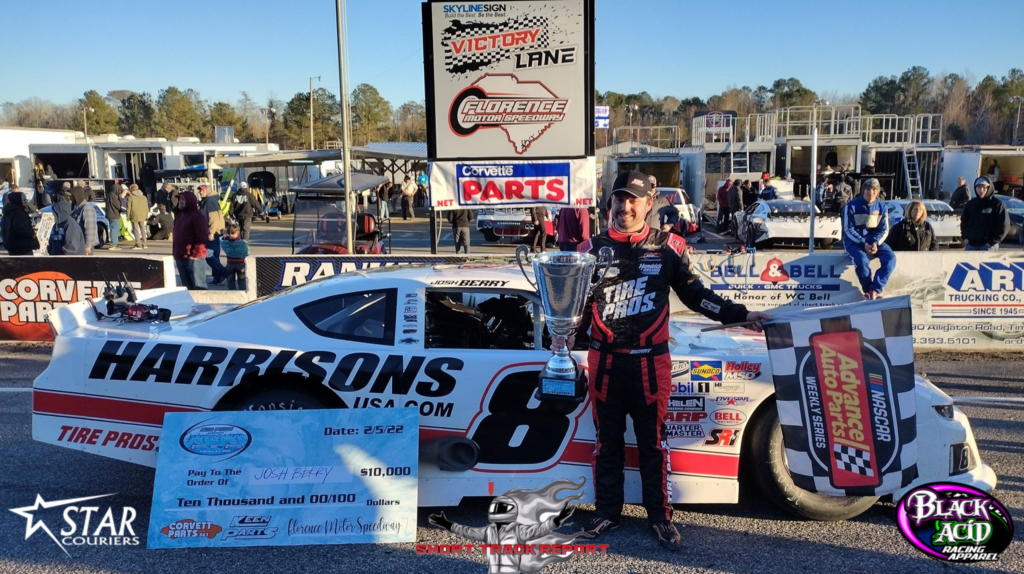 MY TAKE:
As I mentioned at the beginning of this article, there's a lot to unpack from this event beneath the surface. On the top however, I have to start with Josh Berry. As many of our readers know, before the race, me and my son Josh take a stock of what we are about to see, and we make a few predictions on our pre race takes on what we think some outcomes will be. As you can guess, we surmised that if the new car Josh was about to run in the Icebreaker was what we thought it would be from JR Motorsports, Josh would qualify near the front, and at the start, fall back a bit to save his car. And then at the end, slowly work his way to the lead, where he would run to the win at the end of the race. How did we know? Well, out of the two races we covered with Josh running last season, he had 2 wins. And the two wins came just as he won the Icebreaker this year. Qualify up front, fall back somewhere near the top five, and pass a car here and there, making your biggest push at the end for the win. He's got a plan, and he's perfected it. And so we can make another prediction here and now- The Xfinity Series is going to have they're hands full with Josh Berry. He's already shown it. But we had to feel a bit for Casey Kelley, who led most of the event, but in the end, had to watch Berry move past and away as he's done so many times before. He's done it to many drivers, so we don't feel too bad for Kelley. He still came away with a great sixth place finish, and has got to be happy with that considering the talent in this field.
And we can get this out of the way right up front as well, as our Blue Collar Racer Of The Week is a pretty easy choice. Not that there weren't many prospects however, as Kade Brown had himself one heck of a race. He navigated the battles that broke out through the field, and found himself third at the end in an outstanding finish. Trent Barnes as well put up a great fight throughout the race, securing a hard fought top five finishing fourth. Also Brandon Pierce who entered the top five in the middle of the race, and still secured a fifth place finish, even after the onslaught of Brown and Miracle who busted into the front of the field late and left the drivers up front scrambling for all they could. But we have to give it to Zack Miracle, who took the pole position for the start, but was found to have a fluid leak early in the race, leaving his crew to do the work necessary to keep them in contention, and leaving the young driver restarting shotgun on the field. But at the end of the race, had the fans on their feet in the cold as he put on an amazing show with his march to an amazing runner up finish. Earning Zack Miracle and his team, our Blue Collar Racer Of The Week award. Congratulations guys! You definitely earned this one.
And now, speaking of the cold. Yes, there were a lot of things to unpack. Josh Berry, Zack Miracle, and the influx of amazing young talent all across the short track racing spectrum. The $10,000 purse and the move to increase the purses across the east coast short track region by track and series promoters like Florence Motor Speedway owner Steve Zacharias, and other like minded individuals in the sport. But to me, there was one glaring thing that stood out about this event that no one else is talking about. But it's part of what we here at Short Track Report have been reporting on since we started. We're onto it. And we want to be sure you get what we're saying here. And that's the fact that despite the down trend for many years, Short Track Racing attendance and population is again on the rise.
You could start to clearly see it last year as we predicted. But we're telling you now. If you want your favorite seat at many of this years east coast short track racing events, you may want to start getting to the track a little earlier. You could see it here at the 2022 Icebreaker. No, it wasn't sold out by any means. But it was far from a small crowd. And this was with very brisk temperatures. Cold and getting colder is what they came out to. But, they came out in great numbers, even though they could watch it online in the warmth of their own homes for a reasonable amount of money. But many chose to come to the track, close to the coast as you can be without actually being there, to the frigid cold to watch this race. So, we have to thank these fans. Let it be known that we here at Short Track Report acknowledge your dedication and love for this sport. We are true fans ourselves and we understand. But talk about dedication and a love for the sport, we can now get to what any true short track racing fan can point to that's keeping the sport what it is. And while many took time to bash the sport online and elsewhere over the past decades, the ones that love the sport because of what it was, what it is, and what they know it will be, have stayed and cast anchor. They endured. They didn't do it for money as some suspect. They didn't do it for fame as many imagine. They didn't even do it for the glory, although they have come to know it. And now they have bred a new generation of like minded souls, with the youth and the drive to move the sport forward into the future. And right now we are seeing the beginning of a great new era of short track racing. Don't believe me? Here, let me help you to understand why the sport is better off now than you might have imagined.
We asked some of the best drivers in our region one question, without pretext or additional context, as we wanted pure answers to one question, as we knew it would help you understand how we got here when it could have all just fallen away. Simple but yet complex, the question was: Why Do You Race?
3X CARS Tour Late Model Stock Champion Bobby McCarty : "It's the only thing in my life that I've ever been good at, and the only thing I completely understand."
2021 CARS Tour Late Model Stock Rookie Of The Year Kaden Honeycutt : "I race because I'm a competitive person, and want to win in everything I do. I love the challenge and teamwork it takes to get the goals you're wanting. Everything I do involves people. The more I can work with people and become successful, the more confidence I get in myself and take on with me to a new adventure. Racing teaches me a lot of life lessons. Some I'll never forget and carry on for the rest of my career. Racing will always be a part of me."
2022 CARS Tour Late Model Stock Rookie Of The Year Contender/Touring 12 Participant Zack Miracle : "I race because I've been around it since I was born and it's something I have a true passion for."
2020 CARS Tour Late Model Stock and 2018 CARS Tour Super Late Model Champion Jared Fryar : "It's something I grew up doing, and I really enjoy. I also have a long family legacy in the sport and would like to continue that."
Those answers on the surface are simple and direct. But remember and know this one thing that's taken way too for granted these days- Despite the safety upgrades in today's era, when you strap in a race car, you do so at extreme risk. These drivers do not take this lightly, I promise you. Neither do their families. So again, while many took and continue to take cheap shots at the sport, they will increasingly do so from far in the cheap seats, because a bevy of extremely talented veterans have and are teaching a new generation of young drivers their love of the sport above all else. And they are willing to risk their lives to do it. They did it when the attendance fell so that they could do it when the rise began again. They did it again, not for the treasure, but for the love of it. And they will do it for as long as they are able. They will be supported by a group of promoters that love the sport. They have to or, they would be gone long ago. And because of the racing family that exists today, the sport is in a great place. It will be obvious this year and many years forward. The 2022 Icebreaker was an amazing event. One in which you could see the fire even through the ice, and leaves us again to express the blessing we feel to be even a small part of what lies ahead, and we can't wait for this year's points season to begin in earnest. So, stay tuned to all of our extended coverage throughout the 2022 racing season. It's going to be an amazing year, we promise. So, 'till next time, as always, See You At The Track!
Tags
2022 Icebreaker
,
A.J. Sanders
,
Adam Fulford
,
AJ Sanders
,
Annabeth Barnes
,
Annabeth Barnes-Crum
,
Annabeth Crum
,
Atlantic Turfscapes Super Truck Series
,
Austin Somero
,
Averitt Lucas
,
B.J. Thrasher
,
BJ Thrasher
,
Blue Collar Racer Of The Week
,
Bobbie Tumbleston
,
Bobbie Tumbleston III
,
Bobby McCarty
,
Boo Boo Dalton
,
Bradley McCaskill
,
Brandon Callaway
,
Brandon Pierce
,
Carolina Mini Stock Challenge
,
Carter Langley
,
Casey Kelley
,
Charlie Watson
,
Chris Adkins
,
Clay Thomas
,
Clint King
,
Cody Kelley
,
Connor Hall
,
David Roberts
,
Dillon
,
Dillon Motor Speedway
,
Doug Barnes
,
Doug Barnes Jr.
,
Dusty Garus
,
Florence
,
Florence Motor Speedway
,
Gary Ledbetter
,
Gary Ledbetter Jr.
,
Icebreaker
,
Jamie York
,
Janson Marchbanks
,
Jared Fryar
,
Jeb Burton
,
Jeremy McDowell
,
John Spence
,
John Spence Jr.
,
Josh Berry
,
Kade Brown
,
Kaden Honeycutt
,
Landon DeVaughn
,
Late Model Stocks
,
Limited Late Models
,
Lucas Williams
,
Mark Wertz
,
Mason Diaz
,
Matt Cox
,
Matt Linker
,
Mike Darne
,
Mini Stocks
,
Ricky Locklair
,
Ricky Locklair Jr.
,
Robert Strimska
,
Ross "Boo Boo" Dalton
,
Ross Boo Boo Dalton
,
Ross Dalton
,
Ryan Millington
,
Shane Canipe
,
Steven Truell
,
Street Stocks
,
Strom Altman
,
Super Trucks
,
Thad Moffitt
,
Todd Amerson
,
Travis Byrd
,
Trent Barnes
,
Tristan McKee
,
Zack Miracle